Koh Phi Phi is easily recognized as one of the most beautiful and easy to get to island groups in the world. Known for its stunning beaches framed by limestone cliffs, the beauty is immediately there to be seen. But, being such a popular destination the number of visitors has had a detrimental impact on the islands and they are extremely busy during peak season. Even so, tourists keep coming in their thousands to enjoy the amazing beaches and pulsating nightlife! While Koh Phi Phi is still a great place to visit in Southern Thailand, you may be yearning for somewhere quieter and more laid-back. Head to Koh Lanta and you'll find just that. More popular with families and the more mature crowd who aren't looking for wild parties, Koh Lanta can seem a million miles from the crowded beaches of Phi Phi, even though it's only about an hour's ferry ride away!
Read about:
• Koh Phi Phi to Koh Lanta Ferry
• When to Travel by Ferry from Koh Phi Phi to Koh Lanta
• From Koh Phi Phi to Koh Lanta by Speedboat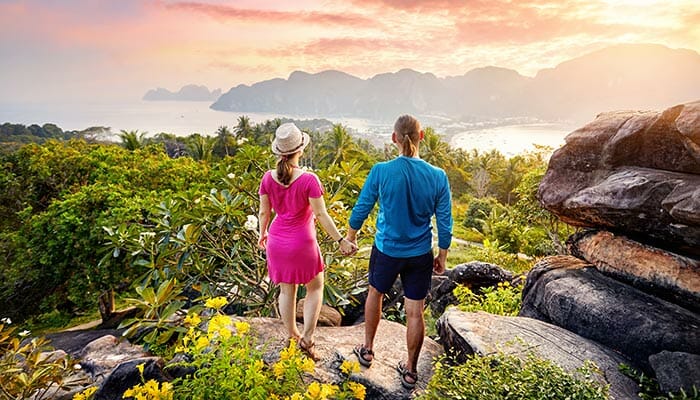 Options for Travel from Koh Phi Phi to Koh Lanta
To get from Koh Phi Phi to Koh Lanta, what are your options? Well, you're somewhat limited on that front because the only way to travel from Koh Phi Phi to Koh Lanta is by boat! Both destinations are islands, and neither of them have airports, so although there are other options for getting to Koh Phi Phi in the first place, the only way to get to Koh Lanta from Phi Phi, is the ferry. Luckily, it's not a long way between the islands. The distance across the Andaman Sea is a little under 40 kilometers (about 25 miles), so, as we mentioned above, the ferry should take around an hour, depending on the conditions, but more on that below.
Koh Phi Phi to Koh Lanta Ferry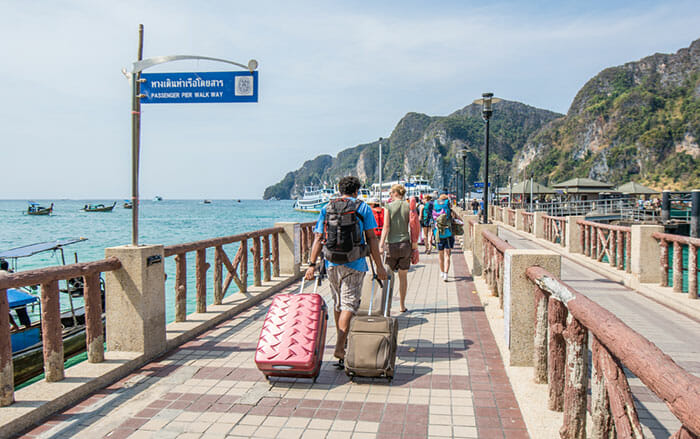 The route between Koh Phi Phi to Koh Lanta is a very popular one so this means there are quite a few different options for traveling by ferry from one island to the other. To start with, several different ferry companies operate this route and while prices will be fairly comparable across the companies, some will stand out as being a little more expensive and others for being cheaper.
It's important to bear in mind that ferries are not always the safest way to travel in Thailand and if you pay less for your ferry from Koh Phi Phi to Koh Lanta, you may be traveling on a boat that leaves a lot to be desired. If you're somebody who worries about safety, look online for reviews of the different ferry companies so you can compare what other travelers have said. Many ferries during the peak season will be crowded, for example, but while some of the ferries seem very full, they are not operating at over-capacity. Some, on the other hand, may be packing just too many people into a small space, so if you don't like being crammed in and want more space around you, please do bear this in mind when booking.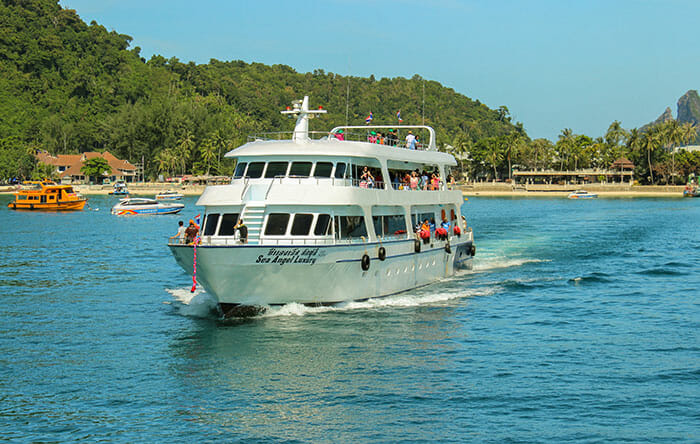 Using a reputable travel booking site such as 12Go.asia should allay any fears you have as they only sell tickets for ferry companies who are in good standing, such as Andaman Wave Master. But there are other responsible ferry companies too, including Sea Angel. Boats operated by the Chao Koh Group have tended to look older than others, and their smallest boats are frequently over-crowded, while Phi Phi Cruiser also has somewhat of a reputation for over-crowding and not leaving the pier until they are jam-packed full.
Other travelers have also complained of there being little room to store luggage across the different ferries, with travelers being force to leave their larger bags on the upper decks of the ferry. For this reason, travel light if you can, and if you have a larger bag that you can't keep with you, be sure to remove any valuables before leaving it, and try to make it as watertight as possible just in case your bag gets splashed or it rains.
When to Travel by Ferry from Koh Phi Phi to Koh Lanta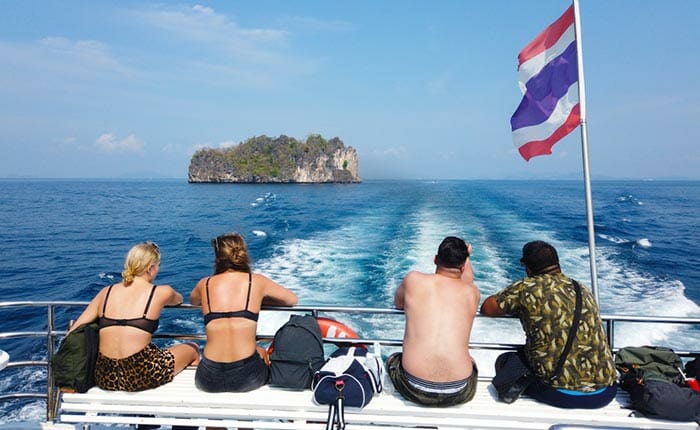 Ferries tend to travel during daylight hours, not at night. There should be regular crossings during the peak/high season which is from November to March. During this time ferries are quite reliable and the journey time should be right around an hour. When the water gets choppy though, expect it to take a little longer as the ferries need to travel at slower speeds so the crossing time can be increased to 90 minutes.
During the low season (April to November) there is less demand for the ferries so fewer boats will be available. Expect there just to be one or two crossings per day during this period. You should also bear in mind that the trip from Koh Phi Phi to Koh Lanta will be heavily influenced by the weather during low season as rains and choppy waters are far more likely to occur. If the water gets too rough, boats will not run so you could be stranded for a day or two if you're planning to travel during low season. Remember though, the boats don't operate for safety reasons so if you do have to wait for another boat it's for your own safety!
From Koh Phi Phi to Koh Lanta by Speedboat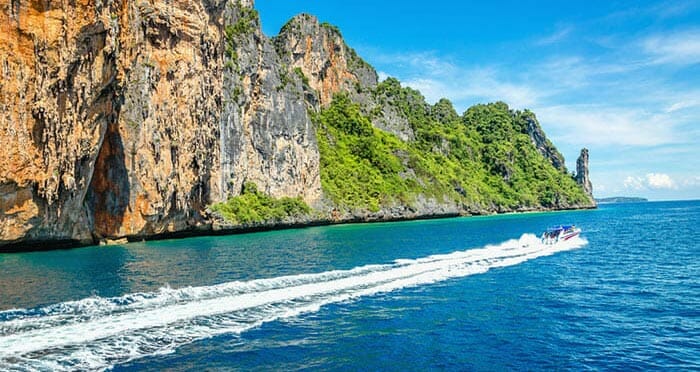 As well as the ferries, there is another way to get from Koh Phi Phi to Koh Lanta during the high season, and that's by speedboat. Traveling by speedboat can be fun and a little exhilarating, and of course it is faster to get from Koh Phi Phi to Koh Lanta than the ferries, taking only around 30 minutes in good conditions. When the water is a little rougher, the boat will go slower, and when it gets even rougher speedboats should not be operating at all.
The drawback to the speedboat is the price. Expect to pay quite a bit more than you will for the ferry, but if you don't mind the extra cost it's a fun way to travel and beat the crowds who are coming by ferry!
So when looing at your options for getting from Koh Phi Phi to Koh Lanta, ferries will be cheaper though potentially very crowded, while speedboats give you a more luxurious and faster way to travel between Koh Phi Phi to Koh Lanta.
Did you find this guide useful?
Click on a star to rate it!
Average rating: / 5. Vote count: