The capital of Vietnam, Hanoi started life as a small village on the Red River, becoming a city in the year 1010, and capital of Imperial Vietnam. From its humble beginnings, Hanoi has long been one of, if not the most, important cities in the country and was a French colony from 1883, leaving a legacy of French inspired architecture that you can still see today. Hanoi once again became a capital, but this time of a unified Vietnam in 1976, following the Vietnam War. Today, Hanoi is a top tourist destination, enthralling visitors with its mix of architecture, from the narrow streets of the Old Quarter to its temples and pagodas, its broad tree-lined French-inspired avenues, museums, lakes and the more modern offerings like shopping malls. On top of everything else, Hanoi is such a great place to visit because it's affordable too. You can stay in very nice hotels, dine in fancy restaurants, and shop to your heart's content in this capital city, without it breaking the bank!
Read about:
• Hanoi Airport to City by Taxi
• Hanoi Airport to City by Hotel Airport Pickup Service
• Hanoi Airport to City by Public Bus
• Airline Shuttle Buses from Hanoi Airport to City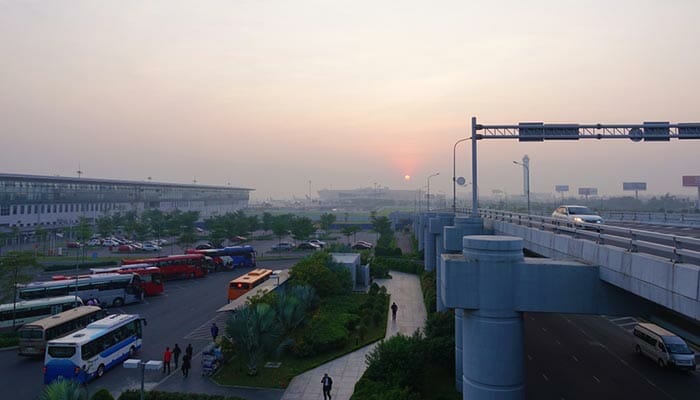 If you're just arriving in Vietnam, Hanoi is the perfect place to start your tour of this country. Hanoi Airport, officially called Noi Bai International Airport is Vietnam's second busiest, but largest in terms of capacity it can handle. Noi Ban replaced the aging Gia Lam Airport as the main one for the city of Hanoi, and it has two terminals – Terminal 1 for domestic flights, and Terminal 2 for international flights.
Hanoi Airport is a little way north of the city center, so depending on where in Hanoi you're headed to, it's about 30 kilometers (19 miles) into downtown Hanoi, which includes crossing the Red River. The good news is that traveling from Hanoi Airport to City is easy, relatively quick, and quite affordable, especially considering there is a new bridge crossing that helps to cut down on travel time.
To get from Hanoi Airport to City you have a few different options. There are always metered taxis waiting and available outside the terminal, so this is one option. Another is to book a taxi or van ahead of time so you know there will be someone there waiting for you. You could also opt for a public bus, if you want to travel very cheaply, or an airport shuttle bus. An airport to hotel pickup is also possible with some of the hotels in Hanoi.
Hanoi Airport to City by Taxi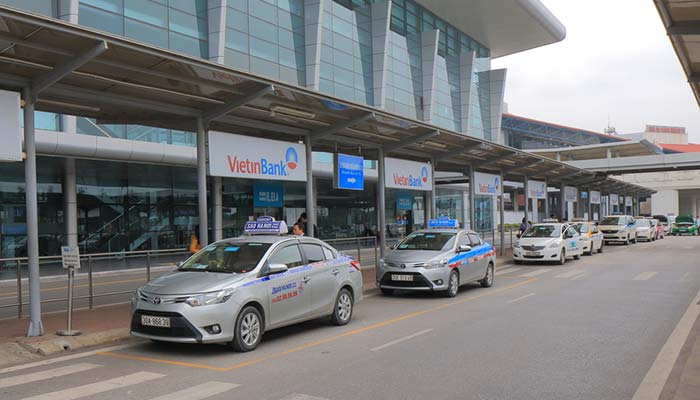 In terms of taxis, you actually have two options for getting from Hanoi Airport to City. The first option is the normal public taxis that sit waiting for customers outside the terminal building, and the second option is private taxi companies that you can book online; kind of like a limousine service, but not as luxurious!
While the public taxis can be a good idea if you're arriving to Hanoi late in the day and haven't booked anything else, they are not without their problems. There are, unfortunately, a lot of unscrupulous taxi drivers who may try to overcharge you, or who may take a longer route to get you to your destination. Another issue with arriving late in the day, is that most of the other modes of transport from Hanoi Airport to City will stop running at a certain time, so the taxis become your only option. Because the drivers know this, they try charging even more. So, as a last resort take a public taxi, and negotiate a rate upfront, but your better option would be to book in advance.
You can easily book private taxis and vans online through the travel website, 12Go.asia. They partner with reliable private taxi companies to get you from Hanoi Airport to City. The price of a taxi will be more than using other transportation, but you get a door-to-door service direct to your hotel, or wherever you choose to stop, and the cars are comfortable and modern. If there are 3 or more of you traveling, a taxi makes even more sense because you're paying for the vehicle regardless of how many people are traveling. You could even hire a 9-passenger van and split that between a group of you, saving money and making this a very economical way to go. The journey from Hanoi Airport to City by taxi takes around 50 minutes, depending on traffic.
Hanoi Airport to City by Hotel Airport Pickup Service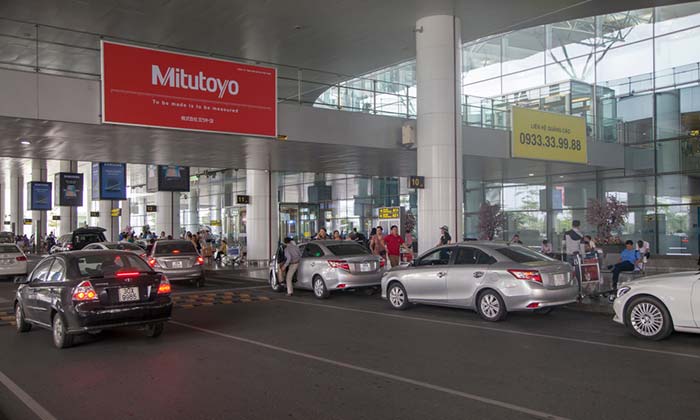 Although this is service is not generally operated by the hotel itself, it's something that they can arrange for you if you've booked a hotel room in advance. The nice thing about this is the convenience – there will be a car or van waiting for you at the airport and they will take you directly to your hotel. This is regarded to be a more reliable service than some because there are often mistakes reported where tourists have been dropped at the wrong hotel!
The downside to this is that it's not a free service like it is in some Western countries. You will have to pay, and the price may be more than a taxi would cost you, but, you are getting that extra level of convenience, especially considering your hotel can make all the arrangements for you.
Hanoi Airport to City by Public Bus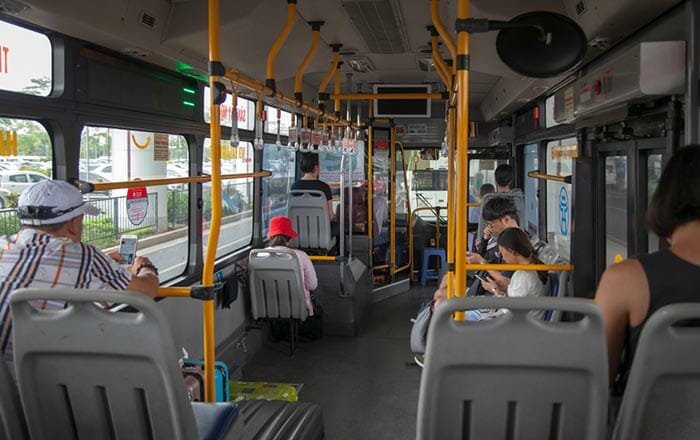 Traveling by public bus in a foreign country can be quite the experience if you're not used to it, or don't know the language! Here in Vietnam, getting from Hanoi Airport to City by public bus is relatively easy, and it's by far the cheapest way to travel 0.4 USD (9000 VND), but it takes the longest time. Look for number 7 and 17 buses which pick up from arrivals. The number 7 bus goes to Kim Ma Bus Station, while the 17 goes to Long Bien Bus Station. From both of these you will likely then need to grab a taxi to your hotel which does add a bit to the overall price.
Another popular bus for travelers is the number 86 bus which costs about 1.5 USD (35000 VND) but has wifi and is an express bus with good assistance for tourists. It operates from 6:18 AM to 11 PM every 30 minutes. Pickup from both Terminal 1 and Terminal 2 with 8 stops in total and Hanoi Central Railway Station as the end station. Tickets can be bought on the bus.
Airline Shuttle Buses from Hanoi Airport to City
Two airlines, Jetstar and Vietnam Airlines, operate shuttle buses from Hanoi Airport to City. With Jetstar you'll travel on a large, modern bus which is easily recognizable by its bright orange color. Vietnam Airlines tends to use smaller minibuses which aren't as comfortable. These are good, reliable services but they run fixed routes and you may end up having to get a taxi to your hotel from the drop-off point.
It's good to know that there are many different options for traveling from Hanoi Airport to city center. We would always recommend booking your trip in advance through 12Go so you know there will be someone waiting for you at the airport, and you don't have to worry about haggling over the cost and not speaking the language!
Did you find this guide useful?
Click on a star to rate it!
Average rating: / 5. Vote count: