For nearly a thousand years, Hanoi has been the capital city of Vietnam. Influenced by the French and the Chinese throughout its history, its rich architecture and culture makes this a wonderful city to visit. If you enjoy centuries-old architecture once you've visited Hanoi, your next stop in Vietnam should be the city of Hue. Its massive, 19th century citadel is by far the main attraction here, keeping the Forbidden Purple City, the Imperial City, and palaces and shrines all safe from attack. Today though, there's no threat of attack and the city is a UNESCO World Heritage Site!
Read about:
• Hanoi to Hue by Flight
• Hanoi to Hue by Bus
• Hanoi to Hue by Train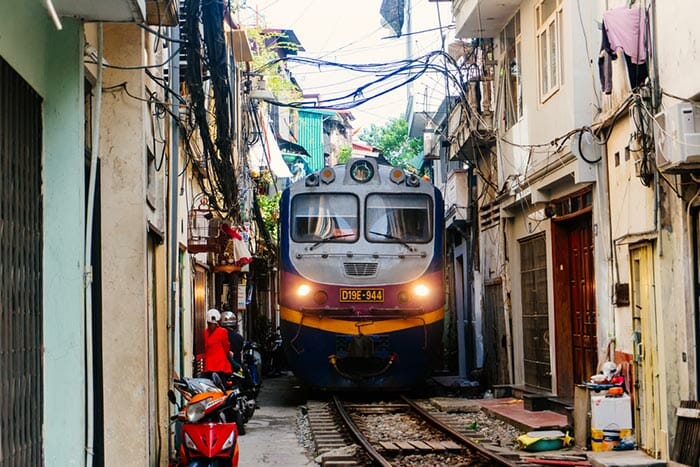 Ways to Travel from Hanoi to Hue
On the map it may not look too far to travel from Hanoi to Hue but in fact it's about 670 kilometers (420 miles) between the two cities resulting in quite a lengthy journey! The good news is that there are several different ways that you can travel from Hanoi to Hue, including buses, trains and airplanes, with the quickest journey time being around an hour if you fly. Flying is not without its drawbacks though, as discussed below, and while buses and trains take a long time, they can be substantially cheaper. Read on for full details on all of these transportation options.
Flights from Hanoi to Hue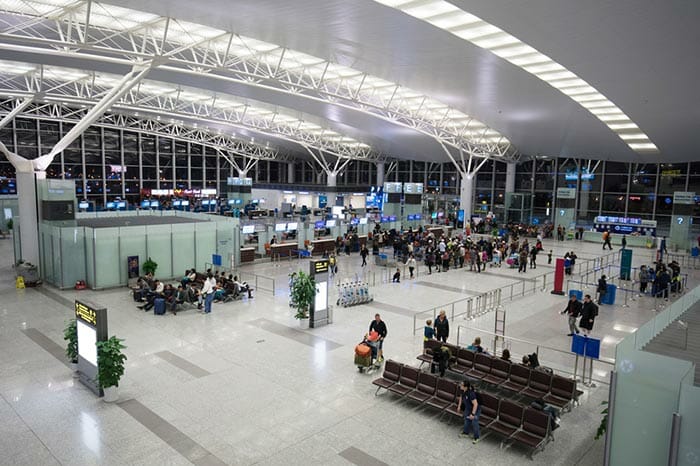 As you can imagine, the quickest way to get from Hanoi to Hue is to fly, but, this doesn't necessarily mean it's the best way to travel! Flying is great if you're pushed for time and want to get from Hanoi to Hue as fast as possible, however, you need to account for the fact that neither airport is located particularly close to the city so you should add on the time it takes to get to and from the airport.
In Hanoi, the Noibai International Airport is about 35 kilometers (21 miles) from downtown, while Hue's Phu Bai International Airport is around 15 kilometers (9 miles) from the city center. Even so, transfer times and flying times added together is still substantially less than the time it will take you to travel from Hanoi to Hue by bus or by train, and when you consider the cost of flying it can be quite economical depending on which airline you fly with. Vietnam Airlines are very expensive while their only competition on this route, VietJet Air are actually quite affordable with ticket prices coming in cheaper than some train journeys. So, certainly do not disregard taking a flight.
From Hanoi to Hue by Bus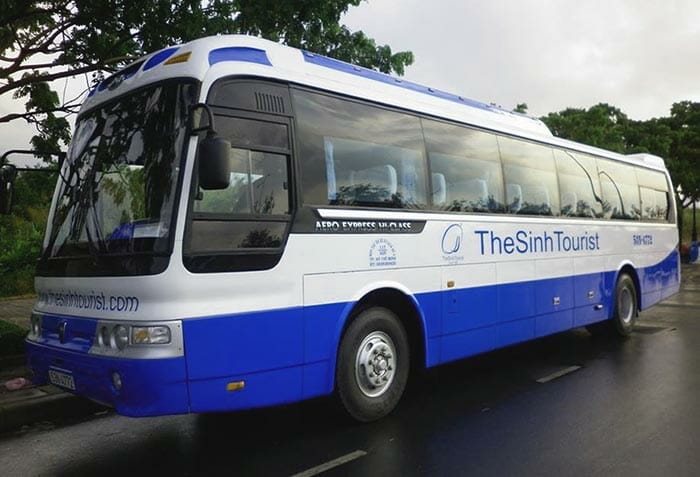 If you're a seasoned traveler in Southeast Asia you'll know that usually buses get to their destinations faster than trains do, however, in Vietnam, that's not the case! Road conditions are known for being not so great in Vietnam so that means buses must travel slower and the result is that it will take just as long getting from Hanoi to Hue by bus as it does by train. So, if you're not saving any time traveling by bus, why choose to travel this way at all?
Well, the main reason is the cost saving. Going by bus from Hanoi to Hue is easily the cheapest. So, if you're traveling on a budget the bus is likely to be your first choice. The good news is that although it takes around 12.5 hours the buses are set up as sleepers so you have a seat that doubles as a bed, allowing you to stretch your legs out. These VIP buses are well equipped too, including washrooms and TV's onboard, and there is a steward and snack service as well. You'll see plenty of gorgeous scenery along the way, and you can choose from a selection of departure times including morning and evening to suit your schedule.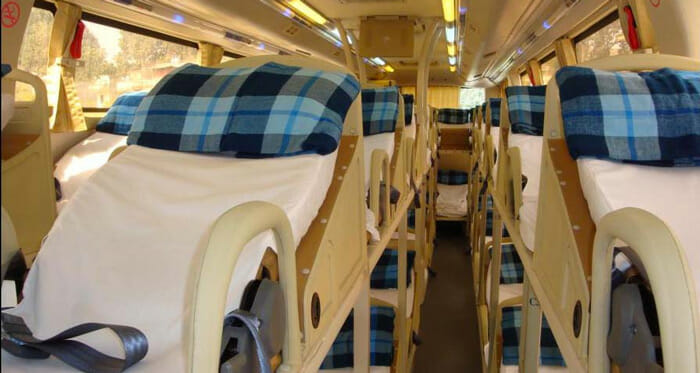 But, a 12.5 hour bus ride is not a good option for people who like their space and like to be able to walk around as this is a long time to be cooped up, so do bear this in mind when choosing your best way to travel from Hanoi to Hue.
The Train from Hanoi to Hue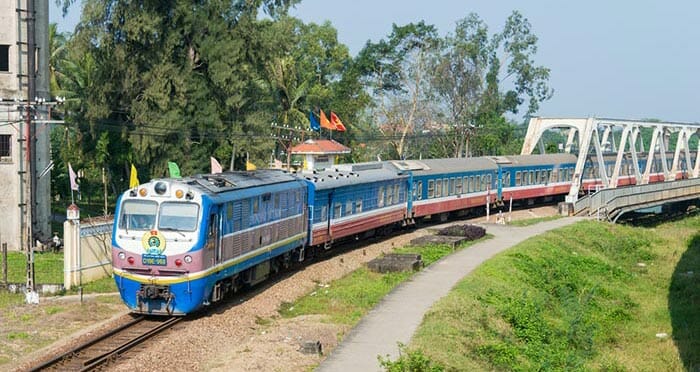 The train from Hanoi to Hue is a good compromise: you can get train tickets for less than the cost of a flight (although there are certain trains and cabins that will cost more), and although the train does take a long time, comfort levels should be better than on a bus if only because you're able to walk around when you want to.
When taking the train there are numerous different options covering a range of prices, so you will be able to find affordable options starting at around double the price of a bus ticket, right up to expensive options that cost more than a flight with VietJet Air. However, do bear in mind that if you're on a sleeper train you're essentially getting a night's accommodation in with the price, so that's one less night to pay for in Hue or Hanoi. When you look at it this way, even the more expensive train carriages are quite affordable.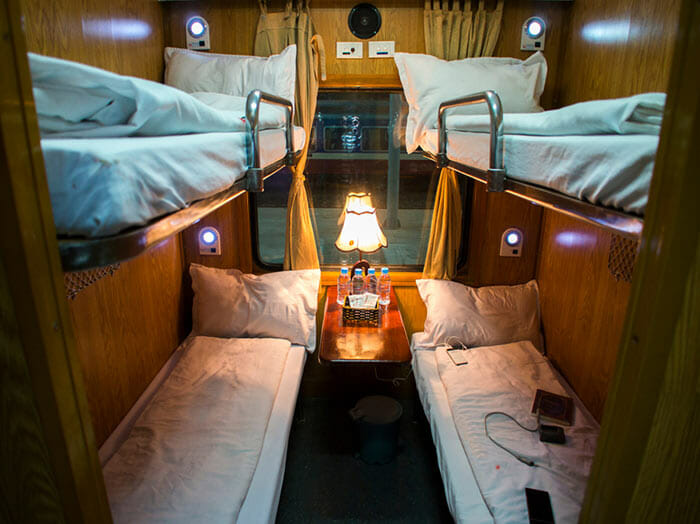 All trains are operated by Vietnam Railways, however, private companies operate carriages within some of those trains, so look carefully at what you're getting for your money before making a final decision. Livitrans Express and Violetta Express are the two private companies, and both provide VIP sleeper cabins that sleep four people and are more comfortable than the standard cabins, plus you'll get a better level of service. You will pay more for those cabins, but if you're taking the train from Hanoi to Hue and you like a higher level of comfort, it's worth the price.
Standard sleeper cabins – both 1st and 2nd class – are still available by booking with Vietnam Railways, and, if you want to travel during the day to be able to enjoy the passing scenery, you can get a seat rather than a cabin on a daytime Vietnam Railways train. Trains can take anything from 12.5 hours to 14.5 hours.
So, there are plenty of different options for travel from Hanoi to Hue ranging from the cheapest buses to the most expensive airplanes or trains. Which will you choose?
Did you find this guide useful?
Click on a star to rate it!
Average rating: / 5. Vote count: