When you're visiting Vietnam, the country's capital and second largest city is a great place to begin your trip. Hanoi is a charming city that's filled with historic architecture including the atmospheric narrow streets of its old quarter, monuments, parks and gardens all in a scenic setting along one bank of the Red River and around an assortment of lakes. There are many places you could head after spending time in Hanoi, but for a relaxing change of pace travel south to the small city of Ninh Binh. Known as one of Vietnam's hidden gems, the scenery surrounding Ninh Binh is stunning and, being a quieter city that's off the beaten track, this is the perfect place to experience the real Vietnam! You'll discover that getting from Hanoi to Ninh Binh is a breeze after reading our travel guide!
Read about:
• Hanoi to Ninh Binh by Train
• Hanoi to Ninh Binh by Bus
• Hanoi to Ninh Binh by Taxi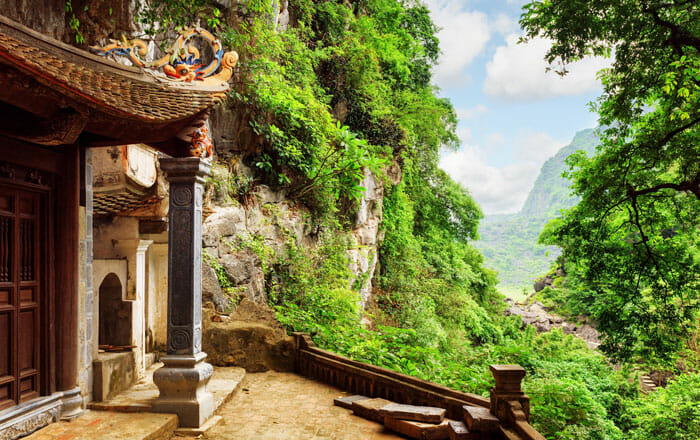 Options for Travel from Hanoi to Ninh Binh
It's a little less than 100 kilometers (around 60 miles) from Hanoi to Ninh Binh, so it's really not a long way if you're planning the trip. By road it takes only about 90 minutes, but your actual journey time may be longer depending on how you choose to travel. The good news is that there are several different transport options available to you. You can go by train, by bus, or by private taxi, and fare prices vary quite considerably between these three options so there should be something to suit all budgets.
Train from Hanoi to Ninh Binh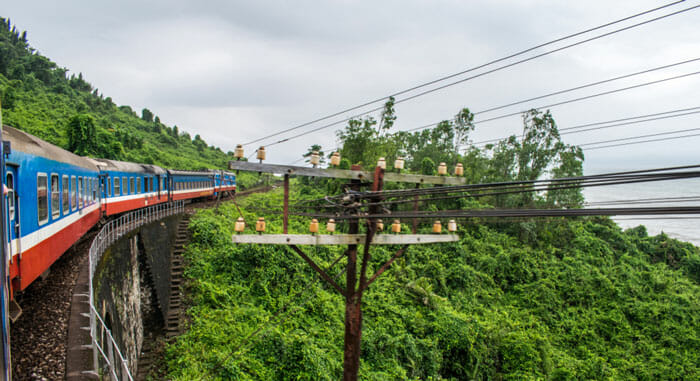 Let's start with the most affordable option, the train from Hanoi to Ninh Binh. If you're traveling on a tight budget then the train is the cheapest way to go, providing that you buy the correct ticket as there are a few different ticket options to choose from. These include First Class Sleepers, Second Class Sleepers, Second Class Seats with air conditioning, and standard Second Class Seats. 1st Class Sleepers are, as you would expect, the most expensive option, while standard 2nd Class Seats are the cheapest.
So, which one should you go for? To be honest, there's really no need to spend more money on a Sleeper because the journey isn't long enough to warrant it. The trains take between two and a quarter hours to two and three quarter hours, and they don't even travel overnight. There are departures all through the day, starting as early as 6am, with the last departure from Hanoi around 8pm, although this does vary depending upon which Hanoi station you depart from. There is the main Hanoi Station, and there's another station at Ga Giap Bat in the south of Hanoi.
Regardless of being one of the cheapest options, traveling by train from Hanoi to Ninh Binh is a popular way to get from A to B because Vietnam Railways trains are usually quite reliable and they're relatively comfortable too. Many tourists prefer to travel by train compared to going by road. The road journey is scenic for sure, but you usually get to see more of the passing scenery when going by train and there's a certain romanticism to traveling anywhere by train too!
Another positive with traveling by train is that the station is right in the heart of Ninh Binh so you won't have far to travel on to your hotel from the railway station. And with so many different departures per day, it's easy to find a train to fit around any existing schedules that you have, whether you want to travel morning, afternoon or evening.
From Hanoi to Ninh Binh by Bus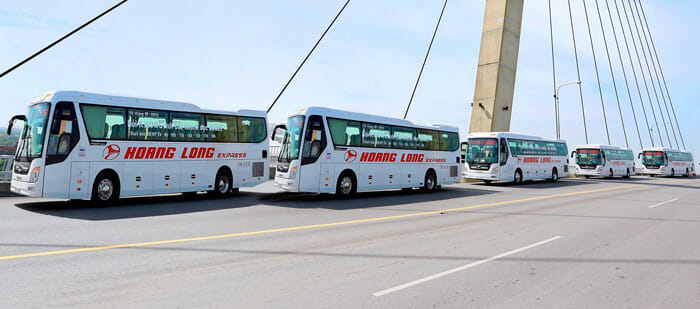 After the railway, the second cheapest way to travel from Hanoi to Ninh Binh is by bus. The scheduled journey time for buses is 90 minutes but be prepared for delays, both in departure times and arrival times. Buses may leave late, and depending on the traffic, could take longer than 90 minutes to get from Hanoi to Ninh Binh.
Hoang Long is one of the bus companies offering this service and they usually have four departures a day: one in the morning, one early afternoon, and two in the evening. Buses could be sleeper buses even though you won't be traveling through the night, however, the sleeper buses are a great way of having more space to stretch your legs out, making this a particularly good choice if you're quite tall! The buses are also well equipped, providing toilets onboard, air conditioning, steward service and snacks.
There are a few downsides to traveling by bus from Hanoi to Ninh Binh. First, the bus station in Hanoi is in the south of the city so if you're staying in the center, you'll need to make your way to Hanoi Nuoc Ngam Station. And then once you arrive in Ninh Binh, you won't be arriving in the heart of that city either. The bus arrives to the south of the city, dropping passengers alongside one of the highways. You're not exactly in the middle of nowhere here, but you will need to get a taxi to take you back into the city center, so this adds extra costs to what seemed like a reasonable price.
Private Taxi from Hanoi to Ninh Binh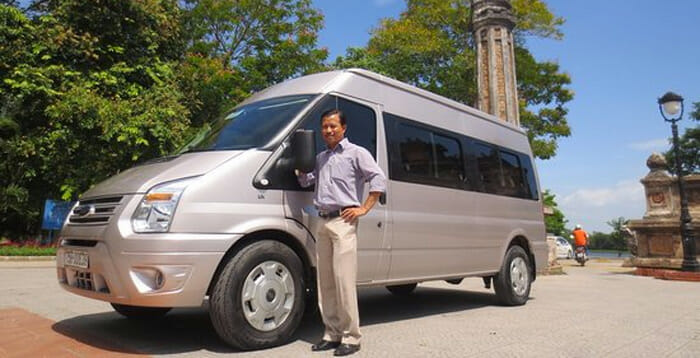 The final option is the most expensive, however, if you're traveling with a group of people it's actually quite reasonable. Going by private taxi is the most convenient way to go because it's door to door. Cat Ba Express is one of the private taxi operators who run services between Hanoi and Ninh Binh, picking up from your hotel in the old quarter of Hanoi. You can book a standard sized car, but the private taxis become a more economical option when you use one of their larger vehicles which include 7-passenger minivans, and 16-passenger vans as the overall price does not increase by much, but when split between multiple people it's actually quite a good deal.
So, getting from Hanoi to Ninh Binh is easy and affordable, and with three different options and lots of different departure times to choose from, finding your perfect way to travel should be a breeze!
Did you find this guide useful?
Click on a star to rate it!
Average rating: / 5. Vote count: