When you want to escape from the hustle and bustle of Vietnam's capital city, Hanoi, take a trip northwest into the mountains and head for the beautiful town of Sapa. This former hill station was founded by the French in 1922 and is today one of Vietnam's popular tourist destinations, known for its striking scenery and rich cultural diversity. Referred to as both Sapa and Sa Pa, the town is easy to get to from Hanoi as there are plenty of different tour companies serving this route.
Read about:
• Hanoi to Sapa by Bus
• Hanoi to Sapa by Train
• Hanoi to Sapa by Taxi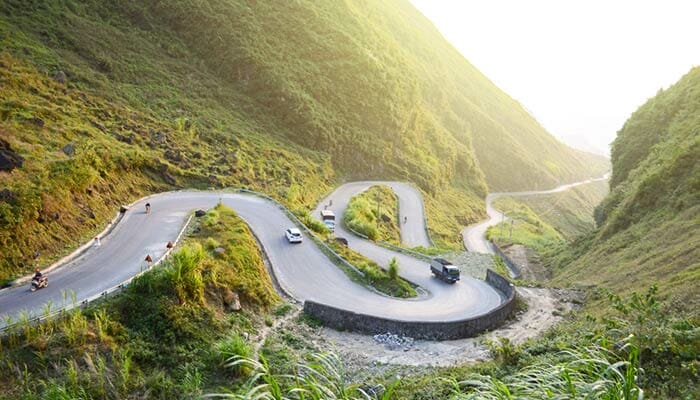 What are the Options for Travel from Hanoi to Sapa?
There are basically two ways you can travel from Hanoi to Sapa: by train or by road. Having said this, this will not limit your options when it comes to choosing something that suits your budget and your schedule because there are numerous different companies operating trains, taxi and buses. By road, the journey from Hanoi to Sapa is around 317 kilometers (200 miles) which should take in the region of 5 hours. Trains to Sapa take longer but then most, if not all of them, travel overnight so you can get some sleep. More details on the sleeper trains, taxis and buses can be found below…
By Bus from Hanoi to Sapa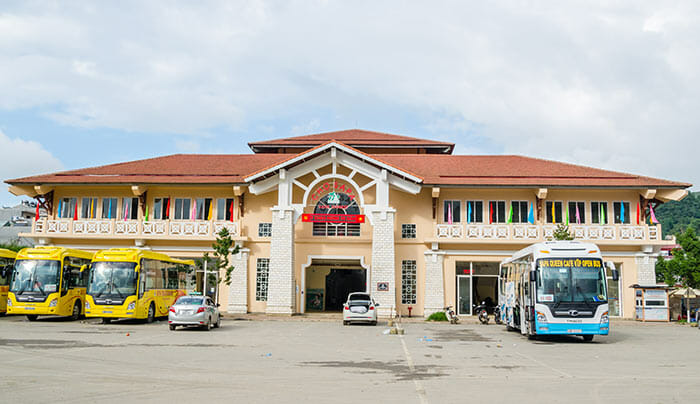 There are three advantages to traveling by bus or minivan from Hanoi to Sapa: the first is that it's cheaper, the second is that it's faster, and the third is that the buses and minivans take you into Sapa itself; something that the trains cannot do. The bus ride takes around 5 to 6 hours. Five hours if you depart from Noi Bai International Airport and six hours from the Hanoi city center.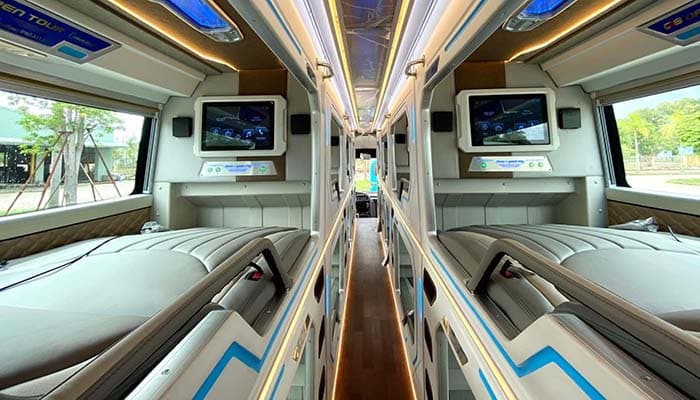 VIP buses
If you want more legroom, a leg rest, a personal TV, and steward service, look for the VIP buses from Hanoi to Sapa. VIP buses are designed with two rows of beds with more spacing, offering travelers a more relaxed journey. If you need even more space, look for a VIP bus with a low number, as the number after VIP "X" indicates the total number of passengers. VIP buses are more expensive, but these are the best bus options if you want a more comfortable ride and prefer to sleep on the bus.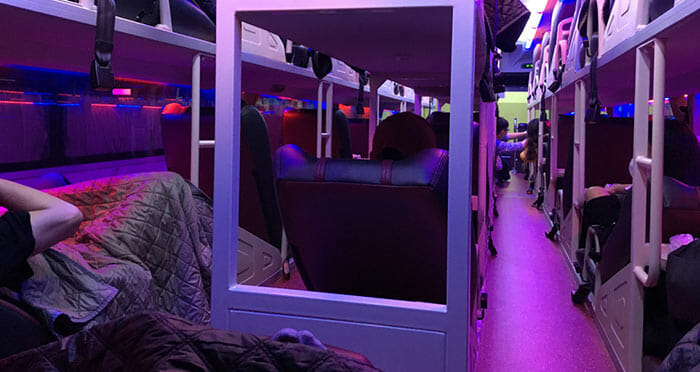 Sleeper buses
Sleeper buses are another alternative for the journey from Hanoi to Sapa. Sleeper buses feature three rows of sleeper beds and are more cramped than VIP buses. So, there will be two narrow aisles between the three rows. While they are not completely lie-flat beds, the backs are reclined at a fixed angle and there's enough space to stretch your legs out flat unless you're especially tall. They are a more basic option that will save you a few dollars compared to the VIP option. Although there's still a reasonable amount of space, the beds might start feeling a little uncomfortable on longer journeys like the one from Hanoi to Sapa.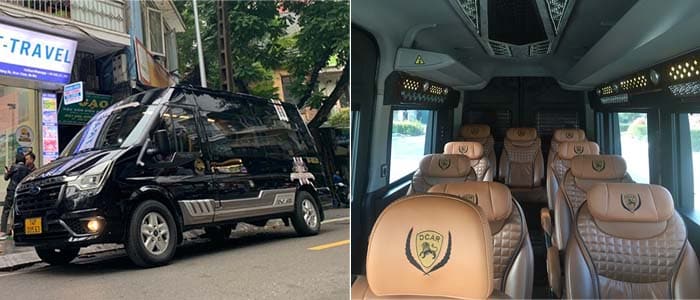 Minibuses or Vans
Alternatively, there are minibuses, accommodating 9 to 14 passengers, furnished with regular seats. Labeled as a VIP service, these vehicles ensure a comfortable journey with reclining seats and air conditioning. With fewer passengers onboard, minivans offer a more tranquil and personalized travel experience. It's worth noting that these vans lack amenities like drinks, snacks, or restrooms. However, multiple stops will be made during the trip, allowing passengers a breather and a chance to stretch their legs.
Companies
Grouptour provides most bus options to Sapa, with frequent departures every hour from 5:30 am to midnight. Their fleet predominantly features VIP 20 and VIP 22 seat buses. Additionally, they offer vans that accommodate 9-14 passengers and express sleeper buses with 38 seats.
Techbus VN JSC also has a diverse range of transportation options. They run multiple services hourly from 5:50 am until midnight, mainly focusing on VIP 22 seat buses. In addition, they offer sleeper buses with 40 seats and vans designed for 9-11 passengers with standard seating.
Take the Train to Sapa from Hanoi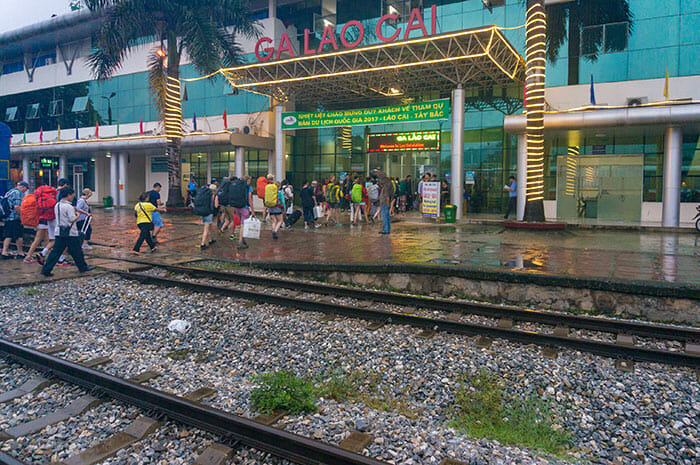 Many travelers will tell you that taking the train to Sapa from Hanoi is the best way to travel between these two destinations because the road journey is long and that traveling on Vietnamese roads is not always safe. This may have been true in the past, but a new highway has greatly improved this route, making it faster and safer to travel to Sapa from Hanoi by road. In the end, it really comes down to personal preference and budget. Most of the overnight train options are considerably more expensive than traveling by bus or minivan, but you could argue that you are getting a better service for the money – sleeper trains should be more comfortable than a bus as you have far more space to move around in, and, if you do choose a sleeper car you will be able to benefit from an actual bed rather than just a reclining seat.
Apart from being more expensive, the other drawback with a train is that you will still have to take a bus to get you into Sapa itself. The train station is in Lao Cai, in the valley below the mountains in which Sapa is located, and there's a very winding road you'll have to travel by minibus or private transfer. It's only around 35 kilometers (22 miles) but because of the many curves in the road it will take somewhere between 45 minutes and an hour, so do bear this in mind as you will need to add this transfer time to your journey.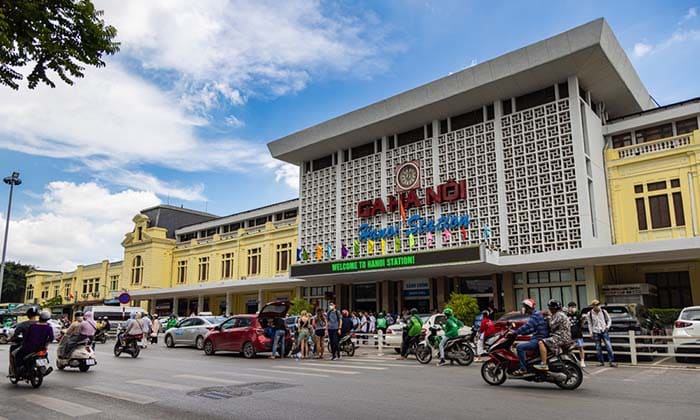 Trains from Hanoi's main railway station to Sapa Lao Cai depart around 22:00 and arrive the following morning at approximately 06:00. The journey, covering roughly 300 kilometers, lasts around 8 hours. This overnight schedule allows travelers to wake up to the breathtaking mountain landscapes characteristic of the Sapa region. The service features various levels of comfort and pricing, ranging from standard sleeper cabins to VIP sleepers, and options with hotel-like amenities for those desiring extra luxury.
When securing train tickets, you'll find that each train includes cars owned by different private companies, all vying for your business. The most economical choice is to stick with Vietnam Railways, which offers a first-class sleeper option that is only marginally pricier than a minibus from Hanoi to Sapa. If you prefer more luxury, options such as Fanxipan, Livitrans Express, or Violette Express are available. Other operators like Orient Express, King Express, and Sapaly offer similar levels of service, while Chapa Express and Victoria Express generally cost more but offer presumably greater comfort.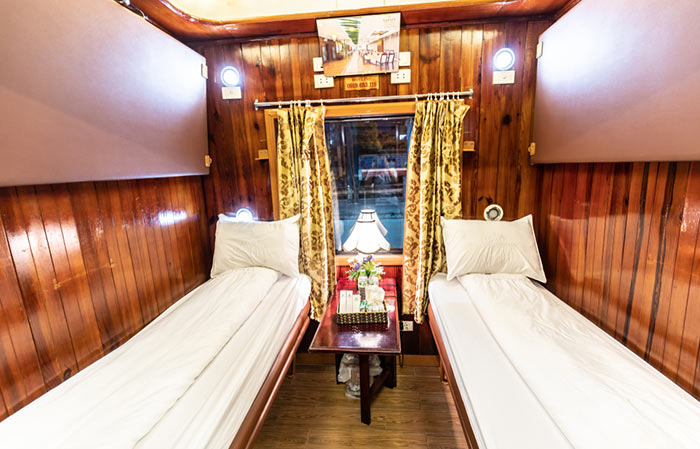 Regardless of your choice, all trains provide access to bathrooms, steward service, and onboard dining.
Go by Taxi to Sapa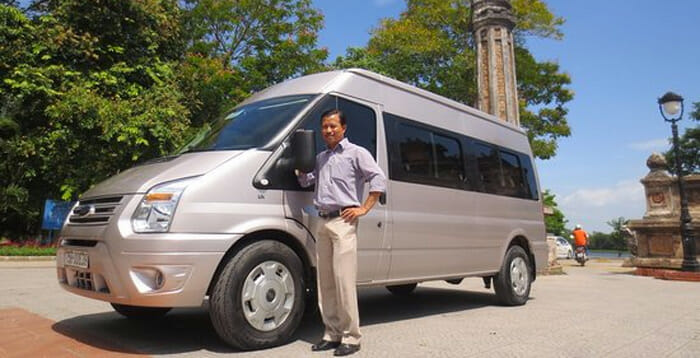 Another upscale option for traveling from Hanoi to Sapa is by taxi. You can easily book a private taxi service through 12Go, where you can compare the prices with all different companies. Depending on your group size, you can select from a wide range of vehicles, starting with economy options priced from $110, moving up to SUVs, smaller vans, and then the spacious 15-passenger minibus.
Taxis can pick you up anywhere in Hanoi, from the Old Quarter to Noi Bai International Airport. Upon arriving in Sapa, they'll drop you at your chosen location. Simple and convenient.
Though taxis from Hanoi to Sapa can be pricier than buses or vans, you pay a fixed price for the whole vehicle. This arrangement allows for cost-splitting among passengers, be it family, friends, or new acquaintances. When shared among a group, the taxi fare can become quite affordable — potentially even more cost-effective than individual bus tickets. For those traveling in larger groups, considering a private taxi might be a wise choice, giving you the luxury of having an entire vehicle to yourself.
With a better and safer highway, getting from Hanoi to Sapa by road is not as much of an ordeal as it used to be and if you're trying to get to Sapa a little faster and for less money, the buses and minivans are a very good option. Even so, the trains to Sapa from Hanoi are popular too, so which one will you choose?!
How do I get from Hanoi to Sapa?
The cheapest way to travel from Hanoi to Sapa is by van or bus. There are multiple transport companies offering this popular route, which generally takes between 5 and 6 hours. Trains take longer and cost more, but with sleeper options you can travel overnight and save the hotel expense. Many of the bus companies, and tickets for the trains, can be booked online through 12Go.
Can you fly to Sapa from Hanoi?
There's no airport in Sapa so you can't fly from Hanoi, but there are buses and trains. You can see all the options and book your tickets on the travel website, 12Go. They offer bus and van tickets for a journey of around 5.5 to 6 hours all the way into Sapa, or consider the longer train ride which involves an hour transfer to Sapa from the railway station.
How long is the bus ride from Hanoi to Sapa?
Traveling by bus from Hanoi to Sapa, you're looking at a journey time of between 5.5 to 6.5 hours, depending on the time of day you're traveling and which bus company you choose. You can compare the different companies and their schedules easily, and book online at 12Go. They sell tickets for Sapa Express, Sapa Dragon, and Sapa Grouptour, using Semi-Sleeper, Sleeper, and VIP type buses.
Did you find this guide useful?
Click on a star to rate it!
Average rating: / 5. Vote count: