Hanoi is Vietnam's capital and second largest city, and is consistently voted among TripAdvisor's top 10 destinations in the world. Home to over 7 million residents, Hanoi attracts roughly 5 million international tourists every year, so no matter how you look at it, it's a busy city! But with so many things to see and do, tourists look past the busy streets to the Old Quarter and the two French Quarters, all renowned for their appealing historic vibes and architecture. After spending time in the capital, you may want to head to somewhere quieter and Hoi An is just the place. There's little in the way of traffic here, and Hoi An has a wonderful Old Town that transports you back in time to when the city was a trading port, while just a short distance away you could hit the beach and spend a day relaxing.
Read about:
• Flight from Hanoi to Hoi An
• Bus from Hanoi to Hoi An
• Train from Hanoi to Hoi An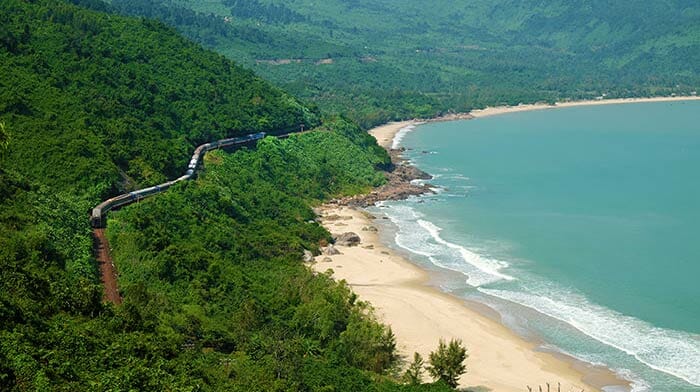 Options for Travel from Hanoi to Hoi An
Whatever form of transport you choose to travel from Hanoi to Hoi An, it's a long way! Catching a flight reduces the distance between these two cities to around 630 kilometers (394 miles), but as you're probably aware, flying is usually the most expensive way to travel. If you go by road the distance increases to 800 kilometers (500 miles) as you have to follow the lay of the land, making this a very lengthy road journey if you'd like to save the most money and travel from Hanoi to Hoi An by bus. Another option is take a train – it's still a long journey, but traveling by train does give you more comfort than a bus would do. There is a catch to flying or taking a train though – read on to find out what the catch is!
Flight from Hanoi to Hoi An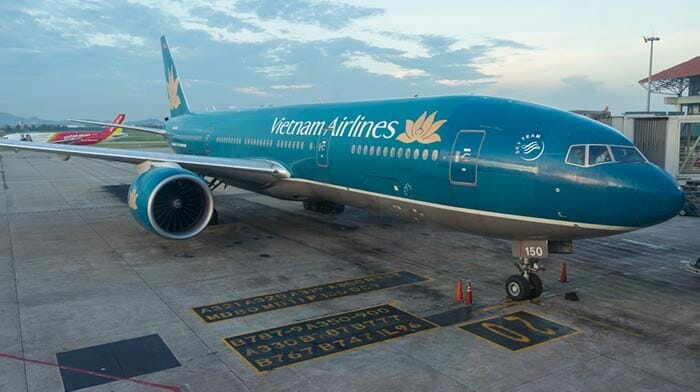 Catching a flight from Hanoi to Hoi An looks to be the fastest way to get from A to B as the flight time is only one hour and twenty minutes, however, as we mentioned above, there is a catch. Hoi An actually does not have an airport so you would be arriving at Da Nang International Airport instead. This isn't a massive deal-breaker as the distance from Da Nang International Airport to Hoi An is only around 29 kilometers (18 miles), but it does add time to your journey – an hour to an hour and a half travel time from the airport into the center of Hoi An.
Even with this transfer time added on, plus the time it will take you to get to Hanoi's Noibai International Airport and through check-in and security, you're still going to get from Hanoi to Hoi An faster than you would do by train or by bus, so if it's speed you want, flying is the way to go!
The biggest disadvantage with catching a flight from Hanoi to Hoi An is the cost – when you add in the cost of transferring to and from the airport at either end, and bear in mind that flying is the most expensive way to travel anyway, it does become costly; even so, this is the payoff for getting their faster!
There are three airlines offering regular flights from Hanoi to Hoi An: Vietnam Airlines, Jetstar Pacific, and VietJet Air. Out of these three, Vietnam Airlines usually comes out to be the most expensive, but if you're flexible on your time of travel you can find tickets with them that are comparably priced to the other two airlines. The advantage with Vietnam Airlines is that they have the most flights per day from Hanoi to Hoi An, so there's lots of choice with them, and their tickets include a 20kg baggage allowance. You can book tickets for all three airlines on the travel website, 12Go.asia, where one search will give you all the results from these airlines.
Hanoi to Hoi An by Bus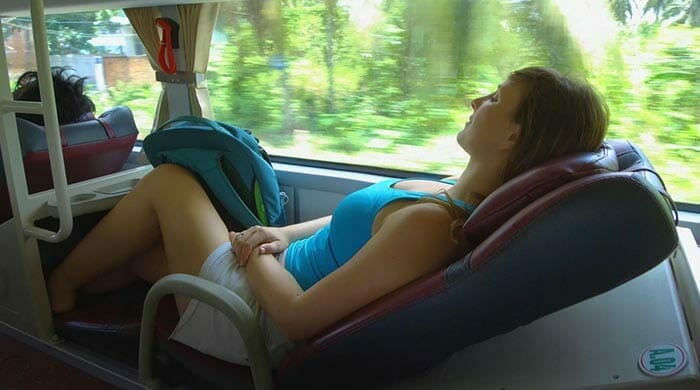 From the fastest mode of transport to the slowest, traveling from Hanoi to Hoi An by bus is a long and arduous journey. Being in the confines of a bus for around 19.5 hours is not something that will appeal to everyone – yes, there will be stops along the way, but generally when you're on a bus you are not able to get up and walk around whenever you want to.
Hanoi to Hoi An is not a route that's offered by many bus companies, so you're restricted on choice there. For a direct service there is Sapa Grouptour – this is easily the cheapest way to travel, and it could be argued that it's convenient too as this bus goes from the heart of Hanoi to the heart of Hoi An, so you won't have to worry about transfers, but, Grouptour's buses tend to be a little older than others and they don't have many creature comforts onboard. It's a semi-sleeper bus so the seats are mostly reclined, giving you extra legroom, but you can't fully lie down. Considering you will be leaving Hanoi at 6:30pm and not arriving in Hoi An until 2pm the next day, you're going to need to sleep!
There is another bus option, but it's not a direct service and will cost more. You could travel with Hoang Long bus company from Hanoi to Da Nang, then transfer to a different departure point for a bus to Hoi An with The Sinh Tourist, but with transfers and wait times, this will take around 21 hours.
Hanoi to Hoi An by Train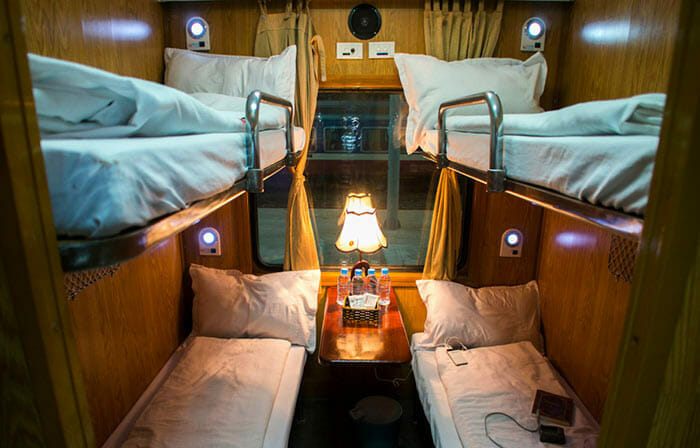 The final option is to travel by train from Hanoi to Hoi An, but, like flying, the train does not actually go to Hoi An, instead arriving in Da Nang. From there you will need to transfer to Hoi An yourself, or book a bus. You can book train tickets by themselves, or buy a joint train and bus ticket from 12Go, however you will still be responsible for getting yourself between stations in Da Nang.
Trains can be a cheap way to travel if you opt for 2nd Class seats, but, for such a long journey – the fastest trains take 15 hours and 21 minutes – we would highly recommend you book a sleeper and not just a seat. Sleepers vary in price too, from a standard 2nd class sleeper, 1st class sleeper, or VIP sleeper that is available on private carriages, so do check around at the different options before you book.
The biggest advantage of traveling by train is that although it does take a long time, it's a great way to travel! You have plenty of space in which you can get up and walk around; the train has all the facilities onboard that you would need; and you can watch the passing scenery; and, if you book a sleeper berth you may even be able to get some sleep while traveling overnight!
So, there are three main options for traveling from Hanoi to Hoi An – go cheap but risk your comfort by traveling by bus; go fast and spend more to catch a flight; or go slow but in comfort on a train, knowing that it could cost just as much, if not more than a flight.
Did you find this guide useful?
Click on a star to rate it!
Average rating: / 5. Vote count: