One of Asia's most scenic attractions, Halong (or Ha Long) Bay is often included in lists of the world's greatest natural wonders. This stunningly beautiful bay is home to thousands of striking limestone karsts and islets, and was designated a UNESCO World Heritage Site in 2004. If you're sightseeing in Vietnam's capital city, you should travel from Hanoi to Halong Bay to see this beautiful bay in person. Ha Long Bay is around 170 kilometers (105 miles) east of Hanoi, and covers a vast area of about 1,500 square kilometers, and there are numerous ways to get from Hanoi to Halong Bay.
Read about:
• Organized Tours from Hanoi to Halong Bay
• Minibus from Hanoi to Halong Bay
• Shuttle Bus from Hanoi to Halong Bay
• Cheaper Bus to Halong Bay
• Private Car from Hanoi to Halong Bay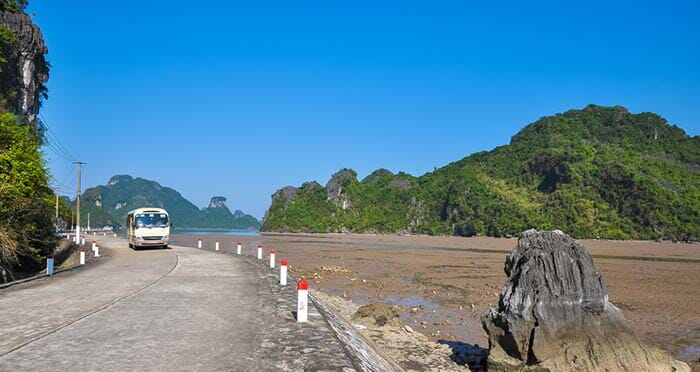 The Different Travel Options for Hanoi to Halong Bay
As mentioned above, there are numerous different ways to travel between these two places. Often your decision will come down to budget and timescale as some options are faster than others, and they can vary wildly in cost. Organized tours are often seen as a reliable way to get from Hanoi to Halong Bay, though these are not without their drawbacks (see below for more information on this), and if you're trying to save your pennies then a public bus is certainly an affordable way to travel if you're not pushed for time. Minibuses, shuttle buses, and private cars are further options, and there's even a train option though for various reasons we would not recommend this.
Organized Tours from Hanoi to Halong Bay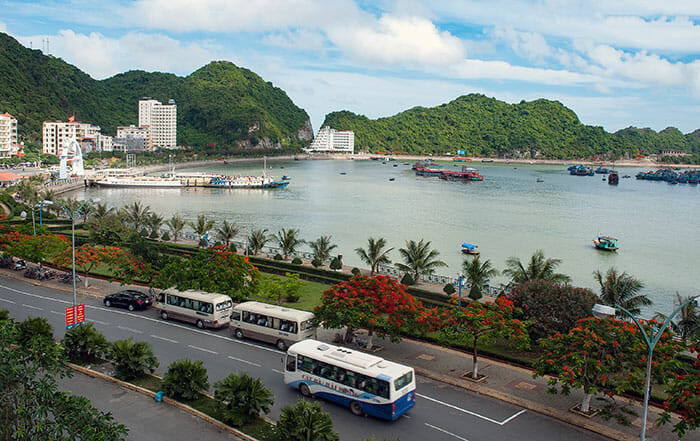 If you're a traveler who prefers to let someone else do the driving and letting you know all the sights you're passing while you sit back and relax, then an organized tour could be a good option. Though definitely more expensive than other options, the opportunity to enjoy the sights and sounds of Vietnam as you're traveling can make the extra expense worthwhile. However, standards do vary considerably so be sure to do your own research before booking a tour. A tour that seems to be good value for money could end up being expensive because other fees are added on, or tourists are convinced to buy add-ons such as additional tours along the way.
Most of these organized tours will head to the island of Cat Ba, taking you via the tourist port at Bai Chay where there's even more opportunity for the tour companies to upsell you. However, if you do your research by reading reviews etc before choosing a tour company, you should be able to find a reputable tour.
Minibus from Hanoi to Halong Bay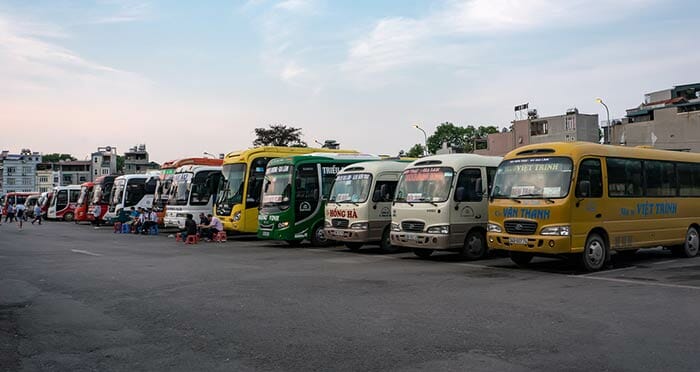 Buy tickets for the minibus direct from the ticket counter and they should cost around 5 €, making this a very affordable mode of transport. The minibus will take you all the way to Halong City, terminating in the tourist area of the city known as Bai Chay. This is the tourist port for boats touring Ha Long Bay and is mainly geared towards tour companies traveling in from Hanoi. Having said this, if you don't already have your boat trip organized, you will be approached by many people trying to sell you expensive tickets. It is best to buy your own tickets which are much closer to face value by finding the ticket desks inside the building by the waterfront. From here you can purchase a Route 1 ticket to Cat Ba.
If you choose the minibus option from Hanoi to Halong Bay, the minibus section of the journey should take between 4 and 5 hours depending on the number of pickups along the way. Get on the bus at Gia Lam but plan to leave no later than 10:00 or you'll have trouble getting to Bai Chay in time for the last ferry to Cat Ba which departs at 15:00.
Shuttle Bus from Hanoi to Halong Bay
Shuttle buses from Hanoi to Halong Bay offer a similar service to the minibuses and you should be able to arrange pick up from your Hanoi Old Quarter hotel. The journey time will again be between 4 and maybe as much as 6 hours, depending on the number of stops, and the cost is around 10 € one way.
Cheaper Bus to Halong Bay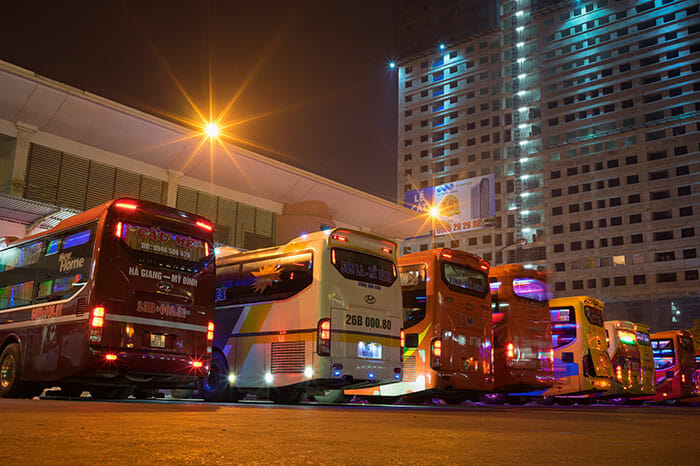 Minibuses are often more comfortable than a public bus, but this is not necessarily the case for travel from Hanoi to Halong Bay. If you're staying closer to My Dinh Bus Station in Hanoi, consider catching a bus from here. It is even cheaper than a minibus, and bizarrely enough, is reputed to be more comfortable and faster than a minibus!
Private Car from Hanoi to Halong Bay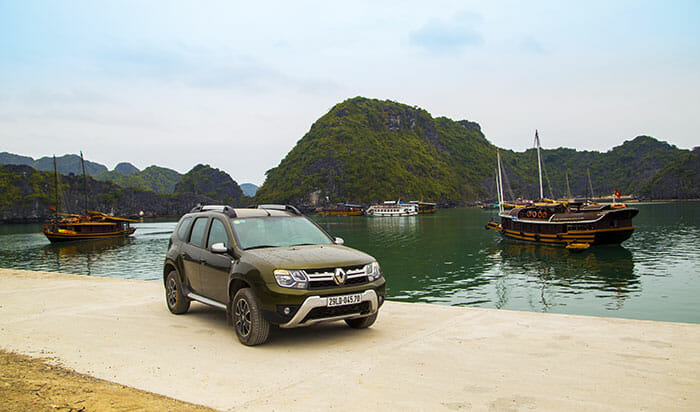 For the greatest flexibility, more space and better comfort levels, a private car is the nicest way to travel. Traveling this way, you can take your time and make ample stops along the way to see the sights, or if you prefer to get to your destination in record time, you can drive directly from A to B without having to worry about making multiple stops for picking up other passengers. If you're traveling with a few friends or family members, a rental car can actually work out to be quite affordable if you're splitting the cost between you.
If private car sounds like a good option but you're not confident driving on foreign roads, there is another option. A private car driven by a local driver should cost somewhere around 85 € for the car, so again, when split between several travelers this is really quite affordable. One or two-day trips can be organized, with the two-day costing more like 150 €. Private cars can be taken direct from Hanoi, and it's likely you could arrange pick-up direct from your hotel for added convenience.
Did you find this guide useful?
Click on a star to rate it!
Average rating: / 5. Vote count: