Famed for its sandy beaches and close proximity to the scenic Mable Mountains, Da Nang is one of Vietnam's top tourist destinations. A great place to relax on the beach, or come here to spend time hiking the hills or exploring the city's sights if you prefer to be on the go. After soaking up the sun, head north along the picturesque Vietnamese coast then inland to the country's capital city, Hanoi. A bustling city that's home to more than 7.5 million people, Hanoi is full of things to see and do including very well-preserved colonial architecture, great cuisine, and a vibrant nightlife. The route from Da Nang to Hanoi is a popular one so this means there are plenty of ways to get between the two cities.
Read about:
• Da Nang to Hanoi by Bus
• Da Nang to Hanoi by Train
• Da Nang to Hanoi by Flight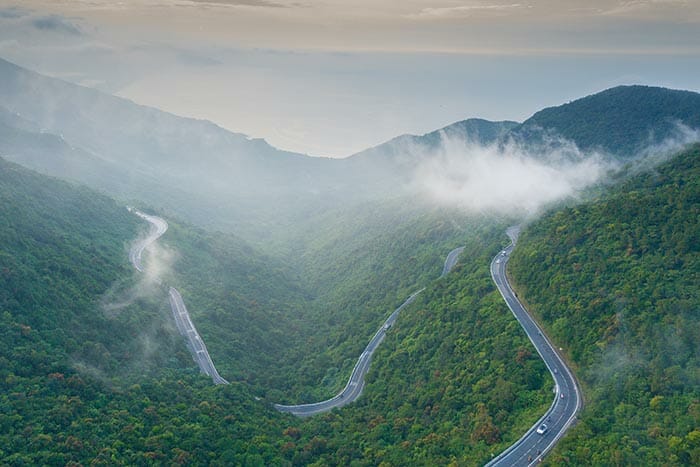 Travel from Da Nang to Hanoi – The Options
The shortest route by road from Da Nang to Hanoi is a lengthy 768 kilometers (480 miles), so, as you can imagine this is going to take a long time. There are buses traveling this route regularly, so if you want to go by road this is an affordable option, albeit a very time-consuming one. Trains are another option, good if you prefer more space in which to move around, but they're not going to be especially faster than the buses and generally they will cost a fair bit more. Talking of costing more, there are also flights from Da Nang to Hanoi. Flying beats all other modes of transport for speed, and there are plenty of airlines and daily flights to choose from. If you're unsure which is the best way for you to get from Da Nang to Hanoi, read on for more information on all these options.
The Bus from Da Nang to Hanoi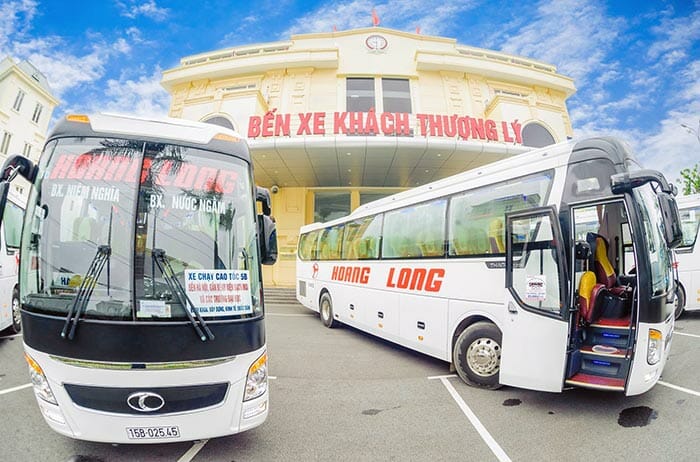 The biggest advantage with taking the bus from Da Nang to Hanoi is that it's cheap, so this is a popular way for travelers on a budget to go, however, taking such a long journey by bus is not without its problems. Admittedly, most of the buses traveling this route are sleeper buses so that means you'll get a seat that resembles a bed, giving you space to stretch out and 'almost' lie down! Considering you will be traveling overnight, these sleeper buses are a good option if you're someone who doesn't have too much difficulty falling asleep. The added bonus is that although you're losing some time traveling by bus, you're saving additional money because it's one less night spent in a hotel.
The tour company Hoang Long provides the higher-end, more comfortable sleeper buses which includes such luxuries as AC, a TV, steward and snacks, as well as a bathroom onboard, and the bus will stop several times along the way to allow you to get off and stretch your legs and buy a proper meal. Tickets for these buses are reasonable considering the length of the journey, and their schedules suggest that it will take around 18 hours to get from Da Nang to Hanoi.
If you're wanting to save even more money there is another bus company you could consider. Hanh Café runs a more standard bus between Dan Nang and Hanoi that has air conditioning but not really anything else. You'll be sitting in standard seats for this journey, but according to their schedules Hanh Café will get you to Hanoi faster – they quote 14 hours.
Da Nang to Hanoi by Train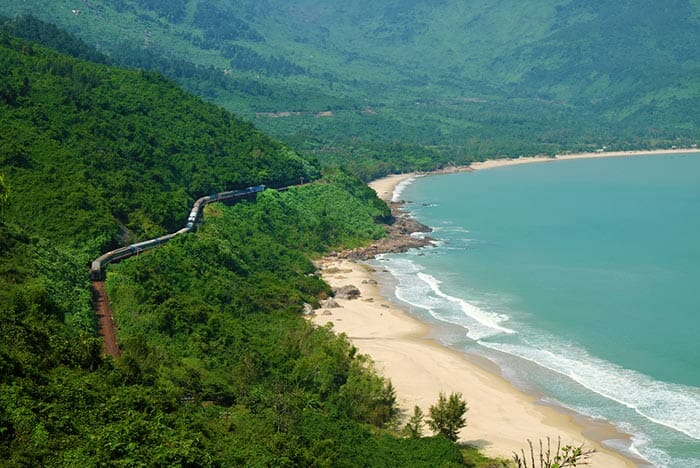 If you don't like the idea of being stuck on a bus for over 14 hours, the train from Da Nang to Hanoi could be a good alternative. It does cost more than the bus but it gives you way more freedom to get up and move around the carriages, allowing you to stretch your legs whenever you want. There are several trains a day to choose from and on those trains you have a number of comfort/price options. First off, bear in mind that the train isn't necessarily going to be any faster than the bus but if you're traveling on a budget there is a cheap train option and that's for just the seat in a 2nd class carriage. For not much more you could opt for a 2nd class sleeper where you'll be in a cabin with several other people.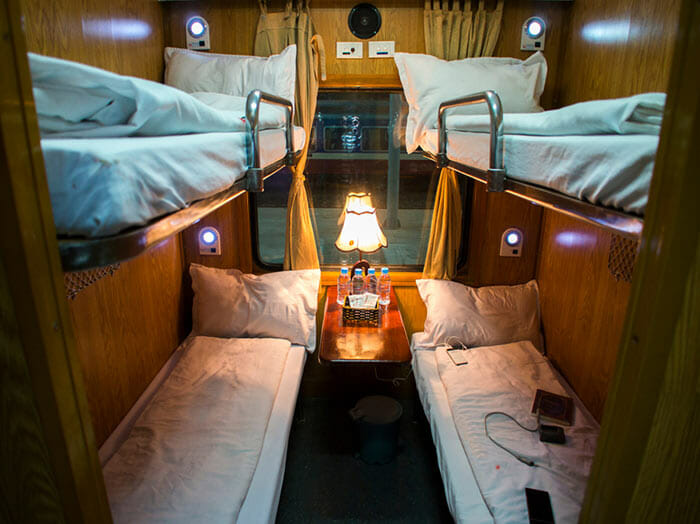 There are beds but they're quite hard because the mattresses are rather thin. From here you can upgrade further to a 1st class sleeper cabin where the mattresses are substantially thicker! But these aren't the only options. Some carriages on Vietnam Railways are operated by private companies who provide a higher level of comfort and luxury. The VIP Sleepers with Violetta Express and Livitrans Express do cost quite a lot more but you're getting a higher level of service and comfort for the price.
Depending on the train, the railway service takes somewhere between 15 and a half hours to almost 18 hours from Da Nang to Hanoi.
Flights from Da Nang to Hanoi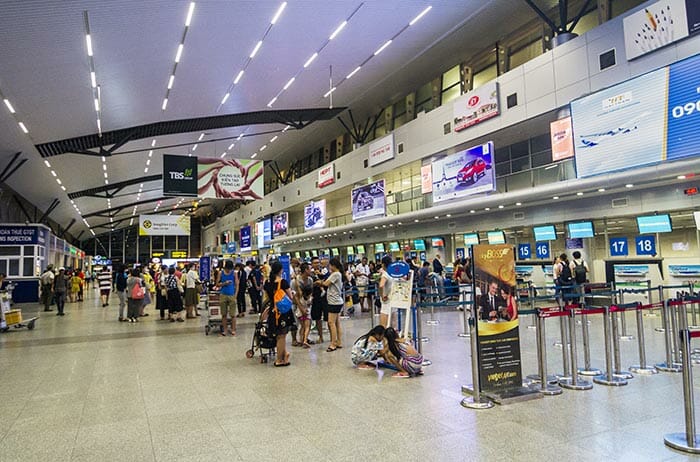 Now to the fastest way to get from Da Nang to Hanoi: flying! If you've already decided that a flight will be too expensive for you, read on, because there are actually some great deals to be had. If you fly with one of the lower cost airlines there's a good chance that you can find a ticket for less than the price of the train. Of course, when you fly you'll still have to find accommodation for a night when you get to Hanoi faster than everyone on the trains or buses, but it does save you from wasting an entire day of travel!
There's a good selection of flights to choose from every day of the week although bear in mind that you will usually pay more for your ticket if you travel on or around the weekend. You can also get better deals the further ahead you book your tickets, while waiting until the last minute will often increase the price quite substantially. Look at different times of the day for your travel as well, because often the first flight of the day, which will be early morning, is the cheapest.
Flights from Da Nang to Hanoi take around 1.5 hours and are available with VietJet Air, Vietnam Airlines, and Jetstar. Look around for the best deals but generally you'll find that Vietnam Airlines are the most expensive, and VietJet Air the least. Remember to bear extra charges in mind as well though – the cheaper airlines may charge you for checked baggage whereas Vietnam Airlines can include 20kg of baggage allowance in their ticket price so be sure to closely check these conditions between each of the three airlines before making your decision.
Flights from Da Nang to Hanoi are easily the best choice if you want to get to the capital quickly, and with good deals available they're not actually going to cost you a lot more than the train. However, if you're looking to save the most money, travel by bus and enjoy the passing scenery along the way!
Did you find this guide useful?
Click on a star to rate it!
Average rating: / 5. Vote count: