Since the 1960s, Greenbus has been transporting passengers around Thailand by bus, providing affordable transport options and covering an increasing number of routes that go to cities all over the country. From their central hub in Chiang Mai, there are many different routes, and the company has a good reputation among its passengers and within the Thai transportation industry. Its fleet of Express, Intercity Express, and VIP buses are mostly very modern, and they all feature air conditioning; a necessity in Southeast Asia! Although the country's capital, Bangkok, is not currently covered by Greenbus, it is a great option for routes to and from Chiang Mai, which gives them a competitive edge over some of their competitors. How does Greenbus measure up generally, and would they be a good choice for your travel needs around Thailand? Our Greenbus company review aims to answer those questions and more.
About Greenbus

Although we know the company as Greenbus today, they had a very different name when first established back in 1964. The Thai Phatthanakit Transport Co. Ltd was granted the right to operate a bus service between Lampang and Chiang Rai, a distance of around 225 kilometers (140 miles). Even today, that's considered a fairly long bus journey in Thailand, taking around 5 hours, so back in the 1960s this would have taken considerably longer! Even so, they provided the route on their bus – a fairly primitive looking bus by today's standards, with a body made of wood and a distinctive green color. It wasn't long before their buses, and the company as a whole, had the popular nickname 'green bus'.
Over the next decade, the Thai government spent lots of money developing the road system across Thailand, thereby opening up many more routes for Greenbus and allowing them to expend their fleet and their services. By the 1990s they were operating air-conditioned buses and offered services onboard such as toilets, TVs, snacks and drinks, and in the early 2000s they brought in VIP 24 buses and invested in twenty brand new buses to add to their fleet.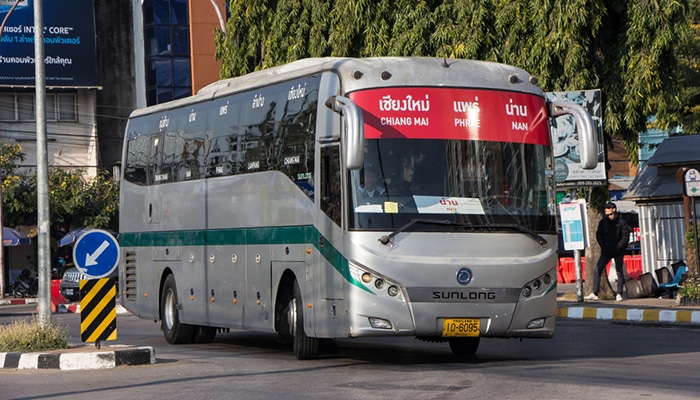 A big milestone for the company came in 2011 when they started their first cross-regional bus service, serving Phuket to Chiang Mai on a luxurious VIP 24 bus. Today, they do have numerous routes across, and up and down the country, yet they do not serve the Thai capital, Bangkok. On the surface, this decision may seem strange, but with plenty of their competitors providing bus routes to and from Bangkok, Greenbus obviously thought there was no point in trying to compete in an already saturated market, especially when they already have a good reputation for the routes they do cover, mostly to and from Chiang Mai.
As well as that Phuket to Chiang Mai route we mentioned above, Greenbus serves Chiang Mai to Chiang Rai and vice versa, as well as Chiang Mai to Chiang Khong, Mae Sai, Mae Sot, Nan, Phayao, Phrae, and many other destinations, including the service that started it all: Lampang to Chiang Rai.
Generally, the vehicles that Greenbus uses are very modern, clean and well equipped, but like many of their competitors, they tend to use older buses on the shorter routes. These will not be as comfortable, and probably won't have toilets onboard or other services, but as they are used on the shorter routes, this usually isn't too much of a problem for passengers who are able to cope for these quicker journeys. Do bear this in mind if booking with them on a shorter trip though, and don't expect a luxurious bus.
Greenbus Customer Reviews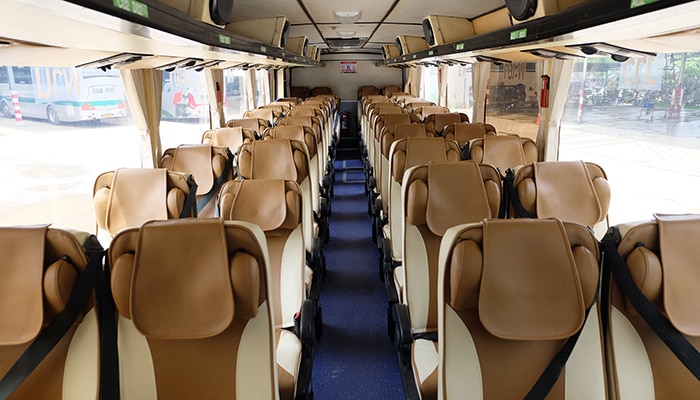 As Greenbus has been operating longer than some of the other popular bus companies in Thailand, they do have a good reputation and are well-known and trusted. For any company to thrive since the 1960s they must be doing a good job with the services they provide and can consistently make their passengers happy. So, what do past customers think of Greenbus? It's easy to find Greenbus reviews around the internet, but one website that's a particularly good source is 12Go.asia.
On this travel website you can search for bus tickets and book online, allowing you to compare prices for the route you want, between the different bus companies. 12Go sells tickets for Greenbus services, and according to their website, they have served over 101,000 Greenbus travelers. Of these, over 4,600 customers left a review and their current rating on 12Go is a very reputable 4 out of 5 stars. 43% of travelers gave a 5 star rating, 32% gave 4 stars, 14% 3 stars and a total of just 11% gave 1 or 2 stars. So definitely the general consensus is very good.
But what are passengers actually saying when they write a Greenbus review? Well, almost all of the recent reviews have given 5 stars, with a few 4 stars. They all say things like 'very good', 'everything ran smoothly and on time', 'comfortable service', 'very clean… comfortable… lots of legroom, and on time'.
Reviewers who gave 3 stars commented that 'it was too cold in the bus', while another said the bus was 'old and dirty'. Another reviewer said their bus was '30 minutes delayed'. Although these are problems that no traveler wants to experience, they are not problems that are exclusive to Greenbus. When traveling in Thailand or Southeast Asia as a whole, please expect that there will be delays, that buses will leave later than scheduled, and arrive later than scheduled. Also expect that the air conditioning will be on too high and bring extra layers so that you're not cold. And, as we mentioned before, Greenbus does tend to operate older buses on shorter routes so if you have an open mind and don't always expect a modern bus, you'll be pleasantly surprised when you get one!
Should You Travel with Greenbus?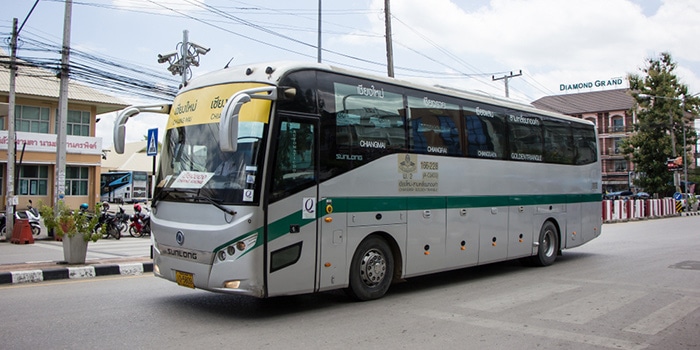 It's always a good sign if a company has been successfully operating for decades, and that certainly seems to be the case with Greenbus. Established in the 1960s, they're still operating that original route that they started with today, and although they don't cover Bangkok, they do seem to be a great choice for anyone exploring Northern Thailand, going to and from the beautiful city of Chiang Mai. Greenbus reviews are very good too. For these reasons, we recommend Greenbus, and we recommend booking your tickets through 12Go.asia.