Set in the mountains of Northern Thailand, the city of Chiang Mai is the ideal place to spend some time relaxing, soaking in the atmosphere, and recharging your batteries before setting off on more travels. Being situated in the north of the country, Chiang Mai is a popular hub for more distant trips into neighboring Laos and Myanmar, and one of the popular destinations to head for from Chiang Mai is the beautiful city of Luang Prabang, in northern Laos. Much of the city is within a UNESCO World Heritage Site, preserved for future generations to experience its combination of history and architecture, spanning a wide variety from Buddhist temples to French colonial. If you're looking for the best ways to travel from Chiang Mai to Luang Prabang, read on for all the details.
Read about:
• From Chiang Mai to Luang Prabang by Flight
• From Chiang Mai to Luang Prabang by Bus
• From Chiang Mai to Luang Prabang by Boat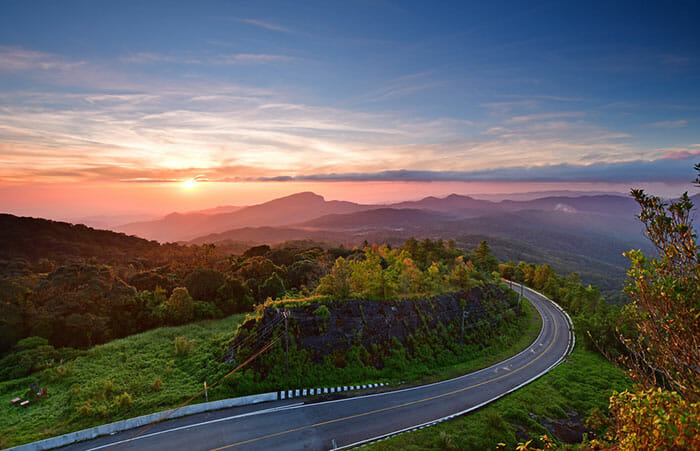 Getting from Chiang Mai to Luang Prabang
Depending on the exact route that you choose, if you're traveling by land the distance between these two cities can range between 607 kilometers (380 miles) and 675 kilometers (422 miles), so either way, it's quite a lengthy journey. However, this is only if you're traveling by private vehicle. Commercial buses are restricted as to which route they can take, having to make a huge detour to cross into Laos at a particular point. The journey actually ends up being closer to 1000 kilometers (625 miles) and can take from 18 to 22 hours. You also need to bear in mind that you will be crossing from one country (Thailand) into another (Laos), so be sure to check into all the different requirements concerning visas and travel documents before setting off! While getting from Chiang Mai to Luang Prabang by road is a popular, and inexpensive route, it does take a long time; luckily there is also the option to fly, or, if you'd like to spend even longer on your trip, take the slow boat – it takes about 2 days!
A Flight from Chiang Mai to Luang Prabang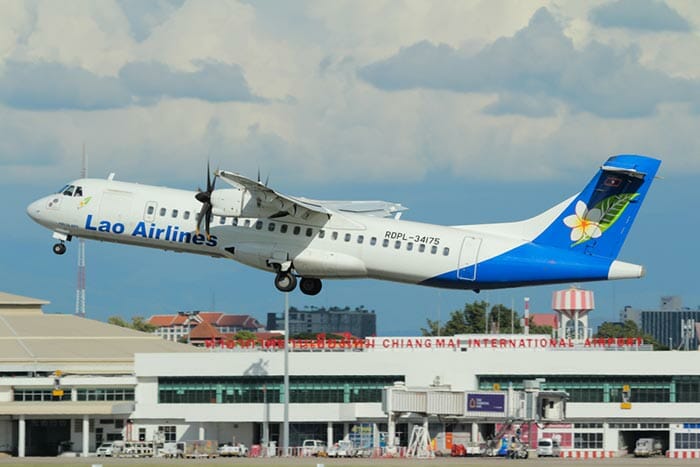 If you read the previous paragraph you're probably already thinking that flying from Chiang Mai to Luang Prabang is going to be the easiest option! Certainly flying between these cities beats any other transportation hands down, but for speed you have to pay a premium. Flights to Luang Prabang from Chiang Mai are expensive, and with only one airline offering the route there is no competition to keep prices down. So, if you're traveling on a budget, a flight probably won't be for you, but if you're pushed for time it's the only way to travel.
Lao Airlines – the national airline of Laos – has flights four times per week, departing from Chiang Mai International Airport. You can easily get there by tuk-tuk, songthaew, or taxi as it's just a few kilometers outside the old city. The flight takes just one hour, and you'll arrive at Luang Prabang International Airport which is 4 kilometers (2.5 miles) outside the city center. You can get a shared van for a reasonable price into the city, or leave the terminal and get a tuk-tuk for less.
Chiang Mai to Luang Prabang by Bus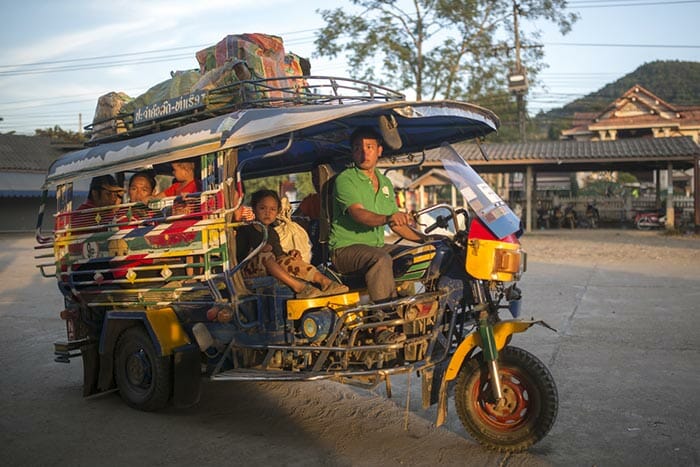 Traveling by bus from Chiang Mai to Luang Prabang is a long journey, but there are a couple of different options that you could consider. If you're someone who prefers to get on a bus and not have to change or worry about where you're going until you reach your destination, then this first option is probably best for you. It's an international bus that departs from Chiang Mai around 9am and arrives at Luang Prabang early the next morning, around 5am. This is a standard VIP bus service with over-enthusiastic air conditioning, toilets onboard, and relatively soft, reclining seats, and it makes around three rest stops along the way.
Once you arrive in Luang Prabang, the tourist buses come in to a different bus station to the regular services, close to the Southern bus terminal and from here you can get into the center via tuk-tuk.
If you prefer to travel a little independently, with the possibility of arriving there quicker as well, there are a couple of other options for the bus from Chiang Mai to Luang Prabang. You could get a private minibus or a VIP bus from Chiang Mai to Chiang Khong. This is a border crossing across the Mekong River, so once the bus arrives, get off and make your own way across the border, about a 25-minute walk.
Once you're in Laos you have a few different options for traveling onwards to Luang Prabang. You can take a boat; slow boat or speed boat, or you can get back on a bus. The boat options are discussed below.
By Boat from Chiang Mai to Luang Prabang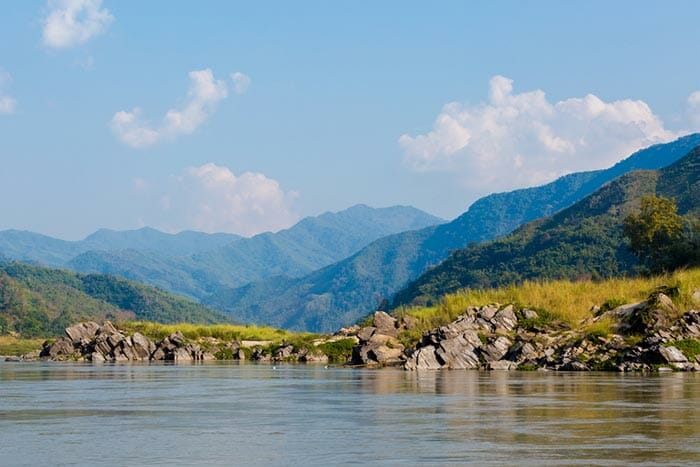 You may have heard of tourists taking the boat from Chiang Mai to Luang Prabang, but in honesty, you cannot just take a boat as the two cities are not connected by water! Basically, you will need to find your way to Chiang Khong, as mentioned above, then cross the border and get a boat from the Laos side. The town on the Laos side is called Huay Xai and there's a good selection of places to stay for the night – something you will most likely have to do because the buses and minivans arrive late in the day. Arrange your boat transport the night before, to be sure you get a space.
There are three boat options – you could join a luxurious river cruise. Yes, this would likely be the most comfortable way to travel but also the most expensive; take a speedboat; or take the slow boat. The slow boat will be the cheapest and the best way to get up close with the people and culture of Laos, but it takes two days, roughly the same as the luxury cruise! Speedboats are a great option as it's only around 6 hours, but it's not for the faint-hearted due to the noise and bumpiness!
So those are all the options for travel from Chiang Mai to Luang Prabang. Choose the one that suits your budget and timescale the best, as the different transportation options vary quite drastically.
Did you find this guide useful?
Click on a star to rate it!
Average rating: / 5. Vote count: