Although the two cities of Chiang Mai and Chiang Rai sound very similar, they are actually separated by about 200 kilometers (125 miles) of Thai countryside and each offers their own unique attractions. Chiang Mai is often visited as part of a two center vacation, taking in the capital city of Bangkok, before heading north to the quieter city of Chiang Mai, which means that Chiang Rai can be overlooked. This shouldn't be the case as Chiang Rai is itself a lovely city and offers an even quieter setting than Chiang Mai, and it's a great gateway to further exploration in the region. So, if you're already spending time in Chiang Mai and would love to see more of the Thai countryside that Northern Thailand is so renowned for, pack your bags and head northeast to Chiang Rai. Here's the lowdown on how to travel between these two cities.
Read about:
• How Far is it from Chiang Mai to Chiang Rai?
• Buses from Chiang Mai to Chiang Rai
• Private Car or Minibus from Chiang Mai to Chiang Rai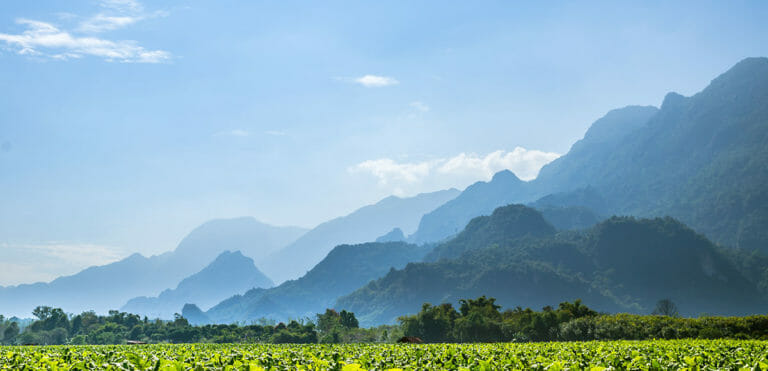 How Far is it from Chiang Mai to Chiang Rai?
The distance between these two cities isn't actually very far, about 200 kilometers (125 miles), but there's no major highways connecting the cities so the journey does take longer than you might expect. It's mostly a single carriageway road, so you can get stuck behind a slow moving truck for miles before finding an overtaking spot and this can obviously add to the journey time. Traveling by road from Chiang Mai to Chiang Rai is the only option because there are no trains, and although both cities do have airports, the distance between them is too short to warrant offering any flights.
Basically this means you're limited to traveling by private car, taxi, van or bus, and a very large percentage of tourists making the trip from Chiang Mai to Chiang Rai will go for the bus option because it's affordable, fairly convenient and reliable.
Buses from Chiang Mai to Chiang Rai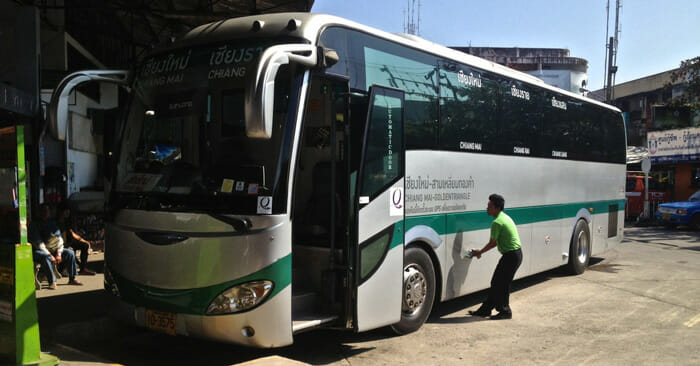 There is basically just one bus company to talk to for a bus from Chiang Mai to Chiang Rai and that's the Green Bus Company (Read our Green Bus Review). They have a good reputation for affordability, comfort and reliability, and they use modern buses with air conditioning so this isn't an old, stuffy bus packed full of passengers if that's the image you have in your mind!
Although there may only be one bus company to choose from, they actually have three different options when it comes to the type of bus so you still have some choices. The standard (2nd class) buses, which Greenbus refers to as A-Class, are the most basic. They do have air conditioning but no other services onboard and, as you would probably expect, these are the cheapest option and take about 3.5 hours. If you want a little more luxury you can choose a slightly more expensive seat. We'd probably call these 1st class while Greenbus calls it X-Class. Comfort levels are arguably good on A-Class buses and improve a little more on the X-Class ones – there is a toilet onboard – but for highest levels of comfort, including a toilet in the back of the bus,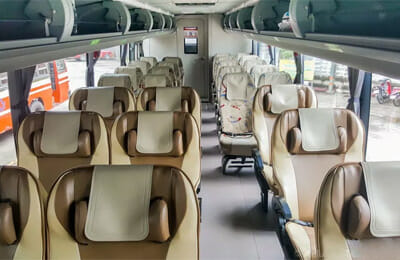 and water and a snack when you first set out, choose a seat on a VIP bus, known as V-Class. The cost of these tickets is essentially double the cost of an A-Class, but you get leather seats and good leg room, and the nice thing is that there are only 3 seats to each row – two seats together and one on its own which is a lovely option if you're traveling alone. V-Class buses are the fastest too, taking 3 hours.
Whichever of the bus classes you choose there are multiple buses departing each day for the trip from Chiang Mai to Chiang Rai, though there are fewer VIP buses than there are 2nd class and 1st class. Whatever you decide on, it's always best to try to book your seat in advance on the 12Go.asia website as this guarantees you a spot, and is definitely advisable if you'd like to reserve one of those single seats on the VIP buses.
Arriving in Chiang Rai by Bus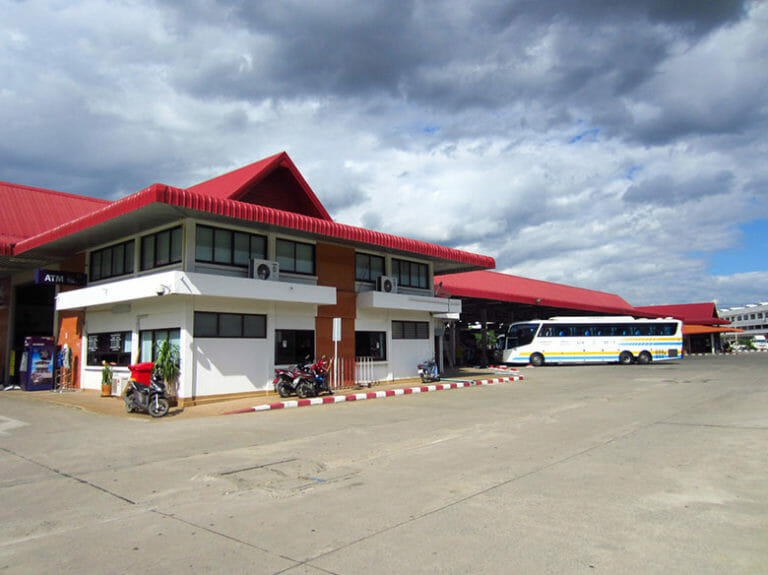 Chiang Rai has two bus stations, the Old Bus Station (Terminal 1) and the New Bus Station (Terminal 2). The Old Station is right in downtown Chiang Rai so this is the one you want to head for and is the second of the two stops when the bus reaches the city. However, it's undergoing major redevelopment so it's uncertain if buses will continue to stop here while the construction work is underway. If you can, check with a member of staff on this so you can be sure you're getting off in the right place.
Private Car or Minibus from Chiang Mai to Chiang Rai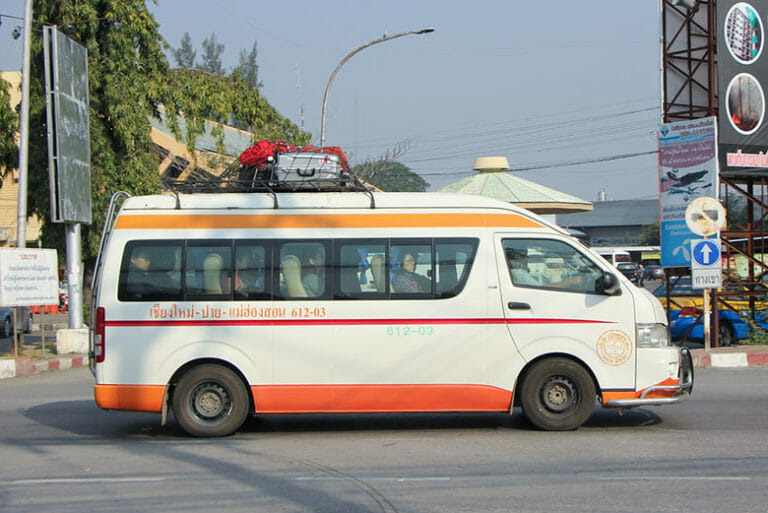 If you're not in the mood for a bus ride and prefer a little more luxury and privacy when making the trip from Chiang Mai to Chiang Rai you could opt for a private chauffeured car or minivan. There are several different tour companies offering this option so you should look around at reviews and pricing to find the one you're comfortable with.
If you're traveling as a family, a private sedan or saloon is a really great option as you're not sharing the vehicle with anyone else. Comfort levels will be high so you can just sit back and enjoy the road and the lush green mountain scenery passing you by.
When traveling with a few friends or a larger group of people, a minibus is great. Usually companies will charge a flat fee for use of the minibus and then you can divide that between all the people in your group, so although the price may at first seem expensive, if it's then divided between 10 or 12 people (depending on the size of the van) it becomes quite reasonable. Yes, it will still be more than the cost of the most expensive bus option, the VIP bus, but it's private and a fun way to travel in a group.
Traveling from Chiang Mai to Chiang Rai you only have these two options: a bus with Green Bus Company or a private car or minibus.
How do you get from Chiang Mai to Chiang Rai?
These two cities are too close together to be connected by air, and there are no trains either. This leaves buses and taxis as the only options, but there are plenty of departures each day to choose from. Search on 12Go and you can see all the options and prices with service by GreenBus. Private taxis are also bookable online, and are a good idea for groups or families.
How far is Chiang Mai and Chiang Rai?
Chiang Mai is about 700kms (435mi) north of Bangkok while the city of Chiang Rai is another 200kms to the north-east, or traveling to Chiang Rai direct from Bangkok it's around 860kms (530mi). Both cities are easy to get to from Bangkok by direct flight, or save money by taking a bus. Trains also operate to Chiang Mai, and can you can book all these options through 12Go.
How useful was this post?
Click on a star to rate it!
Average rating / 5. Vote count: