Chiang Mai and Pai are two top tourist destinations in Northern Thailand. Soaked in history, Chiang Mai is a great city to get a sense of Thailand's culture and tradition. When you're done in Chiang Mai, head north to the small town of Pai and enjoy the breathtaking scenery. Pai's small-town, laid-back atmosphere has made this a popular destination for backpackers. But frankly, anyone who loves mountain scenery is going to love Pai! The town is a favorite for both foreign and Thai tourists. The popularity of Pai is growing all the time, and so are the transport options to get you here.
Read about:
• From Chiang Mai to Pai by Minivan
• From Chiang Mai to Pai by Public Bus
• From Chiang Mai to Pai by Taxi
• From Chiang Mai to Pai by Flight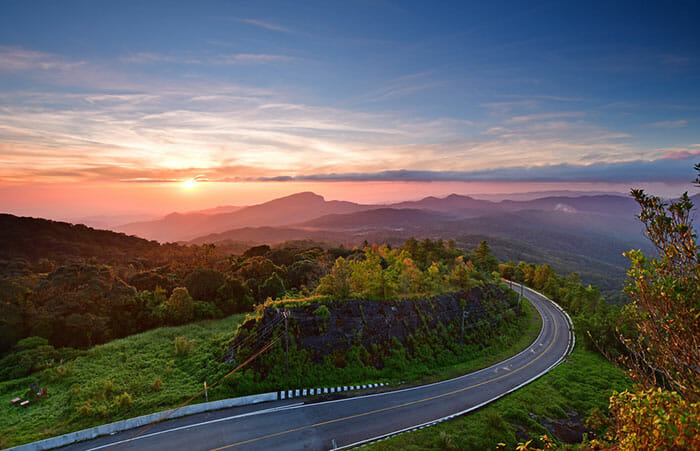 Getting from Chiang Mai to Pai, what are the options?
Pai may only be a small town, but it's popular. This means there are several different ways to get here from Chiang Mai. Going by road, it's under 150 kilometers (93 miles) between Chiang Mai and Pai. This may not sound like much but remember that you'll be driving over the mountains, and the journey will involve a never-ending number of road bends. If you've already researched the trip from Chiang Mai to Pai, you may have read reviews from travelers who were motion sick and/or scared by the road. We'll discuss this in more detail below. For now, let's just say that traveling by road is not the only option – you can also fly from Chiang Mai to Pai!
The Road from Chiang Mai to Pai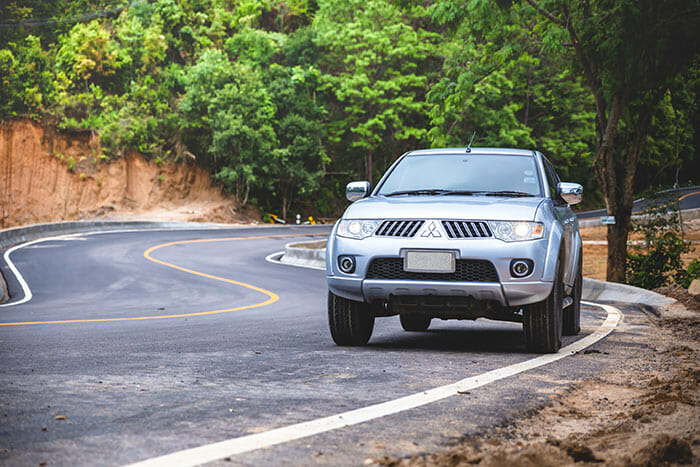 They say that getting there is half the fun. But when talking about a long and winding road through the mountains, this may not be everybody's idea of fun! Travelers in the past have complained about crazy minivan drivers who overtake slow vehicles on bends and give their passengers motion sickness. Unfortunately, a few slightly crazy drivers have given the road from Chiang Mai to Pai a bad name when this isn't the case. Route 1095 is a beautiful, scenic road that should be enjoyed and appreciated.
Minivans are one option for getting to Pai from Chiang Mai by road; you could also take a taxi or a bus. For more adventurous travelers there are options to rent a car or a motorbike and make your own way.
From Chiang Mai to Pai by Minivan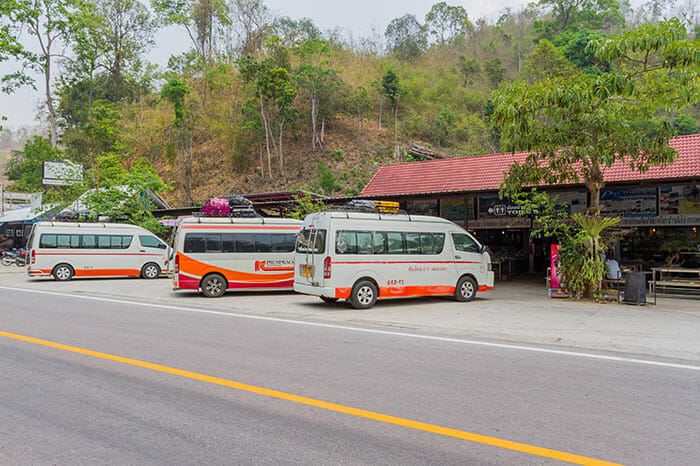 Minivans have the advantage of being very affordable. Usually, the seats have better cushioning than on public buses, plus good air conditioning. With hourly departures from 06.30 to 17:30, there are plenty of times to choose from to suit your schedule. The scheduled travel time is 4 hours and 20 minutes, but it can be done in 3 hours when traffic conditions are favorable.
Minivans to Pai from Chiang Mai are operated by Prem Pacha, tho you may find transportation services offered by other minivan companies. If you may suffer from travel sickness, it's strongly advised that you take medication before the minivan begins heading into the mountain road bends. The first half of the journey goes along straight highways. But once the road starts climbing up to the mountains, the bends will become frequent. In total, there are 762 bends, so even someone who does not usually suffer from motion sickness could find themselves affected. Sitting towards the front of the minivan can help to ease the feeling of nausea.
From Chiang Mai to Pai by Public Bus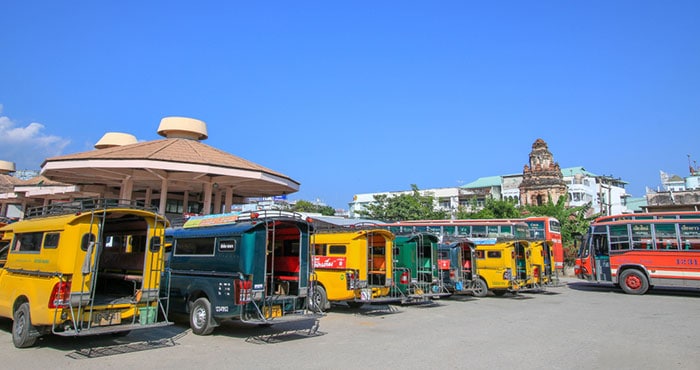 Public buses are the cheapest way to travel from Chiang Mai to Pai, but they are not always comfortable. The buses are older and have quite hard seats, so bring a cushion if you can! Without air conditioning, you can expect the buses to feel warm. But traveling through the mountains with open windows is quite a pleasant experience.
Public buses will take longer as they drive slower. They will also make stops along the way, however, if you're not in a hurry this is a relaxed way to travel.
The Expensive Option – A Taxi from Chiang Mai to Pai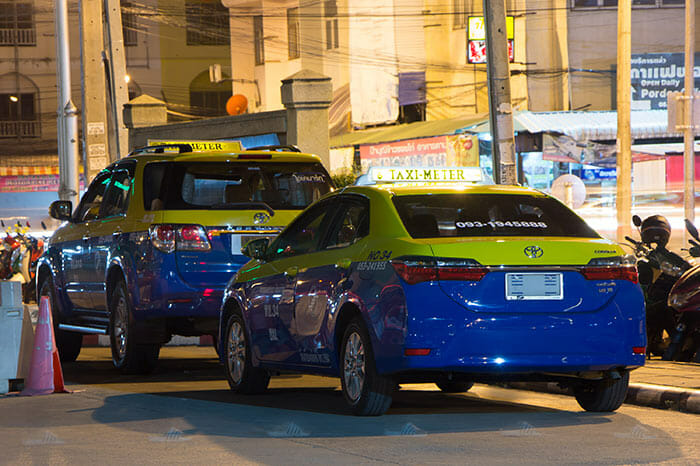 A taxi to Pai from Chiang Mai is another option. We recommend going by taxi if you want to see the beautiful scenery but don't want to drive yourself. Going by taxi is expensive compared to a minivan or bus, but treat it more like a private tour, and it's actually good value for money. Taxis can stop whenever you want to, and the driver will know where all the best viewpoints and attractions are along the way. The taxi price for a small car is around 4000 THB, and they are easiest to book online.
Catch a Flight from Chiang Mai to Pai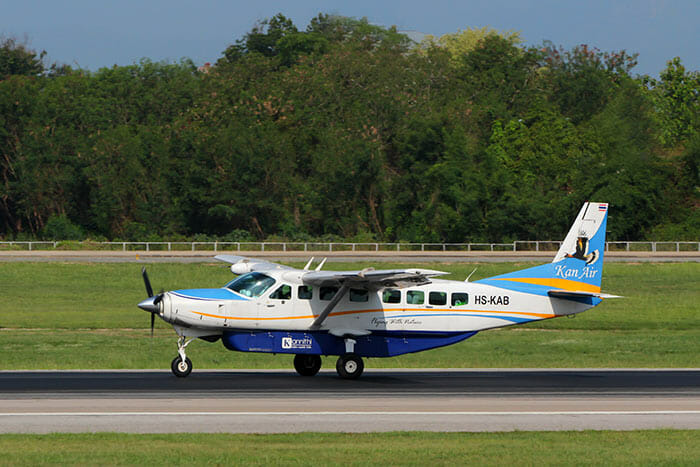 Despite Pai being such a small town, it does have its own airport. Pai Airport is 1 kilometer (0.6 miles) outside of the town center, so it's quick and easy getting into Pai once you land. Kan Air and Wisdom Airways are the only two airlines offering flights to Pai from Chiang Mai. And it's a very quick 25-minute flight, making this by far the quickest way to travel from Chiang Mai to Pai.
The drawback is that a flight to Pai will cost you far more than traveling by bus or minivan. However, one seat on a plane will be less than a taxi ride, so technically a flight is not the most expensive option.
So, which is the best way to travel from Chiang Mai to Pai? Well, that depends upon your preferences. If you want to get there in the quickest time, catch a flight to Pai, but as we said above, getting there is half the fun and the drive from Chiang Mai to Pai is so beautiful that taking a minivan is what we'd recommend! Also, read our guides from Pai to Chiang Rai and Chiang Mai to Chiang Rai.
Did you find this guide useful?
Click on a star to rate it!
Average rating: / 5. Vote count: