Thailand is renowned around the world for its amazing beaches. White and golden sands, turquoise crystal clear water, diving opportunities, and spectacular scenery await you, and plenty of nightlife too if that's what you're looking for. Two of the best destinations in Thailand to experience all this and more, are Koh Phangan and Koh Samui. Best known as being the home of the Full Moon Party, Koh Phangan has long been a popular backpacker haunt yet it's also developing into a family friendly destination. Koh Samui is the more developed of these two islands, and it's much bigger too – it's actually the second largest Thai island and has luxury resorts, great nightlife and a friendly atmosphere. Why not explore both islands during your visit to Thailand?
Read about:
• Koh Phangan to Koh Samui by Fast Ferry
• Koh Phangan to Koh Samui by Slow Ferry
• Koh Phangan to Koh Samui by Speedboat
• Koh Phangan to Koh Samui during Full Moon Party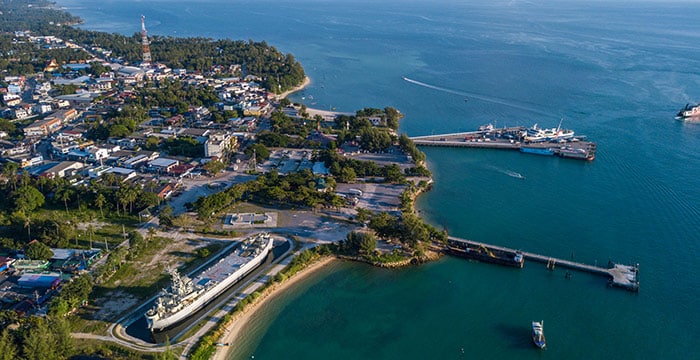 Options for Travel from Koh Phangan to Koh Samui
The islands of Koh Phangan and Koh Samui are perfectly placed for island hopping as it's only 15 kilometers (9 miles) from one to the other. Although there's an airport on Koh Samui there is not one on Koh Phangan, so flying is out of the question. As you might expect then, the only way to travel between the two is across the water, whether you take a ferry or an exhilarating speedboat, and because the distance is so short the most it should take to cross to Koh Samui is one and a half hours.
From Koh Phangan to Koh Samui by Fast Ferry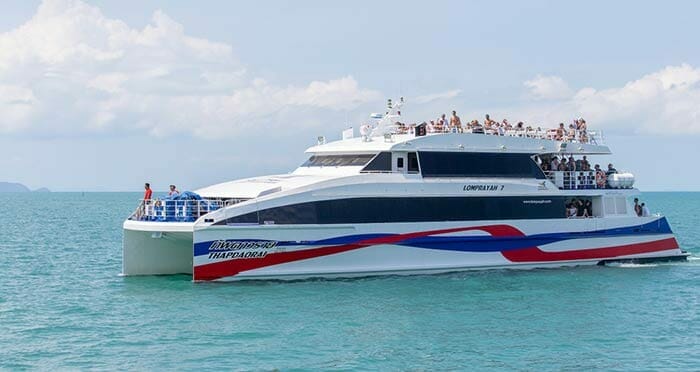 There are several different ferry companies operating the route from Koh Phangan to Koh Samui and, being that this is such a popular route to travel, there are always plenty of departures throughout the day. Two of the most reputable ferry companies are Lomprayah and Seatran Discovery. They both operate modern and comfortable boats with very good safety records and a good number of services onboard if you need to use the washrooms or grab a snack.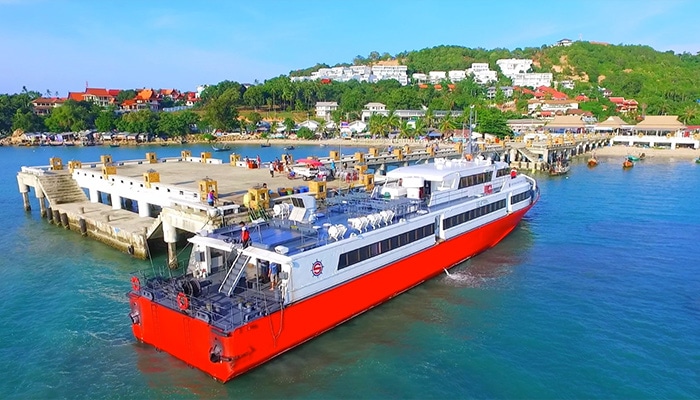 Crossings with both Lomprayah and Seatran take only 30 minutes so it really is fast, and tickets for both usually cost exactly the same, so there's not too much to distinguish one from the other. The main difference is that Lomprayah operates a catamaran while Seatran has a high-speed ferry, but once you're on your way to Koh Samui this won't make much difference to you! There's also a slight difference in where you will arrive at Koh Samui. Both depart from the Thong Sala Pier on Koh Phangan while on Koh Samui Seatran arrives into its own pier, Bangrak Seatran Pier, while Lomprayah comes into either Nathon Pier or Maenam Pier, depending on the time of day. These different arrival point may be the only thing that sets these two companies apart as you will probably want to arrive at a pier closest to where you're staying.
Check online at 12Go.asia as this great travel website gives you all of these options as well as the choice of buying a combined ticket that includes a van or taxi transfer to your hotel. This will cost more than just the standard ferry ticket, but can be worth the cost as it's hassle-free.
Slow Ferry from Koh Phangan To Koh Samui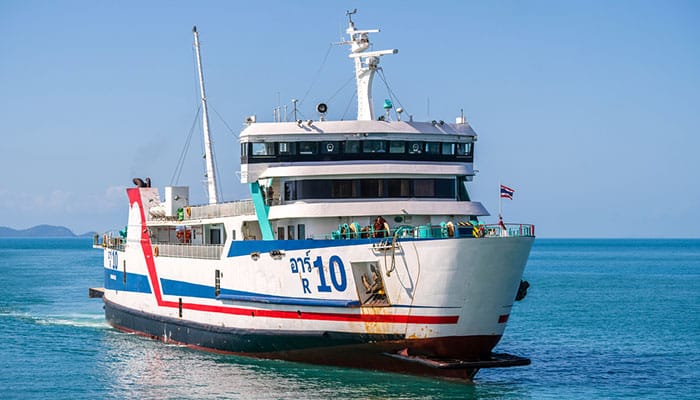 If you want to save money you can opt for the slower ferry crossings as these cost roughly half the price of Lomprayah or Seatran. Raja Ferry is a good choice – their ferries are a little older than the ultra-modern high-speed ones, but they're still safe and reliable. There are washrooms onboard but not much else when it comes to services, so you may like to pick up some snacks before you head out. Raja Ferry takes 90 minutes to cross from Koh Phangan to Koh Samui and they arrive at the Lipa Noi Pier on Koh Samui. Tickets can also be purchased for Raja Ferry on the 12Go website so you can compare the times and prices of all three ferry operators.
Koh Phangan to Koh Samui by Speedboat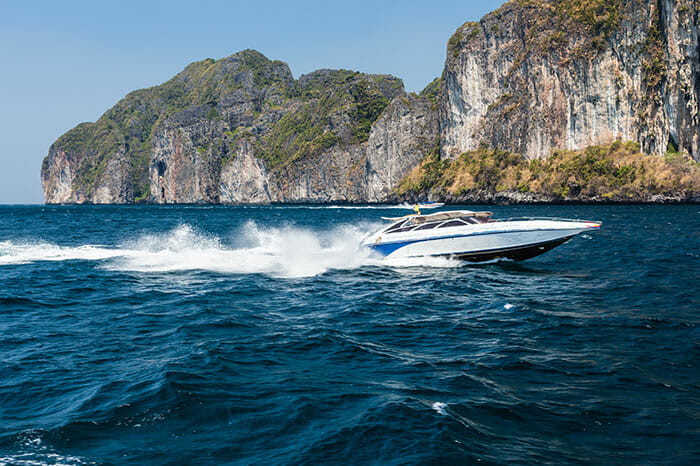 A more expensive option is a speedboat, but these are a great option if you want more flexibility. Traveling from Koh Phangan to Koh Samui you can depart from and arrive to most points on both islands so this saves you having to get to the pier at either end. Although they will be quite considerably more than the standard ferry, speedboats are fast and fun, and if you split the cost between friends or family members it makes it more reasonable. As these are charter services they cannot be booked through 12Go so make sure you do your research first and find a reputable and safe speedboat operator.
From Koh Phangan to Koh Samui During Full Moon Party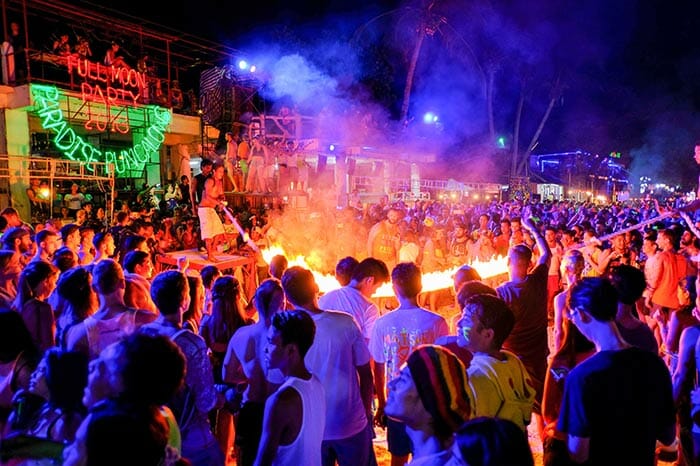 During the time of the famous Full Moon Party, most people will be traveling from Koh Samui to Koh Phangan, not the other way around! But, if your trip happens to fall during this time, don't worry. Ferries will get full a lot quicker so if you're planning to use one of the ferry services be sure to book it in advance, however, during this time there are also additional services you could choose from.
Popular with backpackers because it's usually the cheapest way to travel from Koh Phangan to Koh Samui, the Haad Rin Queen Passenger Ferry is renowned for all the wrong reasons! It's always over-crowded and if you do manage to get a sparse seat, it will be a wooden bench. The crossing takes about an hour with them but it can feel much longer in those cramped conditions. Because it's designed to cater more to the people visiting the Full Moon Party, this ferry departs from the Haad Rin Pier which is on the south-east coast of Koh Phangan, right by the location of the Full Moon Party so you can party all night and then catch the ferry! Once at Koh Samui they arrive at the Sunset Pier, close to the airport.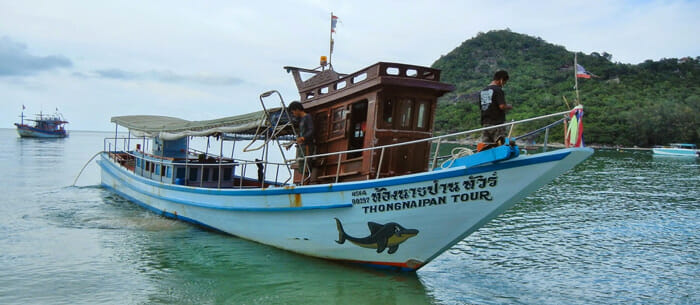 A final option is the Thong Nai Pan Express which also departs from the Haad Rin side of the island. It can cost the same as the Queen or a little more, depending on where you board, but because this is quite a rickety form of transport it only runs when the weather is good.Although there are plenty of ferry options to choose from, we would always recommend using one of the more reputable companies. Go with Raja Ferry if you're traveling on a budget, or choose Lomprayah or Seatran if you want a faster journey that costs a little more, and remember you can book with all three of these ferry companies through 12Go.
How long does the ferry take from Koh Phangan to Koh Samui?
The ferry crossing from Koh Phangan to Koh Samui is fast with Seatran (just 30 minutes) or opt for cheaper and slower Raja Ferry (90 minutes). Book tickets through travel website, 12Go where you also have the option of traveling with other ferry companies and adding a transfer by van from your hotel or the airport, so you don't have to worry about getting yourself to the pier.
How do you get to Koh Samui?
Thailand's second largest island has its own airport, so getting to Koh Samui is really easy from cities like Bangkok, Phuket, Chiang Mai etc. Flights can be pricey though, so you can save money by catching a ferry from the mainland or one of the neighboring islands. If you look at 12Go, they give search results for flights and ferries as well as transfers from multiple departure points.
How many piers are there in Koh Samui?
There are four main ferry piers on Koh Samui, staggered at different points around the coast of the island: Pralan Pier, Nathon Pier, Lipa Noi Pier, and Big Buddha Pier, plus there are many smaller piers for charters and tour boats. Research where your ferry will arrive and choose your accommodation accordingly to avoid a long transfer, then book your ferry tickets at 12Go.
Where is the ferry port in Koh Samui?
Being a large and very popular island, Koh Samui has several ferry ports, usually called piers. Which one you use will depend on where you're coming from or going to. The four main ones are: Pralan Pier, Nathon Pier, Lipa Pier, and Big Buddha Pier, which is closest to the airport. Book ferry tickets online through 12Go and their search results will show you which pier you need.
Did you find this guide useful?
Click on a star to rate it!
Average rating: / 5. Vote count: