The best way to experience the islands and beaches of Southern Thailand is to island hop. Hopping from one island to the next allows travelers to see some of the world's best beaches, and to gain first-hand experience of the welcoming Thai hospitality and culture. Two of the top island destinations in Thailand are Koh Samui and Koh Phangan. Koh Samui, the second largest of Thailand's islands, features wonderful coconut groves, palm-fringed beaches, and luxury resorts and hotels while Koh Phangan is renowned for its nightlife and backpacker beaches but mostly for the world famous Full Moon Party. So, once you've seen the high-class hotels and resorts of Koh Samui, head over the Koh Phangan for a change of pace. Here's how you can travel between these two amazing islands.
Read about:
• Ferries from Koh Samui to Koh Phangan
• Speedboats from Koh Samui to Koh Phangan
• Koh Samui to Koh Phangan for the Full Moon Party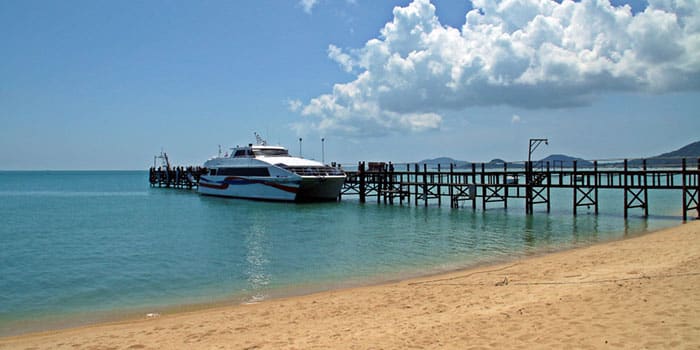 What Are Your Options?
Well, being that these are both islands, your only option is to take a speedboat or ferry to get from Koh Samui to Koh Phangan. There are no flights between the two destinations, however, because the islands are situated so close together, even the slowest of ferries will only take 90 minutes. This means you could have a leisurely breakfast in your hotel on Koh Samui and be in Koh Phangan in time for lunch!
Ferries from Koh Samui to Koh Phangan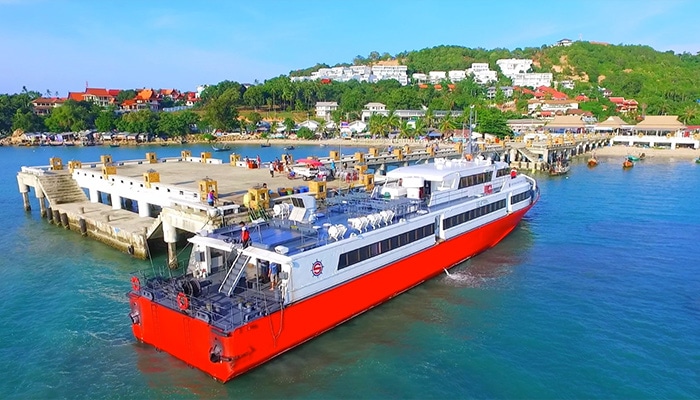 Ferries dart back and forth between these two islands all day, and with four different ferry companies to choose from there are always plenty of options. There are advantages and disadvantages between these four ferry operators; they are all very cheap, but comfort levels do vary, as does the crossing time, but probably what will influence your choice of ferry the most is where you are starting from and where you want to end up.
Seatran operates a high-speed ferry with good comfort levels including indoor and outdoor decks, air conditioning, toilets, plenty of seats, and a store selling drinks and snacks. Seatran ferries depart from the Bangrak Seatran Pier, Koh Samui and arrive at Thong Sala pier on the west coast of Koh Phangan.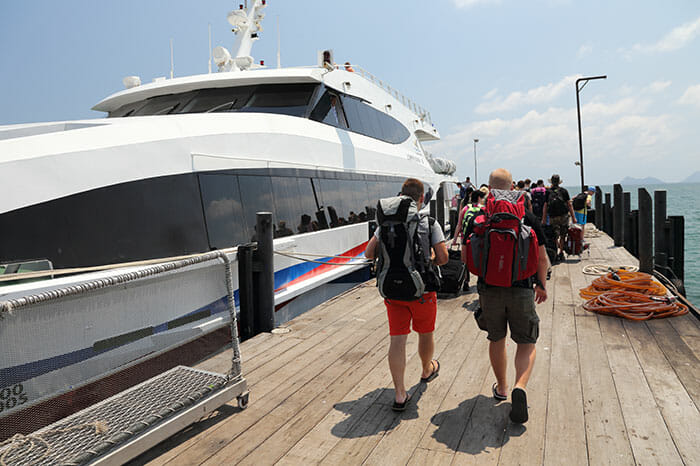 A comparable service is operated by Lomprayah. The nice, new catamarans that they use get you from Koh Samui to Koh Phangan even faster, taking just 20 minutes, so in terms of speed Lomprayah is great. When comparing the price of tickets, you'd expect Lomprayah to be more expensive than Seatran but in actual fact they are very comparable, often with Lomprayah coming out even a little cheaper than Seatran. Comfort levels are comparable between the two as well, with Lomprayah also providing air conditioning, toilets and a shop, and the boats are well maintained. Lomprayah catamarans travel from the Paralan Pier at Maenam, west of Bangrak, and they arrive at Thong Sala Pier on Koh Phangan.
The third ferry operator is the one that most backpackers choose when wanting to save money. Unfortunately, the adage 'you get what you pay for' does ring true with the Haad Rin Queen Passenger Ferry. Renowned for being over-crowded and with not enough seats, the seating that these ferries do provide is wooden benches and they can be very uncomfortable, especially considering that the ferry crossing takes one hour, so that's double the crossing time of the other companies. But, thousands of budget travelers a year still choose to travel this way from Koh Samui to Koh Phangan, and as well as being cheap, it is a convenient service for party-goers heading to the Full Moon Party. The Haad Rin Queen departs from Sunset Pier which is just a short distance north from the Bangrak Seatran Pier – this means it's convenient for anyone coming from the airport. At Koh Phangan, the ferries arrive in a different place to the other companies: the Haad Rin Pier, on the south-east coast of Koh Phangan. The good thing is that Haad Rin is the location of the Full Moon Party, so if this is where you are heading, you won't have far to go once you get off the ferry!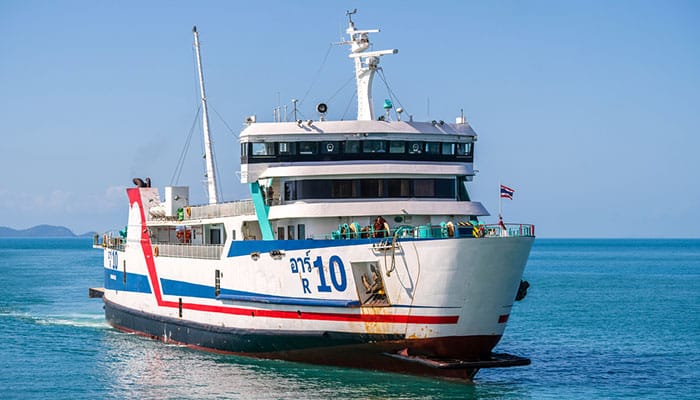 Lastly Raja Ferry also has two ferries per day from Lipa Noi to Koh Phangan, if you wanted to travel over to Koh Samui's sister island and see its amazing scenery or experience the Full Moon Party! These ferries depart from Lipa Noi Pier at 07:00 and 16:30 and the sailing time is 90 minutes, and you can come back this way too, leaving Koh Phangan at 09:30 or 18:30, arriving at Lipa Noi 90 minutes later. For 200 THB the Raja ferry is very good value but slow.
Speedboats from Koh Samui to Koh Phangan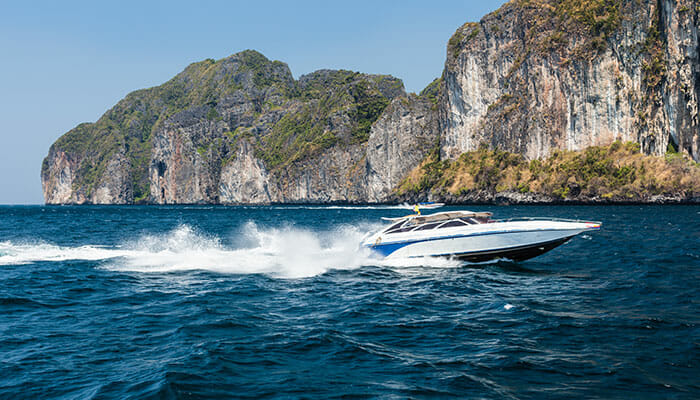 If you have more money to spend and you don't like the idea of sharing a ferry with several hundred other people, look at the speedboats from your trip from Koh Samui to Koh Phangan. Yes, they will be considerably more expensive than the budget-friendly ferries, but speedboats provide a private service offering full flexibility. They can take you from all over Koh Samui, to exactly where you want to go on Koh Phangan. Of course, if you're traveling with friends, splitting the cost of a speedboat between you makes this option more affordable than you might think, so don't count it out without first checking what a charter speedboat might cost you!
Koh Samui to Koh Phangan for the Full Moon Party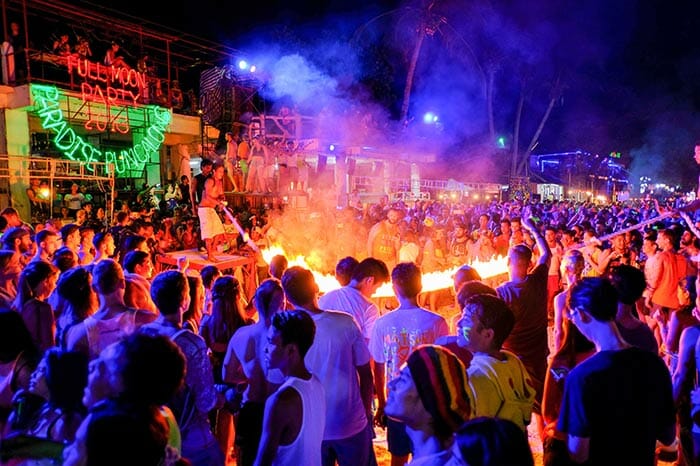 If you are traveling to Koh Phangan for the Full Moon Party you're going to need to make your travel plans in advance. Ferries from Koh Samui to Koh Phangan during the Full Moon Parties are always cramped full of passengers so if you want to guarantee a spot on a particular ferry, rather than having to wait around all day hoping you get a space on one, you should book your ticket in advance.
Many of the travel agents offer combined tickets whereby you can get a taxi or minibus transfer from your hotel in Koh Samui, direct to the ferry terminal. This can save time and hassle as you're getting a door-to-door service.
How long does the ferry take from Koh Samui to Koh Phangan?
The ferry crossing from Koh Samui to Koh Phangan is fast with Seatran (just 30 minutes) or opt for cheaper and slower Raja Ferry (90 minutes). Book tickets through travel website, 12Go where you also have the option of traveling with other ferry companies and adding a transfer by van from your hotel or the airport, so you don't have to worry about getting yourself to the pier.
How do you get to Koh Phangan Full Moon Party?
Koh Phangan's monthly Full Moon Party attracts hundreds of extra visitors to the island, making it challenging at times to find boats. Because of this, it's best to book your seat in advance, and you can do this at 12Go. They sell tickets for many different ferry companies, from numerous departure points, including pickups from hotels or airports on joint tickets, so your whole journey is taken care of.
How do you get to Koh Phangan?
Being such a popular island, it's easy to get to Koh Phangan. You can take a ferry from Koh Samui, or there are loads of ferries departing from the mainland (Surat Thani or Chumphon). Visit 12Go and enter your departure point for detailed search results and the opportunity to buy combined tickets for your entire journey, including the ferry with transfers by trains, buses, flights from places like Bangkok.
How many piers are there in Koh Samui?
There are four main ferry piers on Koh Samui, staggered at different points around the coast of the island: Pralan Pier, Nathon Pier, Lipa Noi Pier, and Bangrak Seatran Pier, plus there are many smaller piers for charters and tour boats. Research where your ferry will arrive and choose your accommodation accordingly to avoid a long transfer, then book your ferry tickets at 12Go.
Where is the ferry port in Koh Samui?
Being a large and very popular island, Koh Samui has several ferry ports, usually called piers. Which one you use will depend on where you're coming from or going to. The four main ones are: Pralan Pier, Nathon Pier, Lipa Pier, and Bangrak Seatran Pier, which is closest to the airport. Book ferry tickets online through 12Go and their search results will show you which pier you need.
Did you find this guide useful?
Click on a star to rate it!
Average rating: / 5. Vote count: