Thailand's fifth largest island, Koh Phangan sits just north of Koh Samui, in the Gulf of Thailand and is about 70 kilometers from the mainland. Known for its gorgeous beaches and the infamous Full Moon Party, Koh Phangan has a little bit of everything for all tastes including diving, shopping, dining and nightlife or just spending relaxing time on the beaches. After an unforgettable stay on this beautiful island, you will probably need to head back to the mainland. Most transport options from Koh Phangan go via Surat Thani, and our guide to the best transport options will keep you informed.
Read about:
• Options for Travel from Koh Phangan to Surat Thani
• Koh Phangan to Surat Thani by Speedboat
• Ferry from Koh Phangan to Surat Thani
• Koh Phangan to Surat Thani Transfer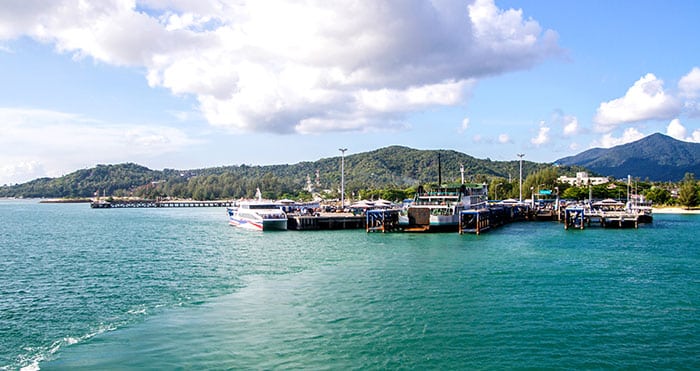 Options for Travel from Koh Phangan to Surat Thani
As there is no airport on Koh Phangan, transport to and from the island is solely by boat but with plenty of different ferry companies and speedboats available, finding one to suit your time and budget should not be difficult. When looking at the options, perhaps the first thing you should consider is where exactly you want to go in Surat Thani. There are ferry piers right at the coast at Donsak and there are bus connections from there into Surat Thani or to other destinations like the airport or railway station. It's about 70 kilometers (44 miles) by road from Donsak right into the heart of Surat Thani if you're heading for the town. If you do want to get into town, there are also some boats that take you directly there, arriving at piers within Surat Thani itself, so do have a think about where exactly you need to go and choose the most convenient option.
Koh Phangan to Surat Thani by Speedboat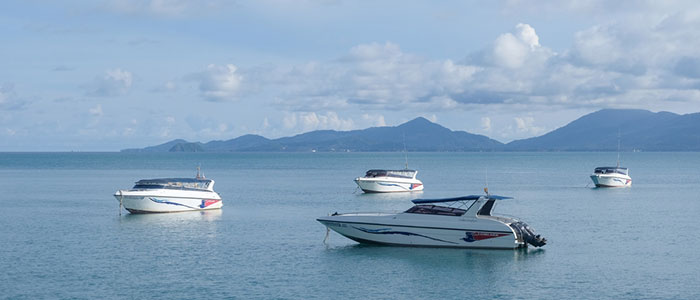 Lomprayah is a well known company that has been operating speedboats and high-speed catamarans around the islands of Thailand for many years, so they are always a good choice if you're looking for safety and reliability. Their service from Koh Phangan to Surat Thani is no exception, with one speedboat departing every day at 11am, from Thong Sala Pier on the west coast of the island. They have also added a 8.00am departure.
The only limitation with Lomprayah is that there is just that one daily departure from Koh Phangan to Surat Thani so if that one doesn't work with your schedule, you may want to check other companies. Despite this, the Lomprayah service is very good as they give a range of options when it comes to where you can get off the boat. First it goes via Koh Samui to pick up more passengers, and drop off, if that's where you want to go! It then arrives at the Donsak Pier at 12:45. You can get off here and get a connection to either Surat Thani Train Station or to the Airport, and these can be bought as one all-inclusive ticket that includes the transfer with Lomprayah as well. If you head for the train station you should be arriving there around 2pm or to the airport you should arrive around 2:30pm.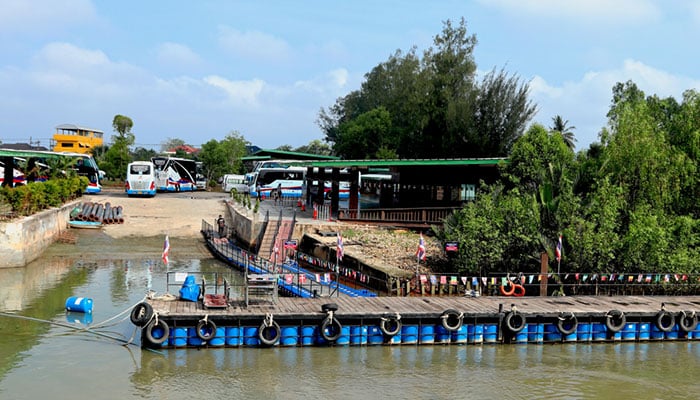 The final option with Lomprayah is that you stay on the boat until it reaches its final destination, which is the Tapee Pier, right in the heart of Surat Thani. It arrives there at 2pm, so the journey from Koh Phangan to Surat Thani is a total of 3 hours. This is a great option if you are planning to spend some time in Surat Thani rather than heading off somewhere else. You can book these tickets, whether it's just the speedboat or includes a transfer, through the Lomprayah website or some of the options can be booked through travel website 12go.
Ferry from Koh Phangan to Surat Thani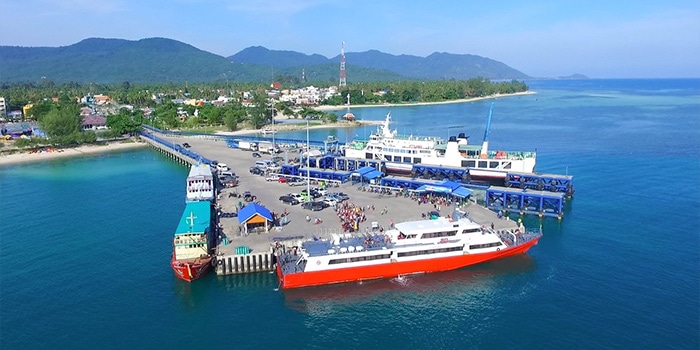 There are many more options when you look into taking a ferry from Koh Phangan to Surat Thani as there are more companies who run ferries compared to speedboats, and there are multiple departures every day.
The two ferry companies currently serving Koh Phangan to Surat Thani are Raja Ferry and Phantip. Seatran has resumed operations, resulting in even more choice of ferries.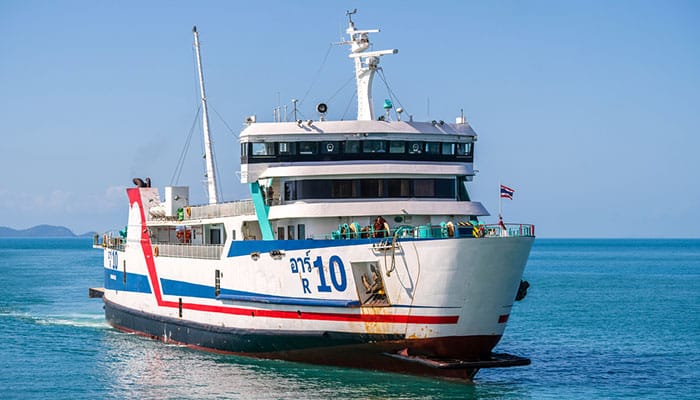 Right now, Raja Ferry has the best choice for departures. They have five ferries from Koh Phangan to Surat Thani per day, leaving right across the course of the day, starting as early as 5am. The Raja Ferries are the most stable out of all the options, so these can be a great choice for anyone who doesn't enjoy traveling by water. Their stability also means that they can operate in slightly rougher conditions when a speedboat would not be able to run, so for reliability they can be a good choice too. The ferries are larger because they are in fact car ferries and have cargo space for cars and other vehicles. Unfortunately, this does mean that they can be lacking in comfort because they haven't necessarily been designed with foot passengers in mind. Even so, there is seating and a small shop where you can buy snacks that might be needed for the 2.5 hour journey to the ferry port at Donsak.
As well as the 5am departure, there is also a ferry from Koh Phangan to Surat Thani at 8am, 11am, 2pm and 5:30pm with Raja Ferry. There are three more departures per day with Phantip, at 5am, 8am and 11am, so ample ferries are available, and you may find the Phantip ferries are a little more comfortable for sitting.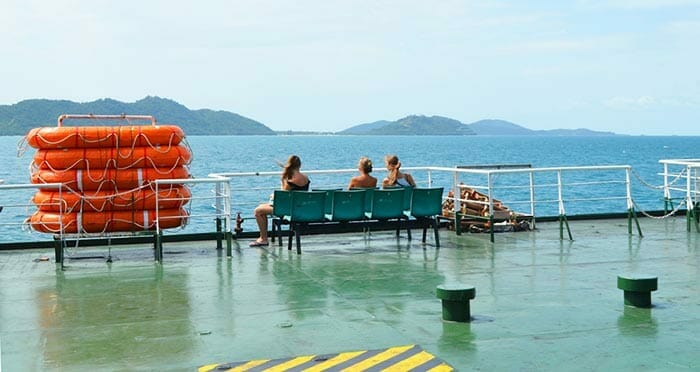 While you can catch a ferry to Donsak and do your own thing from there, both of these companies do offer all-inclusive tickets that include a transfer either on a bus or in a van. So, if you are heading to Surat Thani town, train station, bus terminal or airport, there are options for all of these. You can pay one price for a ticket that includes the entire journey, and you can easily book these online through 12go. Do a search for Koh Phangan to Surat Thani and you will see all of the results with both companies and a multitude of transfer options.
All connections are guaranteed when booking like this so this means if there is a delay, the company will make sure you still get to where you are going with as little fuss as possible. This makes these ticket types a good choice over traveling independently and booking your tickets separately. Ticket prices are very affordable too, so don't worry about being charged an inflated price because you're getting the transfer included.
Koh Phangan to Surat Thani Transfer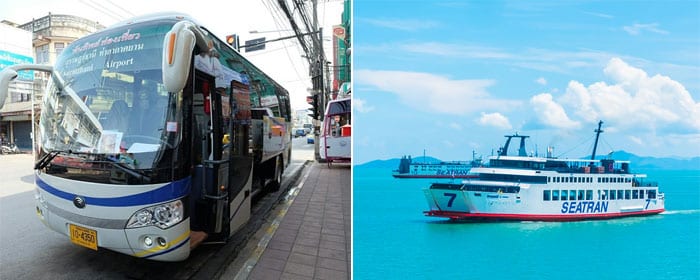 As mentioned above, you can buy a ticket with the transfer included, and there are a lot of options! With Raja Ferry there are transfers to town, the airport, and the bus terminal and they do their transfers in a van.
If you opt for the ferry from Koh Phangan to Surat Thani with Phantip, their transfers are usually in a larger bus. They have the same transfer options except that they don't have a service to the bus terminal. Prices between the two companies are very similar so you won't necessarily save with one over the other, and the ticket from Koh Phangan to Surat Thani Airport is the most expensive because it covers the greatest distance.
With multiple departures every day, it's easy to get from Koh Phangan to Surat Thani. The quickest route is the speedboat with Lomprayah but this is also the most expensive, while slower ferries depart across the day and can include transfers in the ticket price, making these a convenient and affordable choice.
Koh Phangan - Surat Thani
฿ 350–700
2h 40m – 9h 30m
→

Catamaran

07:20, 12:00

→

Ferry

05:00, 08:00, 10:30, 12:30, 16:30, 18:00

→

High Speed Ferry

08:00, 10:30
Did you find this guide useful?
Click on a star to rate it!
Average rating: / 5. Vote count: