Like so many popular coastal destinations, the seaside resort of Hua Hin started life as a sleepy fishing village until the 1920s when the Thai royal family decided to build their summer palaces here. With the new royal regard for Hua Hin, the village quickly grew into an elite escape for wealthy Bangkokians and hasn't looked back since! Today it's a lively seaside resort with nice beaches, lots of water sports, good hotels and great places to eat. From here, you could visit any number of Thailand's amazing islands, like Koh Tao. Island life is more laid-back than the sometimes hectic mainland, and here on Koh Tao you'll be able to enjoy beautiful beaches and amazing dive spots. Koh Tao is well known for its tropical coral reefs and it's the perfect place to visit whether you're looking for nightlife or just a quiet retreat.
Options for Travel from Hua Hin to Koh Tao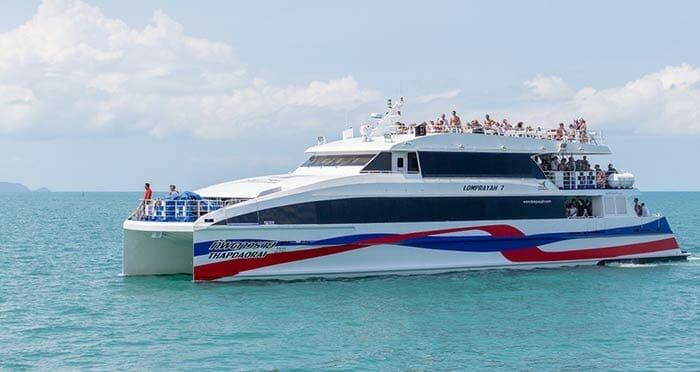 Both Hua Hin and Koh Tao are on the Gulf of Thailand, so this makes it a little easier to get from one to the other. By road and water, the distance from Hua Hin to Koh Tao is around 465 kilometers (290 miles), so it is a long distance to travel, and with Koh Tao being an island, you will have to cross the water at some point. Unfortunately, there is no airport on Koh Tao, so flying is out of the question, leaving the only way to travel here a combination of bus and ferry. Buses and ferries are readily available though, so you shouldn't have any trouble finding one to suit you, providing that you book it a little in advance, especially around Thai holidays.
Another option is to take a train to Chumphon and then get a ferry to Koh Tao. The train journey takes about four to five hours and provides comfortable seating, as well as the opportunity to see and experience the rural surroundings of the country. But it requires separate tickets and more planning. Read more in our guide about getting from Chumphon train station to Koh Tao.
Bus and Ferry from Hua Hin to Koh Tao
Right now, there is just one travel company that offers tickets for travel from Hua Hin to Koh Tao, and that's Lomprayah. Lomprayah is a long-established and reputable Thai travel company who use modern and comfortable buses and ferries and have a very good safety and reliability rating, so you don't need to worry about things like that! With just one company operating this route from Hua Hin to Koh Tao, it does mean there is no pricing competition between different companies so you may find that tickets are a little more than you're used to paying for traveling in Thailand. The good news is that you can buy combined tickets that include both the bus and the ferry portions of the journey through the travel website 12Go.asia, where you will get instant confirmation of your ticket purchase and options for refunds if your plans change.

So, what does the journey from Hua Hin to Koh Tao involve? Well, there are two departures each day, one in the morning and one at night. You will depart by bus from Lomprayah's office in the center of Hua Hin and travel south to the town of Chumphon. This portion of the journey takes around 4.5 hours. At Chumphon you'll leave the bus at the Lomprayah Pier and get onto their modern catamaran for the ride to Koh Tao Island. This portion of the journey takes about an hour and 45 minutes, bringing you right to Mae Haad Pier on Koh Tao.
If you select the morning departure, you'll be heading from Hua Hin to Koh Tao at 8:45am, and arriving at Koh Tao around 2:45pm, giving you the afternoon to settle in. The night time departure means you can sleep on the bus, if you're able to, arriving at Chumphon in the early hours of the morning, and then catching a ferry that will get you to Koh Tao around 8:45am. If you did manage to sleep on the bus, you'll be bright eyed for the day ahead, but if you didn't sleep, traveling overnight could mean you're too tired to do much. Overall, getting from Hua Hin to Koh Tao by the overnight option does take longer: 9 hours 15 minutes as opposed to 6 hours, but both options costs exactly the same so really it's a matter of personal preference as to whether you travel through the day, or overnight.
Both of these options can be booked online through 12Go, where you can also read reviews from past travelers and make an informed decision before booking.
Did you find this guide useful?
Click on a star to rate it!
Average rating: / 5. Vote count: