Meaning "Turtle Island", Koh Tao is one of Thailand's little tropical gems; small in size, but big on natural beauty including stunning beaches, coral reefs, great diving opportunities, and even amazing hiking, this is an island you will not want to miss! With no airport of its own, getting to Koh Tao is only possible via boat but there are plenty of different companies offering services from the mainland. Chumphon is a popular starting point for trips to Koh Tao as it's the closest large town on the mainland, and it's home to an airport, making connections from cities such as Bangkok easy. If you're considering spending time on Koh Tao, read on to find out how to travel from Chumphon to Koh Tao.
Read about:
• From Chumphon Town to Koh Tao by Van and Ferry
• From the Train Station in Chumphon to Koh Tao
• From Chumphon Airport to Koh Tao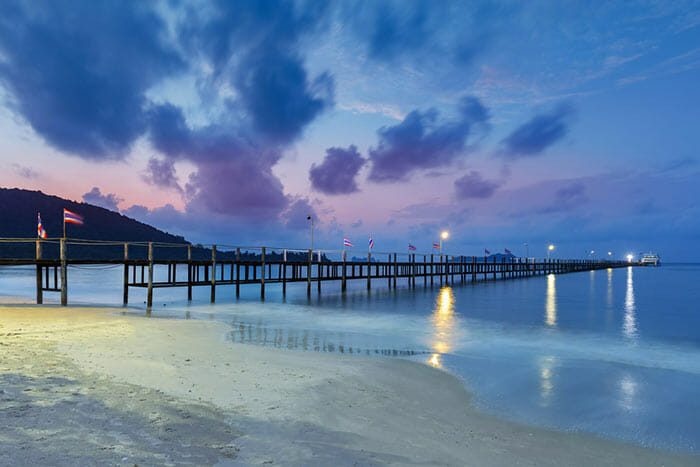 Getting from Chumphon to Koh Tao – The Options
As mentioned above, you're only option is to travel to Koh Tao by boat, but there are a few different types of ferries to choose from, and services that should suit most budgets and schedules, including those who are traveling on tight budgets. As the crow flies, it's only about 97 kilometers (60 miles) from Chumphon to Koh Tao, so it's not a huge distance that you'll need to travel. However, the time it takes varies wildly from ferry to ferry, and obviously depends upon where you are starting your journey from. Actual sailing time could be from less than 3 hours all the way up to 7 hours if you choose the slow, overnight boat. Continue reading to discover how you can travel from Chumphon to Koh Tao, whether you're starting from the airport, the town, or the train station.
From Chumphon Town to Koh Tao by Van and Ferry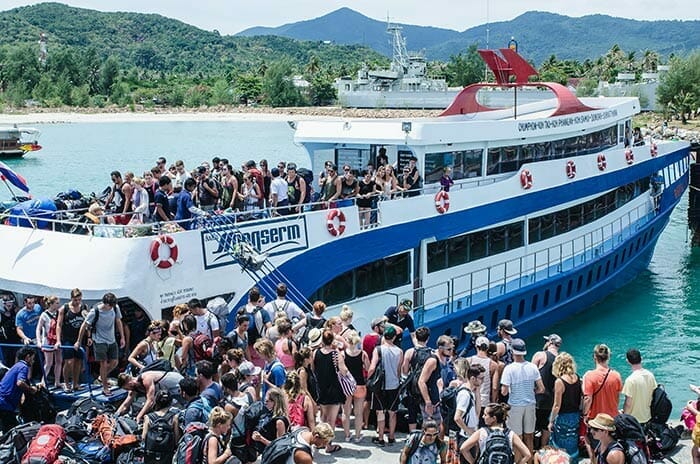 Chumphon Province has some amazing scenery so it's possible you will have been sightseeing around the area surrounding Chumphon Town before setting off to Koh Tao. If you're based right in the town you have several different tour companies to choose from to get you to Koh Tao. Fame Tour runs three times per day. Their vans (minibuses) leave from the center of the town at 0545, 1145, and 2100, and connect up with different ferry services. If you take either of the morning services your total journey time will be between 3 and 4 hours, however, for the late service you'll be getting on the night ferry which is considerably slower. The journey time from town is around 8 hours so you'll be arriving at Koh Tao around 5 in the morning, the next day.
If the night ferry appeals to you, Axara Travel also offer a combined ticket from the center of town, via van, and the price is comparable to Fame Travel should you find one or the other is full already.
Another option from the heart of Chumphon to Koh Tao is Songserm. This well-known and respected tour company offers an early morning departure from their office, by van, to the high-speed ferry, getting you to Koh Tao in time for a late breakfast!
From the Train Station in Chumphon to Koh Tao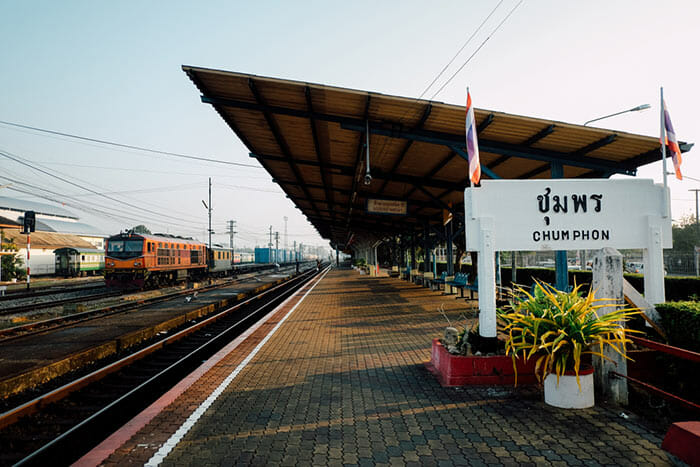 If you find yourself at the train station in Chumphon there are two companies that can sell you a combined ticket from the station all the way to Koh Tao. KP Tripadvisor and Services has three different options for you, depending on the time of day. Their early morning departure is at 0530 by van from the train station. You'll get on a regular ferry to Koh Tao and be there around 0930. Later in the morning is a van connecting to a high-speed ferry, and this trip should only take around 3 hours and 15 minutes. In the evening, the 2130 departure links up with the sleeper/overnight ferry, and this option is usually cheaper than the others if you're looking to save money.
You can also travel with Lomprayah from Chumphon train Station. They have two services each day, both of which connect with their high-speed ferry, giving you a nice quick trip of only 3 hours. However, a more economical ticket can be purchased through Songserm, departing at 0600 from the train station, and arriving at Koh Tao at 0945.
From Chumphon Airport to Koh Tao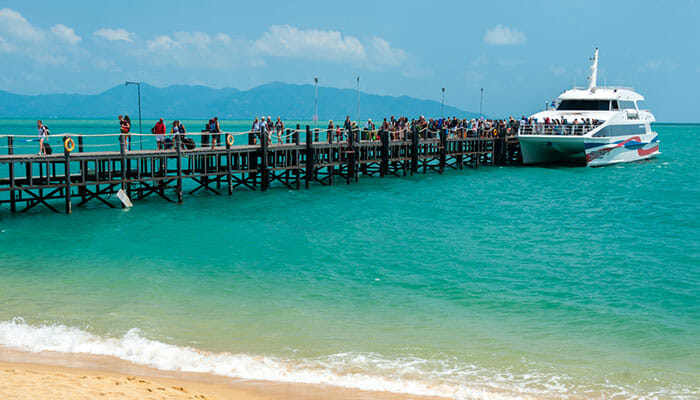 If you took advantage of the quick flights from Bangkok to Chumphon, you can get a transfer to the ferry direct from the airport without having to head into Chumphon Town first. Fame Tour has two services each day from the airport. The drawback with trying to travel to Koh Tao directly from the airport is that it adds quite a lengthy delay to your travel time. The airport is about 35 kilometers (22 miles) north of Chumphon Town anyway, so you will be further away from the ferry ports, and, with there only being a couple of services each day, trying to get one that connects sensibly with your flight could be prove difficult. Bearing this in mind, it may be better to head into Chumphon Town anyway, and then getting your tickets from there as you'll have a lot more choice of times to fit in with your schedule.
Getting from Chumphon to Koh Tao During Monsoon Season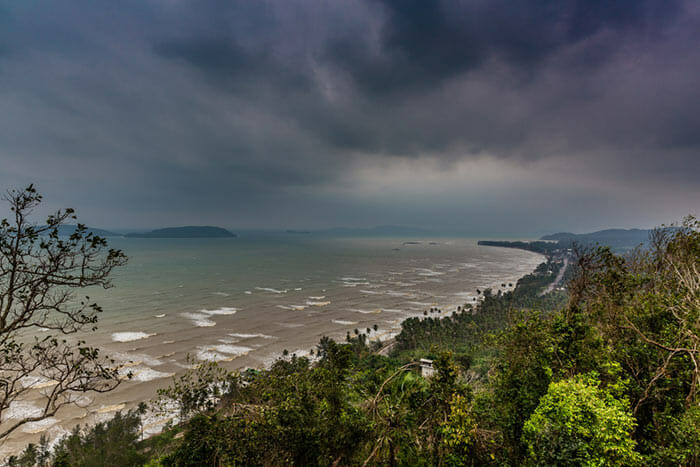 A few words of warning to anyone trying to make this trip during monsoon season, or during a period of unsettled weather… Because you can only get to Koh Tao by boat, the schedules can be really messed up when there's bad weather. Crossings will take a lot longer because the boats have to travel at slower speeds, and ferries can even be cancelled at short notice if the water is particularly choppy. Often it's the night ferry that is the first to be cancelled so be prepared for travel delays, especially during the monsoon season.
How do you get from Chumphon to Koh Tao?
With no airport on Koh Tao, your only option is to cross the water by ferry, but there are lots of daily crossings from Chumphon. Buy tickets right at the pier, or for added convenience, go to 12Go and buy combined tickets that include a van from the airport, train station, or town. Travel times vary depending on your starting point, with the fastest ferry taking just 1.5 hours.
How do you get to Koh Tao?
Koh Tao is a small island so does not have an airport, but ferries are plentiful. You can catch a ferry from nearby islands of Koh Samui and Koh Phangan, or come direct from the mainland either from Surat Thani or Chumphon. With several ferry companies offering multiple departures you should easily find something if you check online at 12Go where you can compare journeys and book tickets.
How do I get to Koh Tao?
This depends on where you're starting from, but being an island without an airport, you'll have to take a ferry! Traveling down from Bangkok, you can arrive to Chumphon or Surat Thani and take a ferry from either of these. For all the different options, take a look at travel website 12Go where you can search for transport to Koh Tao from all over Thailand and book your tickets.
Is Koh Tao worth visiting?
Koh Tao is a small but beautiful island that's famous for its amazing diving and snorkeling. Quieter than some of Thailand's other islands, it's also a great destination for relaxing days on the beach, or get more active and hike to a viewpoint, go kayaking or paddle boarding. By evening, enjoy its laid-back nightlife vibe. Check travel schedules and book tickets to Koh Tao on travel website, 12Go.
Where do you fly into for Koh Tao?
You can fly into Samui Airport or Chumphon Airport to get to Koh Tao. Koh Samui is a good idea if you're planning to see that island as well anyway, but if you're just heading to Koh Tao, look at flights to Chumphon Airport as this will likely save you money and time. You can book transfers to Koh Tao from both Samui and Chumphon through 12Go.
Did you find this guide useful?
Click on a star to rate it!
Average rating: / 5. Vote count: