Hua Hin was once a quiet fishing village but it grew in popularity for wealthy Bangkokians from the 1920s onwards after the Thai royal family began coming here, giving the seaside resort its "royal" moniker. While it's still a popular weekend retreat for city dwellers, Hua Hin is also very popular with foreign tourists too who come here for the 5 km long beach and great places to eat and shop. Once you've seen the best of Hua Hin, another popular stop on your Thai vacation is the island of Koh Samui. Here you'll find amazing palm-fringed beaches that give the island a very tropical feel, while inland there are dense mountainous rainforests, and temples and landmarks to visit. The great thing about Koh Samui is the diverse mix of people it attracts from budget traveling backpackers to the jet-set who come for the luxurious resorts and spas.
Read about:
• From Hua Hin to Koh Samui by Train and Ferry
• From Hua Hin to Koh Samui by Bus and Ferry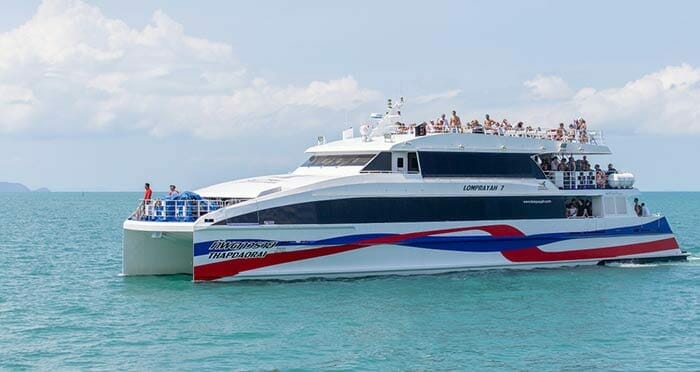 Options for Travel from Hua Hin to Koh Samui
With Koh Samui being an island, you're going to have to cross the water to get from the mainland. Adding the shortest ferry crossing to the road trip south, the total distance between Hua Hin to Koh Samui is around 570 kilometers (356 miles). There are a couple of ways you can make the journey by road and sea – the first option is to spend longer on a bus on the mainland and travel further south to Donsak to catch a ferry from there. This reduces the ferry crossing time but increases the time spent on the bus. The second option is to have a shorter bus journey to Chumphon and then take the ferry from there. This adds quite a lot to the ferry ride, but does reduce the bus journey. A third option you could consider is to travel by train from Hua Hin to Chumphon and then take the ferry. We'll look at all three options below.
From Hua Hin to Koh Samui by Train and Ferry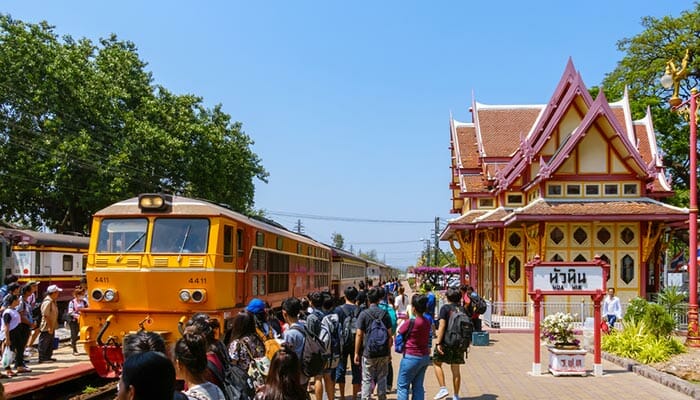 While you'll find the majority of travelers take the bus and ferry because it's readily available and affordable, there are some who will always prefer to catch a train instead of the bus. Trains have several advantages after all – the biggest advantage is the amount of extra space you get compared to a cramped bus. On the train you can opt for sleeper cabins or carriages so you actually get a bed to sleep on if traveling overnight, and whether you want to sleep or not, trains have the space for you to get up and wander around whenever you want to. Buses, on the other hand, are not really equipped for having their passengers get up and walk around all the time, so you only have a real opportunity to stretch your legs if the bus stops somewhere.
The drawback with catching a train from Hua Hin is that it will cost more and it won't get you to your destination any faster. Trains are slow-moving in Thailand, after all! And once you get to Chumphon you'll be getting on the same ferry as you would have been. So, at the end of the day it comes down to which you would prefer – the bus or the train.
From Hua Hin to Koh Samui by Bus and Ferry

A big advantage with taking the bus and ferry is that you can buy a combined ticket that covers the entire journey. This can be great for peace of mind if you're someone who prefers to have all their travel plans sorted before leaving home, and your tickets booked. Combined tickets can save you time and money as you pay one price, and you can easily book them online through travel websites such as 12Go.asia.
While there are other ferry companies you could consider, the one that's recommended for getting from Hua Hin to Koh Samui is Lomprayah. This highly reputable company operates all over Thailand and they cover all sections of this journey – the bus and the ferry, and an additional van ride if you opt for a hotel transfer.
There are two departure times from Hua Hin, at 8:30am and at 11:30pm. If you opt for the 11:30pm bus you will be traveling overnight. This can be good if you're someone who is able to sleep easily as you can get some sleep on the bus before getting to the ferry pier. But the overall journey time for the overnight bus is longer, by almost 4 hours, getting you to Koh Samui around 11:20am the next day. The daytime bus is quicker. Leaving Hua Hin at 8:30am, and you should get to Koh Samui by 5:40pm the same day, so it takes around 8 hours and 10 minutes.
As mentioned, you can also buy a combined ticket that includes a transfer to your hotel on Samui. These tickets cost a few dollars more and can be well worth the extra expense because there are rarely any taxis waiting at Maenam Pier on Koh Samui, so unless you have already arranged for a transfer with your hotel directly, you may be stranded at the pier for a while.
If you're wondering how much of your journey is spent on the bus and how much on the ferry – it's roughly 4.5 hours on the bus from Hua Hin to Chumphon, including some waiting time, and then the ferry from Chumphon to Koh Samui is around 3 hours and 40 minutes. Be aware that when the weather is not good and the water choppy, the high-speed catamaran cannot travel as fast so it may take longer than the scheduled time.
So, our recommendation would be to stick with a combined bus and ferry ticket from Hua Hin to Koh Samui as you can easily book these in advance through 12Go. Add a hotel transfer if this is something your hotel on Koh Samui does not offer, as it's definitely worth the extra few dollars!
Did you find this guide useful?
Click on a star to rate it!
Average rating: / 5. Vote count: