Sai Tai Mai, Bangkok's Southern Bus Terminal, is one of the city's three major bus stations along with Ekkamai and Mochit. Although named the Southern Bus Terminal this actually refers to which part of Thailand it serves, rather than its location within Bangkok as Sai Tai Mai is situated more in the west of the city than directly south and serves routes mostly to southern Thailand and western Thailand. This newer bus station replaced the existing Southern Bus Station in Bangkok and should not be mistaken for the nearby Sai Tai Guo, also known as Bangkok Bus Terminal Southern, just to confuse everyone!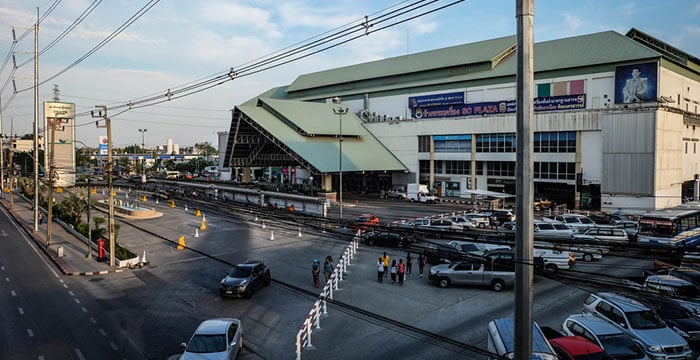 How to Get to Southern Bus Terminal Bangkok
Sai Tai Mai is located on the Borommaratchachonnani Road, to the west of the heart of Bangkok, and is situated within the same building as the SC Plaza shopping mall, close to the junction with Thanon Phutthamonthon Sai 1 and in the Taling Chan area. As a major bus station, you have plenty of options for getting here from other parts of Bangkok; obviously there are public buses which will be the cheapest option to get around Bangkok usually around 10-20 THB per trip. But a local bus journey takes the longest time especially when including all the waiting at the bus stops. Taxis are the most convenient but also the most expensive way to travel to the Southern Bus Terminal, but at least you can go direct from door to door, great if you have a lot of luggage to carry.
Going by Taxi to Sai Tai Mai Bus Station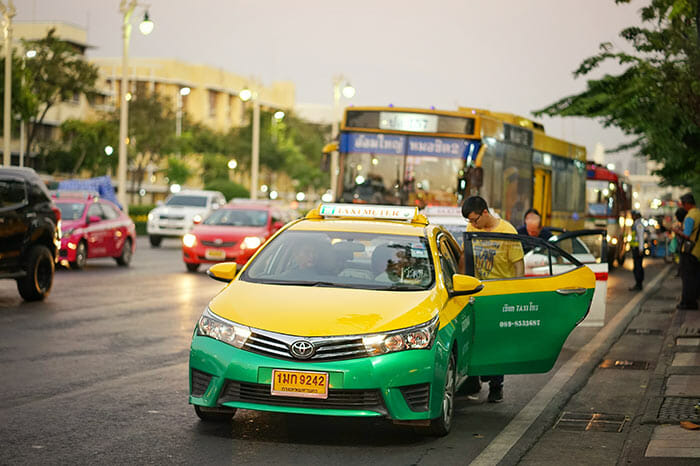 You can easiest get to the Southern Bus Terminal by a taxi meter. It will cost around 170 THB and about 25-45 minutes for journeys from most parts of Central Bangkok to the Southern Bus Terminal. A bit more expensive from Sukhumvit and Eastern Bangkok. Quiet a bit more from Suvarnabhumi Airport around 350 THB and about 50-75 minutes.
Going by Bus to Sai Tai Mai Bus Station
Many public buses go to, or pass right by Sai Tai Mai, and which one you need depends on where you're coming from in Bangkok. There are regular city buses but also air conditioned buses, nice if your journey is going to be a little longer. The number 515 bus is a good option as it does not stop many times and you can pick this up from Victory Monument, or take bus number 28 from there. From Khao San Road you can catch bus number 79. From Siam Square and MBK look for buses 40, 79, 177 or 511, and from Hua Lamphong Railway Station, bus numbers 25, 40 or 501.
Going by Skytrain and Taxi to Sai Tai Mai Bus Station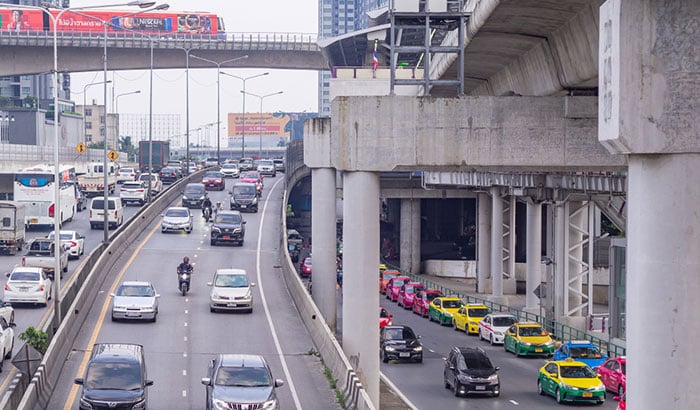 The BTS Skytrain is also an option. There is no Skytrain stop right at the Southern Bus Terminal but there are a few nearby and you can then grab a taxi. Traveling this way shortens your journey time and is a convenient way to travel even if more expensive than public buses. You would get off the BTS Skytrain at Bang Wa and then get a taxi from right outside. Your taxi ride will still be a good 9 Kilometers or 15 to 20 minutes, depending on traffic, but this is a good option that does not cost too much, around 80 THB.
There is also the new SRT Red Lines train option and it is about 5 Kilometers from Taling Chan Station to the Southern Bus Terminal. The SRT Red Lines train is a good option for travelers departing from Don Mueang Airport or the northern part of Bangkok. From Taling Chan Station there are no convenient public transportation options. So from Taling Chan Station it is easiest to take a 50 THB metered taxi ride for the last 8-10 minutes of the trip to Southern Bus Terminal Bangkok.
Sai Tai Mai Bus Schedule and Destinationsk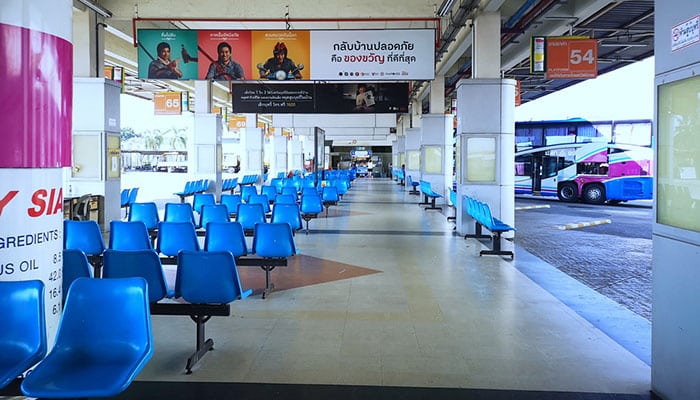 Bangkok's Southern Bus Terminal provides bus and minivan services mostly to southern Thailand as well as some services to the west of the country. In fact, this is the main Bangkok bus station for buses to some of Thailand's most popular tourist destinations such as Phuket and Krabi, located on the Andaman Sea and not serviced by railway.
Sai Tai Mai Bus Station to Hua Hin
Bangkok to Hua Hin is a popular route from Sai Tai Mai with a daily bus departing at 11:30 and arriving 16:00. Minivans to Hua Hin are also an option and these depart on a more regular basis (roughly every half hour) so could be a better option to fit in with a busy schedule than trying to get the bus. Minivans are faster too, taking roughly 3 hours to get to Hua Hin with a few stops along the way.
Sai Tai Mai Bus Station to Prachuap Khiri Khan
Both buses and minivans are also an option for traveling from Bangkok to Prachuap Khiri Khan and either option can be taken from Bangkok's Southern Bus Terminal. There are multiple departures every day, giving lots of options, and you can find tickets in advance on 12go, or buy your tickets at Sai Tai Mai (more on that below).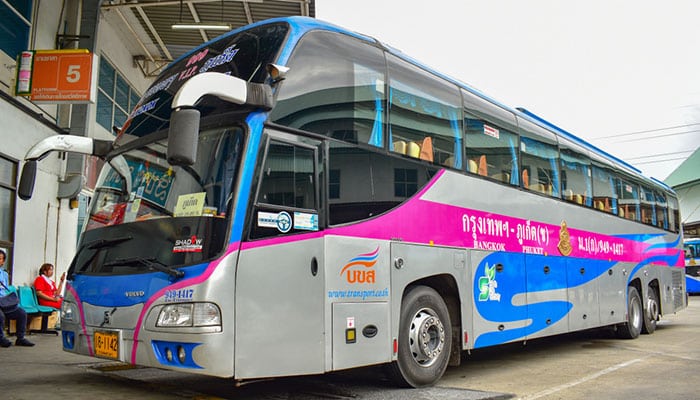 Sai Tai Mai Bus Station to Phuket
First-class buses depart five times from 06:00 to 10:00, again at 15:30 and several times from 15:30 to 20:00 for 540 to 790 baht. VIP buses depart hourly from 17:30 to 20:30 for 900 to 1,050 baht. The trip takes 13 hours and many of these buses stop in Khuraburi, Takua Pa, Khao Lak and Phang Nga.
Most of buses from Bangkok to Phuket depart from 15:30 to 20:30 as taking an overnight bus is the most popular option for covering this route. The price varies from 580 to 1000 THB, depending on the company and the type of the bus.
Other destinations from Sai Tai Mai Bus station
Surat Thani (for Koh Samui and Koh Phangan), Chumphon (for Koh Tao), Trang (Ko Muk, Ko Kradan and Ko Ngai piers), Ranong, Nakhon Pathom, Trang, Satun, Pattaya and Rayong are a few of the other popular destinations served by Sai Tai Mai, and most of these will have options for either a bus or a minivan journey.
Bangkok - Krabi
฿ 640–1,023
10h 30m – 15h 30m
→ 

Express

07:00, 07:20, 17:30, 17:45, 18:00, 18:40, 19:00, 19:30, 20:00, 20:40

→ 

VIP 24

19:00
Bangkok - Trang
฿ 694–1,071
11h – 13h
→ 

Express

16:40, 17:00

→ 

VIP 24

17:30, 19:00

→ 

VIP

19:00
Bangkok - Ranong
฿ 440–954
9h 20m – 13h 15m
→ 

VIP

19:05, 21:00

→ 

VIP 24

19:05, 21:00

→ 

Express

09:00, 20:20, 20:30, 21:00

→ 

VIP 33

17:00
Buying Tickets for Bangkok's Southern Bus Terminal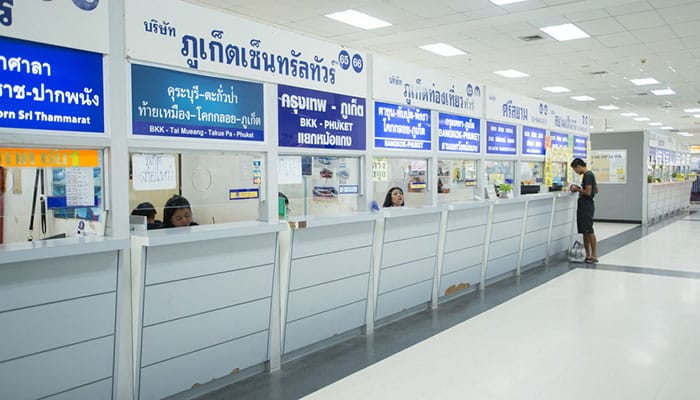 As we mentioned above, you can always book your tickets online in advance using a reputable service like 12go. The benefit of booking in advance is that you know for sure that you have a seat on the bus or minivan you need. This is particularly important during busy times of the year such as Thai holidays when everyone is trying to go somewhere! At other times of the year it's not as vital and can sometimes be a benefit to wait until you get to Sai Tai Mai and then look at your options. You may find a better schedule or a cheaper ticket if you're traveling on a budget.
Tickets for buses and minivans are not sold in the same place; bus tickets are available from the many ticket counters on the first floor. The counters are numbered if you already know which one you need, otherwise look at the destinations which should be written in English as well as Thai. Both the government run buses and private bus company tickets are sold here. For minivans, there are little desks out on the platform right by where the minibuses leave from.
Facilities at Sai Tai Mai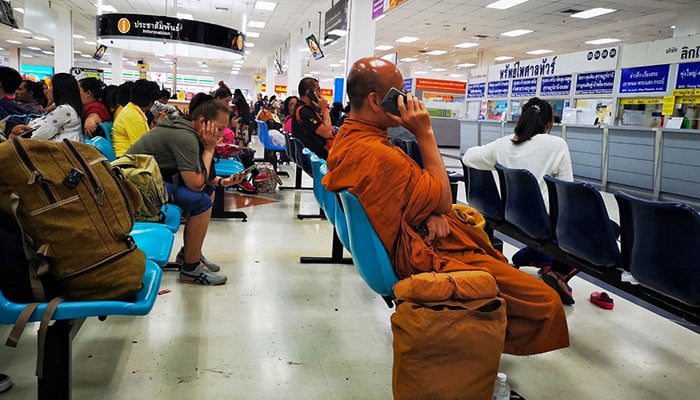 As a newer Bangkok bus terminal, Sai Tai Mai benefits from having a lot of facilities for travelers and seeing as it is right next to a shopping mall you can use the facilities there too, if you have a long wait for a bus.
If you just need some snacks and drinks for your journey there's a convenient 7-Eleven on the G floor. If you'd like a coffee or to sit down with a meal, there are several coffee shops scattered around the terminal and a food court on the top floor plus street vendors outside by the minivan platform. For fast-food, KFC is inside the terminal too.
The luggage storage place is convenient if you're going on a short trip and don't want to take everything with you, and of course there are also toilet facilities.
Thailand's night markets are a unique experience that can't be found anywhere else. Next to Bangkok Southern Bus Terminal the night market Sai Tai Center Market has endless street food options and Thai desserts, open 4-10pm everyday!
There are three major bus terminals in Bangkok, each serving different routes to various destinations for bus in Thailand travel and beyond – but which terminal suits your need? The answer will depend on, from Bangkok to where your destination is located.
Ekkamai Bus Station (Eastern Bus Terminal)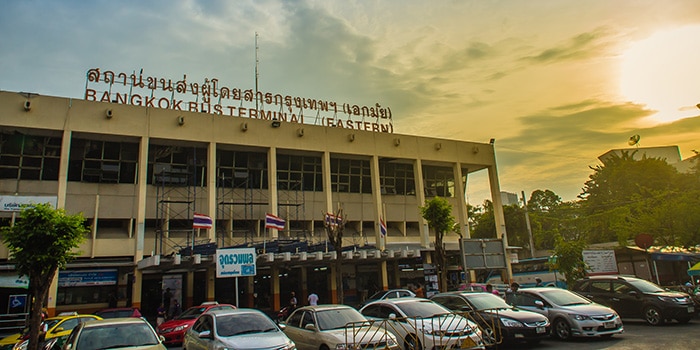 Eastern Bus Terminal mainly serves buses and minivans that travel from Bangkok to destinations in the Eastern Provinces of Thailand. Easy walking distance from Ekkamai BTS Station.
Mo Chit Bus Terminal Bangkok (Northern Bus Terminal)
Mo Chit Bus Station is best for your journey to Thailand's North (to Chiang Mai, to Chiang Rai and Isan). It is situated in the Northern Part of Bangkok close to the new train station Bang Sue Grand Station.
Southern Bus Terminal Bangkok (Sai Tai Mai)
Bangkok Southern Bus Terminal, also known as Sai Tai Mai Bus Station is located in the western part of Bangkok. It serves destinations throughout Southern Thailand including Phuket and Krabi. Bangkok Southern Bus Terminal is also a main hub for travelers going to the western part of the country to places like Kanchanaburi. But being Bangkok's second busiest bus station, it still provides services to the east side sides of the city – even if you're headed east as far as Pattaya!
How useful was this post?
Click on a star to rate it!
Average rating / 5. Vote count: