Unofficially, but popularly known as Hua Lamphong, Bangkok Railway Station has been the central train station for Bangkok since it opened in 1916. Although it has served its city and people extremely well through the decades, the future of Hua Lamphong is now threatened as the Thai railway system is upgraded and modernized with more high-speed lines being added. Plans have been put in place to close Hua Lamphong, moving its train services to the new, impressive, and very large Krung Thep Aphiwat Central Terminal. A ton of opposition has so far stopped this from happening, but the future closing of Hua Lamphong is inevitable; it's just a matter of time.
Read about:
• About Hua Lamphong Train Station
• Location and How to Get to Hua Lamphong Station
• Metro MRT to Hua Lamphong
• Public Bus to Hua Lamphong
• Taxi to Hua Lamphong
• The Future of Hua Lamphong Station
• Thai Railway Museum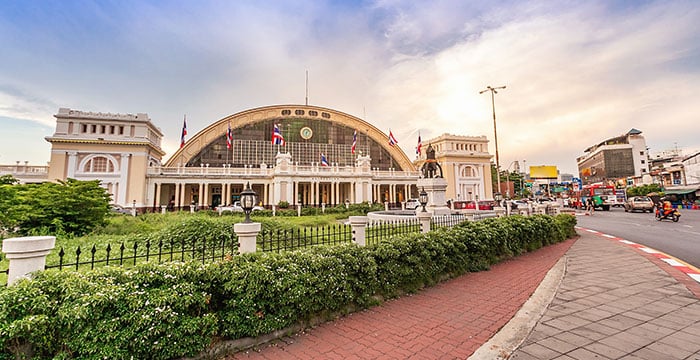 About Hua Lamphong Train Station
Construction started on Hua Lamphong in 1910, and the station officially opened June 25, 1916. This grand old building was designed in the Italian Neo-Renaissance style, taking inspiration from another major railway station, Frankfurt (Main) Hauptbahnhof, in Germany, although Hua Lamphong is on a considerably smaller scale! Even so, Bangkok train station is grand and impressive in its own right, able to handle around 60,000 passengers and about 200 trains per day at its peak, it certainly has been a workhorse for the city and people of Bangkok.
The name, Hua Lamphong is only an unofficial name for the train station, but you'll see it referred to as that in many different places. Even tourist guides and the press call it Hua Lamphong which, these days, helps to avoid confusion with some of the city's other big railway stations. Bangkok Railway Station is the official name given by the State Railway of Thailand as this is how the Thai name (Sathani Rotfai Krung Thep) is translated into English, and outside of Bangkok this is how you will usually see it referred to rather than the nickname, Hua Lamphong.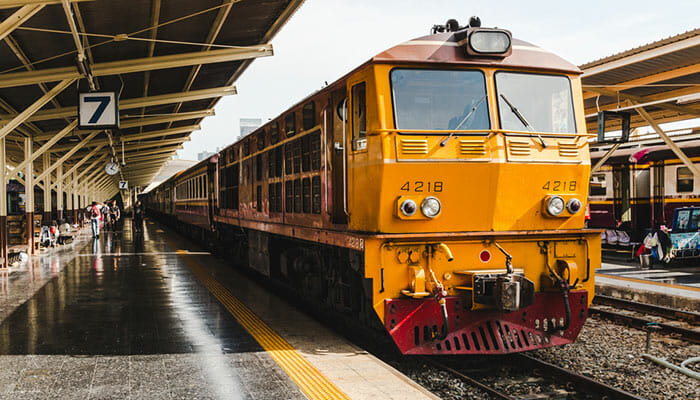 As to where the Hua Lamphong nickname came from, people aren't really sure today! There was another Hua Lamphong station that used to exist opposite this one. It was part of a private train line, called Paknam Railway Line (the first railway in Thailand) and the station was open from 1893 to 1960. So, this could be the origin of the name, or it could have been named after the canal and a road named Hua Lamphong that used to be close by.
In the initial decades after Hua Lamphong was opened it was not only used for passenger trains but for freight as well, but with growing numbers of passengers, and restrictions of a small site, freight services were moved in 1960 allowing Hua Lamphong to focus on passenger trains only. Today, there are 14 platforms and 14 tracks, and Hua Lamphong is the terminus for four out of five of the railway lines in Thailand: Northern Line, North Eastern Line, Southern Line and Eastern Line, and the terminus for the Eastern and Oriental Express, and the International Express to Malaysia. This has meant that Hua Lamphong has been the main hub for intercity and international train services for Thailand. In addition, Bangkok subway services are available from here, as underground is the Hua Lamphong MRT station, so it really has played a very important part in transportation services for both Bangkok and Thailand as a whole.
Location and How to Get to Hua Lamphong Station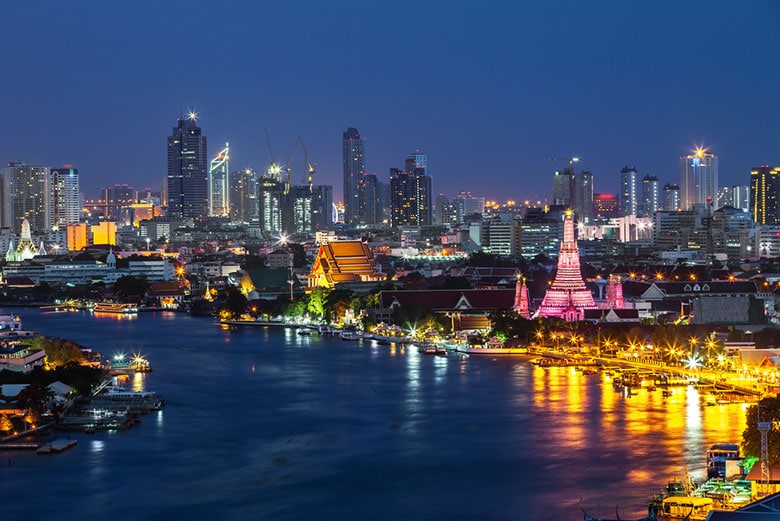 The central location of Hua Lamphong was always the best thing about this railway station. Set in the heart of the city, in Chinatown (Yaowarat), and only 350 meters from the Chao Phraya River, the station is on Rama IV Road. This has always made Hua Lamphong easy to get to for both locals and tourists who need to catch a train, however, it has also led to traffic problems in the center of one of the world's busiest cities. With vehicles coming and going to drop off and pick up passengers at Hua Lamphong, it has added to congestion in central Bangkok. There is also the issue of multiple railway crossings that cross roads coming into central Bangkok, and with more railway traffic this has led to longer waits at crossings which has in turn created more congestion. It's these reasons given by the State Railways of Thailand for the decision to close Hua Lamphong and move to a new station further outside of the city center, but more on that below.
Metro MRT to Hua Lamphong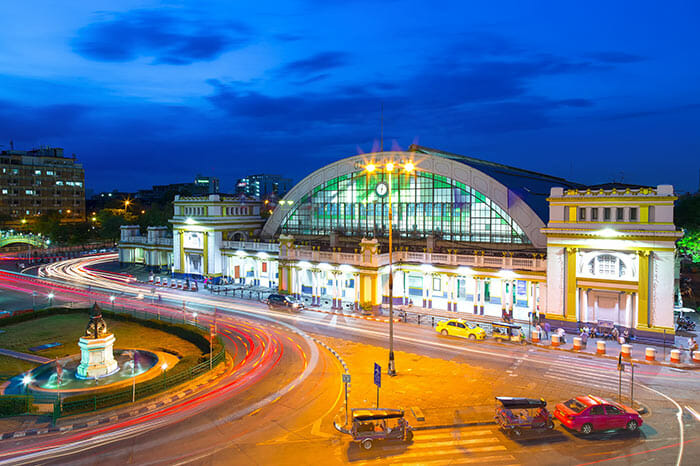 Hua Lamphong is on Bangkok's MRT (Metro) system. It is on the Blue Line which runs from Tha Phra in Bangkok Yai, to Lak Song in Bang Khae, and Hua Lamphong is just over half way down the line. You can easily reach the railway station from the MRT as there is a direct link that stops you having to exit the station and cross the road, or there are entrances from outside too if you have found yourself out on the street. The MRT runs between 05:30 and 24:00 on weekdays and 06:00 to 24:00 on weekends and holidays.
Public Bus to Hua Lamphong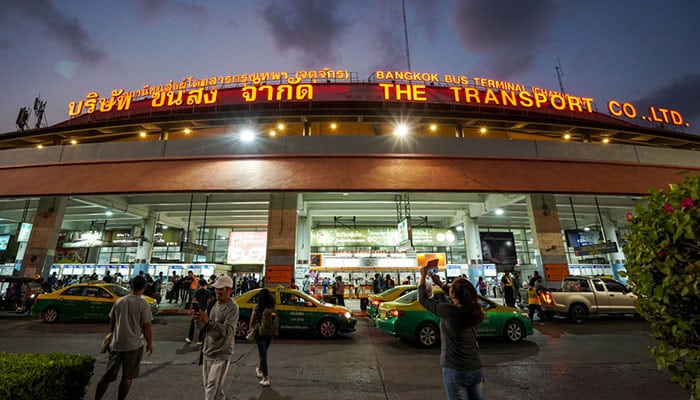 As public buses are so prevalent and affordable, this is a good way to get around Bangkok, but, their slow speeds (thanks in part to traffic congestion) and the fact that not all of them have AC or even fans onboard, makes them a bit less appealing. Even so, there are very good bus connections to Hua Lamphong from all over the city including to the bus terminals, Sai Tai Mai and Mo Chit, as well as popular tourist places like Khao San Road.
Taxi to Hua Lamphong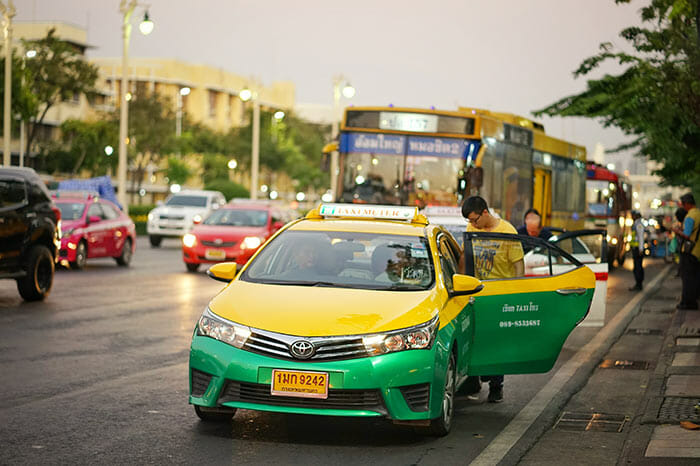 It may sound surprising, but metered taxis in Bangkok are actually quite affordable. They cost less than catching a tuk-tuk (whose drivers will usually overcharge unwitting tourists), provided that you do ask the taxi driver to use the meter, or you agree to a fixed price. However, with traffic being incredibly bad at times you could end up sitting in a taxi, stuck in traffic, and if the meter is running this could result in the journey costing you a lot more. Unless you don't have another option, or you are traveling to Hua Lamphong outside of peak times, using the MRT is probably your best bet.
The Future of Hua Lamphong Station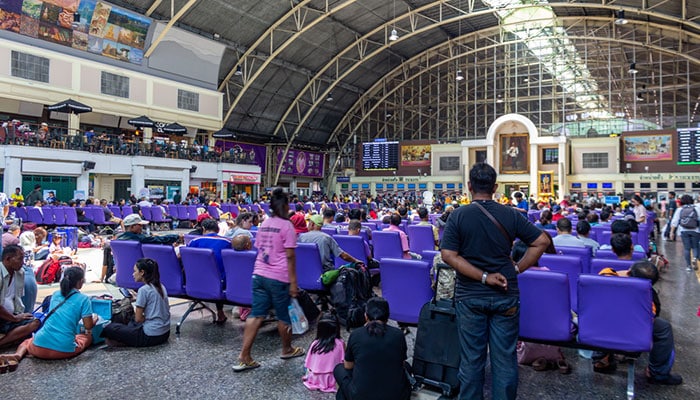 At the time of writing, Hua Lamphong is still the Bangkok Railway Station and is still operating as the main hub for intercity trains across Thailand, but, the intention is for this to change soon.
As mentioned above, the central location of Hua Lamphong, which was once of the best things about it, has now become its downfall. So, in an effort to reduce traffic congestion in central Bangkok, the new Krung Thep Aphiwat Central Terminal has been built and is actually completed and ready to start handling trains. The plan was to move services to Krung Thep Aphiwat Central Terminal in late 2021, with Hua Lamphong closing completely as a railway station. What the government and State Railways of Thailand hadn't expected was a massive amount of opposition to this move. The current location of Hua Lamphong always made it easy to get to and from for locals, and tourists, but locals did not want to have an extra commute to the more distant Krung Thep Aphiwat Central Terminal, even if it did mean traffic was eased in central Bangkok.
So, only a month after announcing that Hua Lamphong will close, the Transport Minister of Thailand announced that the move had been delayed and trains would continue to come and go through Hua Lamphong at least for a little longer. To date, there has been no official word on when Krung Thep Aphiwat Central Terminal will take over intercity train services, so Hua Lamphong continues to be the main Bangkok Train Station until a date is decided upon.
Seeing as the impressive new Krung Thep Aphiwat Central Terminal has been built and is ready for intercity trains, it is inevitable that Hua Lamphong will eventually close, but for now, this is where you will go to catch a train across the majority of Thailand.
Thai Railway Museum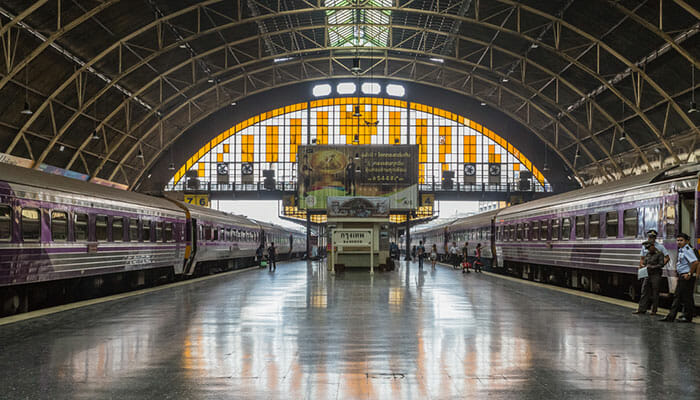 When Hua Lamphong does close as a railway station, it was intended to keep the building preserved and open to the public as a railway museum. The small Thai Railway Museum already exists inside Hua Lamphong but it is very small. It makes for an interesting quick visit if you're waiting for a train, although it is assumed that when the station shuts down, the museum will greatly expand and offer a lot more exhibits, helping to keep the history of Thai railways going into the future.
Did you find this guide useful?
Click on a star to rate it!
Average rating: / 5. Vote count: