Mo Chit Bus Terminal is Bangkok's Northern Bus Station, serving many routes to the north of the capital across Northern Thailand, such as Chiang Mai and Sukhothai.
Mo Chit Bus Terminal is also known by numerous other names, so it can get a little confusing if you're not familiar with this… Northern Bus Terminal, Mo Chit 2, New Mo Chit, Mo Chit Mai, and even Chatuchak Bus Station are some of the other names, the last because Mo Chit is situated within the Chatuchak District of the city.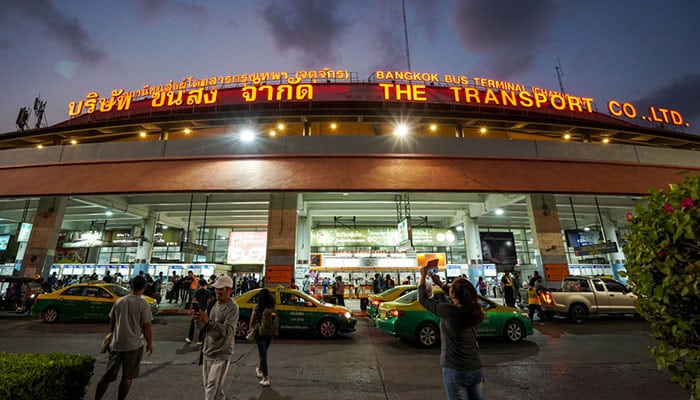 How to Get to Mo Chit Bus Terminal
Mo Chit Bus Terminal is close to Chatuchak Weekend Market and is located on the Kamphaeng Phet 2 Road, just across the street from another of the city's popular transport terminals, Mochit New Van Terminal.
It is north of the center of Bangkok and is known as the largest hub for bus travel in the city, having replaced the old Mo Chit Bus Terminal that was close by. This is why the new terminal is sometimes known as Mochit 2 or New Mo Chit as it is the newer / second Mo Chit Bus Terminal. The old bus terminal is sometimes still used by bus companies during very busy periods when there are so many buses and people traveling through Mo Chit that it gets too busy. If this happens, buses coming back into Bangkok may drop their passengers at the old terminal.
Getting to Mo Chit Bus Terminal is easy because this is the busiest terminal in the city so plenty of travel options exist. City buses, taxis, BTS and MRT will all get you there.
Public Bus to Mo Chit Bus Terminal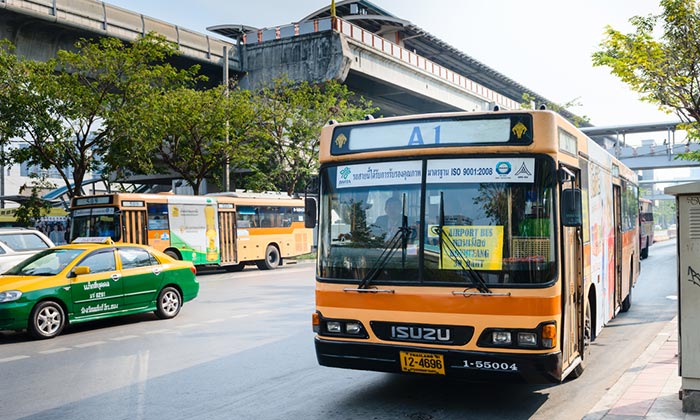 Many different public (city) buses go to or close by to Mo Chit Bus Terminal. The number of the bus you will need depends on where you're coming from, but there are routes from all over Bangkok to here.
Coming from Don Mueang Airport there is a direct bus that takes about 45 minutes, called A1 Bus. If you're in the heart of Bangkok you can catch a bus from Victory Monument. You will need number 77, 157, 509 or 536. An interesting sidenote is that during festivals like Songkran, there are free shuttles running from Victory Monument to Bangkok's Northern Bus Terminal.
Other public bus numbers you can get to Mo Chit include 3, 5, 9, 16, 77, 96, 104, 122, 136, 138, 145, 170, 509, 517, 536 and 547.
MRT to Mo Chit Bus Terminal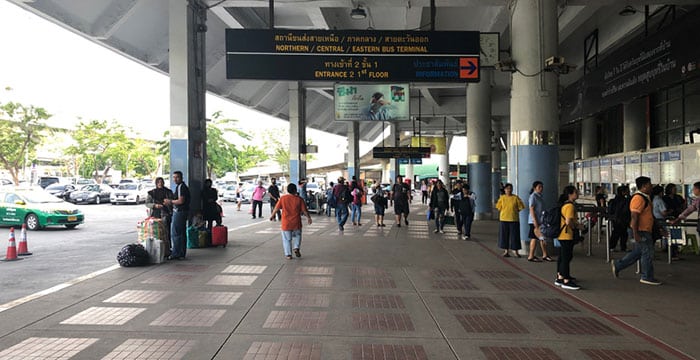 Traveling by MRT from Central Bangkok to Mo Chit Bus Terminal is probably the easiest way. Unfortunately there is not an MRT Metro station right at the bus terminal, but Kamphaeng Phet Station is the closest, about 2 kilometers away. Come out of the MRT at Exit 1 and you can grab a taxi or motorbike taxi, or take a public bus (numbers 9, 138, 145 or 509), or if you don't have much luggage you could also walk.
BTS to Mo Chit Bus Terminal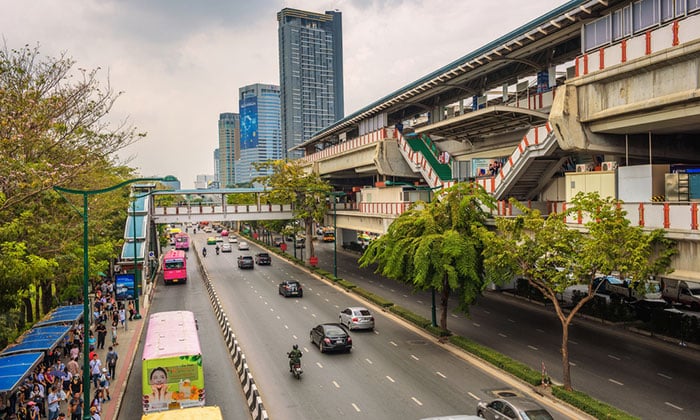 The BTS Skytrain is similar to the MRT in that there is no Skytrain station right by the Northern Bus Terminal but there is one about 2.3 kilometers away, the Mo Chit BTS Station. As you exit the station, you'll see waiting taxis and motorbike taxis or save money and use the public bus; numbers 96 and 138 will take you to the Northern Bus Terminal.
From Suvarnabhumi Airport to Mo Chit Bus Terminal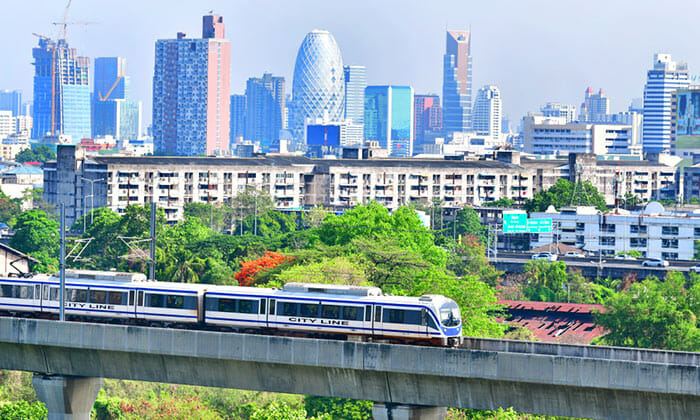 The trip from Suvarnabhumi Airport to Mo Chit Bus Terminal using public transportation is difficult. Suvarnabhumi Airport is quite a distance away, and you will need to travel right across Bangkok.
Taking a taxi is the most convenient option, and will save you a lot of time, but it will be more expensive. Travel time for taxis varies depending on the time of the day and traffic conditions. Total travel time for taxis ranges from 30 minutes to 90 minutes.
The Airport Railway Link (ARL) is the fastest public transit option. Take the train to Phayathai Station Airportlink station, then walk the 3 minutes to the connected Phaya Thai BTS Station. From here, it's a fast 15 min train ride to Mo Chit BTS Station, where you can grab a taxi, motorbike taxi, or a public bus. Total travel time is about 90 minutes.
Taking a taxi is my preferred option. I would not hesitate, especially if you carry luggage and are more than one person sharing the cost. Definitely more convenient, and taxis in Bangkok are surprisingly good value at around 450 THB or $13.
Mo Chit Bus Terminal Schedule and Destinations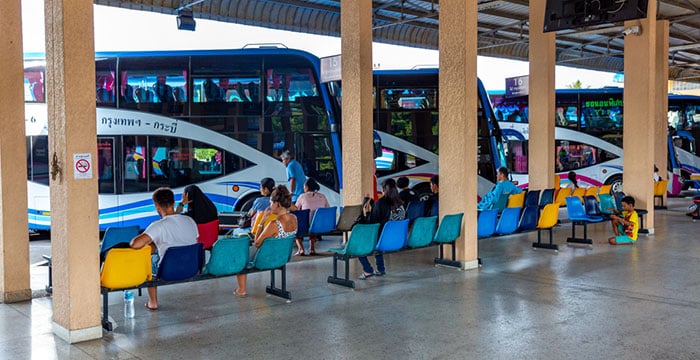 As the Northern Bus Terminal for Bangkok, the majority of destinations serviced by Mo Chit Bus Station are located in the north and north-east of Thailand, although there are some other destinations covered from here also.
Northern Bus Terminal to Chiang Mai
The bus from Bangkok to Chiang Mai is by far the most popular service from Mo Chit, and because of this there will always be multiple buses and different bus companies to choose from. Departures will happen throughout the day, starting early morning right through to late evening. The benefit of a morning departure is that you will get to Chiang Mai on the same day but you will be traveling across the hottest time of the day. Of course, long-distance buses do have air conditioning but bear in mind the rest stops and how hot it might be when you get off the bus! If you choose an evening departure, you will be traveling overnight. This is good if you find it easy to sleep on a bus and the stops will be cooler, so it's possible you will arrive refreshed and ready to go sightseeing in Chiang Mai the next morning. The bus from Bangkok to Chiang Mai takes around 10 to 11 hours, depending on the bus company.

Northern Bus Terminal to Chiang Rai
Bangkok to Chiang Rai is another popular route. Chiang Rai is even further north than Chiang Mai so be prepared for a long bus journey of anywhere from 9.5 to 12 hours. The first buses depart from the Northern Bus Terminal at 6am, and the last around 10pm.
Northern Bus Terminal to Ayutthaya
A popular shorter journey is to the city of Ayutthaya and you can go from Bangkok to Ayutthaya by public bus from Mo Chit Bus Terminal, taking between 1 and 2 hours, depending on how many stops it makes along the way.
Mo Chit Bus Terminal to Pattaya
Roong Reuang Coach buses depart every two hours from Mo Chit Bus Terminal to Pattaya. Buses leave at 06:00, 08:00, 10:00, 12:00, 14:00, 16:00, and 18:00. The arrival point is on North Pattaya Road at North Pattaya Bus Station. The journey takes about three hours in favorable traffic conditions. Tickets can be purchased for 131 THB at the ticket counters, or if you want to avoid the queues, book in advance online for a small fee.
Feeling adventurous? Check out the minivan options from Mo Chit New Van Terminal next to Mo Chit Bus Terminal. It's another option for those who like to live life in the fast lane.
More destinations from Northern Bus Terminal
Other bus services from Mo Chit to popular destinations include Pattaya, Kanchanaburi, Phnom Penh in Cambodia, Lampang, Phitsanulok, Ubon Ratchathani, Udon Thani and Sukhothai, to name just a few.
Bangkok - Phitsanulok
฿ 291–451
5h – 6h 30m
→ 

VIP 31

22:00, 23:58

→ 

Express

07:00, 09:00, 10:30, 11:00, 11:30, 12:30, 13:00, 15:30, 16:30, 18:00, 19:00, 20:30, 21:30, 22:00, 23:00

→ 

VIP

20:00
Bangkok - Lampang
฿ 390–818
8h – 10h
→ 

Express

08:45, 20:20, 20:50, 21:00

→ 

VIP

20:21

→ 

VIP 33

20:00
Bangkok - Ubon Ratchathani
฿ 422–807
8h 50m – 12h
→ 

Express

06:30, 07:00, 07:10, 08:40, 16:15, 18:30, 19:10, 19:30, 19:50, 20:00, 20:30, 20:40, 21:00, 21:10, 21:30, 21:40, 21:45

→ 

VIP

18:00, 19:15, 19:50, 19:55, 20:00, 20:05, 20:25, 20:30, 20:50, 21:10, 21:30, 21:35

→ 

VIP 24

18:00, 20:00, 20:30, 21:15

→ 

VIP 32

20:30
Buying Tickets for Mo Chit Bus Terminal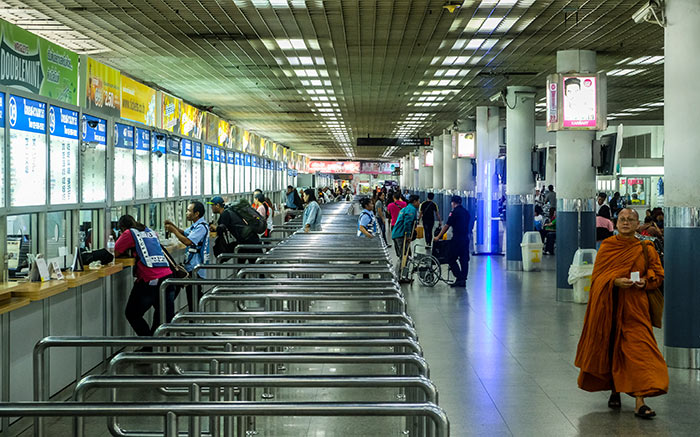 When you're buying tickets for buses at Mo Chit Bus Terminal, bear in mind that there are usually three types of buses available for most popular routes across Thailand, and there will be multiple bus companies offering services on the most popular routes too. The most expensive bus tickets are for VIP buses which offer a lot more space for passengers and therefore better comfort levels. Next down are the 1st Class buses which are air conditioned and quite comfortable, offering direct service from Mo Chit Bus Terminal. The cheapest bus tickets are 2nd Class – these are still air conditioned buses but they tend to stop multiple times, making the journey that much longer.
You can certainly book your tickets in advance, online, if you would like to guarantee you get a seat on exactly the service you want. Booking websites such as 12go are convenient and efficient. For most buses departing from Mo Chit Bus Terminal you don't usually need to book your tickets as there are so many different buses that you should be able to find what you want just by turning up when you want to travel. This is not the case during Thai holidays though, when demand for buses really picks up and routes will sell out in advance, so be sure to check that when making your travel plans.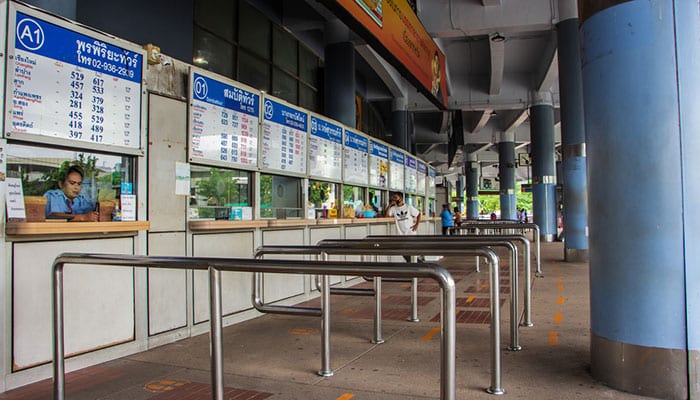 At the Northern Bus Terminal there are many ticket counter windows. Most, if not all, will have their destinations written in English as well as Thai but if you're having trouble finding what you need, go to the information kiosk which is well signed and located in the center of the main waiting area. They can give information on the ticket counters as well as up-to-date news on departures and timetable information.
The government run buses, Bus 999, has two rows of ticket windows and are easy to find as they are bright orange. Other than this it's useful to know that there are ticket counters on the ground floor which tend to serve Northern destinations, while those on the 3rd floor are mostly for other long distance destinations.
With so many bus companies, from small to large, offering the same routes, finding a service that you're happy with could be a little overwhelming when faced with dozens of ticket counters. Buying online in advance will save you some time and stress when compared to waiting until you arrive at Mo Chit Bus Terminal. Or if you do some research online first to figure out which bus companies travel your route and what kind of buses they offer, this will save you time at the bus terminal too, allowing you to go straight to the ticket counter you need.
Remember that there are also many van (or minibus) options for various destinations traveling out of Mo Chit too, however, tickets for these are not sold at the main Mo Chit Bus Terminal, but instead across the street at the Mochit New Van Terminal, where the vans depart from.
Facilities at Mo Chit Bus Terminal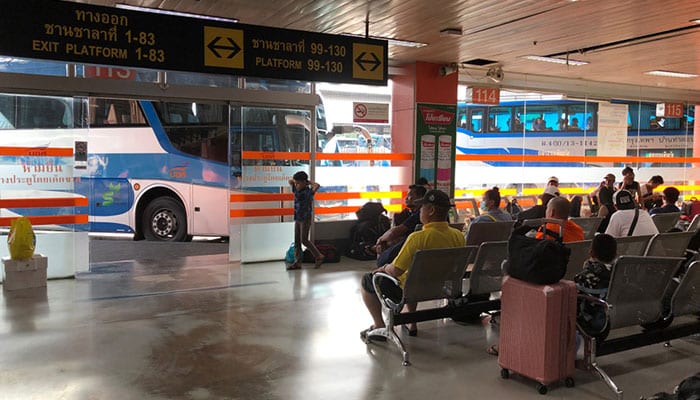 Mo Chit Bus Terminal is large and modern and has benefited from more recent renovations to make this one of the most modern and best equipped bus stations in Thailand. It almost feels like a railway station in a European city with its bright open areas and lots of facilities, making this a far more inviting bus station than many you will find across the city and Thailand as a whole.
There are terminal maps dotted around to show you where everything is, with English words printed on them too so you don't need to know Thai! Signage within the terminal is also very good, with big, bold signs pointing you in the right direction, whether you're looking for the ticket counters, food court, information, or toilets; they are all easy to find and are always marked clearly in English.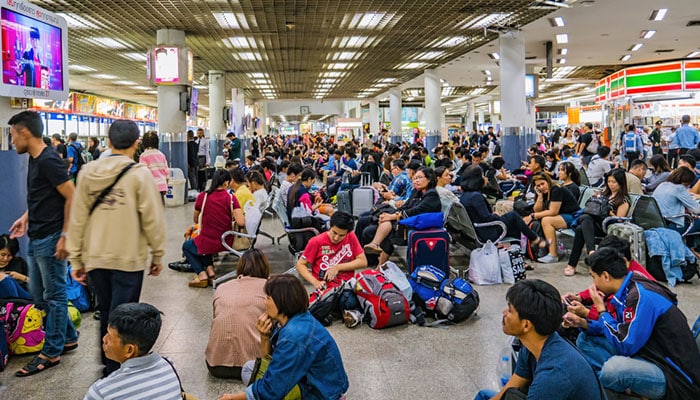 The bus station is air conditioned for your comfort and has numerous areas where you can sit and wait for your bus. The seating is quite comfortable too, although some of the waiting areas can get quite crowded making it difficult to find a place to sit sometimes.
Food is available from a number of places around Mo Chit Bus Terminal. There is a Food Center (also referred to as the Food Court) on the 3rd floor, if you would like to have a quick meal before departing. For buying snacks and water etc to take with you, there is a main 7-Eleven convenience store as well as a few smaller ones, but you won't find any Western fast food outlets. There are plenty of toilets, and they are free to use, and if you need cash or to exchange money there are some ATM's on the ground floor and a couple of bank branches. A left luggage office (open from 5am to 10pm) is also available if you want to leave a bag or suitcase in a secure place while you're traveling. This is not for lost luggage, rather luggage storage. This service does cost money, but it's not a lot for the convenience it offers.
If you want to do a little shopping while waiting for your bus from Mo Chit Bus Terminal there are a few shops around the terminal as well as massage shops. For more choice, if you have the time, visit the Mo Chit Market which is just outside the terminal to the left. This covered market sells lots of different items, some very useful for traveling, and does not overcharge as items are being sold at Thai prices, usually with the prices marked on the goods.
Other Bus Stations in Bangkok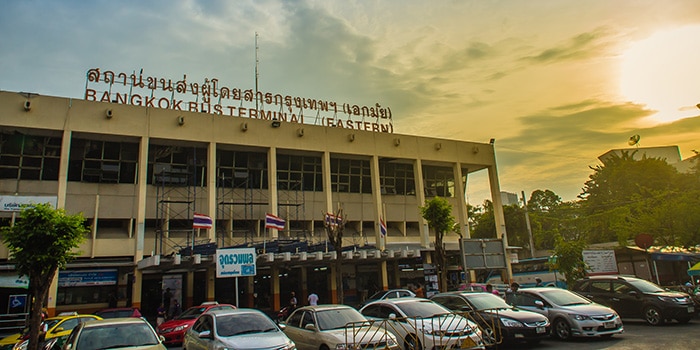 Remember that Mo Chit Bus Terminal is Bangkok's Northern Bus Station, serving destinations mostly in the north and northeastern parts of the country. It is one of three major Bangkok bus stations and is just across the street from the Mochit New Van Terminal where most of the minivans depart from.
Ekkamai Bus Terminal is the one you will need for services to the East of Thailand, while Sai Tai Mai is Bangkok's Southern Bus Terminal, serving destinations mostly in Southern Thailand.
Ekkamai Bus Station (Eastern Bus Terminal)
Eastern Bus Terminal mainly serves buses and minivans that travel from Bangkok to destinations in the Eastern Provinces of Thailand. Easy walking distance from Ekkamai BTS Station.
Mo Chit Bus Terminal Bangkok (Northern Bus Terminal)
Mo Chit Bus Station is best for your journey to Thailand's North (to Chiang Mai, to Chiang Rai and Isan). It is situated in the Northern Part of Bangkok close to the new train station Bang Sue Grand Station.
Southern Bus Terminal Bangkok (Sai Tai Mai)
Bangkok Southern Bus Terminal, also known as Sai Tai Mai Bus Station is located in the western part of Bangkok. It serves destinations throughout Southern Thailand including Phuket and Krabi. Bangkok Southern Bus Terminal is also a main hub for travelers going to the western part of the country to places like Kanchanaburi. But being Bangkok's second busiest bus station, it still provides services to the east side sides of the city – even if you're headed east as far as Pattaya!
How useful was this post?
Click on a star to rate it!
Average rating / 5. Vote count: