After the likes of Phuket and Koh Samui, Koh Phi Phi is one of the best known island destinations in Thailand. It began attracting tourists in their masses after it was discovered that some key scenes from the movie The Beach were filmed here. Of course, it was only a matter of time before Koh Phi Phi was discovered anyway, because it's such an amazingly beautiful place that benefits from long, hot and sunny days. It's the ideal destination for spending relaxing days on a gorgeous beach, surrounded by the stunning limestone karst scenery and lush inland jungles which the islands are famous for. By night there's quite a vibrant nightlife if you want to party the night away, but there are still some great quiet spots too if you're coming to Koh Phi Phi to chill and take it easy.
Although it's generally referred to as Koh Phi Phi, the correct name is the Phi Phi Islands. It's home to a group of islands that are situated in the Andaman Sea, with Phuket to the west, and Krabi to the north-east. There are six islands altogether with three larger ones attracting the most tourists: Koh Phi Phi Don – the largest and most populated; Koh Phi Phi Le – the second largest with some of the most visited beaches; and Koh Mai Phai (meaning Bamboo Island) that does attract a lesser number of tourists to its main beach where there's limited snorkeling. For this Koh Phi Phi travel guide, we're going to be focusing on the main two islands of Koh Phi Phi Le and Koh Phi Phi Don.
Read about:
• Best Times to Visit Koh Phi Phi
• How to Get to Koh Phi Phi
• How to Get Around Koh Phi Phi
• Top Attractions and Activities on Koh Phi Phi
• Best Places to Eat and Drink on Koh Phi Phi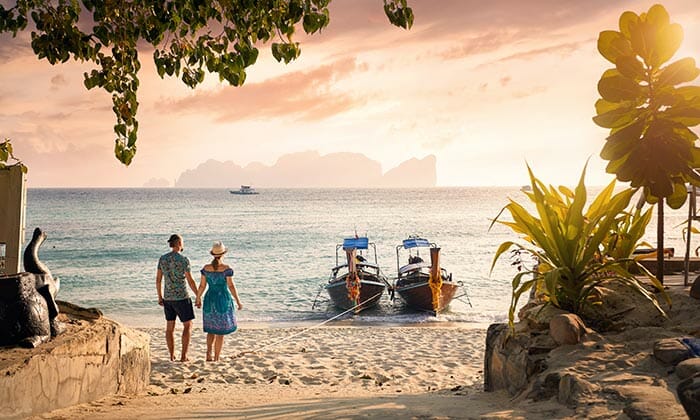 Best Times to Visit Koh Phi Phi
Like most of Thailand, Koh Phi Phi has a tropical monsoon climate that's characterized by very heavy rainfall during the monsoons and short, but heavy rain showers the rest of the year. This may sound like it's all doom and gloom, but despite the rain being heavy, the islands also benefit from a great deal of sun and hot weather throughout the year. This means you could effectively visit Koh Phi Phi at any time of the year and enjoy the sun and warmth, but there are of course better times to visit if you want to take advantage of the finest weather.
There are just two seasons in Koh Phi Phi: the rainy season and the hot season. The rainy season is from May until December with rainfall peaking in July, so this month is probably not a good time to visit Koh Phi Phi! The hot season is a bit of a misnomer as it's hot throughout the year, it just tends to increase by several degrees between January and April. Really there's not much variation in temperature across the year, with the average range between 25 to 32°C (77 to 89F).
Bear in mind that Koh Phi Phi will be busiest during the hot season as this is the time when most visitors want to make the most of the lower rainfall. Popular beaches can be packed during these months, so if you are willing and able to travel to Koh Phi Phi a little into the rainy season, or towards the end of the rainy season, you will find that it's much quieter and laid back, and there are also likely to be better deals on accommodation.
How to Get to Koh Phi Phi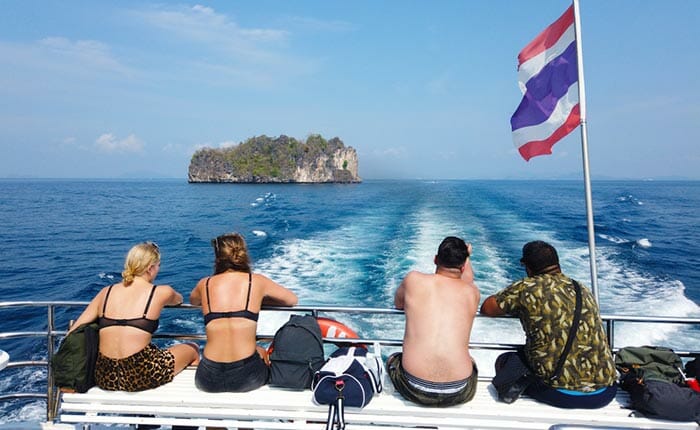 Koh Phi Phi is about 50 kilometers (31 miles) southeast of Phuket, and about 34 kilometers (21 miles) southwest of Krabi Town, in the Andaman Sea. Being that all of the Phi Phi Islands are small, none of them have their own airport, so the only way you're going to reach Koh Phi Phi is by boat. Gone are the days when there would only be one boat per day, or even fewer than this! Koh Phi Phi is so popular that there are multiple ferries plying the island, and they depart from a variety of different places making it very easy for you to reach them, no matter where you're starting your journey from. Here are details of how to get to Koh Phi Phi from a few of the most popular departure points.
From Phuket to Koh Phi Phi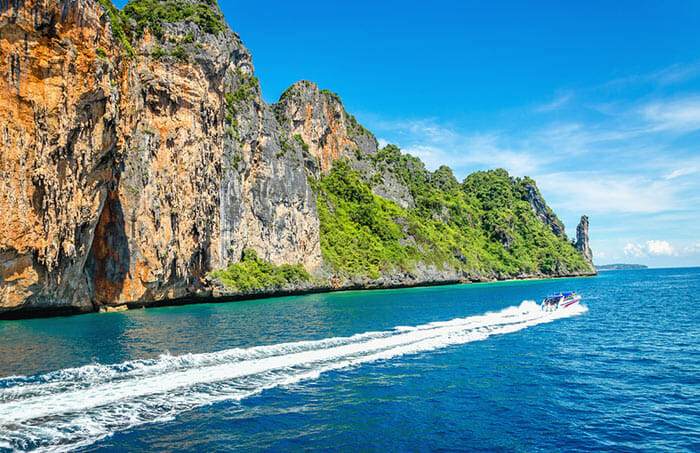 If you've spent some time in Phuket and now want to travel around to some of the neighboring islands, traveling from Phuket to Koh Phi Phi is easy with a number of boats leaving every day.
Going by public ferry is the most affordable way to travel, although there are other options such as speedboats and all-inclusive tours. The majority of tourists tend to take the ferries though because these are easy and cheap, and there are plenty to choose from each day. You can buy the ferry tickets right at the pier on Phuket – there are actually two departure piers on Phuket that go to Koh Phi Phi: Rassada Pier and Sea Angel Pier. Tickets are a good price at the pier, although you can sometimes find that the price has been inflated and you have to haggle it down. If you want to avoid having this issue, we recommend you buy your tickets in advance online because you pay a fixed price and you know for sure that you have a seat on the ferry.
Travel websites like 12Go.asia are a great place to get your ferry tickets as they offer multiple options. You could just opt for the ferry ticket alone (or the speedboat), but you can also buy combined tickets that include a transfer from your hotel or from Phuket Airport. This saves a lot of hassle and time searching around as 12Go provides a one-stop website where you can do it all!
From Phuket, ferries to Koh Phi Phi take between 1.5 to 2 hours, but if you're transferring from somewhere else, you'll obviously need to add that transfer time to your journey as well. Ferries all arrive at the same place on Koh Phi Phi, regardless of where you've come from – Ton Sai Pier, which is on the southern coast of Phi Phi Don.
From Krabi to Koh Phi Phi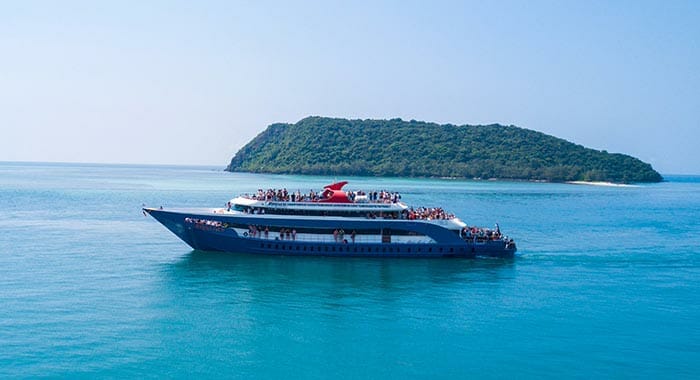 Traveling from Krabi to Koh Phi Phi is another popular route, and because it's popular you'll find plenty of ferry options from Krabi Town and the surrounding area, including Ao Nang, Noppharat and Railay.
A ferry from Krabi Town itself will depart from the Klong Jilad Pier, and there are usually around four sailings per day from here to Ton Sai Pier on Phi Phi Don. The ferry takes about 90 minutes and is affordably priced wherever you buy it from. As with ferries from Phuket, you can buy tickets direct at the pier but we would recommend buying them in advance through a website like 12Go, where you have ample options for getting transfers included on a combined ticket. This gives you greater flexibility, as you don't have to worry about traveling from other places in Krabi first. There are transfers from Krabi Airport, from the beach resorts, and from Krabi Town itself, all organized so that you get dropped off at the pier in time for the ferry.
From Bangkok to Koh Phi Phi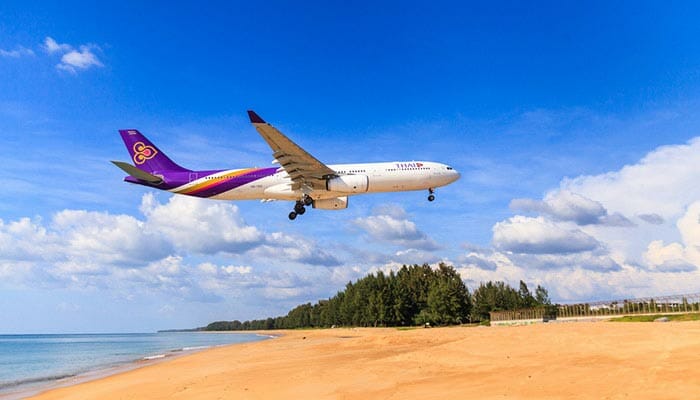 If you haven't already headed south on your Thai vacation and you're considering going to Koh Phi Phi from Bangkok, there are plenty of different transport options to consider. Don't underestimate the distance though, as getting from Bangkok to Koh Phi Phi is a long way – about 830 kilometers (520 miles). Because of this long distance we would recommend you catch a flight from Bangkok to Krabi and then transfer from the airport to the pier for the ferry crossing. A second option is to fly to Phuket and transfer onto the ferry from there. Actual travel time will be roughly the same with both of these options, but how long the overall journey takes will actually depend on how well you can get connections. You could find that you have to wait until the next day to get on a ferry, for example, if you catch a flight later in the day, so do check into the schedules carefully. Once again, 12Go provides many different travel options to get you from Bangkok to Koh Phi Phi, including alternatives like the train.
How to Get Around Koh Phi Phi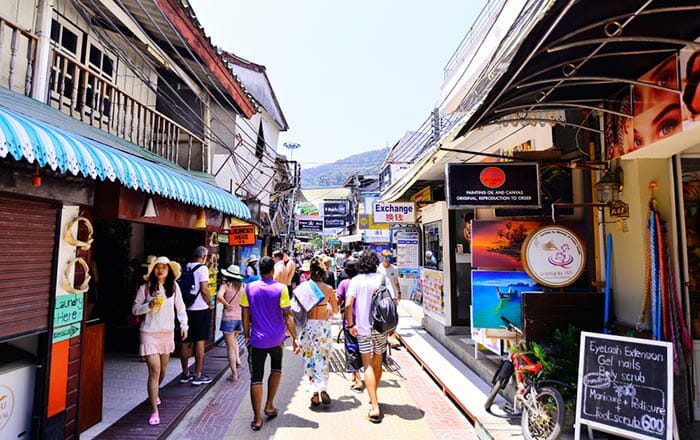 It may seem hard to imagine, but Koh Phi Phi does not have any transport, at all. None. That doesn't just mean there are no public transport options, there are no mechanized vehicles on the islands whatsoever aside from a very few motorcycles that are used with side-cars to transport goods. To some people this will come as good news because you won't have to listen to the constant din of motorcycles darting around the island with dozey tourists on them! But, if you don't enjoy traveling by boat, and you're not someone who likes bicycling or walking, you may have a hard time getting to see much of the islands, as these three methods are the only way you can get around.
That being said, if you're staying in the Ton Sai area – where the ferries come and go from – you're never far from anything. The beach, places to stay, places to eat and have a drink, are all very close by in this compact little town so it wouldn't take more than ten minutes to walk anywhere. When you do want to venture farther, the best way to get around is by boat as they can quickly get you to the other side of the island, far quicker than it would take you to walk or cycle. Add to this the fact that traveling by boat is a very scenic way to get around, and it would be quite relaxing too if it weren't for the very loud engines on the longtail boats!
Traveling by boat in Koh Phi Phi is cheap and convenient. They are the taxis of the islands and will cover regular routes for only a few hundred baht or less. You can also hire a longtail boat and its driver to take you on a tour – visiting the other islands, for example – and it will cost far less than you might expect.
If you are okay with some exercise, exploring the island by bicycle can be really nice because there are roads, but without vehicles on them the roads are quiet and safe.
Top Attractions and Activities on Koh Phi Phi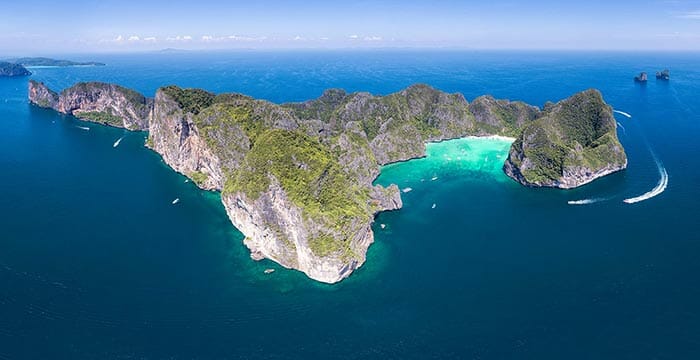 Koh Phi Phi's appeal is in its scenery. These islands are renowned as some of the most beautiful islands in the world, and they are among the most accessible too. It may have taken a movie to show the world just how gorgeous Koh Phi Phi is, but tourists should also be aware of how much damage so many visitors have caused to the islands. It's not that tourists come here and purposely make a mess, it's more because development and increasing tourist numbers weren't restricted until the impact on the islands was really evident. Luckily, the damage was noticed and the authorities are now more stricter on the number of visitors, on development, and on trying to keep these islands as beautiful as they were before the masses discovered them. It's important that all visitors bear this in mind when coming to Koh Phi Phi so that these amazing islands can stay amazing for future generations.
That being said, here are some of the most beautiful beaches and other natural sights on Koh Phi Phi, listed by the island they are on.
Phi Phi Don
Ton Sai Bay and Beach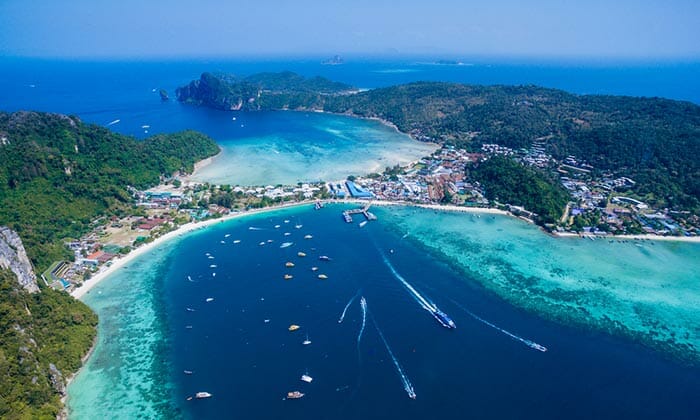 As the main 'town' in the Phi Phi Islands this is where a large majority of tourists stay when visiting Koh Phi Phi for more than just a day. Ton Sai has a little bit of everything you would need, so it's definitely a useful place to visit if you need supplies, and you'll be passing through here when you get off the ferry. Even the scenery around here is quite breathtaking. There is a beach right at Ton Sai with great rock climbing, but if you want something a little quieter you can walk, rent a canoe, or get a longtail boat to Monkey Beach. As the name suggests, you may come across some monkeys to add to the entertainment. Be careful though, they may look cute but they pack quite a bite if you get too close!
Phi Phi Viewpoint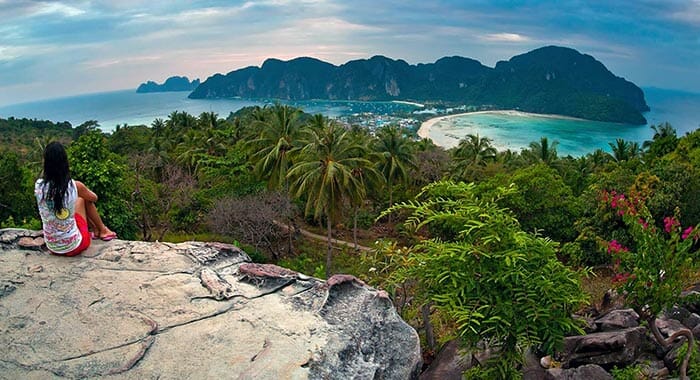 There are actually three different viewpoints on this trail and it's well worth the effort to reach the last of them. The views are absolutely stunning out across Phi Phi Don, and the trail can be accessed easily from Ton Sai. It is a strenuous hike though and you should take plenty of water with you as the trail climbs up hundreds of steps and follows narrow tracks that twist and turn. There is a small admission fee to access each of the three viewpoints, and there's a small shop at viewpoint two where you can buy drinks if you need more. From the final viewpoint you can head back down or traipse through the jungle some more to get to the quieter beaches on the eastern coast of the island.
Long Beach
This popular beach is about a 30-minute walk from Ton Sai or you can take a longtail boat and save yourself the hike! Soft, white sand and aquamarine waters make this a popular beach with families and couples, and you can snorkel among some coral just off the shore.
Phi Phi Le
Ao Pileh
It's also known as Pileh Bay or Cove, and once again the scenery here is just spectacular. Characterized by towering limestone cliffs that come together at the entrance to this bay and lagoon whose water is a striking emerald green color. You can swim and snorkel in the bay, and you can reach it in about 30 minutes by longtail boat from Ton Sai.
Best Places to Eat and Drink on Koh Phi Phi
Unfortunately, many of the bars and restaurants on Koh Phi Phi have suffered over the last few years due to Covid and a lack of customers, and had to shut down. There's a new wave of places being opened up, but they will only survive with the support of tourists like you. So, if you're visiting the island, be sure to check out some of these new best places to eat and drink, and support the local economy!
Acqua Restaurant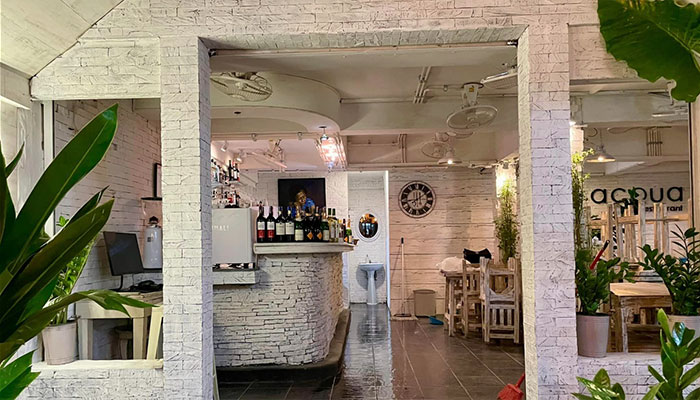 The nice thing about restaurants on Koh Phi Phi is that despite the island being small, there is still a great selection of cuisines on offer. Two of the top-rated places to eat specialize in European food. Acqua Restaurant is a fusion of European and Asian, with a focus on Thai, of course. This restaurant is rated so highly because the food is excellent but the service and atmosphere are also very good. You'll often find live music being played here, creating a vibrant atmosphere, and the waiting staff are very welcoming with quirky characters!
Efe Mediterranean Cuisine Restaurant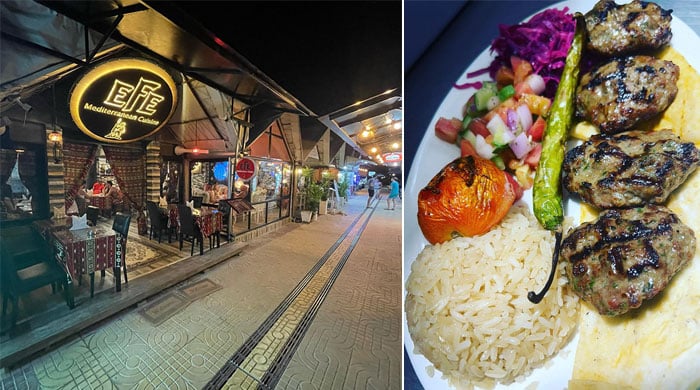 Efe Mediterranean Cuisine Restaurant is our second favorite on Koh Phi Phi. Their focus is on Mediterranean, as the name suggests, particularly Turkish, and the menu also has a Middle Eastern flair, as does the welcoming entrance to the restaurant! Customers rave about the food being very tasty, fresh and quick to be served, with many different dishes getting positive reviews. Efe is on the expensive side, but if you've never tried Turkish food, this is a great place to get an introduction to it!
Only Noodles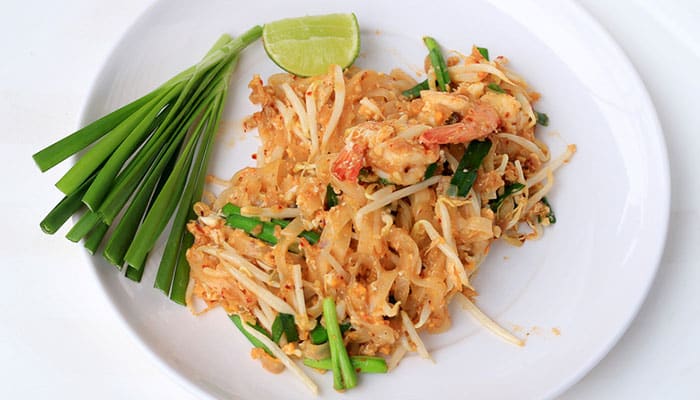 When you prefer to eat and go and don't need a full sit-down meal with a high price tag, try Only Noodles. It's like a Thai fast food place serving all sorts of noodles with different meats, seafood, vegetables and more. The Pad Thai is a must try, making this a great place to eat authentic Thai food.
Best Bars on Koh Phi Phi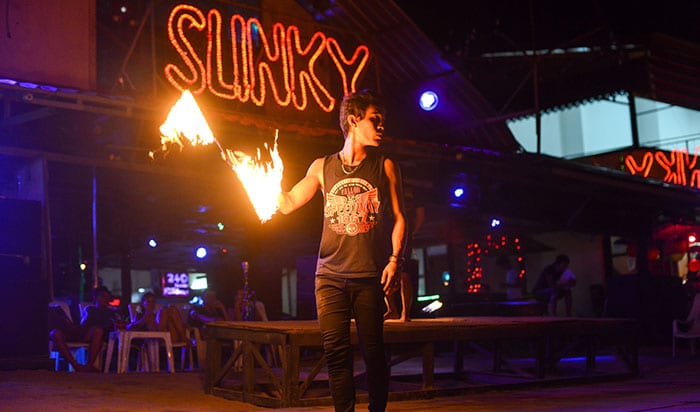 The island's bars have fared better than its restaurants, with several of the old favorites still operating. As before, the main area for nightlife is around Ton Sai and Loh Dalum Bay where you can literally fall out of one bar and into another! The nightlife vibe on Koh Phi Phi is far lower key than on other famed Thai islands but you will find bars where you can dance and enjoy the loud music that spills out onto the street. Then there's the really relaxed places which are far quieter, with background music and comfy seating that makes you want to just sit back, relax and chill over a few drinks.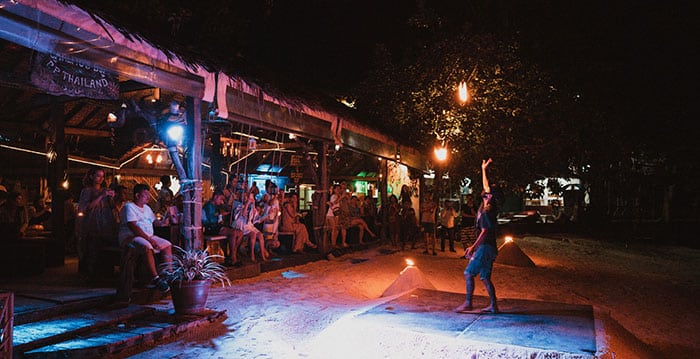 Reggae Bar is still one of the best bars on Koh Phi Phi. It's lively, playing loud music, showing sports events on the big screen, and has pool tables, but it's best known for featuring Muay Thai matches on the ring in the center of the bar, especially fun when it's tourists in the ring! Slinky Beach Bar is another vibrant place with a party atmosphere, fire shows and body painting, similar to another popular bar, Carlito's Bar.
Hippies Bar, situated right on a terrace just above the beach, offers a quieter place to relax during the day and early evening with its tropical vibe and driftwood themed furniture, but stay a little later and the atmosphere picks up with live music, DJs and fire shows.
Leaving Phi Phi? Don't miss our guides from Phi Phi to Koh Lanta and Phi Phi to Krabi.