Bangkok is a city packed with interesting, affordable and luxury shopping experiences in the myriad of malls and street markets that flourish in the Thai capital. Step outside the city confines and you'll encounter a whole new shopping experience on a visit to one of many floating markets in Bangkok. Traditionally these markets thrived with local custom when Thailand really was the Venice of Asia. Today many of the waterways have been filled in and the markets are often tourist focused, but even so, a visit is still a great way of purchasing fresh food in a slightly quirky environment.
Whether you choose to visit one of the floating markets that are closer to the city, or venture further afield, you can be eating traditional food that's been prepared on a boat in no time. So if you're looking for the floating markets in Bangkok, read on as we have the Top 11 Floatings Markets in Bangkok…
1. Amphawa Floating Market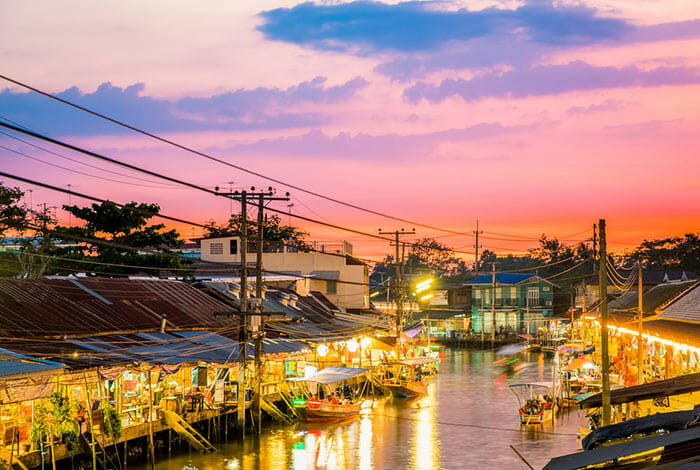 Our number one best floating market in Bangkok is the Amphawa Floating Market. It is a little further from Bangkok city centre, approximately 50 kilometres (31 miles), but it's well worth the journey which tales approximately one and a half hours. One way of getting to Amphawa from the centre of Bangkok is to take a bus from the Southern Bus Terminal to Samut Songkram town and then hire a local songthaew, or shared taxi, to take you the rest of the way. You also have the option of hiring a taxi to take you the entire journey but you should remember to negotiate a price before you leave.
Once you reach the market, which lies on the Amphawa canal, you'll find it's catered a lot more for Thai natives than foreign nationals, with the emphasis on Thai favourites, such as arts and crafts postcards and quirky cute clothing. This is part of the attraction of Amphawa; you're not greeted by a wall of tacky tourist souvenirs. There's no doubt that there is a tourist element to this market but a lot of the tourists are from within Thailand.
Opening Hours: Friday-Sunday 11AM–9PM Google Maps
2. Khlong Lat Mayom Floating Market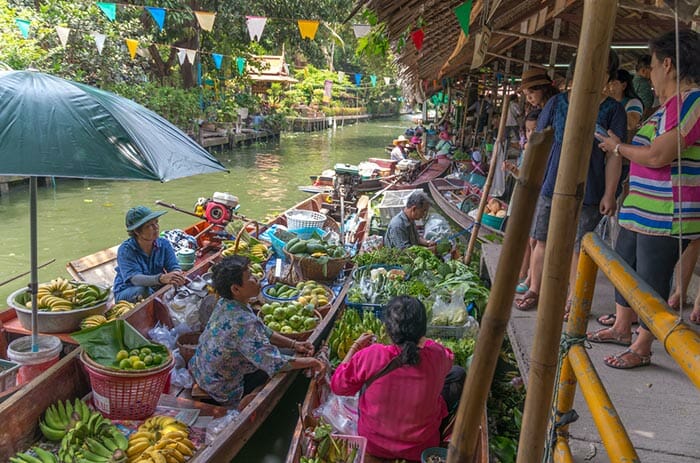 Situated in the same district as Taling Chan, Khlong Lat Mayom is one of the more recent additions to the list of floating markets in Bangkok. Ironically it has more of a traditional feel than some of the larger, long established floating markets. This is largely due to the fact that it isn't a major tourist spot just yet and is more favoured by the local people. That isn't to say it doesn't get busy from when it opens at 8am on weekends and public holidays, so it's best to get there early. Khlong Lat Mayom was opened as a local initiative following the success of Taling Chan, and it prides itself on having a larger selection of locally grown organic produce than the other market. The wide variety of stalls at the market are situated both on land and on water. You can take your time wandering along the canal bank, or through an orchard, while perusing the products on offer. If you want to extend your trip, and travel a little further afield, you can embark on a 90 minute boat trip which takes you to see some of Thailand's rural life.
Opening Hours: Saturday-Sunday 8AM–5PM Google Maps
3. SookSiam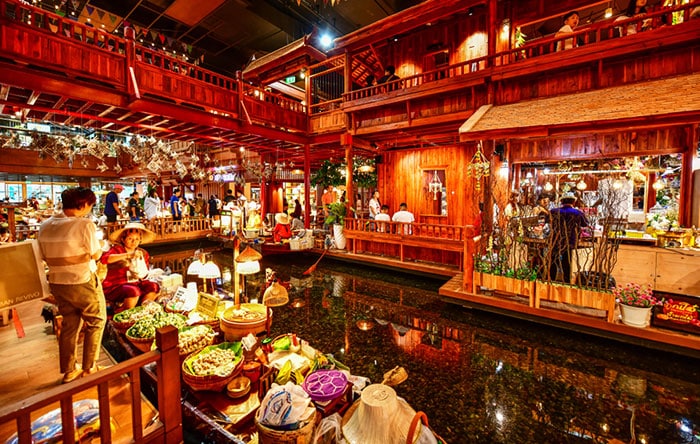 SookSiam is not your typical Bangkok floating market! In fact, SookSiam is far more than just a market – it is a combination of several attractions in one, where visitors can immerse themselves in numerous layers of Thai culture including its foods, arts and handcrafted goods, and is lovingly known as Bangkok's indoor floating market! On first glance, the marketing photos of SookSiam seem more reminiscent of a Disney attraction than a place to go shopping in Bangkok, yet if you look past the obvious tweeness, it is actually very nicely done. It is designed to be reminiscent of the markets and bazaars of Thailand in days gone by, showing the differences in the way of life across the country, and representing the cultural heritage of the four main geographic regions of Thailand. To do this, there are over 3,000 local businesses here, from all over Thailand. SookSiam has seven different zones, some with water features that are like floating markets, and is hoped to become an artisanal hub for the capital where visitors can shop, dine and watch performances. All of this is set indoors, on the ground floor of ICONSIAM in the Khlong San district of Bangkok, close to the heart of the city.
Opening Hours: 10AM–10PM Google Maps
4. Bang Nam Phueng Floating Market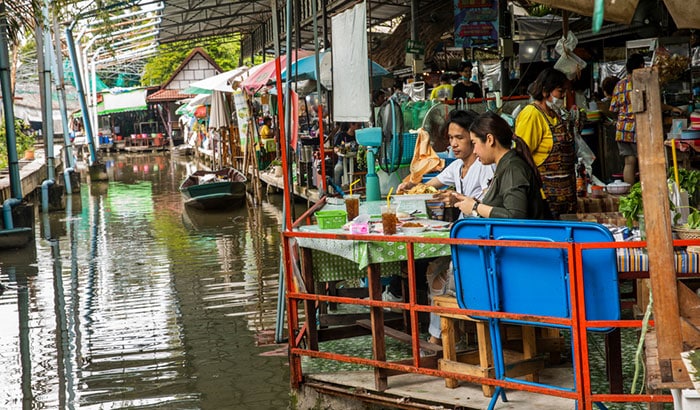 It's nice to come across a floating market in Bangkok that is frequented by locals, and while Bang Nam Phueng does attract tourists too, it is certainly a popular place for locals to do their shopping. The best thing about this is that this floating market will be more affordably priced than others and is a great place to buy food and goods if you're staying in Bangkok for a while. Not truly a 'floating market', Bang Nam Phueng is another in a pleasant, almost jungle-like setting beside a canal where you can easily walk around the stalls without needing a boat.
The market is bigger than you will first think, with lots of lanes and quite an array of products including clothing, jewelry and housewares in addition to a myriad of foods. There are also plenty of places selling cooked foods too, giving you the opportunity to try lots of Thai dishes that you may not have tried before. Bang Nam Phueng Floating Market is in a part of the city known as Bangkok's green lung as there is much green space here, and it's a little way south of the city center.
Opening Hours: Saturday-Sunday 8AM–4PM Google Maps
5. Damnoen Saduak Floating Market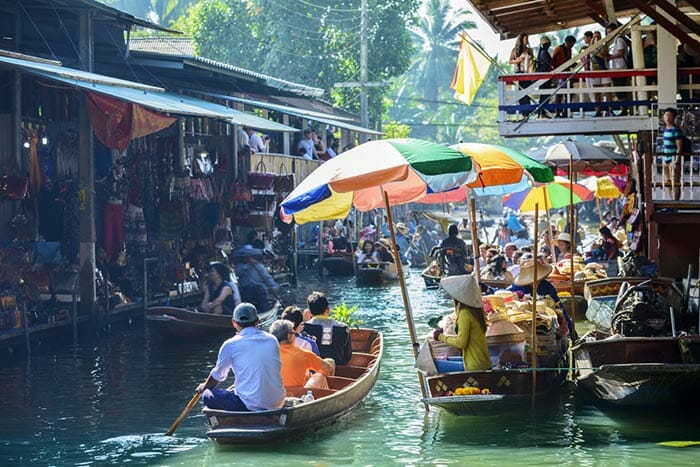 If you want to visit a traditional floating market in Bangkok then Damnoen Saduak may not be your thing; it's a tourist haven and is home to throngs of foreigners at weekends. To get to the market from Bangkok you need to board a bus at the Southern Bus Terminal; the journey takes approximately two hours. Of course you can also barter with a local taxi driver to establish a reasonable fare for the round trip. You need to be aware that when you get to the Damnoen Saduak area you will be approached to join several boats trips to the market. It's far cheaper and quicker to catch a bus or take a taxi and then hire a boat to take a short trip later if it's something you really want to do. Once you get to the market it's a fun experience and very tourist savvy. You'll be able to take photographs of the endless array of boats and the local ladies with their wooden sticks that they use to take the money from you and pass you your purchase. Damnoen Saduak is the tourist spot of floating markets; it's not the most traditional, but you will have some great photos of your trip.
Opening Hours: 7AM–5PM Google Maps
6. Kwan-Riam Floating Market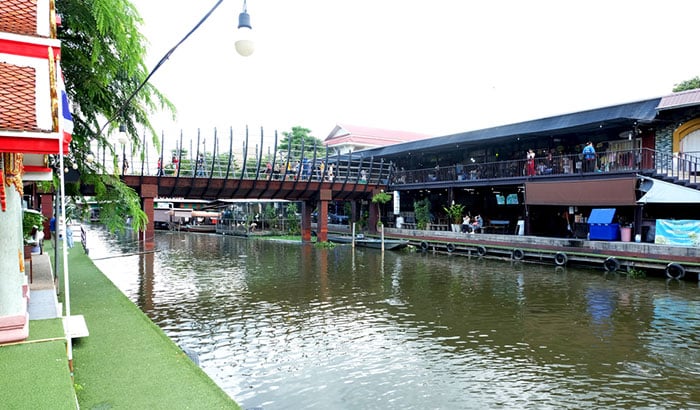 Kwan-Riam is one of the city's newer floating markets, but what it lacks in history it makes up for in charm and size, offering a very nice atmosphere from its location on the banks of the Saen Saeb Canal, set between two temples that are connected by bridges. The market is open on weekends and holidays only, and is particularly well known for its excellent range of traditional Thai foods. This makes it a great place to visit for an affordable, authentic Thai meal, even if you don't end up buying anything else. The foods from all over the country are also complemented with the usual souvenirs and clothes for sale too, and there are additional attractions here if you want to spend longer enjoying a Thai dance show and horseback riding for the kids. You can also join a boat tour from here if you've been itching to get out on the water and see parts of the city that you wouldn't usually see at street level. And of course, there are also the two temples to see. Kwan-Riam Floating Market is in the Min Buri District of the city, east of central Bangkok.
Opening Hours: Saturday-Sunday 7AM–5PM Google Maps
7. Taling Chan Floating Market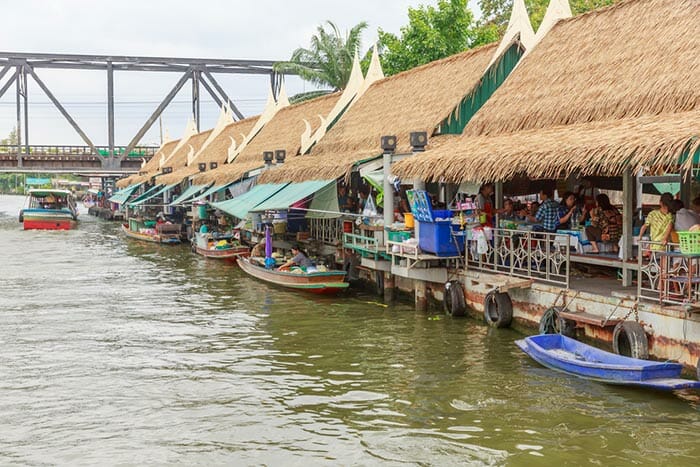 This one of the closest floating markets to Bangkok city itself, although it's still a few kilometres away. Taling Chan is small and still fairly traditional. It isn't a sprawling network of canals with boats moored along them. The boats at this floating market in Bangkok are positioned along the edge of the pier and it is perhaps more like a riverside market. That being said you do have the opportunity to take a short boat trip while you are there, after which you can sit and relax with one of the sea food snacks that the market is famous for. After your food you can take to the shade of the trees and enjoy a foot massage. One thing to be aware of at Taling Chan is that there may be mosquitos about, so dress appropriately and be prepared.
Opening Hours: Saturday-Sunday 7:30AM–4PM Google Maps
8. Wat Saphan Floating Market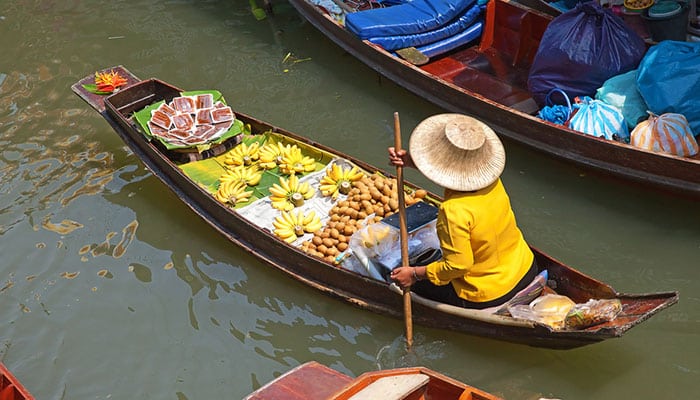 A little west of central Bangkok, Wat Saphan Floating Market is set within the grounds of a ruined ancient Buddhist temple, parts of which you can still see if take a look around. This is not one of the larger Bangkok floating markets, instead offering a smaller and more relaxed shopping experience that you feel is here more to provide a nice break from city life for locals and tourists as it is only open on weekends and holidays. Throwing breadcrumbs to the fish is a popular pastime, and there are nice places to grab a drink and bite to eat, and the traditional noodle soups are said to be very good! The area was once filled with orchards and still today, one of the specialties of this floating market are fresh fruit and vegetables, grown locally. Wat Saphan Floating Market is located close to another of the city's well known floating markets, Taling Chan, making it easy to plan a visit for going to both in one day, or you can come here as part of a longtail boat tour of multiple floating markets.
Opening Hours: Saturday-Sunday 8AM–5PM Google Maps
9. Bang Phli Floating Market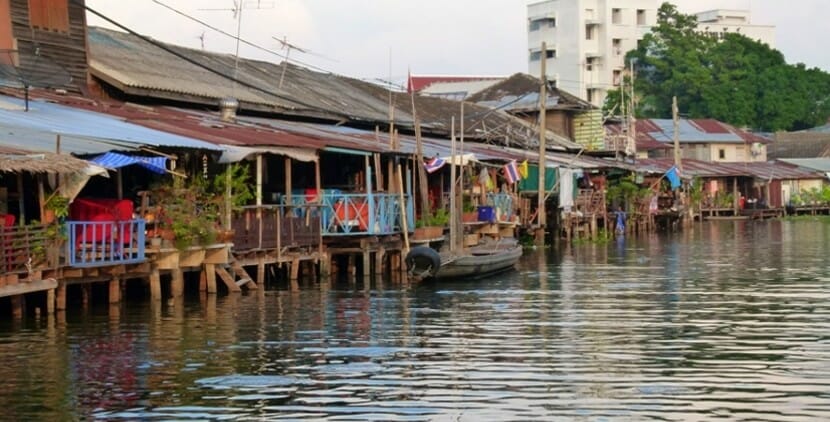 Whether this should actually be referred to as one of the floating markets in Bangkok is open to debate as a lot of the stalls are actually located in wooden shop houses along wooden walkways either side of the Samrong Canal. However, there is water based activity and there is an effort being made to do more vending from boats. Bang Phli Floating Market is located 29 kilometres (18 miles) from Bangkok city centre but is relatively easy to reach. You can take a Skytrain to BTS Bearing then hire a taxi for the twenty minute ride to Bang Phli.
If you want to see traditional Thailand then it's definitely worth the trip. You won't find as many goods catered to tourists and you won't hear a lot of English spoken, but you will get the chance to mingle with local people and eat great tasting locally produced food. While you are at the site you can take time to visit the local temple which is home to a famous Luang Pho To image. Travel to the area in October and you may see the lotus throwing festival where a copy of the image is placed in a boat and paraded up and down the water as local people line the banks and throw lotus petals at the boat.
Opening Hours: Saturday-Sunday 8AM–3:30PM Google Maps
10. Khlong Bang Luang Floating Market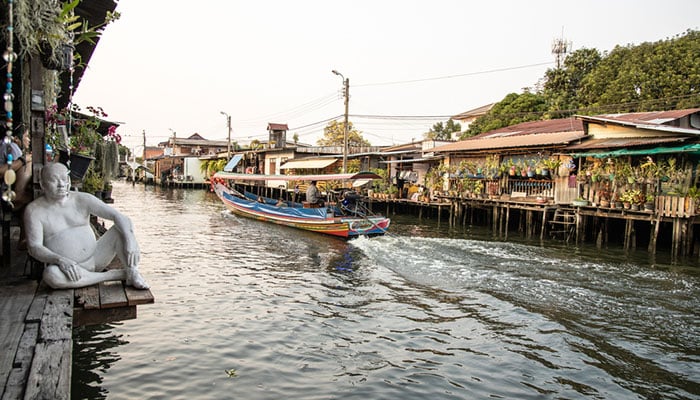 Despite the name, Khlong Bang Luang is not so much a floating market these days, more a riverside market. Even so, it's still a great place to visit for the ambiance… Khlong Bang Luang Floating Market is a quiet and relaxing place centered around an artist's village, so you may find a great piece of original art or handcrafted items in addition to the usual tourist-oriented souvenirs. The market is here all week (although some sources report it is closed Wednesdays), but the best time to come is at the weekend when it's a little busier and all of the stores and stalls should be open. Make sure to visit The Artist's House as this is an attraction in its own right and there is a daily show that takes place at 2pm in addition to this being the central coffee house, art gallery and restaurant. Khlong Bang Luang Floating Market has retained a great sense of charm that you'll experience when walking along the (sometimes rickety) canal side wooden walkways, passing traditional houses that actually sit on stilts in the water. You can reach the market by taxi from the nearest BTS, but the more recommended way to get here is via longtail boat.
Opening Hours: 9AM–6PM Google Maps
11. Wat Sai Floating Market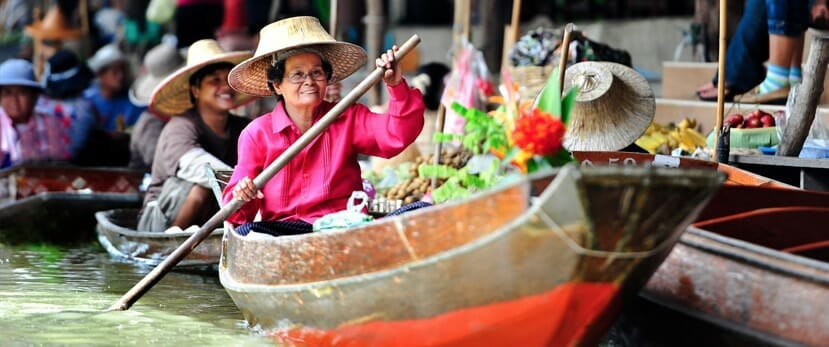 If you're looking for floating markets in Bangkok then Wat Sai is only about a half hour drive from the city centre. The old floating market here was a thriving centre for locals to gather at, and a popular tourist sight, until the construction of new roads led to the site being abandoned. Wat Sai wasn't that easy to shut down though and its recent resurgence has brought life back to the area. You can take a trip along a canal to enter the market and the trip itself is eye opening. You get to see Thai life close up as it unfolds before your eyes. Once you reach the market itself the food is the stand out experience with plenty of fresh local produce for sale.
Opening Hours: 4AM–1PM Google Maps
From our selection of floating markets in Bangkok there is one to suit most tastes, from traditional and rural to huge tourist attractions. We'll leave you with a few things to remember when visiting floating markets. Bartering is good and it's probably better to check out the local products and steer away from items mass produced for tourists. The weather can be hot, so if you're travelling on a boat it's an excellent idea to find one that has some sort of cover for shade. Finally, some of the waterways can get crowded so keep your hands close to you and be careful that you don't get your fingers trapped between boats.