Lying about 650 kilometers south of Bangkok, the city of Surat Thani is well known as a gateway to Southern Thailand and some of the country's most popular beach and island destinations, like Phuket and Koh Samui. As a well-used transport hub, you can travel a variety of ways to and from Surat Thani, including airplanes, buses and trains, the latter of which use the Surat Thani Train Station, situated outside of the city, and on the Southern Line of the State Railway of Thailand.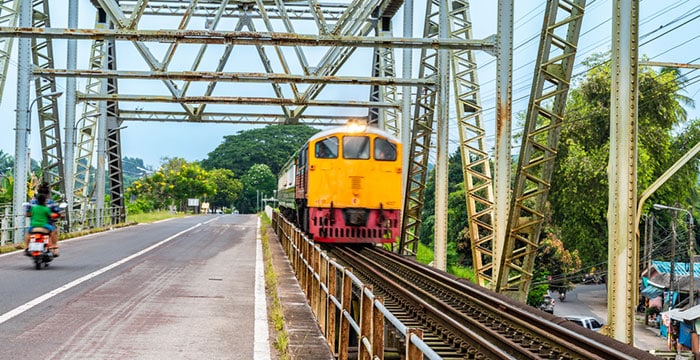 How to Get to Surat Thani Train Station
Surat Thani Railway Station is actually located in the small town of Phunphin which is about 10 kilometers by road from the center of Surat Thani. The train station has an interesting history that originally dates back to 1915 when the station was first built in a different location. Back then it was named Phun Phin Station after the town that it's situated in. During World War 2 the station was used for military activity by the Imperial Japanese Army, leading to it being bombed and destroyed in 1945. A new Surat Thani Train Station was built and used for several years after the war until it was demolished to make way for the Chulachomklao Bridge. So, Surat Thani's current station is technically it's third and was opened in 1954.
You can travel easily between the Surat Thani city center and Surat Thani train station, using either taxis or a public bus. Taxis are great because it should only take 20 to 30 minutes to get to the train station, and you can benefit from being picked up at your hotel or a different convenient location. Buses are good for saving money and traveling like a local – the public orange/red colored buses run every 15 minutes during the day, with service stopping quite early around 7pm. The downside to these buses is that they make multiple stops, so although you're only traveling a short distance, it can take 40 to 50 minutes to get from town to the train station.
Surat Thani Airport is 15 kilometers away from Surat Thani Train Station, it is about a 20 minute taxi ride and can cost as little as 600 THB. Another option is to take a local bus but since Surat Thani Train Station is located in between Surat Thani Airport and Surat Thani city center then you have to make sure to get a bus passing the train station. Otherwise traveling to Surat Thani city center first on a local bus and then get a connecting bus to the train station will be a much longer journey.
Surat Thani Train Station Schedule and Destinations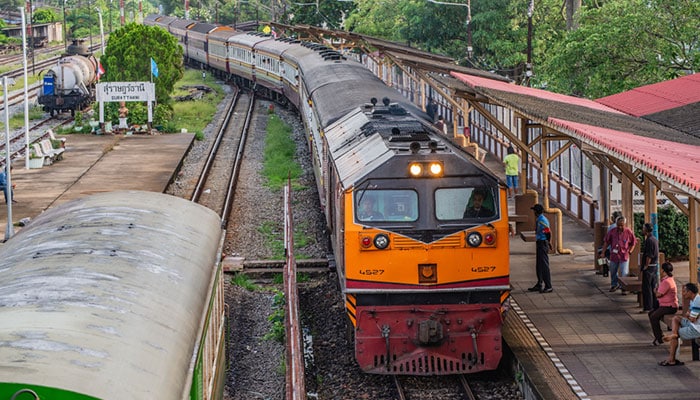 By far the most popular train runs from Bangkok to Surat Thani. This is because Surat Thani is where you would travel to from Bangkok if you're heading to Phuket, Khao Sok or Koh Samui – two of Thailand's most visited beach destinations. Phuket is on the Andaman Sea coast, away from the railway line, whereas Koh Samui is an island in the Gulf of Thailand and is accessible by bus and ferry from Surat Thani.
Coming from Bangkok to Surat Thani there are multiple trains every day (usually 10 per day), departing from either Bang Sue Junction or Hua Lamphong. Trains take anywhere from 10.5 hours to over 14 hours, depending on the service, and there are multiple ticket types available. Heading back to Bangkok, timetables suggest that the trains going north taking even longer, with scheduled journey times as much as 15.5 hours.
Bangkok is not the only destination from Surat Thani railway station. The station is on the Southern Line of the State Railway of Thailand, which is the longest line in the country at 1,144 kilometers, running from Bangkok all the way to Sungai Kolok on the border with Malaysia. This means that Surat Thani train station is about half way down the Southern Line and can be used to travel to many places in the south of Thailand including Trang and Hat Yai, as well as destinations to the north, before reaching Bangkok, like Chumphon and Hua Hin. Ten trains per day operate between Surat Thani and Bangkok, but if you want to head all the way south to the Malaysian border, there is just one daily service to Padang Besar.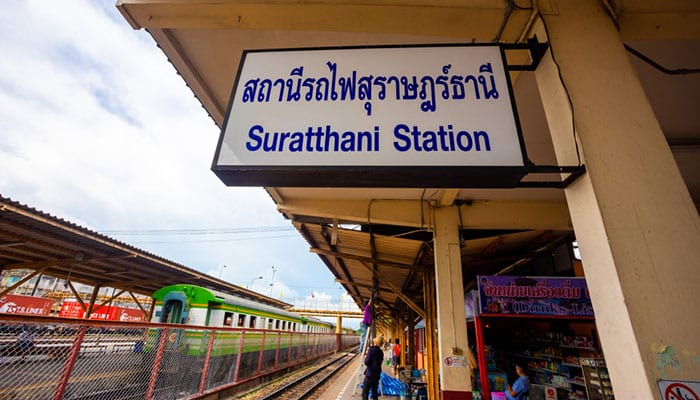 Surat Thani - Bangkok
฿ 722–1,044
8h 20m – 11h 45m
→ 

2nd Class AC seats only

11:10, 11:25

→ 

Class 3 AC

19:50, 20:05, 21:10

→ 

2nd Class Sleeper AC

17:15, 17:25, 18:15, 19:15, 21:40
Surat Thani - Hua Hin
฿ 607–639
5h 10m – 6h 30m
→ 

Class 3 AC

19:50, 20:05, 21:10
Train Tickets and Reservations for Surat Thani Train Station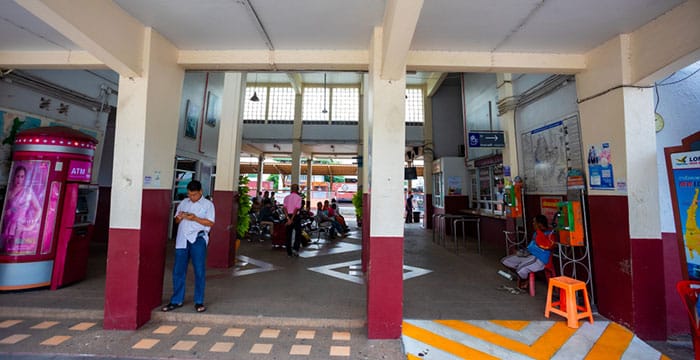 There are ticket counters within the train station, in the ticket hall on the right side of the building as you go in. Unlike with bus stations, there is only one train operator (State Railway of Thailand), so you won't be faced with multiple choices when buying your ticket, except for deciding which ticket type you would like. These range from the very basic seat with a fan which is Class 3 and the cheapest ticket. Second Class Fan Seats are a little more comfortable and have steward service, and up from here are Second Class and First Class Air Conditioned as well as Sleeper options for both classes, which are the most expensive.
Usually you could just purchase your ticket on the day at the Surat Thani Train Station, however, if you want a Sleeper ticket it is recommended to buy these in advance as they often sell out days before the departure date. Look online for bookings to make life easier, using a service such as 12go where you can search multiple trains and compare ticket prices.
Facilities at Surat Thani Train Station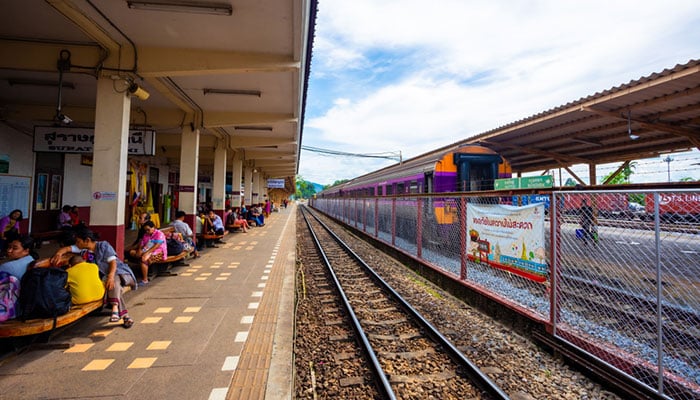 As Surat Thani train station is frequented by so many foreign tourists, it is set up well to handle non-Thai speakers. This means there are lots of things in English to make it easier for visitors to find what they need, as well as English speaking staff on-hand to help. Announcements are made in both Thai and English; Many of the staff at the information desk speak English; and there are security staff who may not be as good at English but can help direct you to the right platform for your train.
If you're waiting for a train and want to eat, there are several options including a café and small food stalls serving local foods in the evenings. You can also buy drinks and snacks to take away from a few small shops right inside the station, or head outside and you'll find a variety of places (such as 7-Eleven and a mart) all within about 100 meters.
Surat Thani train station does have public toilets as well, and there is a left luggage service on Platform 1 where you can securely leave any bags for a fee.
How useful was this post?
Click on a star to rate it!
Average rating / 5. Vote count: