Chatuchak is best known for its massive weekend market, but this otherwise relatively quiet area of Bangkok is also home to a bus and van terminal frequented by locals and tourists wanting to travel around Thailand. Situated north of Bangkok city center, and south of Don Mueang Airport, Mochit New Van Terminal has vans to take you all over the region. There are probably more than one hundred places you can reach from here.
Read about:
• How to Get to Mochit New Van Terminal
• Mochit New Van Terminal Schedule
• Buying Tickets for Mochit New Van Terminal
• Facilities at Mochit New Van Terminal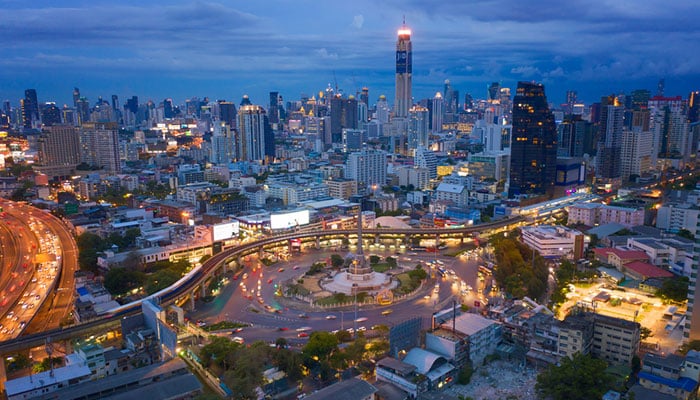 How to Get to Mochit New Van Terminal
Gone are the days when Victory Monument was the hub for van travel across Bangkok. Today, vans mainly depart from the city's three main bus terminals at Mo Chit, Ekkamai and Sai Tai Mai. Mo Chit then further split, so there's the main Bangkok Northern Mo Chit Bus Terminal, while a separate van terminal was built across the street.
You may see it referred to as Chatuchak Minibus Station or Mochit New Van Terminal; either way, it's the same place and is located opposite Mo Chit Bus Terminal Bangkok, making it an easy place to reach. You can get here easily from central Bangkok using taxis, MRT and BTS or city bus.
Go by Taxi
Taxis are the most expensive but also the most convenient way to get to Mochit New Van Terminal as you can travel direct door to door. Depending on where exactly you're traveling from, expect to pay somewhere around 100-150 baht.
Go by BTS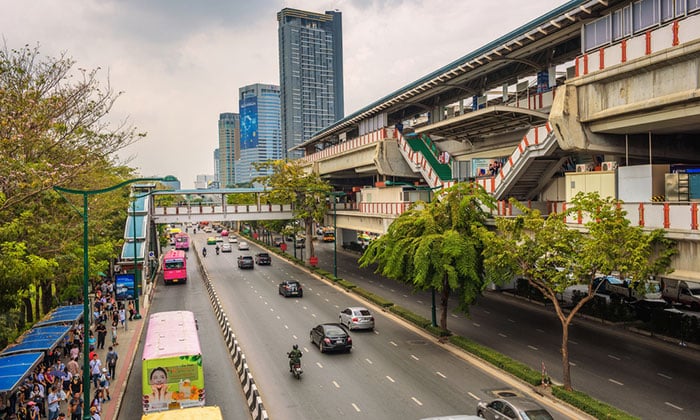 On the BTS you can travel to Mochit BTS Station. On the map this doesn't look too far from the van terminal but it's probably about a half hour walk if you tried to go across Chatuchak Park. It's recommended that you instead take a city bus, taxi or motorbike. City buses are cheapest and there are lots of them traveling from here to Mochit Bus Station from where you can cross the road to the van terminal.
Go by MRT
If you're on the MRT line you can disembark at Kamphaeng Phet. Again, this doesn't look very far from the van terminal but it's best to grab a taxi, motorbike or city bus from here.
Go by city bus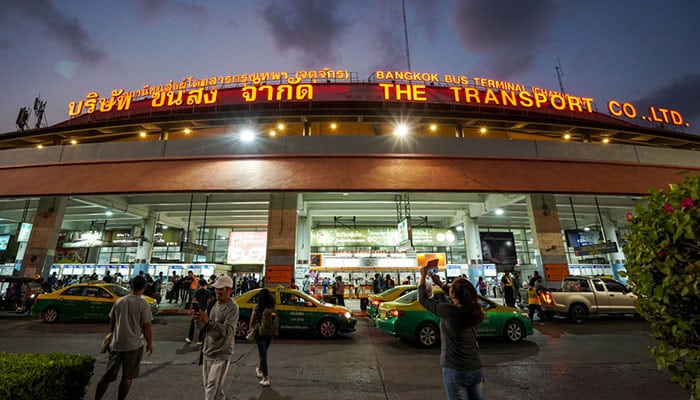 You could also take a city bus all the way from Bangkok to Mochit New Van Terminal. It will take longer than the other options but will save you money if traveling on a budget. Many buses go to the main Mo Chit Bus Terminal Bangkok, including number 3 from Khao San Road.
Mochit New Van Terminal Schedule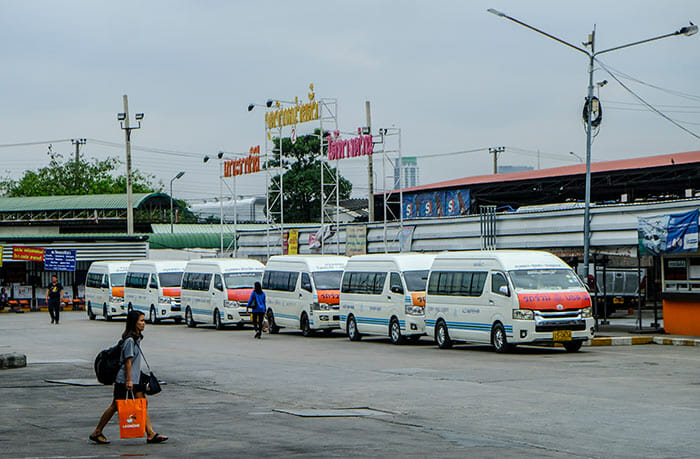 As mentioned above, there are dozens of destinations you can reach from this northern Bangkok minivan station, and these are not limited to destinations north of the capital. On the contrary, you can go to towns, cities and resorts all over Thailand from here. Popular routes include Mochit New Van Terminal to Hua Hin, in the south, about a 4 hour journey; to Koh Chang Pier, about a 7.5 hour journey; or from Mochit New Van Terminal to Ayutthaya, a much shorter journey of around just 2 hours.
Van Bangkok - Ayutthaya
฿ 130–300
1h 30m – 2h 30m
→

Van VIP 9pax

08:30, 09:15, 13:00

→

Regional 14pax

06:30, 08:30, 09:30, 10:30, 12:00, 12:30, 13:00, 14:00, 15:00, 15:30, 16:00
Van Bangkok - Hua Hin
฿ 230–500
3h – 4h
→

Van VIP 9pax

09:00

→

Regional 14pax

06:00, 06:10, 06:30, 08:30, 09:30, 10:00, 10:10, 12:00, 12:10, 12:30, 14:00, 15:30, 17:10, 18:00
Van Bangkok - Kanchanaburi
฿ 150–320
3h – 3h 30m
→

Regional 14pax

06:00, 07:00, 07:10, 11:00, 12:30, 15:30, 17:00

→

Minibus

07:00, 12:00, 18:00

→

Van VIP 9pax

08:45
The chances are, if you're heading somewhere that is popular with tourists, you will be able to find at least one van company offering the route. Most times there will be multiple companies offering the same route so you may be able to choose which one you prefer, whether it looks like the nicest van, had the best schedule for you, or was the cheapest.

Buying Tickets for Mochit New Van Terminal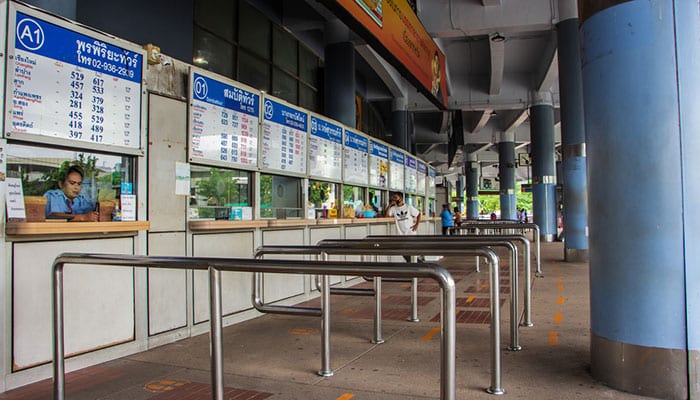 While there may be multiple van companies offering the same routes, this doesn't mean you will always be able to find availability. Vans are actually a very popular way to travel for Thais and visitors so they can get booked up in advance, especially coming up to holidays.
There are multiple ticket counters inside the van terminal and you will find English descriptions of the destinations they cover so finding the right place to buy what you need should not be too difficult. But, booking in advance could save you time and hassle and guarantees you a seat on the van you need. Try looking at a booking website like 12Go as they have multiple options for routes and van companies.
Facilities at Mochit New Van Terminal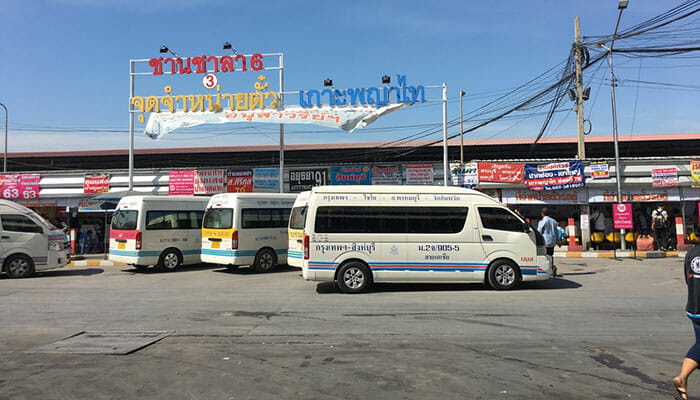 The size and scale of Mochit New Van Terminal may surprise you! It's a big place, with four different terminals, each one dedicated to particular routes, so this makes it easy to find where you need to go to catch your van. In addition to the four terminals, there is a central information building.
Terminal buildings
Terminal A is for van routes from Mochit to Northern and Northeastern Thailand, so this includes Pak Chong and Nakhon Ratchasima. Terminal B serves Central Thailand, going to cities like Ayutthaya. Terminal C is for Bangkok to Eastern Thailand, including Pattaya, Rayong and Trat. Terminal D is Mochit to Southern Thailand, and destinations like Hua Hin and Cha Am. There are maps you can reference at the van terminal, if you're not sure which direction you're heading, and you can always pop into the information building to ask for help if you're still unsure.
Restaurants and

Convenience Stores

Mochit New Van Terminal does have toilets, but they are reputedly not especially nice and are often out of toilet paper! The good news is that there are places where you can grab a bite to eat, a coffee, or snacks. The Food Center has a couple of food court type places if you want a sit-down meal. There is also a coffee shop and bakery, and there is a 7-Eleven for cheap options for snacks and water to take on the van with you.

Inside the terminals are air conditioned and there are nice waiting areas where you can take a seat if you have to wait long for your van.

Mochit New Van Terminal is a great place to start any trip around Thailand, with so many routes to destinations all over the country. Don't forget, there are also van terminals at Ekkamai and Sai Tai Mai that you can consider too.
Bus Terminals in Bangkok
There are three major bus terminals in Bangkok, each serving different routes to various destinations for bus in Thailand travel and beyond – but which terminal suits your need? The answer will depend on, from Bangkok to where your destination is located.
Ekkamai Bus Station (Eastern Bus Terminal)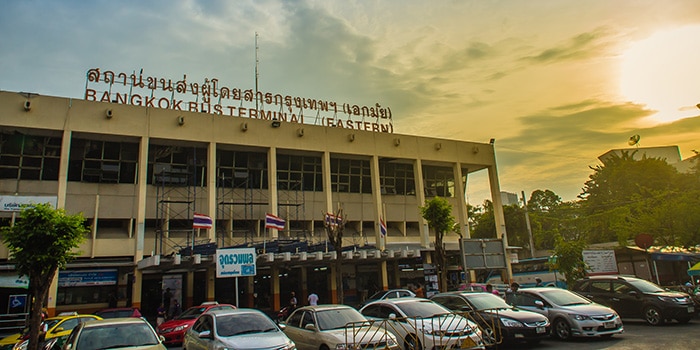 Eastern Bus Terminal mainly serves buses and minivans that travel from Bangkok to destinations in the Eastern Provinces of Thailand. Easy walking distance from Ekkamai BTS Station.
Mo Chit Bus Terminal Bangkok (Northern Bus Terminal)
Mo Chit Bus Station is best for your journey to Thailand's North (to Chiang Mai, to Chiang Rai and Isan). It is situated in the Northern Part of Bangkok right across the street from Mochit New Van Terminal and also close to the new train station Bang Sue Grand Station.
Southern Bus Terminal Bangkok (Sai Tai Mai)
Bangkok Southern Bus Terminal, also known as Sai Tai Mai Bus Station is located in the western part of Bangkok. It serves destinations throughout Southern Thailand including Phuket and Krabi. Bangkok Southern Bus Terminal is also a main hub for travelers going to the western part of the country to places like Kanchanaburi. But being Bangkok's second busiest bus station, it still provides services to the east side sides of the city – even if you're headed east as far as Pattaya!
Did you find this guide useful?
Click on a star to rate it!
Average rating: / 5. Vote count: