Situated on the eastern coast of the Gulf of Thailand, just 100 kilometers south of Bangkok, the resort city of Pattaya has grown into one of Thailand's most popular destinations. It's so easy to get here from Bangkok that tourists and locals can head to Pattaya for a short break. There are several bus stations in Pattaya, offering transport links to many other popular Thai beach towns if you're planning on traveling around. Our guide to Pattaya Bus Stations will let you know which terminal you need.
Read about:
• North Pattaya Bus Station
• North Pattaya Bus Station Schedule to Bangkok
• Phet Prasert Pattaya Bus Station
• Nakhon Chai Air Pattaya Bus Station
• Other Bus Stations in Pattaya
• Pattaya Bus Station Tickets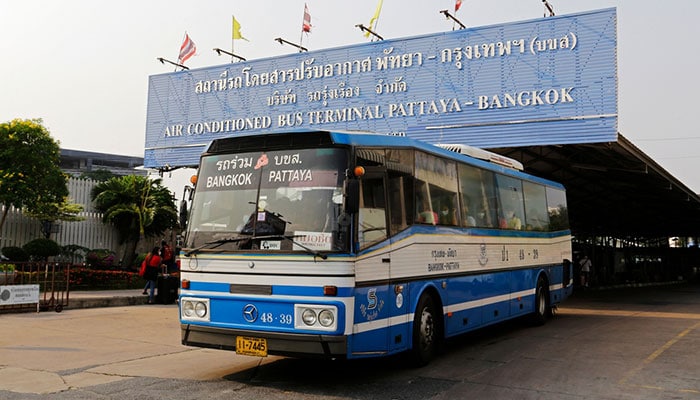 North Pattaya Bus Station
The North Pattaya Bus Station is one of the major terminals for arriving and departing in Pattaya, especially if traveling to and from Bangkok. As the name suggests, it is situated in the north of the city, on the North Pattaya Road and close to the junction with Sukhumvit Road. This bus station is also known as the Roong Reuang Bus Terminal and as the Air Conditioned Bus Terminal Pattaya – Bangkok, this is because the bus company Roong Reuang Coach (RRC) is the main user of this particular bus station and most bus services are going either to or from Bangkok, with some exceptions.
Destinations:
Suvarnabhumi Airport
Ekkamai bus station
Mochit bus terminal
Sai Tai Mai bus terminal
Rayong
Hua Hin
Traveling to Bangkok from Pattaya bus station, there are services to Suvarnabhumi Airport as well as three city destinations: Ekkamai (Eastern Bus Terminal), Mochit 2 (Northern Bus Terminal) and Sai Tai Mai (Southern Bus Terminal). Buses are very frequent and leave hourly to Ekkamai Bus Station which is the main bus terminal traveling to Bangkok City. The Yellow Bus goes from Pattaya to Rayong, Koh Samui and destinations in the north-east, while RRC's blue and white buses travel from Pattaya to Hua Hin and via Suvarnabhumi Airport.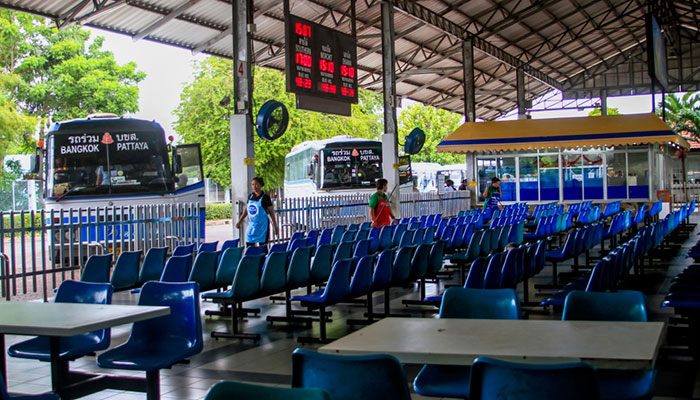 Getting from Pattaya to Krabi you would also use this Pattaya bus station. There are no direct buses going to Krabi and hence you will have to travel via Bangkok and change buses there.
North Pattaya Bus Station is one of the most modern and best equipped in Pattaya, with air conditioned areas and a bunch of places to buy food and drinks. It is several kilometers outside the main city center, and about 5 kilometers from the popular Pattaya Walking Street, and easy to get to by songthaew or taxi.
Big Buses Schedule to Bangkok
North Pattaya Bus Station Schedule to Mochit
5:00
7:30
9:00
10:00
11:00
12:00
13:30
14:30
16:00
17:00
18:00
North Pattaya Bus Station Schedule to Ekkamai
4:30
8:00
10:00
12:00
14:00
16:00
17:00
18:00
19:00
20:00
21:00
Travel times from North Pattaya to Bangkok varies a little depending on traffic conditions mainly around Bangkok during rush hours. Most journeys to Ekkamai and Mochit are scheduled to last around 2h 30m with tickets priced at 131 THB per adult. Whether you're heading to Ekkamai or Mochit, there are several affordable and timely options available.
Phet Prasert Pattaya Bus Station
Although just a small terminal, it's worth mentioning the Phet Prasert bus station in Pattaya. Used only by the bus company, Phet Prasert, this is where you would go to catch a bus from Pattaya to Koh Chang, via the town of Trat as there are no buses that go all the way to Koh Chang itself.
The bus terminal is located on the southbound side of Sukhumvit Highway, among a number of home improvement stores, a few hundred meters south of the Chonburi Pattaya Highway. This Pattaya bus station is not much to write home about; it's small and doesn't have much in the way of facilities, with just a few rows of chairs provided for waiting passengers.

Another option for traveling by bus from Pattaya to Koh Chang is the Burapha minivan service. This will be a little more expensive than a big bus with Phet Prasert but the service is more geared to travelers wanting to get to the Koh Chang ferry as the ticket price includes the minivan, ferry and a snack. They depart twice per day, in the early morning (as do Phet Prasert buses), and you can buy tickets at their office, opposite the Tesco minimart in East Pattaya.
Nakhon Chai Air Coach Company Pattaya Bus Station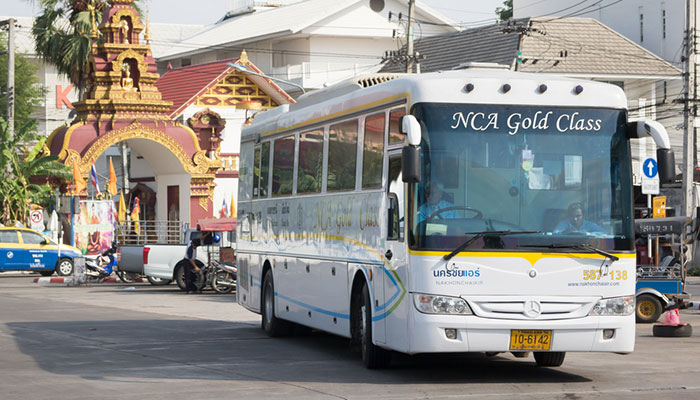 One of the larger bus companies is Nakhon Chai Air. They operate a lot of buses, traveling on a variety of routes and have their own bus terminal in Pattaya. They mostly focus on destinations in the north and north east of Thailand, like Chiang Rai and Chiang Mai, and have many routes from Bangkok, as well as services south to Rayong.
If you're heading to one of these destinations, look for the Nakhon Chai Air Pattaya bus station which is located on the Sukhumvit Highway, southbound, between Soi 57 and 59. This is a larger bus terminal than the Phet Prasert one, providing a lot more places to sit while waiting for your bus, and there are ticket windows to buy your bus tickets as well as a counter for food and drink purchases.
Don't get confused by the similarly named Nakhon Chai Khonsong bus terminal. This is not the same company yet their bus terminal is located right across the highway, directly opposite Nakhon Chai Air. Whether they deliberately had theirs built to confuse passengers, we don't know, but be sure to check that you're at the correct Pattaya bus station before trying to buy tickets! This one also has a large waiting area, ticket counters and a food and drink stall.
Other Bus Stations in Pattaya
The remaining Pattaya bus stations are all small and unassuming. The Pattana 407 Bus Terminal, for example, sits on the edge of Bangchak gas/petroleum station on Sukhumvit Highway and has bus services to Nongkhai, Udon Thani and Khon Kaen.
There is also a Chan Tour Bus Terminal, located on the slip road of the Sukhumvit Highway from Pattaya Klang Road. They have a service between Pattaya and Khon Kaen.
Pattaya Bus Station Tickets
Tickets can usually be bought right from the ticket windows at each bus terminal in Pattaya, although if you are catching an early morning bus, ticket windows won't always be open. Try visiting the day before to buy your tickets in person or you can head online. The larger bus companies have their own websites with ticket information, or save time and effort by using a centralized booking service such as 12go.
Pattaya - Hua Hin
฿ 590
5h 20m
Pattaya - Bangkok
฿ 164–610
2h 30m – 3h
→

Express

04:30, 05:00, 07:30, 08:00, 09:00, 10:00, 11:00, 12:00, 13:30, 14:00, 14:30, 16:00, 17:00, 18:00, 19:00, 20:00, 21:00

→

VIP 24

09:00, 13:00
Pattaya - Suvarnabhumi Airport
฿ 198–460
2h
→

Express

07:00, 08:00, 09:00, 10:00, 11:00, 12:00, 13:00, 14:00, 15:00, 16:00, 17:00, 18:00, 19:00, 20:00, 21:00

→

VIP 24

06:00, 09:00, 11:00, 13:00, 15:00, 17:00, 19:00
Which is the main bus station to go from Pattaya to Bangkok?
North Pattaya Bus station or Pattaya Bus Terminal on North Pattaya Road.
How do I get from Pattaya to Ekkamai?
Get to North Pattaya Bus Station where there are many daily Roong Reuang Coach buses to Ekkamai.
How much does a bus cost from Pattaya to Bangkok?
The average price is around 200 THB to go from Pattaya to Bangkok by bus.
Did you find this guide useful?
Click on a star to rate it!
Average rating: / 5. Vote count: