You may think you've visited some pretty amazing markets in your lifetime, but we're fairly sure that none will come close to beating the sheer size and variety found at Bangkok's Chatuchak Market. It really is a sight to behold, and it's arguably the best place in the whole city to buy souvenirs and all manner of other things. But beware; the size, heat, and crowds of thousands of people are not for the faint hearted though our guide to Chatuchak weekend market in Bangkok should help you navigate and survive this awesome place!
Read about:
• Getting to Chatuchak Market Bangkok
• Chatuchak Market Opening Hours
• Why is Chatuchak Market Bangkok so Awesome?!
• Navigating Around Chatuchak Weekend Market
• Making the Most of Your Visit to Chatuchak Market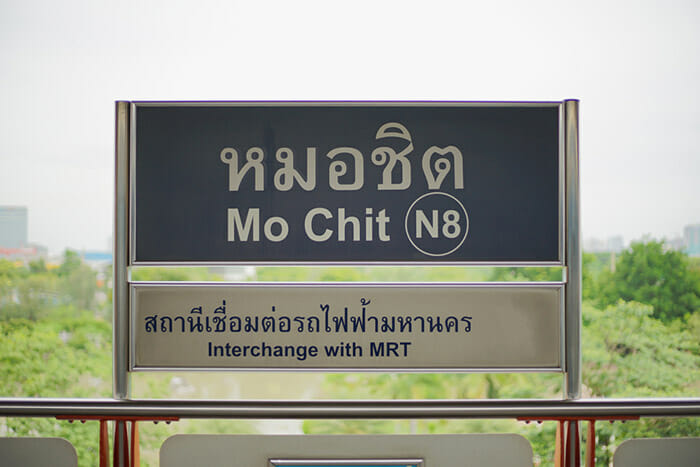 Getting to Chatuchak Market Bangkok
Getting to Bangkok's Chatuchak Market is quite easy on public transportation. You can come by taxi but this would likely be the slowest and most expensive option. The subway and Skytrain options are best, and both have stations very close to the market.
Coming to Chatuchak by Skytrain (BTS) you should get off at Mo Chit Station and exit the station by exit number 1. From here just follow the crowds to the market entrance.
On the Subway (MRT), travel to Chatuchak Park Station and as above, take exit number 1 and follow the crowds. From this station you'll be entering Chatuchak Market via the clothing section, but if you prefer to enter via the plant and flower section you should get off the subway at Kampheng Phet MRT Station and take exit 1.
Chatuchak Market Opening Hours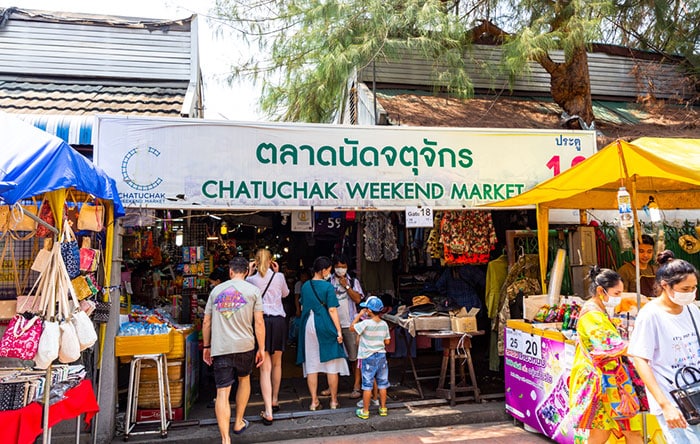 Don't let the name fool you – this may be Chatuchak Weekend Market but there are some sections of the market open on weekdays too. Having said this, the huge market that sells everything under the sun is only open on weekends. The official Chatuchak Market opening hours are as follows:
Wednesday and Thursday – Plants and Flowers only – 6:00am to 6:00pm
Friday – Wholesale Day – 6:00am to 6:00pm
Saturday and Sunday – Main market days, everything available – 6:00am to 6:00pm
You're advised to get to the market in the morning to avoid some of the crowds and the heat that mounts up across the day, however, many stalls do not open until after 8am or even 9am so you may not want to plan your arrival until 9am anyway.
Why is Chatuchak Market Bangkok so Awesome?!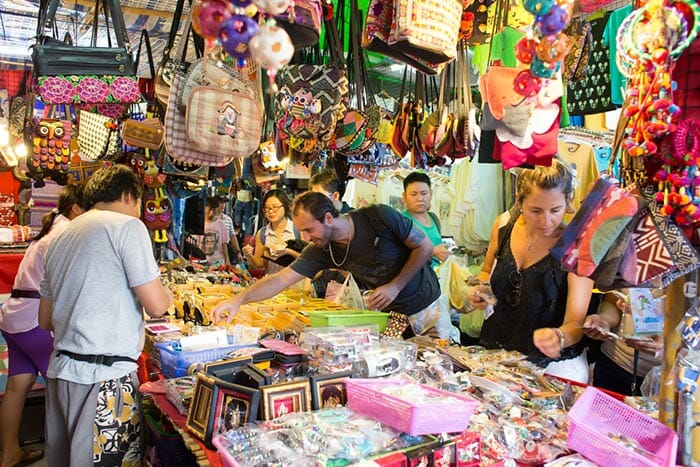 So why does everyone talk about Chatuchak over all the other many markets in Bangkok? The size of Chatuchak is really the main selling point – it's so huge that you really can find anything you're looking for, along with many things you never knew you wanted!
Altogether there are something in the region of 8,000 stalls and, size-wise, Chatuchak Market is the largest market in Thailand and one of the largest in the world. It attracts around 200,000 visitors each day of the weekend, and, according to the official website about 30% of those visitors are foreign tourists. While there is a large number of foreigners the predominant visitors are locals, and, this always says a lot about a place if the locals frequent it too.
Navigating Around Chatuchak Weekend Market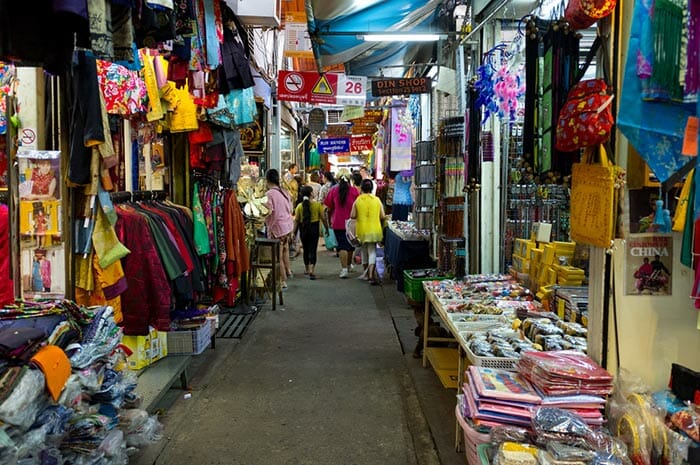 With something in the region of 8,000 different stalls, a visit to Chatuchak Market Bangkok may seem a little daunting to the uninitiated. The good thing is the market is well organised and there are maps available, plus the main thing to bear in mind is that the market has been divided into sections for the differing types of goods sold there – more on that in a moment.
Even though there are sections, it can still be difficult to find what you're looking for. A great piece of advice is that once you find that item you were looking for, you should probably buy it right away because the chances of being able to find that particular stall again are fairly slim!
About those sections – according to the Chatuchak Weekend Market Bangkok website there are 27 different sections within the market, and the items sold can be more broadly divided into anywhere from 6 to 11 categories, depending on how specific you want to be.
Though you're unlikely to be buying any pets if you're visiting the market as a foreign tourist, you may enjoy spending some time getting up close and personal with the many animals that are sold here. The cute puppies and kittens usually draw the biggest crowds! You can also pick up some great pet accessories at Chatuchak.
Antiques, art and collectibles are sold at the weekend market but you should be careful about what you pay for an item; many times it will be sold as an antique when it is not. If you're in the market for antiques you'd be best to bring along an expert to guide you.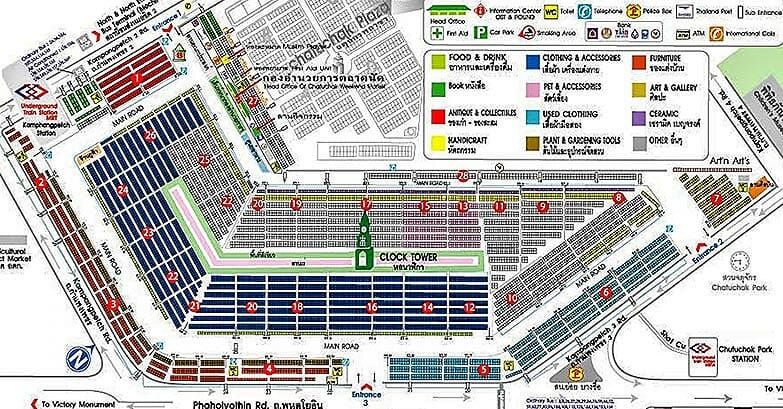 Free maps are available from the information kiosks scattered throughout the market, but as a general guide here are the items you can buy, divided into 11 categories, and the sections you can buy them in:
Clothing and Accessories – sections 2-6, 10-26
Miscellaneous and Used Clothing – sections 2-6, 22, 25, 26
Pets and Pet Accessories – sections 8, 9, 11, 13
Plants and Gardening Tools – sections 3-4
Books – sections 1, 27
Art – section 7
Antiques and Collectibles – sections 1, 26
Handicrafts – sections 8-11
Ceramics – sections 11, 13, 15, 17, 19, 25
Furniture and Home Décor – sections 1, 3, 4, 7, 8
Food and Beverages – sections 2-4, 23, 24, 26, 27
Making the Most of Your Visit to Chatuchak Market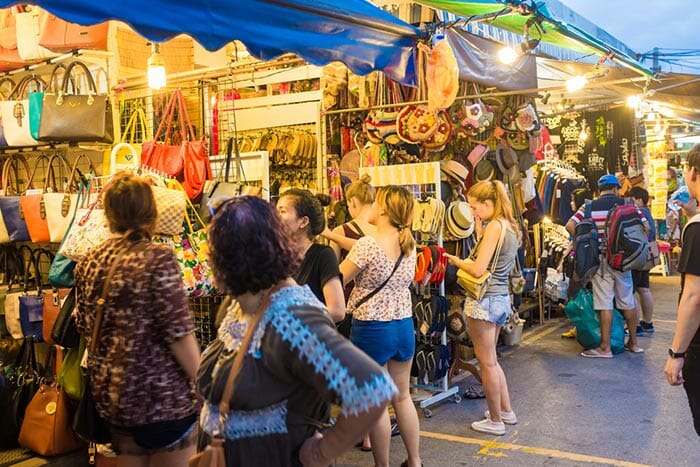 It's easy to get lost and lose the will to carry on shopping when visiting Chatuchak Market in Bangkok. The sheer volume of people and the vast size of the place can easily put even the most hardened of shoppers off, but don't be dissuaded. Here are a few tips to help you make the most of your market visit.
First, be prepared to spend at least half a day here if you want to get really immersed in the atmosphere and buy lots of bargains. In fact, you could easily spend the entire day or even the entire weekend exploring the 8,000 or so stalls, so do allow yourself ample time. Remember to check the Chatuchak Market opening hours that we gave above.
You're going to be doing plenty of walking so be sure to wear comfortable shoes, and you'll want to wear clothes that are light and comfortable too. Think about protection from the sun when deciding what to wear, but also remember that you could get very hot.
A backpack is very useful as you can use it for carrying whatever you buy, and you should definitely bring bottled water, or buy some when you arrive. Paying for items is usually done with cash so make sure you have enough to cover your potential purchases, but be sure to keep it safe as pickpocketing is not uncommon.
You're likely to find plenty of bargains at Chatuchak Weekend Market, though some visitors will tell you this is no longer the cheapest place to pick things up at. Even so, the more you can haggle, or bargain, for an item, the better price you will pay for it. It would be very rare to pay the first price you are quoted, but if you're friendly and look genuinely interested, you will get the price pushed down.
The main thing is, come to Chatuchak Weekend Market in Bangkok with a positive attitude and a smile on your face and you're going to have an unforgettable visit!
Traveling from Bangkok?