If you love shopping then you're in the right place in Bangkok. It's home to an eclectic selection of multi-level shopping malls where you'll find everything from the latest fashions to books and high end accessories. If you've already been browsing the markets on the streets then a visit to the best shopping malls in Bangkok will provide an entirely different shopping experience.
One of the major positives of visiting any of the malls is the contemporary and air conditioned environment. The traditional Thai markets are exciting to visit but they can become very hot and over-crowded, so it's good to have a change of scenery. So what can you expect from the best shopping malls in Bangkok? We've put together a Bangkok shopping guide to give you an insight into 11 of the best shopping malls Bangkok has to offer.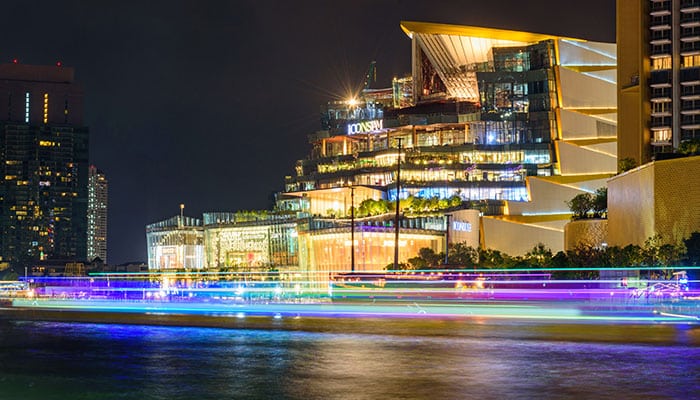 One of the newer additions to Bangkok's already impressive lineup of shopping malls, IconSiam is actually far more than just a place for shopping. Multiple attractions include SookSiam (floating market), a heritage museum, hotel, a park and an auditorium.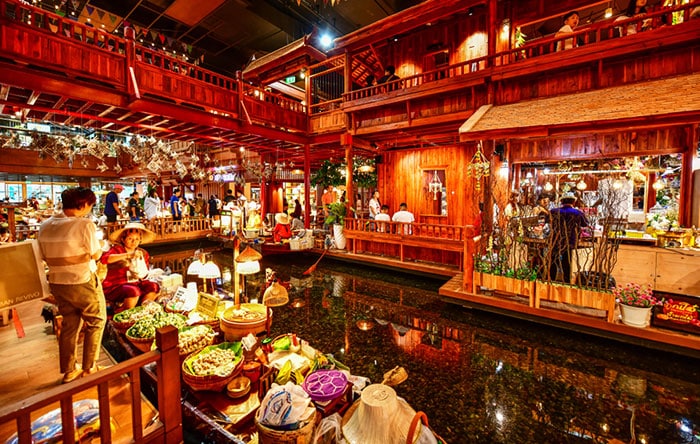 On the shopping side of things, IconSiam is one of the largest shopping malls in Asia with over 7,000 stores and 100 places to eat. The nice thing about this Bangkok shopping mall is that there are stores for every budget. You'll find a luxury section if those high-end goods are calling you, but also everyday brands like Levi's and Lee if you're looking for jeans and fashion. There are sports stores representing just about every sports brand you can think of, home and living sections, and beauty. Even if you're not shopping for furniture and housewares, be sure to visit the 4th and 5th floors to look around IconCraft where handmade Thai crafted home décor is being sold.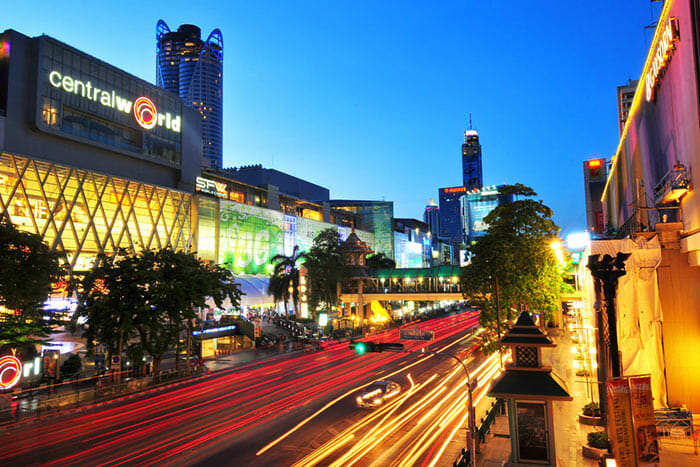 In the never-ending battle to find the biggest and best shopping mall, CentralWorld has always been up there for its size, having held the title of the largest in Thailand, and the eleventh largest in the world. With around 500 stores, this is a true shopper's paradise that offers a range of other attractions too, if you need a break from shopping. If your feet aren't already too tired, enjoy skating around on the mall's very own ice rink, or if you need to sit down for a while catch a movie at the 15-screen cinema. If you're seeking divine inspiration to get you through a day of shopping, there are also two Hindu shrines here, and of course a multitude of restaurants when you need to re-fuel, including the amazing rooftop Red Sky Restaurant and Red Sky Bar. There is something for everyone at CentralWorld, plus practical places like banks and hairdressing salons too.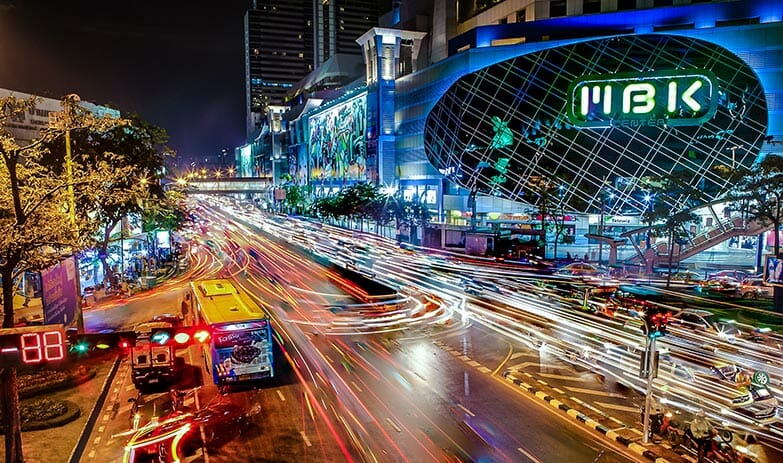 If you're looking for great value for money then the MBK Center is definitely among the best shopping malls in Bangkok. It doesn't have the luxury feel of some of the other malls, but it's an excellent place to treat yourself to a leather hand bag, or an electronic device, with its reasonable prices.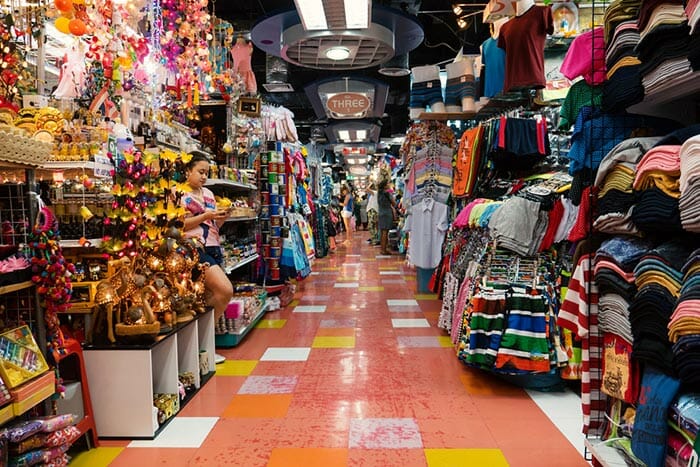 The electronics stores are situated on the 4th floor, so head there if you're looking for a new phone. After shopping you can relax with a bite to eat in the food court on the 6thlevel of this 8 level shoppers' paradise. MBK Center is a busy place to shop at weekends, when the locals converge on the hundreds of stores to search for bargains. It may be best to visit during the week if you want to avoid the biggest crowds. One of the best things about this mall is its accessibility; exit the Bangkok Skytrain at National Stadium BTS Station. Take exit 4 and you can follow the Skywalk to MBK Center.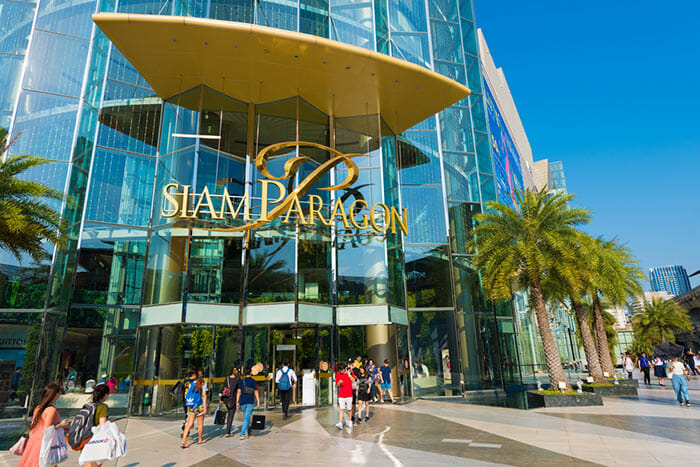 This luxury mall is featured in our Bangkok shopping guide as a must see for high-end shopping purchases. If MBK Center is a joy for the bargain hunter then Siam Paragon is more likely to put a smile on your face if you're looking to treat yourself, or a very lucky friend. Enter the mall on the second level, from BTS Siam Station, and you'll walk into a world of high end designer stores where the wealthier Bangkok residents come to shop. If you like the idea of a digital map of Bangkok to download then you can purchase one at Books Kinokuniya. If you like a bit of nature with your shopping you can round your visit off with a visit to Siam Ocean World aquarium in the basement; although it's worth noting that tourists pay a lot more for entry than Thai locals.
5. EmQuartier and Emporium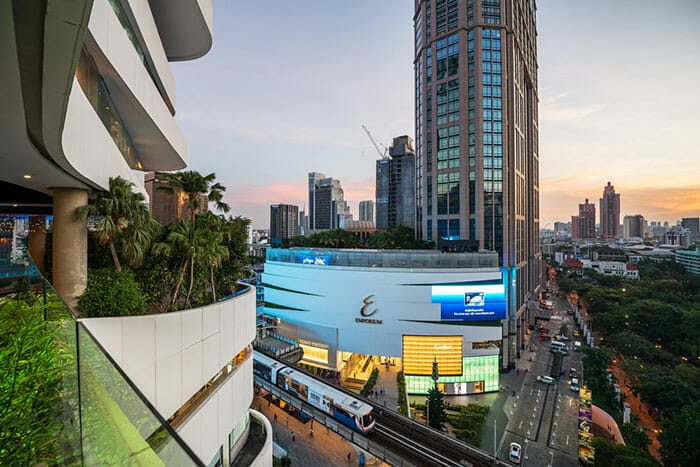 Next to Benchasiri Park on Sukhumvit Road, in the Khlong Toei District of Bangkok, you will find not one, but two shopping malls, with a third in the planning stages. These three malls are all part of the EM District, where shopping and multi-use spaces come together to create one very large area for locals and tourists to shop, dine and be entertained. The original mall, Emporium, opened back in 1997 and is a luxury lifestyle mall, centered around the Emporium department store and including a high-end supermarket and food court. EmQuartier opened more recently, in 2015, and has more of a mix of retail along with another gourmet market, a food hall, cinema, and an impressive 30 foot-high open air garden and six levels of dining terraces. Both EmQuartier and Emporium are easy to reach on the BTS, right by the Phrom Phong BTS Station.
6. Chatuchak Weekend Market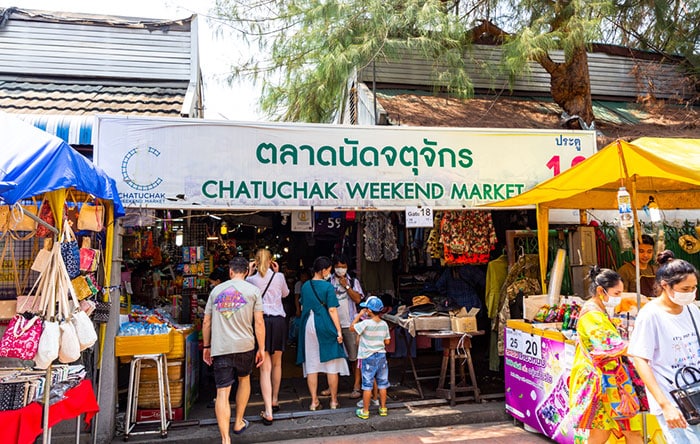 Bangkok's original shopping malls were its markets, and while luxury shopping has become very popular in Bangkok, its markets still have a special place in the hearts of locals as well as being a popular attraction for tourists. Chatuchak Weekend Market is undoubtedly one of the best known among many markets in the capital city. That's because, according to sources, it is the largest and most diverse weekend market in the world. Forget the shopping malls if you're looking for variety, Chatuchak has so much more and at far more affordable prices across its 15,000 or so stalls, set within 27 different sections, organized in such a way to make it easier to find what you're looking for. Honestly, you can buy just about anything you can think of at this amazing market; in fact, there's so much to see and buy here that we dedicated an entire article to Chatuchak Weekend Market!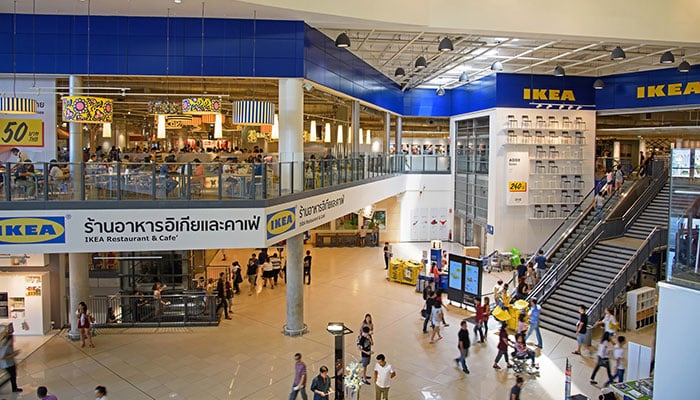 As you might expect with a name like Mega Bangna, this shopping center is big! Located quite a distance outside of the center of Bangkok, Mega Bangna is a good option if you're headed out of the city towards Chonburi or Pattaya and want to do some shopping on the way. It's very popular with locals who live in the area and because of its distance from Bangkok center, Mega Bangna doesn't get as much coverage as some of the more central malls do. Even so, there's a great variety of stores, dining and entertainment here, including an IKEA, lots of fashion and sports stores, home and décor, technology, health and more. It's also part of a 'mega' complex where you can go to the cinema, let the kids have fun in a massive play area plus an indoor kids' amusement park, and go ice skating at the ice rink.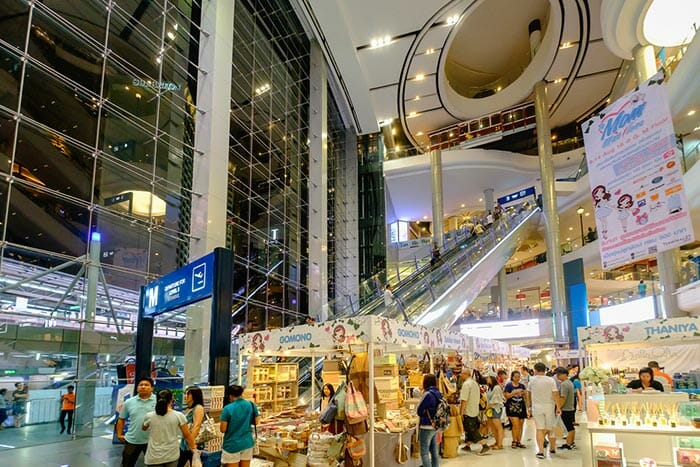 You may still be in Bangkok but it doesn't feel like it at the next mall to feature in our Bangkok shopping guide. Step into Terminal 21 and you're stepping into one of the most ingenious concept shopping malls around. The building itself is intended to represent the terminal building of a modern day airport, with its glass and metal construction. You'll be able to keep your feet firmly on the ground though, as you travel through the shopping experiences of cities including Tokyo, London and San Francisco. To complete the look the assistants at the help desks throughout the mall are dressed in flight attendant uniforms.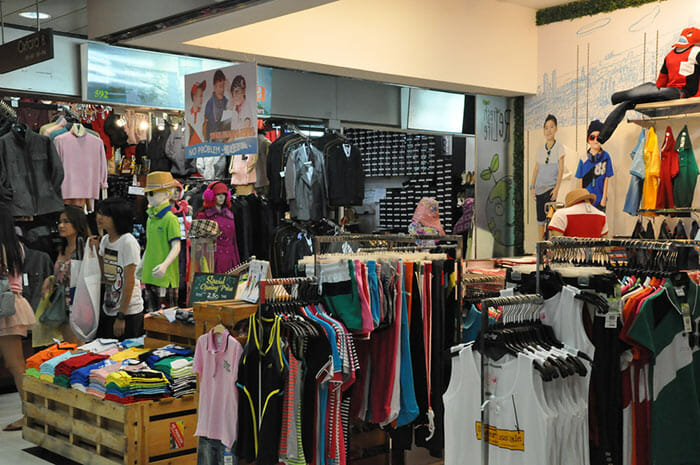 If you're good at haggling, and you love fashion, then this mall is a must visit place in Bangkok. It features in our Bangkok shopping guide because if you want fashion at a reasonable price this is where you can find it. The mall specialises in wholesale provision, so you'll get a better deal if you decide to buy several items. Think of Platinum Fashion Mall as a little like an indoor market place where you can haggle to your heart's content in thousands of stores.
10. Central Embassy Shopping Mall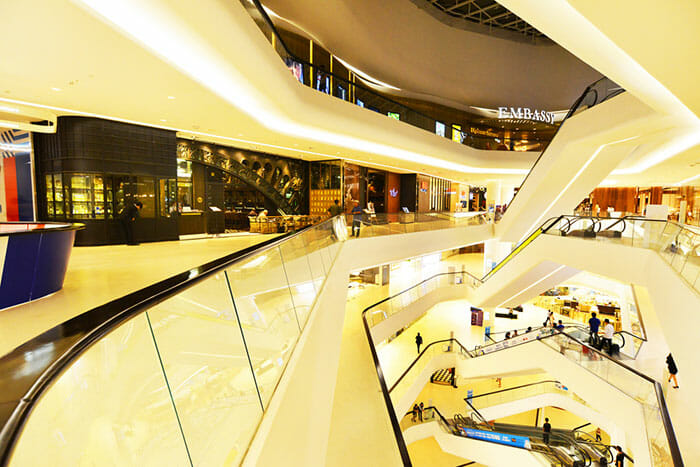 A list of the best shopping malls in Bangkok wouldn't be complete without this ultra-modern home of high fashion. If you're on a budget you may not be buying anything in the Gucci or Prada stores but it's fun to window shop, and the environment inside Central Embassy Shopping Mall is pristine and impressive. If you want to treat yourself to a quick bite to eat then sample the gourmet dining experience in the food court, where providers include Dean & Deluca and Harrods. The 18 billion baht project was built on the site of the former British Embassy and it has transformed the area into the ultimate venue for luxury shopping in Bangkok.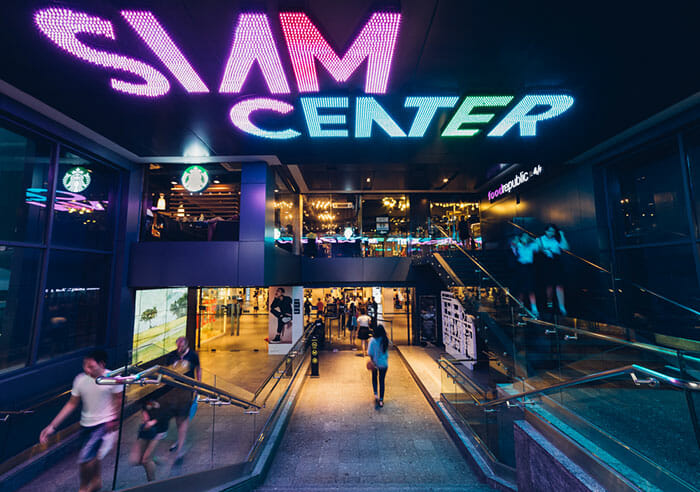 This familiar mall has been a venue for Bangkok shopping for over 40 years, but that doesn't mean it's tired. The entire venue was revamped in 2013 and it's a bright and eclectic inclusion in any Bangkok shopping guide. One of the great things about the Siam Center is its inclusion of products my many local up and coming fashion designers. This gives the mall a young, fresh and fun vibe. If you see an item of clothing you like there are even dress-up televisions which show how the clothes will look when worn. Come out of the Siam Center and you can take a short trip along the connecting walkway to one of our other featured malls, Siam Paragon.
We've introduced you to some of the best shopping malls in Bangkok, so now it's up to you which ones you choose to visit. Our Bangkok shopping guide wouldn't be complete without a mention of the many personal shopper guides that are available in Bangkok. You may be wondering why you would want a personal shopper when you can enjoy the shopping experience yourself. Hiring a personal shopper doesn't prevent you from having the experience but it does mean that you can get valuable advice on where to find the best bargains. Another major benefit is that a personal shopper can negotiate a local price for an item which you may pay more for as a tourist and that can never be a bad thing!