There are literally hundreds of things to do in Bangkok. You could happily fill several weeks in this bustling city and still not see it all! The capital of Thailand has something for everyone, from its temples to its markets and shopping malls, museums, palaces and beautiful architecture, so if you're stuck for what to do in Bangkok read on for our top 10 list of the best Bangkok attractions.
Last updated: 17th January 2021
One of the largest aquariums in Southeast Asia, SEA LIFE Bangkok (previously known as Ocean World) is a welcome break from the heat and crowds you find in many of Bangkok's outdoor attractions. If you're looking for what to do in Bangkok with kids this should be on your list of places to visit. Admission prices are quite steep if you're only planning to be here for an hour, but stay for longer and you're more likely to get your money's worth. Also consider upgrading your ticket to include a ride on the glass bottom boat through the shark tank. This is the closest many of us will ever get to a shark! The upgraded entry also includes the 5D cinema, and a souvenir photo, plus there's an option to get a combined ticket for the aquarium and Madam Tussauds.
Exhibits include an underwater tunnel, and there are countless different species of fish and other marine life here including octopus, seahorses and turtles, and the always entertaining penguins. With everything indoors, and the food court of the Siam Paragon shopping mall right outside the doors, this is a popular thing to do in Bangkok.
9. Bangkok National Museum
When deciding what to do in Bangkok you'll discover there are countless museums of different sizes and different subjects all across the city but if you want a general overview of Thai art and history, be sure to visit the Bangkok National Museum.
This is the largest museum in Southeast Asia so you should set aside several hours at least for visiting this particular Bangkok attraction. It's recommended for anyone who'd like to learn more about the intricate history of Thailand. Starting in pavilion one you'll see some very nice exhibits that begin to summarise the country's history. The rest of the museum is set over numerous buildings, some with more to offer, and some with better exhibits than others. Parts of the museum have benefited from refurbishment, while others would still benefit from more work, but overall the insight you'll gain from visiting will help you have a better understanding of the local culture and more of an appreciation for the many things to do in Bangkok.
It's only a short street but Khao San Road is probably the best known street in the city, making a visit to the backpacker's paradise one of the top things to do in Bangkok. You could call it a tourist trap, but if you're wondering what to do in Bangkok one evening, this is a great place to try. It's friendly and has a fun and laid back atmosphere thanks to the welcoming locals and the worldly tourists. If you wanted cheap, backpacker accommodation you would come here, and you'd also come here to pick up many of the buses that leave for other parts of Thailand each day.
But if you're not staying in a cheap hostel in the heart of this Bangkok attraction, what does Khao San Road offer? During the day you can buy cheap goods from the stores that line the street; anything from pirated CDs to handicrafts to essential backpacker items. Come evening and this short street is packed with people looking for a fun night out. Music blasts from the shops and bars and there are ample places to grab some authentic Thai food. Try a cheap foot massage after a day of sightseeing or watch one of the far-out shows and entertainment offerings. Even if you just have a short visit to see what all the fuss is about this Bangkok attraction really is one to experience.
The Chao Phraya River meanders its way right through the heart of Bangkok and adds to the charm and appeal of this bustling metropolis. Getting out on the water offers a break from the crowds and the heat, making a trip along the river a popular thing to do in Bangkok. River ferries dart back and forth between hotels and landmarks so even if you just take a quick trip from one side to the other it's a nice experience. The best way to see this Bangkok attraction though is on a river cruise or by renting a boat and travelling at your own speeds. Longboats can be rented from a couple of different piers and the price includes a driver so you don't have to worry about finding your way around. Ask him to take you to the canals as this is a wonderful thing to do in Bangkok that many visitors to the city don't get to see.There are guided river cruises as well if you want to learn all about the river while cruising on it. Dinner cruises are the perfect end to a day and allow you to see the city from a different perspective as the sun goes down and the temples and palaces are lit up.
Lumpini Park is to Bangkok as Central Park is to New York! It is the largest public park in the city and one of the few places around the city centre that you can come to enjoy open spaces and greenery, away from the crowded streets, traffic congestion, noise and fumes. Just like Central Park there is a variety of things to see and do here, and after a couple of days experiencing Bangkok, Lumpini Park really is an oasis of calm.
The park was created in the 1920s on royal land, and back then it was actually on the outskirts of the city. Today it has been swallowed up by the city, and is situated right in the heart of the main business district, making this an easy Bangkok attraction to get to.
You can rent boats and paddle around on the artificial lake then stroll the park's 2.5 kilometers (1.5 miles) of paths that are popular throughout the day and evening with walkers and joggers. The park comes to life early in the morning as locals come for their morning exercise and there are stalls set up where you can buy food and a variety of other items. People watching is a fun thing to do in Bangkok, and early morning in Lumpini Park is the ideal time to do it. Pick a bench or a picnic table and simply watch the world go by.
5. Chatuchak Weekend Market
Among the many things to do in Bangkok, shopping is always a popular pastime both for tourists and for locals. There are countless markets and shopping malls, but none come close to beating the experience you'll find at the Chatuchak Weekend Market. It's a mammoth market and one of the top attractions in Bangkok, with somewhere in the region of 15,000 different stalls and about 200,000 visitors each day that it's open. As the name suggests this is primarily a weekend market, open Saturday and Sunday, though one section, called Jatujak Plaza is open throughout the week too.
There's no point in trying to list what you can buy at the market because the fact is you can buy just about anything and the goods are all affordably priced. Of course, you should haggle over prices anyway and get a little more off what the vendor first quotes you as this is the expected thing to do in Bangkok!
Come early to beat some of the crowds and to beat the heat – with so many people wandering around the stalls the market does get very hot and uncomfortable, and you don't want this to ruin your visit. If you're okay with the crowds stay for the day and enjoy some great food from the multitude of food carts.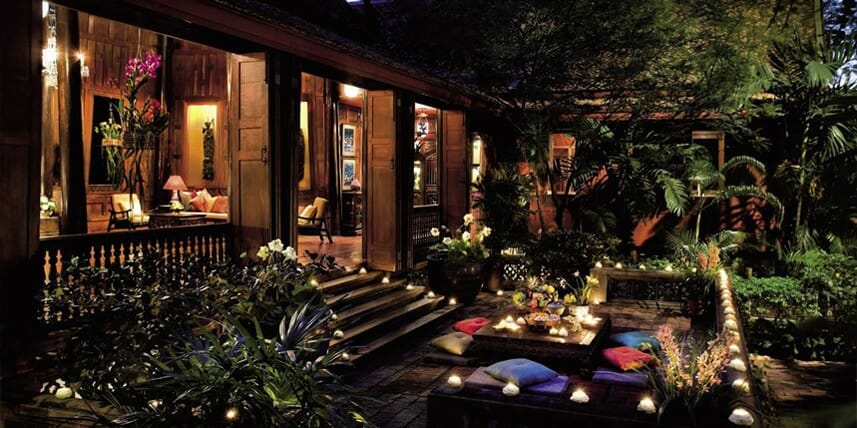 The Jim Thompson House is one of the top Bangkok attractions offering insight into the life of owner Jim Thompson as well as a look at some of Thailand's traditional architecture, beautiful silk and art. Even if you don't know who Jim Thompson was, the house museum is interesting, and guided tours are informative and fun. Outside, the lush gardens are quite the oasis compared to the busy streets just steps away, and the large fish pond is a great place to sit and relax after a tour.
Jim Thompson was a renowned American businessman who established a large and successful Thai silk company. Over the 1950s and 60s he put together this home with pieces from six different antique Thai houses to create the unique place you can visit today. The combination of historic Thai architecture with his own Western influences make this an intriguing place, but maybe more intriguing is the mystery of what happened to Jim Thompson when he went missing in the jungles of Malaysia in 1967.
If you're stuck for what to do in Bangkok after your tour, stay and watch silk being made on the grounds, grab a meal in the on-site restaurant or pick up some unique souvenirs or gifts in the gift store.
Dusit Palace wasn't the official residence of King Rama V, but it was his primary residence. The king had this complex built between 1897 and 1901 as a place to go to beat the heat of the Grand Palace. This palace complex is really quite different to the elaborate architecture and ornamentation of the Grand Palace, but even so, it is still among the top things to do in Bangkok because of its differences.
The main structure at Dusit Palace is Vimanmek Mansion. The architecture is more akin to traditional Thai but what sets this building apart is that it is reputedly the largest golden teakwood house in the world. It is very beautiful with its sometimes intricate details, and amazing to think that its walls are built entirely of wood. The palace grounds are also beautiful and to make the most of your visit be sure to pick up an audio guide. Other points to mention are that it's best to visit in the morning before the tour buses arrive. You will have to walk around in bare feet and be appropriately dressed, and finally, if you visit the Grand Palace before this one you should keep your ticket as it gives you free entry into the mansion.
2. Wat Arun (Temple of Dawn)
One of the most familiar sites in Thailand, and best known temples in Bangkok, Wat Arun is actually fully titled Wat Arun Ratchawararam Ratchawaramahawihan, which is a bit of a mouthful. It's often known by the simpler title of the Temple of Dawn. Its soaring golden tower is a spectacular sight at any time of day but is especially impressive when the sun is setting on the horizon. Wat Arun is situated opposite to the Grand Palace, across the Chao Phraya River. You can easily catch a boat from Sapphan Taksin boat pier which will take you to pier 8. From there you can take a shuttle boat to get you across the river. There's an array of beautiful architecture to see at Wat Arun, so it's a good idea to allow yourself at least an hour for a visit to this site.
It's called The Grand Palace but "grand" doesn't even begin to describe just how stunning this historic complex of buildings really is. It is among the top tourist attractions in the whole of Thailand, and has played an important role in the country's history, being home to the Kings of Siam since 1782. Although it isn't the official residence of the present king, King Rama X, it is still used for official events such as state functions and royal ceremonies throughout the year.
Of the numerous things to do in Bangkok this is a must-visit attraction for its architectural and cultural value. Get past the hawkers outside who will try to lead you away to spend your money elsewhere, then try to forget about the throng of tourists wandering the palace with you and the inevitable din that goes with them. If you can put all these negatives aside you'll enjoy the artefacts, beautiful Thai art, and exquisite architecture and decoration throughout the palace complex.
Arriving by boat is probably the most stylish way to get to this Bangkok attraction, and you'll enjoy great views of the palace from the water as you approach. Be sure to wear clothes that cover your legs or you'll have to rent a gown to be allowed into various parts of the palace. Also consider joining one of the free guided tours as these are the perfect way to see the best bits and to find out more as you go.