If you're researching traveling around Asia, the chances are you will have come across the travel company, 12Go.asia. A major player in the Asian travel market, and now expanding to Europe and North America too, 12Go is the go-to place for thousands of tourists who want to independently book tickets for travel, and organize their own itineraries. Their highly comprehensive search results page makes it both quick and easy to compare different transport options for thousands of travel routes across Asia, making use of some of the region's most reputable transport companies, as well as some services operated by 12Go themselves. For travel planning and booking, 12Go definitely seems to have an edge over its competitors, but let's look more closely at what they do, and how well they do it.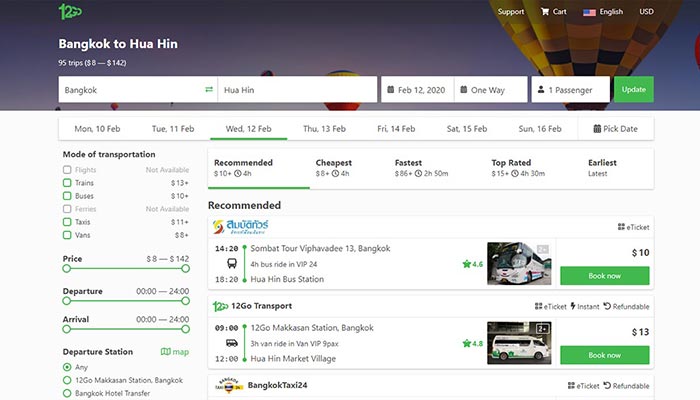 12Go is an online travel agency, primarily based in and serving the Asian travel market by selling tickets online for buses, ferries, trains, flights, and private taxi transfers. Founded in 2012, and officially launched in 2013, the company has grown in leaps and bounds from its origins, selling tickets for the State Railway of Thailand along with just a few popular Thai bus routes. As the need for reliable travel booking websites for travel around Asia increased, so to did 12Go's business model, providing B2C services for independent tourists, and B2B services for the travel industry, they moved into neighboring countries, forming partnerships with many more transport operators, and continue to grow at a fast rate.
Today, you can book internal travel options for twenty different Asian countries, with more being added all the time. The current countries included are: Thailand, Malaysia, Vietnam, Cambodia, Laos, Singapore, Myanmar, Indonesia, the Philippines, India, China, Japan, Taiwan, South Korea, North Korea, Sri Lanka, Nepal, Bangladesh, Pakistan, and Hong Kong, with the first three in the list being the most comprehensively covered at this time. You can also book cross-border travel across these different countries, all the while making use of their excellent travel search engine which brings back multiple travel options and ticket types, allowing you to book the ones that suit your plans best.
As a travel agent, selling tickets for transport and tour operators, some travelers may worry that 12Go is charging a premium for using their services, but our research has shown that this does not appear to be the case. 12Go obviously makes some money along the way, but they certainly don't appear to overcharge their customers. When comparing ticket prices quoted by 12Go with those on transport providers own websites, there really is very little difference (if any) in the price. This would indicate that 12Go makes most of its money from the service providers, allowing them to sell tickets at or near face-value.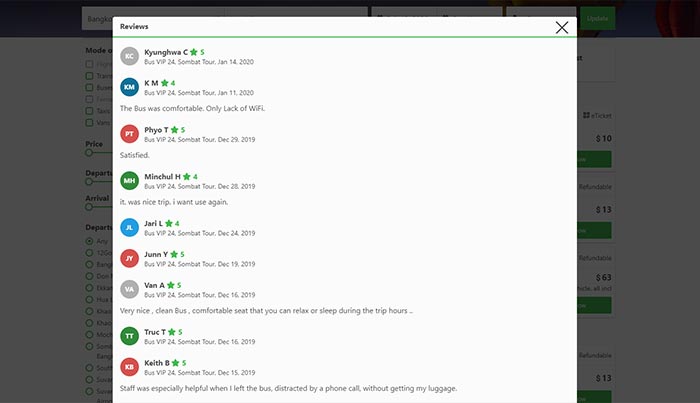 Now you know what 12Go does, how well do they do it? The best judges of their services are their own customers and you can read passenger reviews very easily on their website, usually by scrolling down on the search results page. These reviews are more aimed towards the transport providers, detailing how smooth the journey went, whether it was on time, and whether the connections were all good, so although many are not directly referencing 12Go, the reviews still provide a good gauge to future passengers as to how good the whole experience is when booking through 12Go.
As far as we can see, the reviews on the 12Go website have not been doctored in any way, they are genuine and do include the good and the bad points, so take these at face-value if you're comparing services before going ahead and making your booking.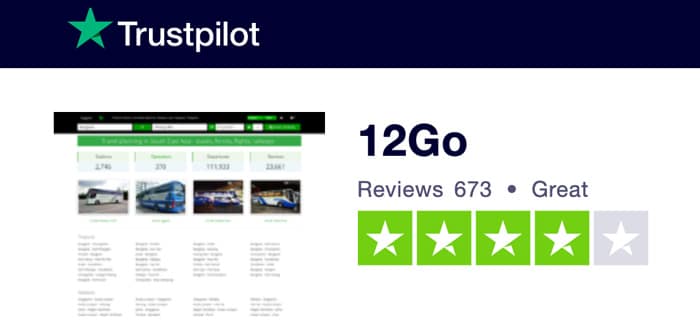 What might be considered a more impartial view of customer reviews of 12Go can be found on websites such as Trustpilot. At the time of writing, they have received around 650 reviews of 12Go, giving an overall rating of 4 out of 5 stars. 70% of reviewers rated 12Go as Excellent, with smaller percentages indicating Great, Average or Poor, while 15% rated 12Go as Bad. Scrolling through the reviews, almost all of them are giving 5 stars and commenting about the fact that booking through 12Go is clear, easy and reliable, and makes traveling around Asia hassle-free.
Reading through the comments on those who rated 12Go as Bad, the main cause for concern appears to be a few technical issues that affected bookings. In these circumstances, a representative from 12Go has offered to look into the problems for the customer and resolve it as best they can.
You can also read customer reviews of 12Go on other travel websites such as TripAdvisor. Here, the vast majority of customers recommend 12Go for their booking service and support, suggesting that 12Go are very reliable. Where there are negative comments, these are more based on delays with transportation which is something beyond 12Go's control as they mostly only sell tickets, and do not provide the actual transportation service.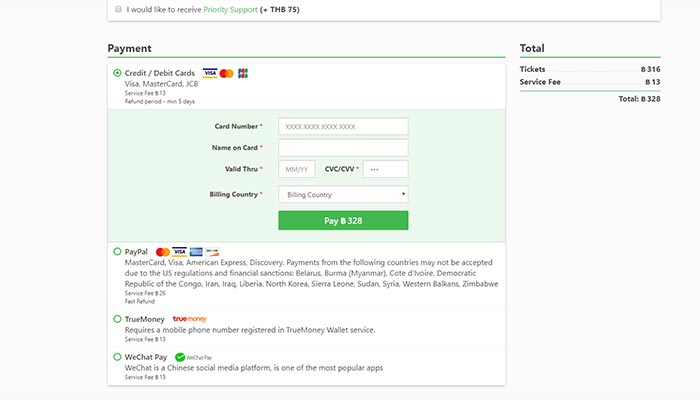 Based on our research and own experiences using the 12Go website, we would highly recommend booking your Asian travel tickets through 12Go. While it is impossible to read through every customer review of 12Go, it certainly seems that the majority of reviews are very positive, praising their service, with some criticisms aimed at the actual transport companies who 12Go sells tickets for, usually because of delays. But, if you're booking travel across Asia, the transport options that 12Go provides are very comprehensive, making it quick and easy to book your tickets through them.
Remember though, the sooner you book your tickets the more chance you have of finding the best schedule for your travel plans, and you're likely to save money by not leaving it until the last minute. Head over to 12Go right now and start searching for your next Asian vacation!
The online travel agency, 12Go Asia, has a very good reputation for providing a reliable travel booking service for around 20 different countries in Asia. They are partnered with some of the region's biggest transportation companies to sell tickets for ferries, buses, trains, flights, and taxi transfers, bookable through their easy to use website which has dependable information and great customer service.