If you're travelling to Bangkok you may be trying to decide what goods to spend your money on while you are there. There are a myriad of things to buy in Bangkok; to suit any budget. If you want to take a piece of local culture home with you then you may want to check out the market craft stalls. On the other hand you may be looking for some bargain clothing, in which case you could head to one of the many shopping malls in the city.
We're going to take you on a short journey through the Bangkok shopping experience and give you some ideas about what to look out for. If you're trying to decide what to buy in Bangkok, read on and hopefully you will be inspired.
Buying traditional Thai items in Bangkok
If you haven't got a huge budget, and you're looking for a reminder of your stay in Thailand, then there are some excellent ceramic items that you may want to consider purchasing. If you want a change of scenery from the city of Bangkok it's worth taking a trip to Koh Kred which is a small island in the middle of the Chao Phraya River. It's worth noting that the weekend market on the island doesn't have the quaint charm it once did and is a lot more commercialized, but it is still a great place to buy items of pottery. If you go during the week, when it's quieter, then you won't have to face the crowds but your shopping options will be more limited. Getting to Koh Kred is straightforward. You can take either the 33 bus from Sanam Luang or the 166 bus from Victory Monument, for the journey to Wat Sanam Neua where you can catch the cross river ferry. The whole journey should take you less than 45 minutes each way. Once you're on the island you can hire a cycle to ride for approximately 40 baht per day, or a motorcycle taxi for approximately 50 baht per hour.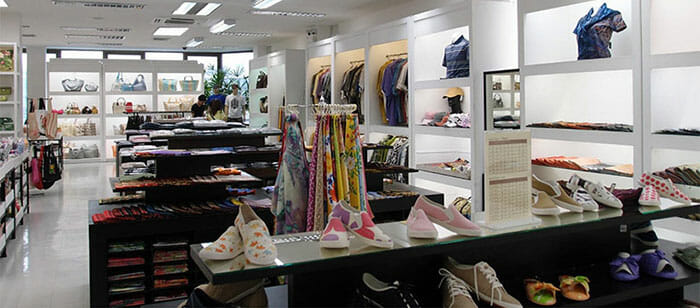 If you want to stay in Bangkok and spend your money on traditional items then you might want to take a look at some of the Thai silk products at Jim Thompson Factory Soi 93 Outlet. The outlet is situated at 153 Sukhumvit Soi 93, Bangkok 10250, and is the perfect place for everything silk from cushions, to handbags, bedding and scarves. The prices are cheaper than in Jim Thompson stores but you should still be expecting to pay realistic prices for what is high quality silk.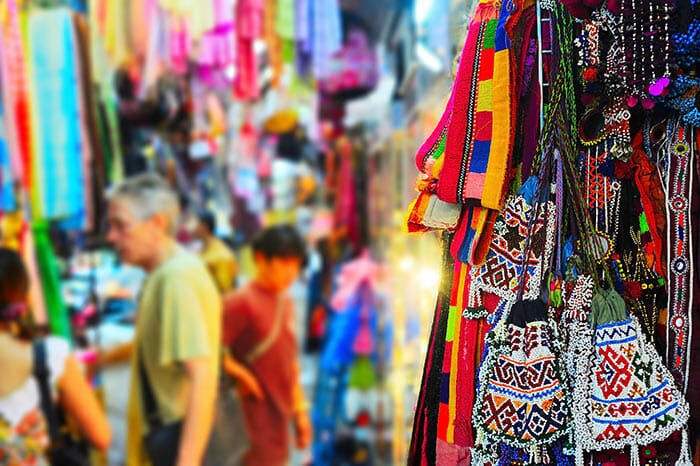 When looking for things to buy in Bangkok, and you like the idea of haggling, you should head to Chatuchak Weekend Market at Kampaengphet 3 Road, Khwaeng Lat Yao, Khet Chatuchak, Bangkok 10900. It's the perfect place if you want to buy work by local artists, religious art and local fabrics. Of course, it's a market, and you can buy pretty much anything, but if you want traditional Thai items to take home, you'll find plenty of them. There are a couple of things worth mentioning;
 Once you have spotted an item you like, haggle straight away and buy it, chances are you will not be able to find the stall again.
Make sure you have lots of change for bottled water as it gets very hot and crowded.
You'll get the best prices if you buy more items of the same product.
If you don't like crowds then Chatuchak may not be for you, but if you don't mind lots of people, heat and a less than glamorous environment, engaging in some haggling can be a fun experience.
Buying jewellery in Bangkok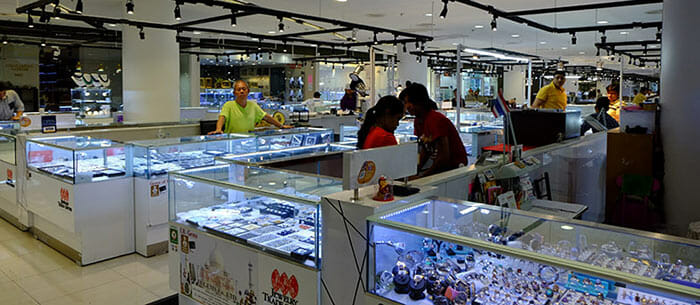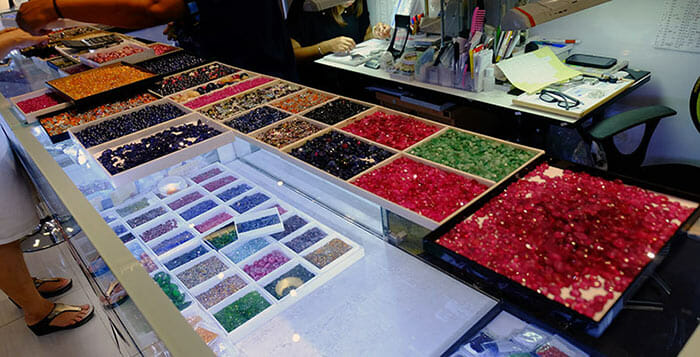 Other popular things to buy in Bangkok include jewellery, and this can be a very good purchase. Rubies and sapphires are popular in the city as Thailand mines these gems in Chantaburi, as well as selling gems from Cambodia and Burma. You are able to purchase rubies in various shades of red. Sapphires are available in blue, yellow and green. The most important thing to remember when you're buying jewellery in Bangkok is that you need to be careful where you make your purchase. The Silom District is the name that is synonymous with the buying and selling of jewellery in the Thai capital. It's here that the Jewelry Trade Center is located at 919/1 Silom Road, Silom, Bangrak, Bangkok 10500. Take a stroll around the first three floors of the building and you'll find everything from finished pieces to loose gems and fittings. If you want to check out some of the local jewellery manufacturers, who deal in affordable emeralds, pearls, diamonds, gold and silver, as well as sapphires and rubies, you should head to Surawong Road and the Charoen Krung area, on the edge of the Silom District.
You should not be persuaded by locals on the street to hire a Tuk Tuk (local taxi) to take you to someone selling jewellery. This may sound obvious, but the situation isn't always that simple. There have been many incidents of a scam whereby tourists are approached by someone claiming that a local temple is closed and that they should visit some other spot that is only open on rare occasions. Once there the tourists are introduced to someone who tells them about great jewellery deals and offers to take them to the place where the deals can be done. On purchasing items the tourists in question have found the jewellery to be worth significantly less than the purchase price.
If you are looking at things to buy in Bangkok, and you decide on jewellery, it's a good idea to only buy from stores who are certified by the Jewel Fest Club. This club was created by the Thai Gem and Jewelry Traders Association, the Tourism Authority of Thailand and around 100 names in the jewellery trade to ensure that only good quality gems are sold. If you buy from a store that is certified you will receive a certificate of authenticity and you will be entitled to a refund. This is usually 90% of the purchase price if you return the jewellery within 30 days, and 80% of the purchase price if you return the jewellery within 45 days.
Buying clothing in Bangkok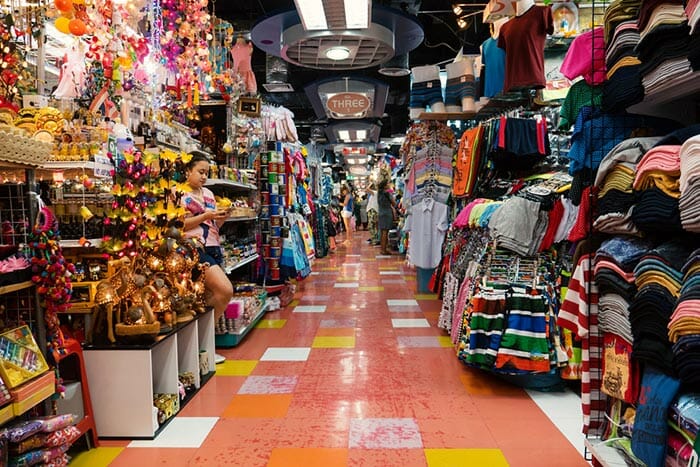 Travel light on your trip into the city and bring an empty suitcase with you to make the most of affordable clothing in the Thai capital. Many tourists will recommend clothing when asked what to buy in Bangkok.For some of the best deals around head to Pratunaum Market where you can buy items for a third of the price you would pay at home. This wholesale venue is situated at Ratchaprarop Road, Phayathai, Ratchathewi, Bangkok and offers a wide range of clothes shopping opportunities. As it's a wholesale market one good tip is to get there early, at 5am or 6am, when the local traders are about and prices tend to be lower. Of course you can still get great prices later in the day, especially if you purchase several items.
Another option for clothes shopping in Bangkok is the myriad of malls which decorate the city. The MBK Shopping Center at 444 Phayathai Road, Patumwan, Bangkok consists of over 2,000 stores under one roof. They don't just sell clothing but you will still find great deals on items to wear. If you love the designer labels, check out Siam Paragon. You won't get anything cheap but you may still be able to save on that pair of Jimmy Choos you've been wanting.
Shipping items home from Bangkok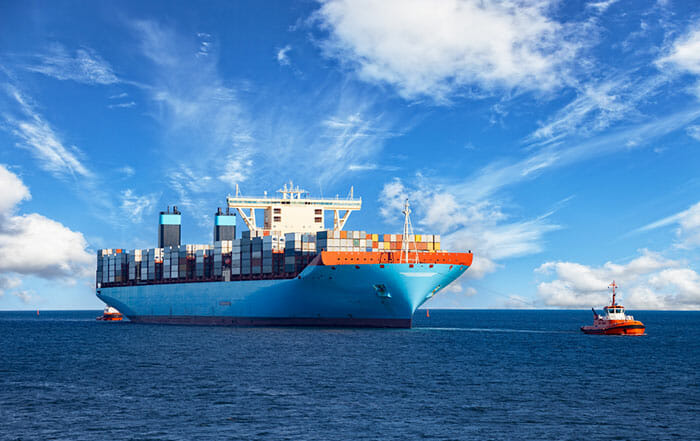 Don't be restricted to buying small and light items in Bangkok as there are always options available for shipping larger items home. The first method to try is the merchant themselves. For very bulky purchases, such as items of furniture, they often offer a shipping service. You also have the option of going to any of the main post offices where you will be able to pack and ship your item at cheaper prices than a courier such as FedEx charges. Of course you may want to balance price considerations against the fact that couriers often provide a more secure service.
As you can see, if you are looking for things to buy in Bangkok, you won't be short of something to spend your money on. From traditional crafts, to sapphires and training shoes, we hope we've helped give you a few ideas if you're trying to decide what to buy in Bangkok. If you're leaving Bangkok, don't miss our guide on how to get from Bangkok to Koh Phangan.