If you're looking for Thai boxing, Bangkok is the perfect place to watch and participate in this sport. Thai boxing is the general western term for this Thai contact sport which is known as 'the art of eight limbs'. The sport gets this name because participants use their shins, elbows, knees and fists during each Muay Thai match. Originating as part of the training regime of the Thai military; Muay Thai is today an extremely popular sport throughout Thailand. Every town and city has its own stadium for the sport.
If you're interested in seeing some Muay Thai in Bangkok, there are two stadiums where you can watch several bouts in one evening, including all of the traditional pre bout rituals. The new Lumpinee Boxing Stadium is located at 6, Ramintra Rd, Anusawaree, Bangkok, close to Don Muang Airport. The older Rajadamnern Thai Boxing Stadium is located at 1, Ratcha Damnoen Nok Road, Bangkok 10100.
If you go to watch a Thai boxing match at either of the Bangkok stadiums you will be treated to a display of the pre-fight rituals. The "Wai Khru" is the fighters' way of paying respect to their trainers. The "Ram Muay" is a chance to show off to the crowd; to display how agile and gifted they are. It's also a warm up period, so that the fighters are completely ready for action when the fight starts. Traditional armbands and headbands are worn by the fighters during this part of the evening; these items are called mongkhon.
Watching Muay Thai at Bangkok's Lumpinee Boxing Stadium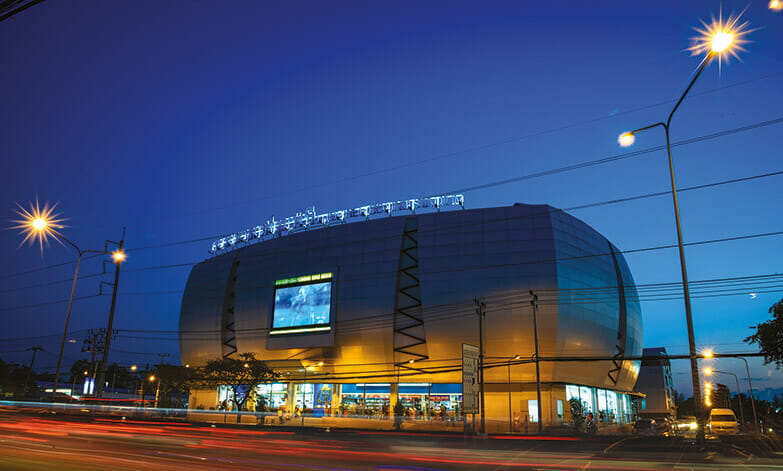 The most important thing to note before you travel, is the address of Lumpinee stadium. It moved from its previous location in 2014 and some maps have yet to be updated. This is important as the new site is not just around the corner from the old one; it's a good 30 minute journey away. The location of the new Lumpinee Stadium is not central, being close to Don Muang Airport. This can make it more time consuming to travel to the venue. Mo Chit BTS Station is a taxi ride away, but a good option is to book a ticket on an organized tour which includes transfers to and from your hotel. You can book on a tour which includes a ringside seat for approximately 3,350 baht. The one good thing about the stadium's remote location is that there are not as many ticket touts loitering outside. You should never buy tickets from the touts; purchase from official sources only.
Once you're at the stadium you'll be impressed by how shiny and pristine it is. This is in stark contrast to the old stadium which was in such a state of disrepair that on one occasion a cat fell through the roof whilst a bout was taking place. Some die-hard fans of the sport are unhappy with the change of venue, but from a tourist's point of view, it's clean and tidy and there are plenty of snack vendors about. Viewing has also been improved, with variable level viewing areas meaning you can see the action whatever class of ticket you have. The most expensive tickets are for ringside seats, and cost 2,000 baht. In this area you will mostly find tourists and families. If you want to get into the true spirit of Muay Thai Bangkok then it's often better to purchase a ticket for the standing area where the cheering and support from the Thai fans is loud and boisterous. These tickets are priced starting at 200 baht.
The stadium is open on Tuesday and Friday from 6:30pm to 11:00pm and Saturday from 4pm to 8pm and from 8:15pm to midnight. It's always best to check fight times locally. Each session consists of up to twenty bouts, each of which consists of five, three-minute rounds. You can see fights at a variety of weights from mini flyweight to super welter weight.
A visit to Lumpinee Boxing Stadium is a must if you're looking for Thai boxing in Bangkok. One final thing to mention is that the stadium is run by the Royal Thai Army on behalf of the government, and all of the proceeds are donated to the Thai military. This explains why security is often handled by armed military police; so don't be alarmed it's perfectly normal.
Watching Muay Thai at Bangkok's Rajadamnern Stadium

Rajadamnern Stadium is a much older stadium; the first match was held at this traditional venue on 23 December 1945. Times have changed. In those days a ticket for the Muay Thai matches cost anything from 70 to 300 baht. Today, there are a variety of tickets available from third class for 500 baht to ringside for 2,000 baht.
If you're looking for Thai boxing Bangkok then the Rajadamnern stadium is a great place to watch. The stadium is open on Monday, Wednesday, Thursday and Sunday, with most fight schedules starting at around 6:30pm. It's a good idea to check times locally so you don't miss any of the action.
One of the benefits of going to Rajadamnern Stadium, as opposed to Lumpinee Stadium, is that it's closer to central Bangkok and relatively cheap to reach in a taxi. A downside is that there are more tickets touts waiting for you when you get there, again it's best to buy tickets through your hotel, online or inside the stadium itself.
One thing worth noting when you are buying tickets is that the cheapest ones for 500 baht are for an area situated a way back from the ring, behind some netting. It's unlikely that you will get the best view of the action from this area. The seats closest to the action are obviously those at ringside which, much like at Lumpinee Stadium, are mostly taken up by tourists.
An evening at Rajadamnern Stadium usually consists of nine fights, the seventh of which is normally the feature bout. It's well worth checking details of the fight schedule before you attend as nights which feature a lot of junior fights are not as exciting as championship nights. If you want to experience Muay Thai Bangkok then a championship night at Rajadamnern Stadium is not to be missed, when the roar of the crowd competes with the beating music which can be heard throughout the night.
Trying out Muay Thai in Bangkok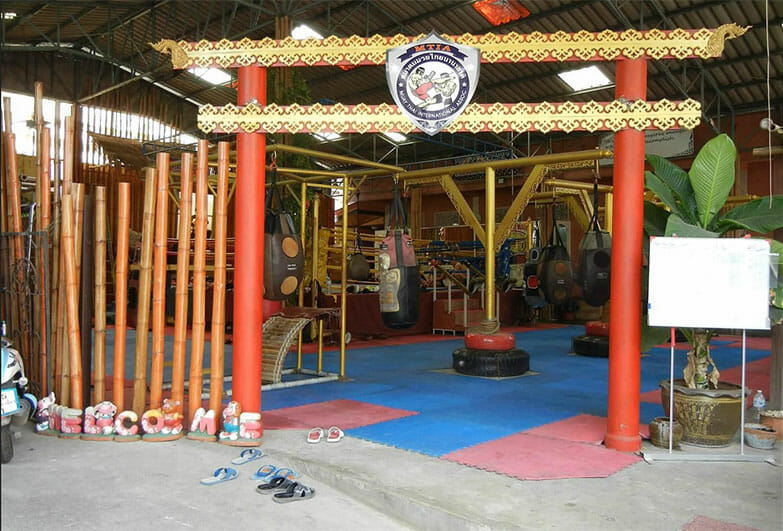 If you love Muay Thai, and you want to try it for yourself, you can. Most people who want to give this ancient form of Thai boxing a go opt to book on a course for a couple of weeks. This used to be problematic as often it meant venturing out of Bangkok to the traditional training camps where there could be a huge gap in the expertise of the local fighters, and the foreigners who wanted to take part. Today that isn't a problem with gyms in Bangkok offering the Muay Thai experience. If you want to learn Muay Thai in Bangkok, we've taken a look at a couple of gyms you may want to check out.
The Fighting Spirit Gym is located at 527/1 Silom Rd, Bangrak, Bangkok (between soi 9 and 11). You can train and stay onsite where you are coached by a team of seasoned professionals who have taken part in an average of 65 bouts each. All you need to train is a t-shirt and a pair of shorts. Gloves and other equipment are supplied. The gym caters for people of all levels of experience with Muay Thai, but be warned the training is not for the faint hearted. Even the two minutes of skipping rope is hard work in the heat of Thailand.
Master Toddy's Gym is located at 55/103-55/109 Bearing Soi 22, Sukhumvit 107 Road, Samutprakarn, Bangkok 10270. It is certified by the Thai Ministry of Education and by the Muay Thai International Association. Group training sessions are held each morning from 7:30am to 9:30am, Monday to Saturday, and each evening from 4pm to 6pm Monday to Friday. Extra evening sessions, from 6:30pm to 7:30pm are held on Monday, Wednesday and Friday. One to one sessions are also available on request; it is recommended that all newcomers start with a one to one session.
So there's our quick guide to Muay Thai Bangkok. Catch some bouts as a tourist in one of the two Bangkok stadiums – you're sure to have an entertaining evening of great sportsmanship. Or if you want to be really adventurous and have a go at Thai boxing in Bangkok yourself then you can do so under the watchful eye of experienced professionals who will make sure you stay safe.