Khao San Road is probably the most famous street in Bangkok. Synonymous with partying and cheap accommodation, the vibrant atmosphere attracts travellers and backpackers from all over the world to its bars, market stalls and affordable hostels, and is one of those places you should probably visit, just for the sake of saying you've been there! The "backpacker ghetto" atmosphere won't appeal to everyone; if you have more money to spend on a hotel you should probably look elsewhere, but as a place to get together with fellow travellers, experience some dancing and partying, Khao San Road Bangkok is the place to be! Here we talk about all the great things you can see and do on Thailand's most famous street.
How to Get to Khao San Road Bangkok
Before we go any further, let's talk about how to get to Khao San Road. The beauty of being such a famous road is that everyone knows it, and it's easy to get here from just about anywhere in Bangkok. Located centrally, in the Banglamphu area, the street is about a block or so back from the Chao Phraya River and about a kilometre (0.6 miles) north of the Grand Palace and Wat Phra Kaew. Being so close to the river you can get to Khao San Road by boat, and in our opinion this is the nicest way to arrive. The Chao Phraya Express Boat is both scenic and cheap and will get you here from the city centre via the Skytrain. There are other express boat options too, depending on where you're starting from.
A drawback with getting to Khao San Road is that it's not on the Skytrain system and there isn't a station close by. This means if you don't arrive by boat your only other options are taxis or buses. Taxis are most convenient, but make sure the driver starts the meter as this will almost always be cheaper than a fixed rate.
Why is Khao San Road So Famous?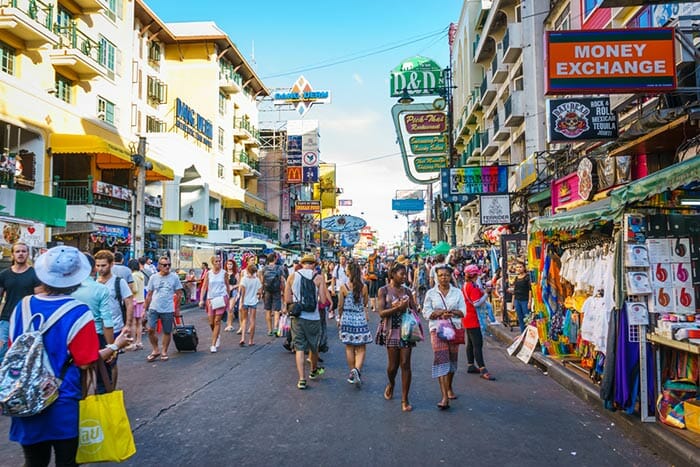 Go back in time to the early 1980s and the chances are that very few foreigners would have heard of Khao San Road in Bangkok, let along been there. Now it's a different story, partly thanks to the popularity of the movie The Beach (based on the novel by Alex Garland), and because of the rise in popularity of backpacking and budget travel as a whole.
In 1982 the first guest house opened with just six bedrooms. Today there are hundreds of rooms available both within hotels and hostels, and this is the place to stay for the night if you want to be in the centre of it all. If you prefer to actually "sleep" then choose a place to stay that's off Khao San Road!
The Atmosphere on Khao San Road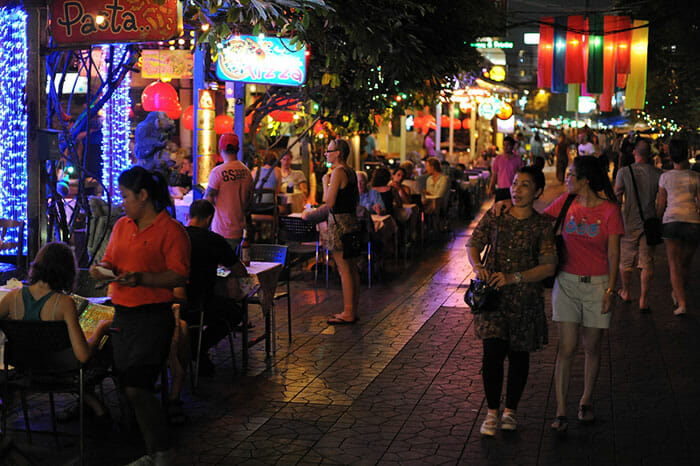 Some travellers will tell you that Khao San Road is not worth your time, but in the end this comes down to personal taste. Admittedly, the atmosphere has become very tourist oriented and you're likely to be hassled to buy things from the many vendors, or encouraged to enter into each bar or restaurant. If you don't like feeling pressured then you might not enjoy KSR, though to be honest you can get this kind of pressure anywhere in Bangkok if it's obvious you're a tourist!
The majority of people wandering around will be tourists, and there is a strong backpacking community vibe that makes this a great place to get together with other travellers and share stories about where you've been or where you're going, and to pick up tips and advice.
What Can You See and Do on Khao San Road Bangkok?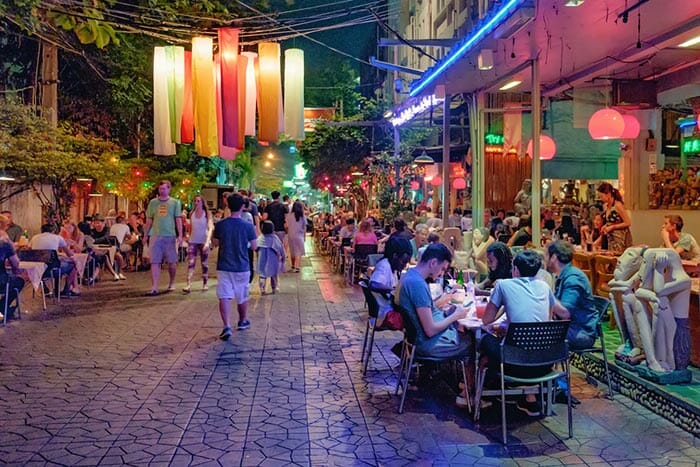 The most obvious attraction of Khao San Road are the bars and places to eat. It really is a backpacker's dream because food and accommodation can be so affordable here. Eat from one of the numerous kiosks on the street and get a great meal for next to nothing (try the fried scorpion if you're feeling adventurous!), or if you prefer to sit down and spend a little more there are many dine-in restaurant options too.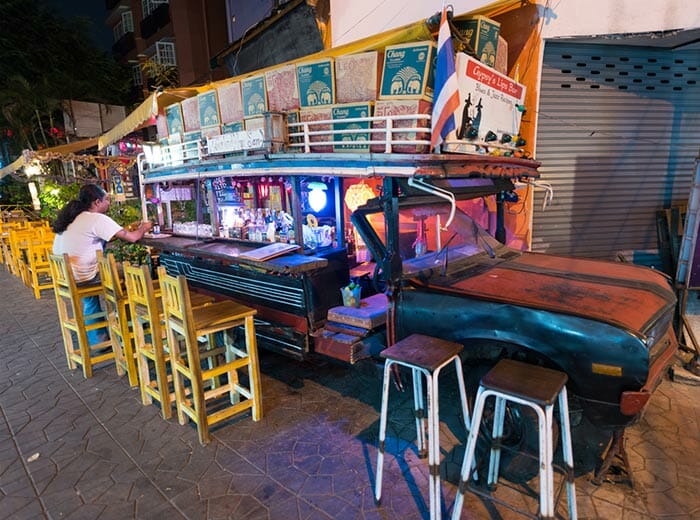 The bars are like many others in Bangkok – you can enjoy a quieter drink with friends if you want to, or head into one of the bars later in the evening as they begin to spill out onto the street. You're guaranteed to be offered access to a ping pong show if you're wandering around Khao San Road in the evening.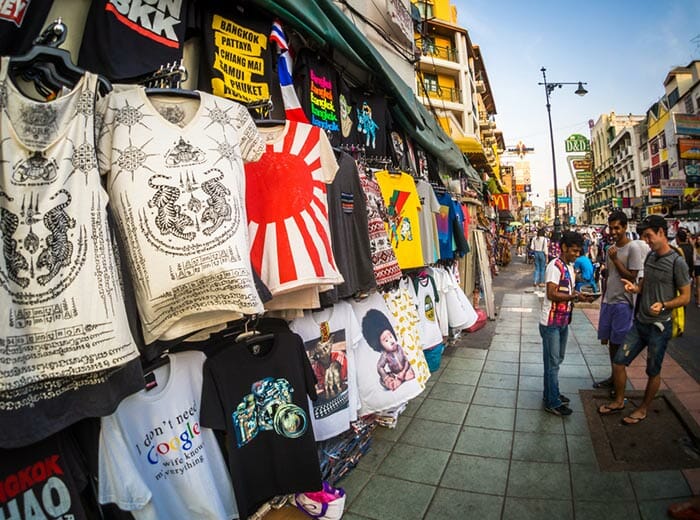 The area is also famous for its market stalls and stores. The goods they sell are often tailored to backpackers as well as more general tourists, and while you can buy many different things here you shouldn't count on it being especially cheap. Prices are usually hiked for tourists, so you may want to consider shopping elsewhere if you're on a budget.
Many visitors do rave over the foot massages though. You can get a cheap foot massage in many different places on Khao San Road Bangkok, including when you're relaxing over a beer. Great after a hard day of sightseeing!
Khao San Road Travel Hub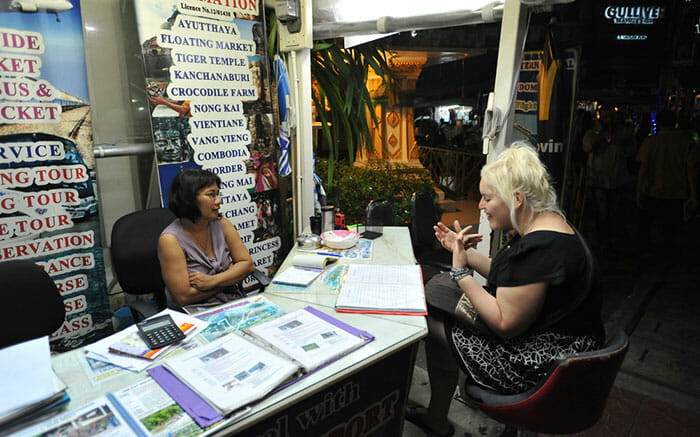 One more thing you'll notice about Khao San Road is that it's quite the travel hub. You can catch buses from here to destinations all over Thailand, and there are multiple travel agencies you can call in on to book your tickets for travel and other activities, as well as for obtaining visas if you're heading out of Thailand. Convenience-wise these are great if you're staying on Khao San Road, but be aware that prices may be hiked for tourists, and that travel agents are renowned for promising that they can get you a bus with air conditioning or comfortable seats when they cannot actually guarantee these things.So that's Khao San Road Bangkok in a nutshell! Visit this famous party street any day of the year for a fun time, or make a point of being here for the Thai New Year (Songkran) for the huge and infamous party and water fight that takes place!