Ayutthaya is a UNESCO World Heritage Site in Thailand. It is the ideal destination for tourists seeking to explore an ancient and historically rich city. Founded in 1350, it reigned as the country's capital for more than four centuries and its ruins offer a tangible glimpse into its grand past. Stroll through these impressive remains to discover the secrets of its antiquity.
From its riverside location to its beautifully preserved temples, Ayutthaya is a breathtaking destination. Visitors can explore the ruins of Wat Phra Si Sanphet, Wat Phra Mahathat, Wat Phu Khao Thong, and Wat Chaiwatthanaram and imagine what life was like in the heyday of the old capital.
Add some adventure to the Ayutthaya historical sites through boat tours, cycling tours, or food tours. The tranquil environment with the unique charm of Ayutthaya makes it truly special. Why not come and try for yourself? You won't regret it!
Famous places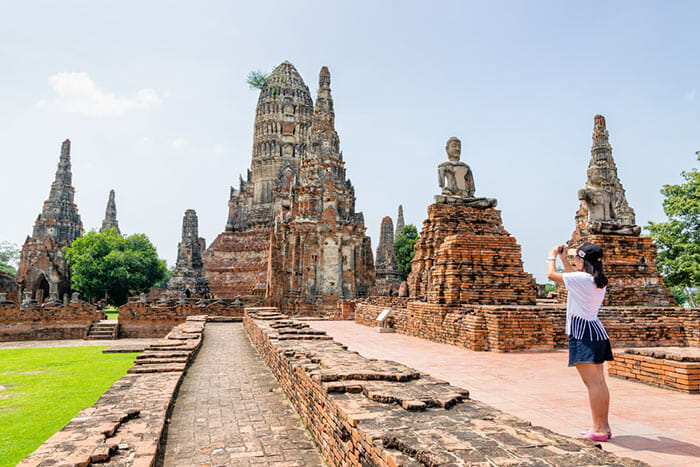 Nestled within the historic city of Ayutthaya, Wat Phra Si Sanphet is an ancient temple that holds a special place in the hearts of locals and visitors alike. Once the most sacred site in the old capital, it was the go-to place for Ayutthaya's royal family to offer their prayers. The temple's striking features include its three enormous gold-covered chedis, along with exquisite Buddha statues and intricate carvings that adorn its walls.
Another must-visit temple in Ayutthaya is Wat Phra Mahathat, which ranks among Thailand's most significant religious sites. This mesmerizing temple is famous for the iconic Buddha head entwined within tree roots – a sight that never fails to leave visitors awestruck. The ancient brick structures and detailed carvings throughout the complex only add to its allure.
The stunning 17th-century Wat Chaiwatthanaram, situated on the banks of the Chao Phraya River in Ayutthaya, is an impressive sight to behold and a symbol of this culturally rich region. This magnificent temple boasts a unique architectural design, featuring a multitude of chedis, towering structures, and a grand hall that houses an imposing Buddha statue. As you wander through the tranquil temple grounds, be sure to take in the beauty of its lush gardens and placid ponds – a peaceful setting perfect for a day of exploration.
Things to do in Ayutthaya
Boat Tour Along the Chao Phraya River
One of my favorite experiences in Ayutthaya is hopping on a boat tour along the Chao Phraya River. This enchanting ride offers an up-close view of iconic ancient ruins like Wat Phra Si Sanphet and Wat Chaiwatthanaram, along with other historical landmarks that dot the riverbanks. The tour also provides a refreshing new perspective on the city's beauty, as seen from the gentle waters.
Cycling Through the City
Another fantastic way to uncover Ayutthaya's charm is by cycling through the city. Not only do you get an intimate look at the ancient ruins, but you'll also stumble upon hidden treasures like traditional houses and bustling local markets. Exploring Ayutthaya on two wheels is truly an experience not to be missed!
Food Tour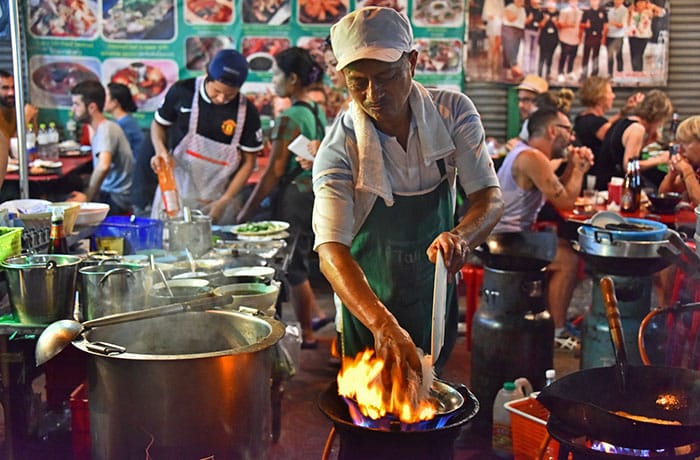 Lastly, I highly suggest taking a food tour to savor the delectable local dishes. With countless restaurants and street food stalls peppered throughout the city, a culinary journey through Ayutthaya is the perfect way to satisfy your taste buds. From zesty salads to delectable desserts, there's something to delight every palate.
Getting to Ayutthaya
Bangkok to Ayutthaya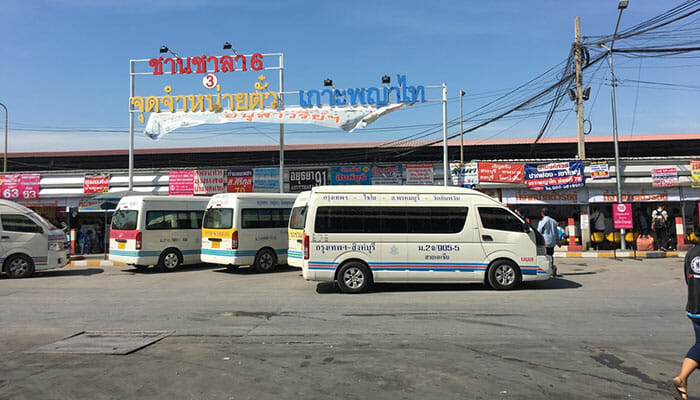 To get from Bangkok to Ayutthaya, the most convenient and straightforward option is taking a train. Trains depart from Bangkok's new Bang Sue station and arrive at Ayutthaya station. Trains in Thailand are notoriously slow but the 2-hour journey does give you the chance to sit back and enjoy the scenery as you amble past.
Departing from Mo Chit Bus Station in Bangkok, Ayutthaya minivans offer an affordable and comfortable alternative for reaching this incredible city. These well-maintained, modern minivans provide a cozy environment to connect with fellow travelers.
Keep in mind that these minivans typically wait to fill up before setting off, which might require some patience on quieter days. Although the journey isn't direct and includes a few stops, it's still quicker than a regular public bus, taking around an hour. Be sure to stay on board until the final stop, which is conveniently located near Wat Mahathat on Naresuan Alley.
Check out our guide: "How to Get from Bangkok to Ayutthaya. This article will provide you with all the information for your journey to the historical sites.
Traveling from Ayutthaya
Ayutthaya to Lopburi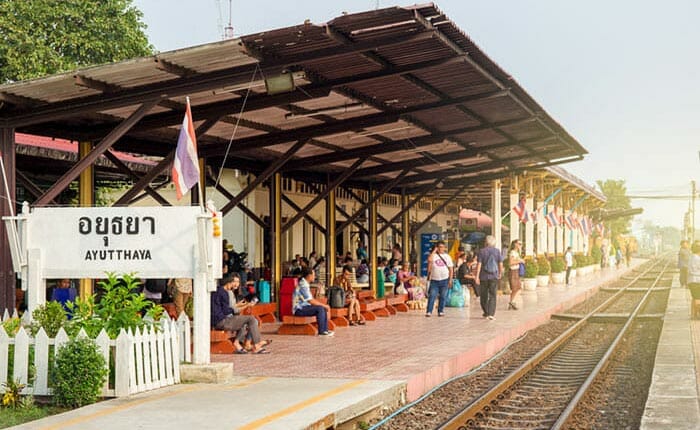 Being such a short journey, the train from Ayutthaya to Lopburi takes only about 50 minutes, giving you almost an hour to relax and enjoy the passing scenery. It's the perfect way to get a taste of train travel in Thailand and is reasonably priced.
For budget-conscious travelers, the most affordable way to travel from Ayutthaya to Lopburi is by bus and minivan, costing around 150 THB and taking approximately 1 hour and 45 minutes. The journey involves a transfer in Ang Thong, but frequent departures make it a convenient option. While the train offers a unique Thai experience, the bus is a great alternative for those on a tight budget.
Check out our guide: "How to Get from Ayutthaya to Lopburi". This article will provide you with all the information for your journey to the nearby monkey temple town Lopburi.
Ayutthaya to Chiang Mai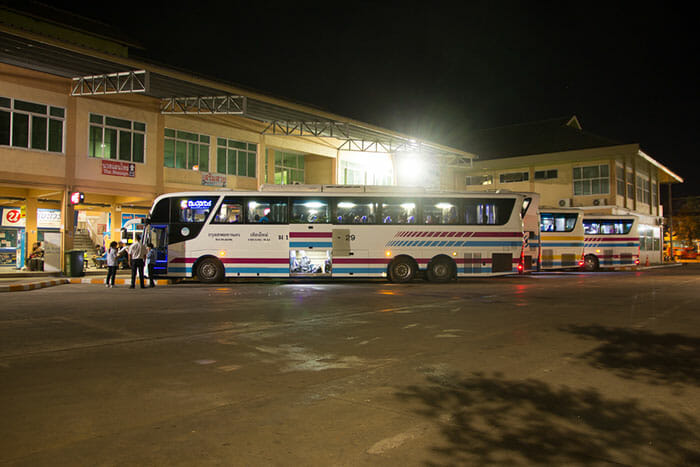 Travelers can reach Chiang Mai directly from Ayutthaya by bus or train, both offering picturesque views. Buses, the cheapest option, depart from Ayutthaya's Northern Bus Terminal, taking between 8-9 hours with varying comfort levels and prices.
Trains, the most popular choice, provide an affordable and scenic journey. With a selection of night trains and cabin options, travelers can enjoy a comfortable overnight trip, or opt for the daytime train with only 2nd class seats, which takes less than 10 hours.
Check out our guide: "Ayutthaya to Chiang Mai – Go by Bus or Train?" This article will provide you with all the information for your journey to the gateway to Northern Thailand – Chiang Mai.
Did you find this guide useful?
Click on a star to rate it!
Average rating: / 5. Vote count: