Visitors to Hua Hin can enjoy a paradise of lush green landscape, crystal clear waters and stunning beaches along the Gulf of Thailand, perfect for a luxurious and relaxing getaway. This resort town offers top-notch accommodation options and spa experiences that make it a must-visit destination!
Additionally, Hua Hin is famous for its rich history, especially its association with the Thai royal palace. History buffs will love exploring the palace and other historical landmarks in the area. Golfing enthusiasts will also be in heaven, with several world-class golf courses in Hua Hin, while those who love fishing will find plenty of opportunities to drop a line and reel in some fish.
Hua Hin is the perfect destination for those seeking a great shopping experience, offering a variety of options from bustling street markets to modern malls. The town's vibrant nightlife also beckons, boasting multiple bars, clubs and restaurants to explore. In addition, Hua Hin's convenient location makes it easily accessible for travelers and acts as a transport hub for those wanting to explore more of the country.
Hua Hin provides the perfect balance of relaxation, adventure, and cultural experience, making it an ideal destination for those seeking an optimal escape from nearby Bangkok.
Famous places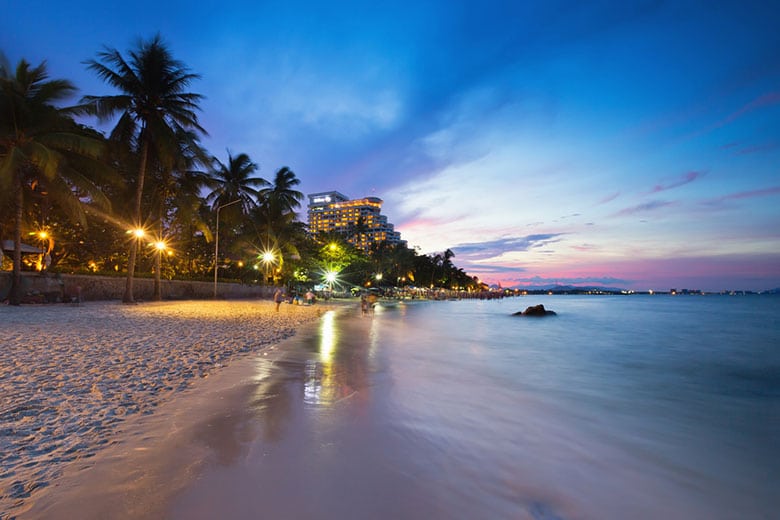 Hua Hin Beach
Hua Hin Beach is a perfect retreat for beach lovers and adrenaline seekers alike, with its sandy shoreline, sparkling waters and lush vegetation. Here you can take a dip in the sea or go kayaking, followed by delicious meals from the numerous bars, restaurants and street vendors. Whether seeking restful relaxation or an exciting nightlife experience, Hua Hin Beach is the place to be.
Wat Huay Mongkol Temple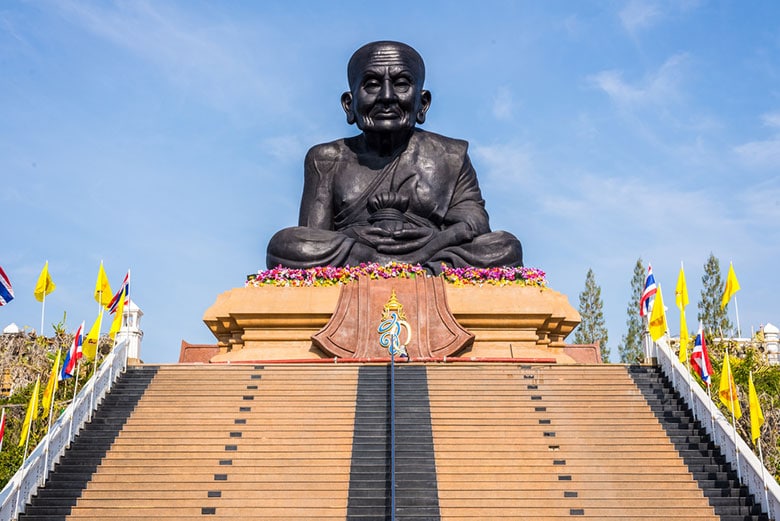 Wat Huay Mongkol Temple is a must-visit destination for those interested in history and culture, as it is dedicated to the beloved Buddhist monk Luang Phor Thuad and houses an impressive statue of him. Its tranquil atmosphere and lush greenery create a peaceful oasis away from Hua Hin's hustle and bustle, making it the perfect place to spend hours exploring and capturing beautiful photos. Whether you are spiritually inclined or simply curious about Thai culture, Wat Huay Mongkol Temple is an experience not to be missed.
The Royal Palace
The Royal Palace of Hua Hin is a must-visit destination for history buffs and royalists, boasting an impressive and rich history associated with the Thai royal family. Surrounded by peaceful green landscapes, this iconic landmark offers visitors the chance to explore its fascinating heritage as well as take stunning photos. Don't miss out on this unique opportunity to experience a slice of Thai history and culture!
Try Out the Hua Hin's Spa and Wellness Scene
Hua Hin is renowned for its spa and wellness scene, offering visitors a range of top-notch spa and wellness experiences. From traditional Thai massages to modern spa treatments, there is something for everyone. Visitors can pamper themselves with a relaxing massage, soak in a hot bath or try out one of the many beauty treatments on offer. Whether you're looking to relax and unwind or rejuvenate and refresh, Hua Hin's spa and wellness scene has something for everyone.
Golfing in Hua Hin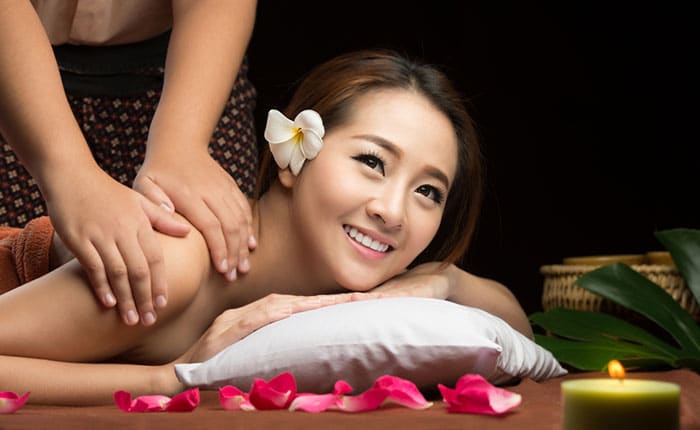 Golfing enthusiasts will love Hua Hin, with several world-class golf courses in the area. From challenging fairways to stunning landscapes, Hua Hin's golf courses offer the ultimate golfing experience. Visitors can challenge themselves on the greens, perfect their swing and enjoy a round of golf in a tropical paradise. Whether you're a pro or just taking your first swing, Hua Hin's golf courses are sure to provide an unforgettable experience in a tropical paradise.
To learn more about these courses and plan your golfing adventure, check out Golfasian's guide to Hua Hin golf courses here.
Sample the Exotic Flavors of Thai Cuisine
Food lovers will be in heaven in Hua Hin, with its thriving street food scene. Visitors can sample the delicious and exotic flavors of Thai cuisine, from fiery curries to sweet and sour dishes. From street food stalls to food markets, there is something to suit all tastes and budgets. Whether you're looking to try out traditional Thai cuisine or explore the latest food trends, Hua Hin's street food scene has something for everyone.
Getting to Hua Hin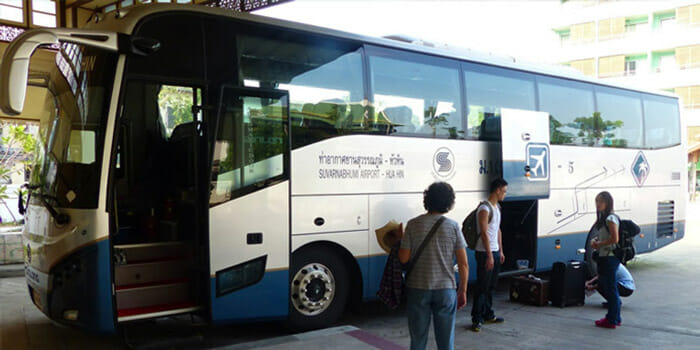 Bangkok to Hua Hin
Hua Hin, a popular weekend escape about 200 kilometers (125 miles) away from Bangkok, offers the allure of beach life with city-like amenities. Accessible by bus, van, or train, you have plenty of travel options to follow in the footsteps of Thai royalty who built summer residences there in the 1920s.
For bus travel, you can board a modern 24-seat coach at Suvarnabhumi Airport, with six daily departure times starting at 7 am. Tickets cost 305 baht, and baggage restrictions apply. From the city center, you can catch a bus to Hua Hin from the Southern Bus Terminal (Sai Tai Mai). The fare is around 200 baht, with buses departing every 20 minutes.
Alternatively, you can travel by minivan from various departure points, such as Mochit New Van Terminal, the Southern Terminal, Khao San Road, or Ekkamai. Minivans are generally cheaper and slightly faster than buses, but they offer less space for luggage.
If you prefer train travel, you can catch a train from Krung Thep Aphiwat central terminal. The train ride takes around 4 hours, with ticket prices ranging from 44 baht for the third class to 202 baht for the first class. Hua Hin Railway Station is a beautiful, historic destination in itself.
Ultimately, choosing between bus or train travel depends on your preferences for speed, comfort, and cost. Both options allow you to enjoy the beautiful scenery of rivers, mountains, and Thai temples along the way.
Read more about Bangkok to Hua Hin
Pattaya to Hua Hin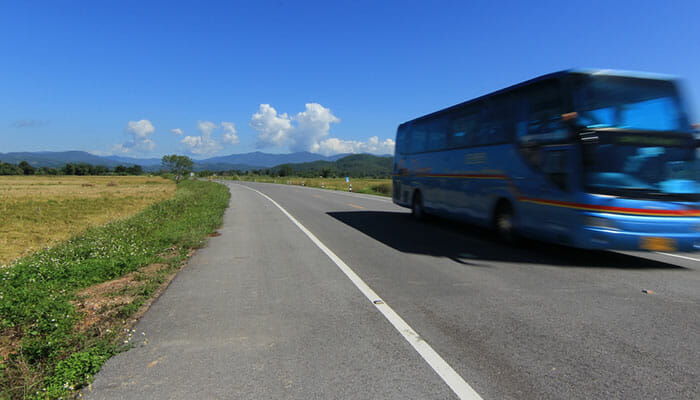 Pattaya and Hua Hin are two popular coastal cities in Thailand. While Pattaya offers a vibrant atmosphere and plenty of attractions, Hua Hin provides a more authentic Thai experience and a quieter pace. If you're planning to travel from Pattaya to Hua Hin, you have several options to choose from.
Bus: The most economical way to travel between the two cities is by bus, with Bell Travel operating VIP buses equipped with toilets, snack services, air conditioning, and TVs. Though significantly slower than the ferry, buses offer a comfortable journey for those on a budget.
Taxi or Minivan: For those seeking a faster road option, Hua Hin Cars and Glassflower provide various vehicles, such as standard taxis, minivans, comfort sedans, and 9-passenger minivans. The journey takes 4-5 hours and offers the flexibility of door-to-door service and customizable timings.
Train: Though not recommended due to the lengthy journey time, trains are another option. You'll need to change trains in Bangkok, and the total travel time is around 8 hours, excluding waiting time at the station.
Read more about the options for travel from Pattaya to Hua Hin.
Another Travel Guide to Hua Hin
Traveling from Hua Hin
If you're eager to embark on your next journey, Hua Hin has many different exciting destinations to explore – each offering its own distinctive attractions and experiences.
Hua Hin to Koh Samui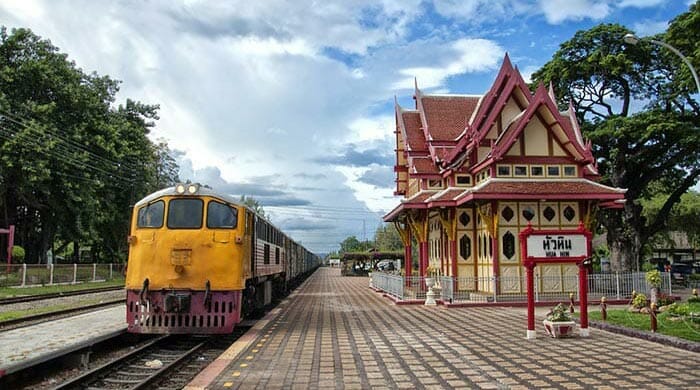 Traveling from Hua Hin to Koh Samui can be done by road and sea, and there are three options to choose from. The most popular option for traveling to your destination is taking the bus and ferry, for which you can book a conveniently combined ticket covering the entire journey. Another option is to take the train from Hua Hin to Chumphon and then the ferry, which offers more space and the chance to sleep on a bed if traveling overnight, but is slower and more expensive. A third option is to travel by bus from Hua Hin to Donsak and then take the ferry, which reduces ferry crossing time but increases the time spent on the bus.
For those who prefer to take the bus and ferry, the recommended ferry company is Lomprayah. They offer two departure times from Hua Hin, at 8:30am and 11:30pm. If you choose the 11:30pm bus, you will be traveling overnight, which can be good for those who can sleep easily on the bus, but the overall journey time is longer. The daytime bus is quicker, leaving Hua Hin at 8:30am and arriving in Koh Samui by 5:40pm the same day. You can also book a combined ticket that includes a transfer to your hotel on Koh Samui.
Read more about the options for travel from Hua Hin to Koh Samui.
Hua Hin to Koh Tao

The journey from Hua Hin to Koh Tao involves traveling by bus and ferry, as there is no airport on Koh Tao. The only travel company operating this route is Lomprayah, which offers modern and comfortable buses and ferries with a good safety record. Combined tickets for both bus and ferry portions are available. Read more about the options for travel from Hua Hin to Koh Tao.
There are two departures each day, one in the morning and one at night. The journey from Hua Hin to Koh Tao takes about 4.5 hours by bus and 1 hour and 45 minutes by ferry, arriving at Mae Haad Pier on Koh Tao. Both options take about 6-9 hours, with the overnight option providing the opportunity to sleep on the bus.
Did you find this guide useful?
Click on a star to rate it!
Average rating: / 5. Vote count: