Kanchanaburi, located in Thailand, is a destination brimming with history, nature and cultural heritage, making it a truly unique and special place to visit. The town is famous for its connection to World War II and the Death Railway, a notorious railway built by Allied prisoners of war. Visitors can pay their respects at war memorials and museums, preserving the memory of those who endured suffering and loss during the conflict.
But there's more to Kanchanaburi than just its haunting past – the area is home to breathtaking natural beauty. The Bridge over the River Kwai is a highlight, offering stunning views of the lush jungle and the river below. And for those who love the great outdoors, the national park offers opportunities for river rafting, elephant trekking, and even eco-tourism.
Kanchanaburi is an ideal destination for history and culture buffs, outdoor adventurers, and eco-tourists alike. Trek through the jungle, admire the many waterfalls in the area, or delve into its rich cultural heritage – there's something special here to suit everyone!
Famous places
Bridge over the River Kwai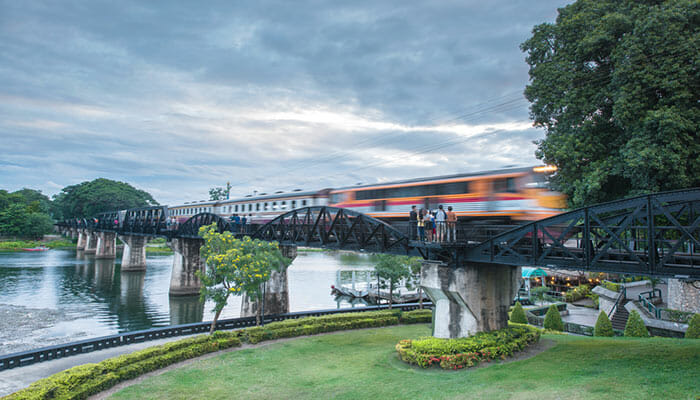 This iconic landmark in Kanchanaburi has become synonymous with the town's rich history and cultural heritage. Spanning the River Kwai, the bridge is a must-visit for anyone who wants to experience the beauty of the region and learn about its connection to World War II and the Death Railway.
Visitors can take a leisurely walk along the bridge, admiring the lush jungle and scenic river below. The Bridge over the River Kwai is a hub of activity, with vendors selling souvenirs and street food, and locals going about their daily business. It's a unique and fascinating place that offers a glimpse into the heart of Kanchanaburi and its rich history.
War Memorials & Museums
For those interested in the history of World War II, a visit to Kanchanaburi's war memorials and museums is an essential part of understanding the sacrifices made by prisoners of war during the construction of the Death Railway. There, one can explore fascinating artifacts and exhibits, including uniforms, photographs, and personal items that bring this story to vivid life. Paying respects to those who died is also a crucial part of the experience, and these war memorials are a powerful reminder of the brave men who suffered and lost their lives during the conflict.
Erawan National Park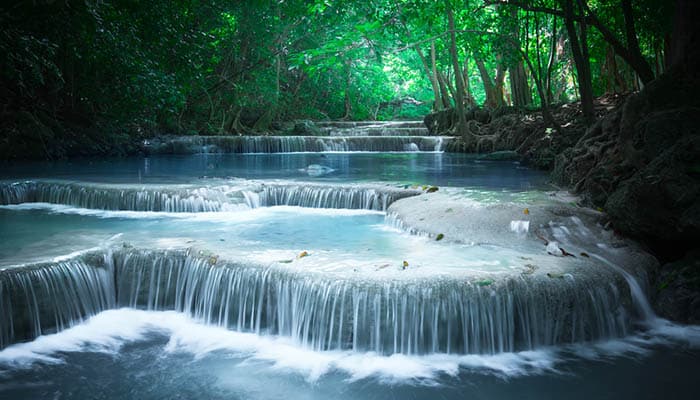 For nature lovers and outdoors enthusiasts, a visit to Erawan National Park is an absolute must. This stunning national park provides visitors with breathtaking waterfalls, lush jungle scenery, and so much more. Come and escape the urban bustle, allowing yourself to be immersed in the magnificence of nature.
Explore the towering trees, melodious birds, and sparkling waterfalls on foot. Or if you're after a bit more adventure, try your hand at river rafting or elephant trekking. There are even eco-tourism trips and cultural experiences available! Whether you're looking to relax and unwind or get your heart racing, Erawan National Park has something for everyone.
Get more information of Erawan National Park on thainationalparks.com
Things to do in Kanchanburi
For adventure seekers, river rafting in Kanchanaburi is a must-do activity. The region is known for its lush jungle, pristine rivers, and scenic beauty, and what better way to experience it all than from the water? River rafting provides a thrilling and unique way to explore the area and get up close and personal with the natural surroundings.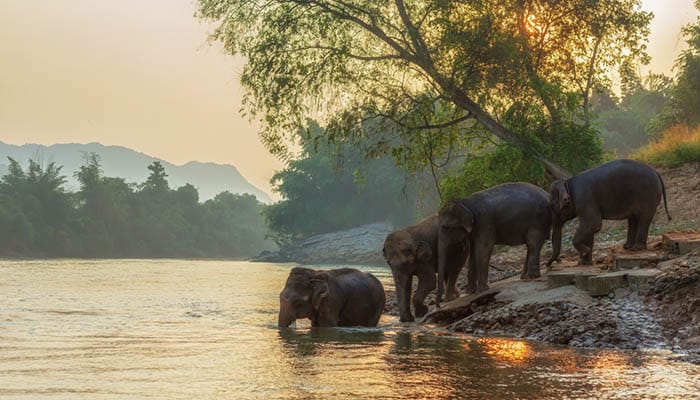 Those seeking a unique experience should definitely consider elephant trekking in Kanchanaburi. Surrounded by lush jungle, the region is home to many elephant camps where visitors can interact with these gentle giants and gain insights into their care and conservation. An elephant ride through the serene forests of Thailand is an unforgettable opportunity to admire the beauty of nature and gain appreciation for the importance of elephants in Thai culture.
Kanchanaburi is a destination rich in cultural heritage, and there are a number of experiences that allow visitors to get a taste of the local culture. From visiting traditional villages and temples, to learning about the town's fascinating history and cultural traditions, there's something for everyone in Kanchanaburi. Whether you're interested in learning about the local cuisine, or immersing yourself in the local customs, there's a cultural heritage experience that's perfect for you.
Getting to Kanchanburi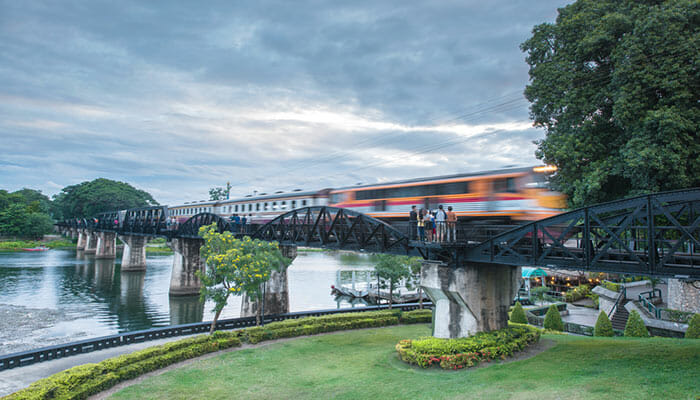 Bangkok to Kanchanaburi
Bangkok to Kanchanaburi is a popular trip for travelers who want to explore the historical and natural sites in the region. There are several options for travel between Bangkok and Kanchanaburi, including by train, bus, taxi, or minivan.
The train journey is the most scenic, taking 2.5 to 3 hours, with two trains departing from Thonburi station in Bangkok and two trains departing from Kanchanaburi. The trains go over the River Kwai but the bridge is located 3 kilometers (nearly 2 miles) from Kanchanaburi, so an additional ticket is required to cross the bridge by train.
Buses to Kanchanaburi depart from multiple locations around Bangkok and take between 3 to 4 hours. Minivans are also available and are slightly more expensive but more convenient than the train or regular bus.
Read more in our complete guide: Bangkok to Kanchanaburi – Go by Bus, Train or Taxi?
Did you find this guide useful?
Click on a star to rate it!
Average rating: / 5. Vote count: