If you're looking for a unique travel destination, Chiang Rai in Thailand is definitely worth considering! This picturesque province entices with its captivating combination of culture, architecture, and natural beauty, all set within the majestic backdrop of rolling hills and lush landscapes.
For starters, Chiang Rai is home to a wealth of hill tribes and ethnic communities, each with their own rich traditions and customs. From the Akha people to the Yao and Lahu, a visit to Chiang Rai offers a chance to immerse yourself in the local culture and learn about the history and lifestyles of these fascinating groups.
But that's not all! Chiang Rai is also famous for its stunning architecture, including the awe-inspiring White Temple and the mysterious Black House. These iconic structures, both designed by local artist Thawan Duchanee, are unlike anything you'll see anywhere else in the world, and offer a visual feast for the eyes.
Finally, Chiang Rai is nestled in the legendary Golden Triangle, an area where Thailand, Laos, and Myanmar converge. Outdoor adventurers and nature lovers will delight in the breathtaking mountain ranges, rolling hills, and crystal-clear rivers of this paradisiacal landscape.
Famous Places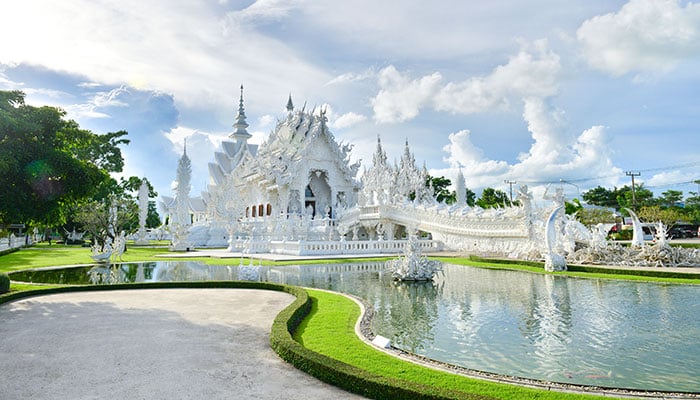 The White Temple, also known as Wat Rong Khun, is a mesmerizing piece of architecture in Chiang Rai. This iconic structure, designed by local artist Thawan Duchanee, is a shining example of contemporary Thai art and design. Its stunning, snow-white facade is decorated with intricate details and glass mirrors, making it a truly unique and unforgettable sight.
A visit to the White Temple offers a chance to step into another world, where beauty and creativity are intertwined in a harmonious blend. For art enthusiasts and those seeking a remarkable experience, the White Temple should not be overlooked!
The Black House, also known as Baan Dam, is another must-visit destination in Chiang Rai. This mysterious and intriguing structure was also designed by Thawan Duchanee, and offers a stark contrast to the glittering white of the White Temple. The Black House is a series of interconnected pavilions, each showcasing the artist's unconventional style and unique vision.
From the unusual mix of natural materials to the odd collections of objects and animals, the Black House is a true feast for the senses. If you're seeking an adventure away from the everyday path, this mesmerizing destination won't soon be forgotten!
The Golden Triangle is a legendary region in Chiang Rai where the borders of Thailand, Laos, and Myanmar converge. This region, with its striking mountains, undulating hills, and peaceful rivers, forms an inviting setting for outdoor activities and provides a splendid playground for nature aficionados to discover.
Things To Do In Chiang Rai
Chiang Rai is a vibrant and exciting destination that offers a wealth of activities for visitors of all interests and ages. Here are three of the best things to do in Chiang Rai:
Explore local markets and street food scenes: Chiang Rai is a foodie's paradise, with a plethora of street vendors, local markets, and restaurants serving up delicious Thai cuisine. Take a stroll through the bustling night markets, sample exotic flavors, and chat with the friendly locals to get a true taste of life in Chiang Rai.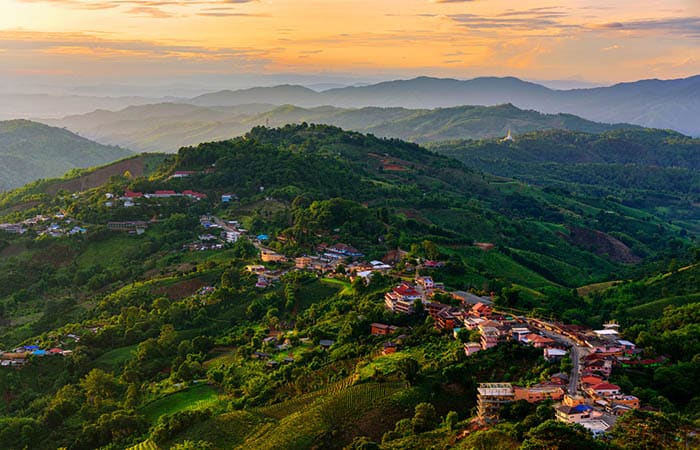 Visit hill tribe villages and learn about their cultures: Chiang Rai is home to a rich tapestry of hill tribes and ethnic communities, each with their own unique customs and traditions. Take a guided tour to learn about these fascinating groups, and discover the rich cultural heritage of northern Thailand.
Enjoy outdoor adventures and nature experiences: Chiang Rai is surrounded by breathtaking natural beauty, with lush hills, pristine rivers, and rugged mountain ranges. Feel the thrill of engaging in outdoor pursuits such as rafting, hiking, or rock climbing, or simply soak up the beauty in the picturesque tranquility of the rural surroundings.
Whatever your preferences may be, Chiang Rai is certain to cater to your desires! So prepare yourself for an unforgettable journey as you explore the exhilarating, adventurous, and stunning offerings of this remarkable province!
Getting to Chiang Rai
Bangkok to Chiang Rai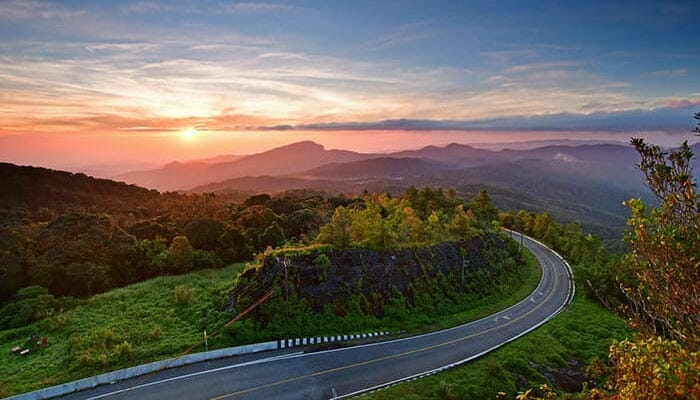 Getting to Chiang Rai from Bangkok (approximately 800 km or 500 miles apart) can be an adventure, taking you through charming towns, cities, and stunning landscapes. Popular options include bus or flight, with no direct railways between the cities.
Going by bus from Bangkok to Chiang Rai is a cheap option, popular among tourists and locals alike. Buses depart from Mo Chit Bus Terminal, the main station for services to northern Thailand. Several bus companies offer daily services from Bangkok's Mo Chit Bus Terminal to Chiang Rai, with the journey taking around 10-12 hours. Night buses are a popular choice, leaving late afternoon or evening and arriving early the following morning, allowing travelers to save on accommodation costs.
For a quicker journey, consider flying from either Don Mueang or Suvarnabhumi airports in Bangkok. Budget airlines offer reasonably priced tickets, with a flight time of around 1 hour 15 to 1 hour 30 minutes.
A final, more expensive option is hiring a private taxi, which is suitable for larger groups. Regardless of your budget or time constraints, Chiang Rai awaits its enchanting attractions and natural beauty.
If you'd like more detailed information about all the transport options available for getting from Bangkok to Chiang Rai, including information about flight schedules, bus services, and private car hire, check out this post. It covers everything you need to know to make your journey as smooth and stress-free as possible!
Chiang Mai to Chiang Rai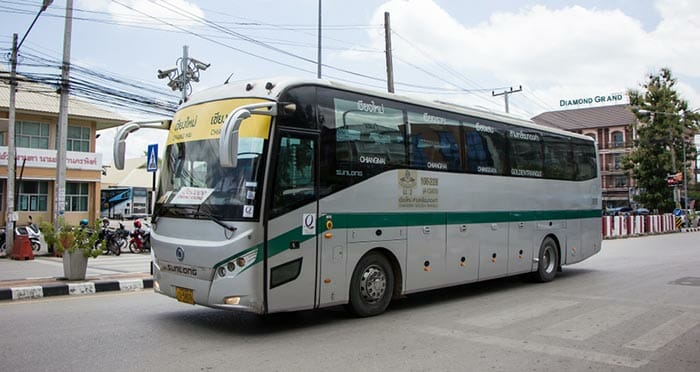 The distance between these two cities isn't actually very far, about 200 kilometers (125 miles), but there are no major highways connecting the cities so the journey does take longer than you might expect. Traveling by road from Chiang Mai to Chiang Rai is the only opti
on because there are no trains, and although both cities do have airports, the distance between them is too short to warrant offering any flights.
The most popular choice for tourists is the bus, as it's affordable, convenient, and reliable. Buses takes around 3 hours and offers regular departures from Chiang Mai's Arcade Bus Station. The buses are modern, air-conditioned, and offer comfortable seating for the journey.
If you're not in the mood for a bus ride and prefer a little more luxury and privacy when making the trip from Chiang Mai to Chiang Rai you could opt for a private chauffeured car or minivan.
In summary, your options for traveling between Chiang Mai and Chiang Rai are limited to buses with Greenbus Company or a private car or minibus.
To find out more about your transportation options from Chiang Mai to Chiang Rai, read our full guide.
Udon Thani to Chiang Rai
Traveling from Udon Thani to Chiang Rai might seem daunting, but with the right information, it's a smooth and enjoyable journey.
Udon Thani, a bustling city in Northeast Thailand, and Chiang Rai, a serene destination in the North, are approximately 730 kilometers (453 miles) apart. There are no direct flights between the two cities, so you'll need to consider a combination of flight + bus.
The most convenient option is to take a flight from Udon Thani to Chiang Mai, which is only 3.5 hours away. Several airlines operate this route, including Nok Air, Thai AirAsia, and Thai Lion Air. Once you've landed in Chiang Mai, you can choose between a bus or a private car to continue to Chiang Rai.
Buses from Chiang Mai to Chiang Rai are operated by the reputable Greenbus Company.
Alternatively, you can hire a private car or minivan for a more comfortable and private experience. Although this option is pricier, it allows you to enjoy the lush scenery and make stops along the way as you, please.
In summary, the easiest way to get from Udon Thani to Chiang Rai is to first fly to Chiang Mai. Then take a bus or a private vehicle for the final leg of the journey.
Pai to Chiang Rai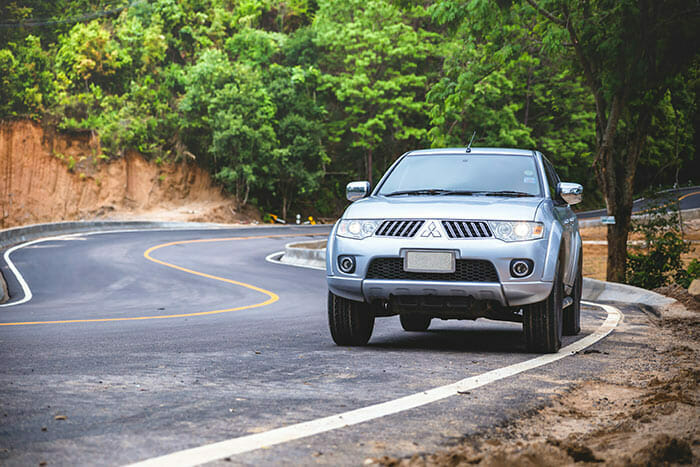 Despite the short straight-line distance between Pai and Chiang Rai (around 180 km or 113 miles), the mountainous and winding terrain necessitates a longer journey. Currently, there are no direct flights available, so travelers must opt for either bus, minivan, or taxi.
Covering a little over 300 km (187 miles), the journey by bus is lengthy and may cause motion sickness due to the numerous bends and bumps. There are no direct buses between Pai and Chiang Rai, so you'll need to change buses in Chiang Mai. The entire trip takes approximately 8.5 hours, with the Chiang Mai to Chiang Rai leg accounting for about 3.5 hours.
For a more convenient and comfortable journey, consider traveling by minivan. Although slightly more expensive than the bus, minivans offer a direct route and can navigate mountain roads more efficiently, resulting in a smoother and faster ride.
If you prefer a private and flexible trip, book a private taxi. Although this option is pricier, you can customize your pick-up and drop-off locations and travel at your desired time. For those in a group or with a family, hiring a 9-passenger minivan can make the cost more manageable.
In conclusion, the minivan is the most recommended option for a balance between cost and convenience, while a private taxi is best for travelers seeking flexibility and personalized service.
For more information on how to get from Pai to Chiang Rai, including details on all modes of transportation, you can check out this comprehensive post on Pai to Chiang Rai.
Traveling from Chiang Rai
For a tourist who has explored Chiang Rai and is looking for their next adventure, there are several options available to them.
Chiang Rai to Luang Prabang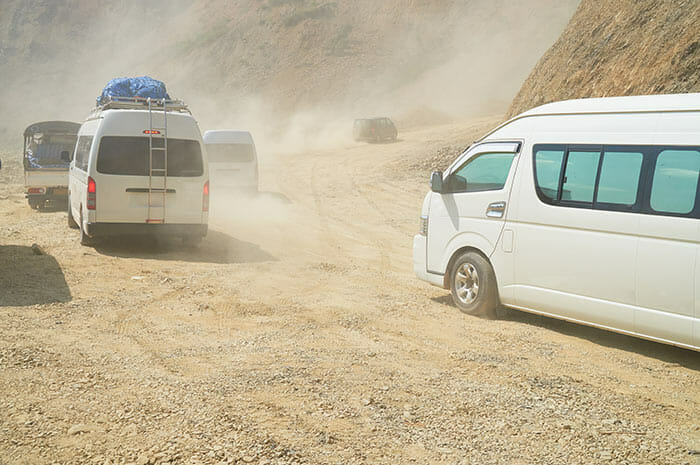 From Chiang Rai, Thailand to the captivating city of Luang Prabang in Laos, a journey across borders is needed to uncover the hidden jewels of Southeast Asia. Here's a brief guide on how to reach Luang Prabang from Chiang Rai.
Chiang Rai to Chiang Khong by Bus or Taxi:
Begin by traveling approximately 115 km (71 miles) to the Thai-Lao border town of Chiang Khong. Buses depart regularly from Chiang Rai, taking around 2-3 hours. Alternatively, hire a taxi for a quicker and more comfortable ride.
Cross the Thai-Lao Border:
Upon arrival in Chiang Khong, head to the Thai immigration office to complete your exit formalities. Afterward, cross the Friendship Bridge to the Lao town of Huay Xai, where you'll need to obtain a visa-on-arrival before proceeding.
Huay Xai to Luang Prabang by Boat or Bus:
From Huay Xai, you have two main options to reach Luang Prabang:
a) Slow Boat: Embrace the scenic beauty of the Mekong River by taking a slow boat, a journey that typically takes two days with an overnight stop in Pakbeng.
b) Bus: Alternatively, catch a bus from Huay Xai to Luang Prabang. The ride takes about 12-15 hours and often includes an overnight journey.
In summary, reaching Luang Prabang from Chiang Rai involves a multi-step adventure. Choose between a picturesque slow boat ride along the Mekong or a bus journey to experience the enchanting culture and landscapes of Laos.
Chiang Rai to Bangkok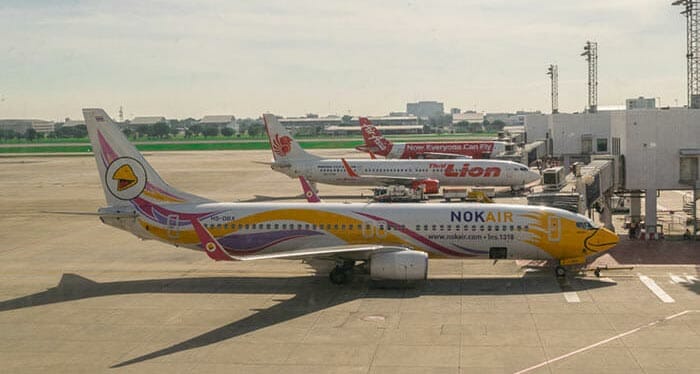 Getting from Chiang Rai to Bangkok is just as easy as the journey in the opposite direction, with two convenient transport options available.
By Air: The Fastest and Most Convenient Option
With a flight duration of approximately 1 hour and 20 minutes, traveling by air is undoubtedly the quickest way to reach Bangkok from Chiang Rai. Multiple airlines, such as Thai Smile, Thai Vietjet Air, and Nok Air, operate daily direct flights between Chiang Rai International Airport (CEI) and Bangkok's two airports: Suvarnabhumi (BKK) and Don Mueang (DMK). The frequency of flights ensures flexibility in planning your journey. Although flying can be more expensive than taking a bus, booking in advance or during promotional offers can help you find affordable fares.
By Bus: A Budget-Friendly Alternative
If you prefer a more budget-conscious option, consider taking a bus from Chiang Rai to Bangkok. The journey, which covers roughly 800 km (497 miles), takes about 12-14 hours. Several bus companies, such as Sombat Tour and Greenbus, provide overnight services with varying levels of comfort, including VIP coaches with reclining seats. Bus tickets can be purchased at the Chiang Rai Bus Terminal or online through various booking platforms.
In conclusion, choose between a swift flight or a budget-friendly bus ride to travel from Chiang Rai to Bangkok.
Did you find this guide useful?
Click on a star to rate it!
Average rating: / 5. Vote count: