Lomprayah is one of the largest, best-known, and most reputable transport companies operating in Thailand today, and if you're touring around this beautiful country, you will likely have the opportunity to travel with them on more than one occasion. Lomprayah specializes in travel routes from Bangkok, heading south, especially to some of the country's most visited islands like Koh Samui, Koh Phangan and Koh Tao, as well as to several of the major towns in Southern Thailand, including Hua Hin, Chumphon, Krabi, and Surat Thani. As well as providing bus connections from and to Bangkok, Lomprayah operates its own fleet of high-speed catamaran ferries, allowing them to sell joint tickets for your entire journey, and to guarantee all connections along the way. If you're planning a trip from Bangkok to the south of Thailand, continue reading our Lomprayah review to find out more information on this transport company, and whether they are recommended.

Lomprayah has been shuttling travelers around Southern Thailand for over 20 years! They started operating in 1996 and became a registered company, Lomprayah High Speed Ferries Co Ltd, in November 1999. Since then, they have built their fleet of high-speed catamarans to provide numerous daily services to many of Thailand's most popular islands, via regional cities, from Bangkok.
Although their full name is Lomprayah High Speed Ferries, the company provides a lot more than just the ferry services. They expanded to include a fleet of buses and vans to provide connections from Bangkok to the ferry piers in the south, plus pickups from hotels or airports, allowing them to offer transportation for the entire journey. For travelers, this makes it especially easy, cost-effective, and hassle-free to book a trip from Bangkok to Koh Samui, for example. This is because every leg of the journey is included in the ticket price, the connections are guaranteed, and you don't have to worry about transferring from one mode of transport to another, or finding your way to a ferry pier from the bus station, as they are with you every step.
Lomprayah's buses are some of the most modern you will find operating on Thailand's roads. All of them have air conditioning, and they are comfortable and well maintained. They have double decker buses for longer journeys, smaller buses and mini buses for shorter connections, and mini vans for quick trips to and from pick-up points.
On the water, they operate seven high-speed ferries. All of these ferries tend to be a little smaller and faster than their competition, which is good news for passengers. Smaller capacity ferries mean that they can be loaded and unloaded faster so you don't have to wait a long time at the pier while everyone gets on and off. Lomprayah is also proud of the fact that their fleet of ferries are among the fastest, getting you to your island destination in quicker time than other ferries, and that they are modern, comfortable, safe, and well equipped.
One final advantage to traveling with Lomprayah is that they have dedicated ports and piers for their ferries. This means they are not sharing their departure points with other ferry companies, adding to their high quality service because they're able to give passengers a more personal and relaxed travel experience.
Lomprayah Customer Reviews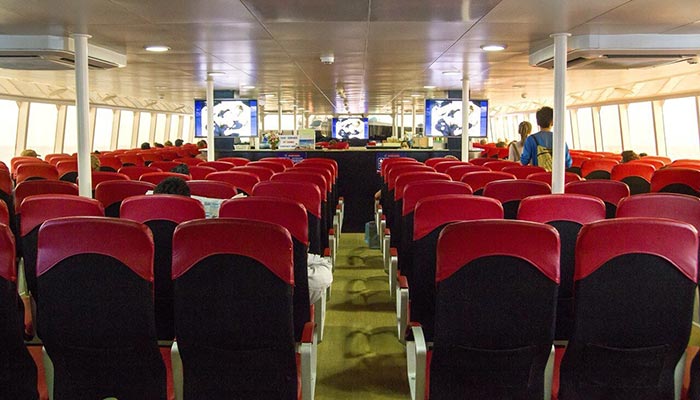 In theory, Lomprayah sounds like the ideal transport company to use when traveling from Bangkok to Southern Thailand, but their passengers are the best judges. So, what do the Lomprayah reviews say about the company and the quality of their services?
You can find a lot of reviews about Lomprayah on the travel booking website, 12Go.asia. They sell tickets for all of Lomprayah's services, making this a good place to search for and book tickets for your travel plans in Thailand. You can also compare the Lomprayah service, schedules and prices with other companies who also offer the same connections from Bangkok. Joint tickets, which we mentioned above, can also be purchased this way, saving you time and hassle of searching for all your connections independently.
As a major reseller of Lomprayah tickets, thousands of passengers have booked through 12Go and left reviews for Lomprayah. At the time of writing, Lomprayah had a 4.1 out of 5 stars rating, based on ratings and reviews left by close to 9,800 customers, which is a very good overall rating to have. Looking at some of the recent reviews, customers who did not give 5 stars commented about the fact that the ferry departure point had changed and had not been communicated to them. Others commented that along the trip, communication from Lomprayah's staff could have been better, as could the level of English so that more passengers could understand. Unfortunately, in countries like Thailand, finding and keeping employees who do speak a good level of English is a challenge for many companies, so a lack of communication is a common problem that is not only applicable to Lomprayah.
Should You Travel with Lomprayah?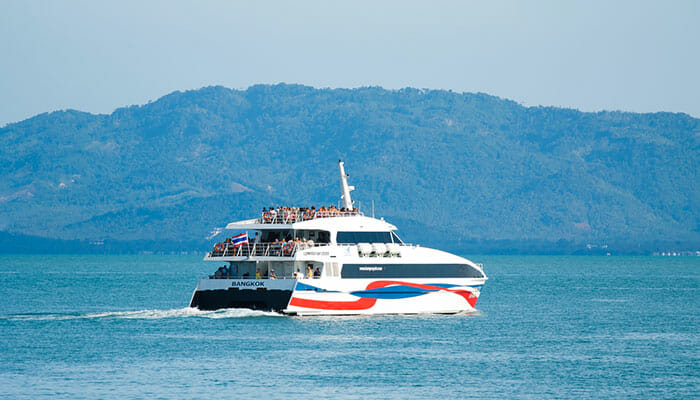 One thing to bear in mind when considering whether to travel with Lomprayah is the cost of Lomprayah tickets. You will likely find that traveling with Lomprayah does cost more than their competitors, but this is because you get what you pay for – with Lomprayah this means a modern and safe fleet of buses and ferries, a very good reputation, and reliability, so if those are things that you look for when booking your travel plans, a trip with Lomprayah should be high on your list. If you prefer to save money and use a service that is slower and does not have guaranteed connections, there are plenty of other bus and ferry companies operating in Thailand to consider.
In our opinion, while we accept that many people are traveling on a budget and don't mind taking a little longer to get to their destination, safety and reliability are two of the most important factors when traveling, and research has shown that Lomprayah comes out with excellent results in both these areas.