Seatran Discovery is a large, well-known and respected transport provider in Southern Thailand, operating numerous routes between the country's most popular islands, and to and from the mainland by ferry, as well as on-land transfers to and from airports and hotels to the ferry piers. With their large fleet of ferries and land vehicles, an extensive route of services, and their reputation for using modern and safe ships, Seatran Discovery is a trusted name in the Thai transport industry. If you're planning to island hop, or you just want to visit one island, Seatran Discovery always has many options with multiple departures darting around the open seas every day.
You may find that traveling with Seatran Discovery is a little more expensive than some of their competitors, but many previous passengers will tell you that paying a little more was well worth it. So, what sets Seatran Discovery apart from their competitors? Our Seatran Discovery company review will give you the answers.
About Seatran Discovery

The company, Seatran, started life in July 2002 as Seatran Ferry with the main aim of increasing the number of services, quality and safety of ferries operating to and from Koh Samui – one of Thailand's most popular and most visited islands. The Thai government around this time was planning to increase development of the tourism industry on Samui, so it made sense to have more ferry operators providing services to ease congestion on this popular route in addition to daily flights arriving on Samui from Bangkok.
Over the following years, the company grew, including building their own piers so as to provide an even better service. By using their own dedicated piers, it allowed the company to load and unload ferries faster, without having to worry about other ferry companies being in the way and hence reduced the number of passengers milling around on the pier who would otherwise have ben waiting for multiple ferry departures.
In 2004, Seatran estabilshed a new company that became known as Seatran Discovery, and in this same year they launched a luxury yacht service to take wealthier passengers around the Thai islands on a luxurious vessel with a 100-passenegr capacity. Meanwhile, their ferry services increased and today they serve around 18 different destinations in Southern Thailand, departing from 13 different points. Their fleet includes ferries of different sizes, depending on the route and demand, with a maximum ferry capacity of 300 people.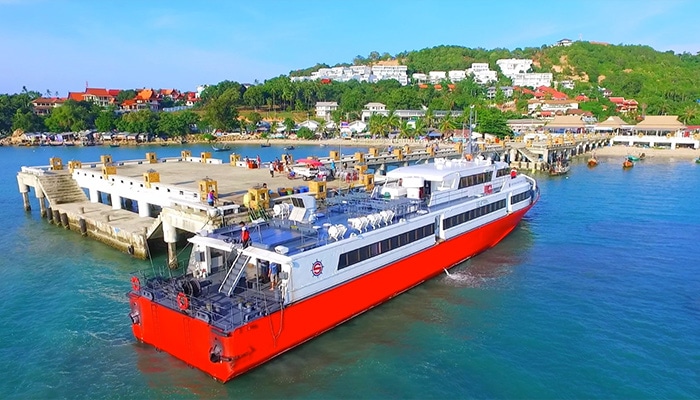 Some of Seatran Discovery's routes include Donsak Pier in Surat Thani (on the mainland) to Koh Samui, Koh Phangan and to Koh Tao, of which there are usually two ferries per day to each of these islands. Services from Koh Samui are very popular too, going to the other Thai islands of Koh Phangan, Koh Tao, Phi Phi, and Koh Lanta, as well as to and from Phuket.
Schedules and prices depend on the routes, as do journey times. Some of the fastest Seatran Discovery ferries dart to and from the mainland (Donsak) to Koh Samui, taking just 90 minutes, while the longer journeys can be as much as 8.5 hours in total when traveling from Koh Samui to Koh Lanta. This isn't a direct ferry but instead travels back to the mainland, then involves a bus transfer to Krabi, followed by the ferry to Koh Lanta.
With a fleet of ferries on the water, and buses and vans on dry land, this allows Seatran Discovery to offer combined tickets that cover your entire journey. The benefit of a joint ticket is twofold for customers – it's much easier to book a joint ticket as you make just one booking and you get to travel the entire distance using just one company as opposed to multiple transport providers. This makes it easier and can guarantee your connections in the event of a delay. It can also be a more cost-effective way to travel.
Also remember, as we mentioned earlier, that Seatran Discovery offers transfers as well. You can travel to and from some of the airports in Southern Thailand, direct to the ferry pier with Seatran Discovery, and they even offer hotel transfers too. The airports covered by Seatran Discovery are Krabi, Surat Thani and Nakhon Si Thammarat.
If you want to book tickets with Seatran Discovery, they have a very good website, but for comparison purposes – to check schedules, compare prices and availability, and maybe see some options you hadn't thought of – we would recommend booking your tickets on the travel website, 12Go.asia. They have great search results pages that show you all the different companies and you can easily filter if you only want to see ferries, for example.
Seatran Discovery Customer Reviews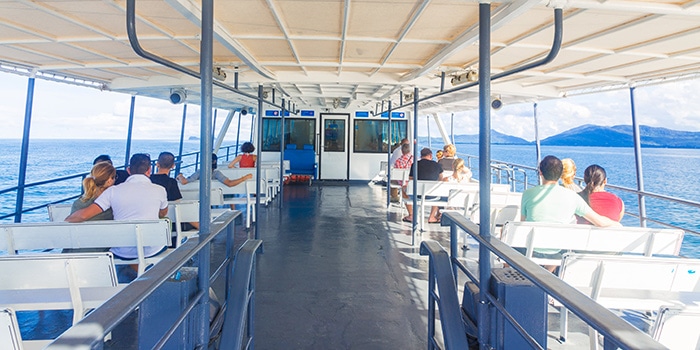 Now that we've told you all about the different services that Seatran Discovery offers, you may be wondering if they're good at what they do. Previous customers are the best judges, and if you check out the 12Go website that we just mentioned, you can read recent and not so recent reviews. Right now, around 5,300 customers have left a Seatran Discovery review, and the company has an overall rating of 4.2 stars out of 5 stars. Of those, 50% gave the full 5 stars, while 30% gave 4 stars, so that's 80% of the ratings already. At the lower end, just 13% gave 3 stars, 4% gave 2 stars, and only 3% gave 1 star.
Bear in mind that 12Go has served around 180,000 Seatran Discovery customers so the vast majority of those did not leave a review so we can only guess that they were happy with the service.
Of the highest reviews, customers mentioned that everything was great, on-time, well organized, clean and efficient. On the reviews where less than 5 stars were given, some of the issues mentioned include that they do not take your luggage or help you with your luggage onboard – this is something that previous customers of Seatran Discovery have mentioned in the past. While some ferry companies will load your luggage, they do it such a way that items can get damaged and everything is thrown in together. Seatran Discovery made the decision not to loads passenger's luggage as they prefer everyone to be responsible for their own items.
Other reviews of Seatran Discovery stated that organization was not so good and they weren't told where they needed to go etc, but this seems to depend as others have said the organization was very good. Another complaint was delays, but unfortunately this is a fact of life when traveling in Thailand!
Should You Travel with Seatran Discovery?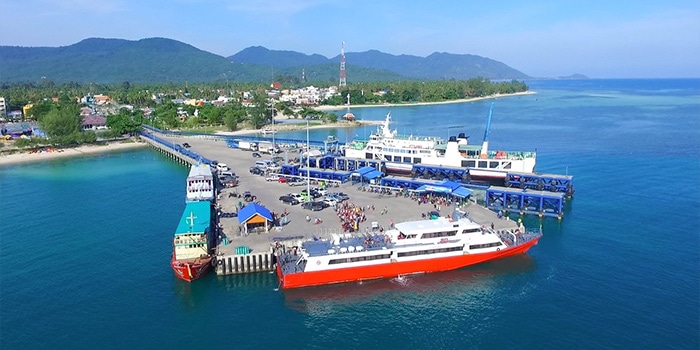 Seatran does have a very good reputation and they're well known for being safe and reliable too. As with any transport company in Thailand, delays are inevitable and should be expected. With joint tickets available including transfers and ferry, traveling with Seatran Discovery is generally easy and hassle-free. They are sometimes known for being a little more expensive than some other ferry companies, but this is because they are also known for providing a better service.
The best thing about using Seatran Discovery is that they have such a good route system and a good schedule, with many ferries departing daily to Thailand's most popular islands. This makes it a lot easier to find availability with Seatran Discovery compared to some other companies. Seatran Discovery reviews also tell us that customers are generally very happy with their service, so we cannot see any reason not to use them, and if you do want to book tickets, remember to check online at 12Go.asia.