Visit Hua Hin and you definitely won't get bored; there are plenty of things to do in Thailand's original beach resort. Stroll along the beach at sunset, take to the water for a swim, then relax over a cool drink at one of the many bars. Explore Hua Hin's markets and temples where you can mix with the local people and really get a sense of the town's inviting atmosphere. If you need more inspiration here's our list of 15 top Hua Hin attractions.
1. Cicada Market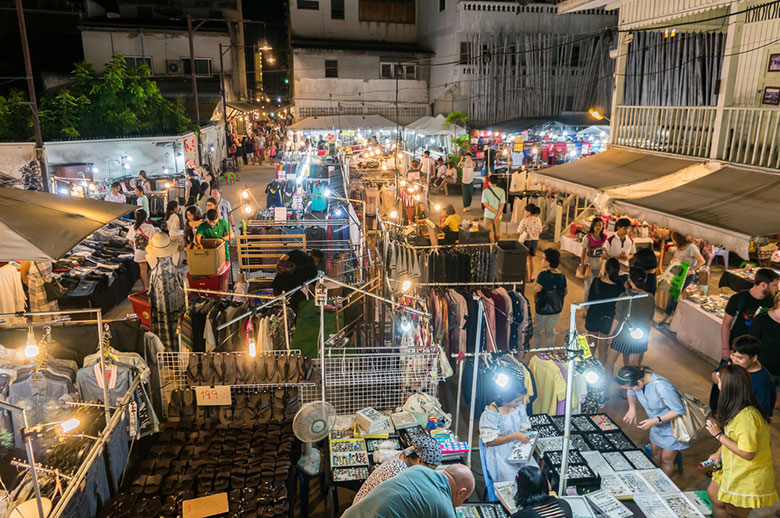 The top attraction on our list of things to do in Hua Hin is a weekend night market. Similar to Hua Hin Night Market, Cicada Market offers souvenirs and food, but it also has a more creative side to it. This is a place where local artists and designers display and sell their work so you can shop for some very different souvenirs of your trip, including handmade decorations and clothing. You could also be treated to some interesting workshops and performances by the local creative community. The aim of the people who run the market is to capture your imagination and provide a link between you and the artists. You won't be short of something to eat when you visit the Cicada Market; there are plenty of places where you can sit, rest your feet and enjoy life. The food zone caters for all tastes and includes an array of traditional Thai cuisine for you to enjoy. If you're looking for things to do in Hua Hin then you should definitely add Cicada Night Market to your list. You can shop, eat and enjoy plenty of free entertainment at this popular attraction.
Opening Hours: Friday-Sunday 4–11PM
Google Maps
Official Website
2. Vana Nava Water Jungle Hua Hin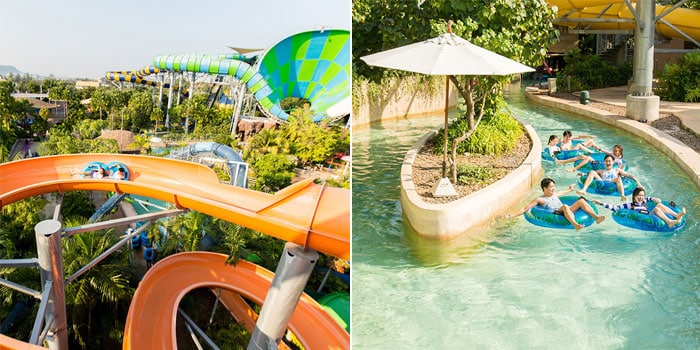 Relaxing days on the beach are great, and Hua Hin has plenty of places where you can do that, but sometimes it's nice to do something different! Vana Nava Water Jungle Hua Hin allows you to soak up the sun while having tons of fun in the water. This jungle themed water park will keep adults and kids occupied for a full day with its many water slides, a lazy river, lots of pools and even an obstacle course. The great thing about this Hua Hin attraction is that it will appeal to the whole family, with sections specifically for kids and families so that the little ones can have fun in the water too. And adults haven't been forgotten with some extreme slides for an adrenaline filled ride! The jungle theme provides lush vegetation and areas in the shade when you need a break from the sun, and after all that messing around in the water, there are multiple places to grab a bite to eat. Vana Nava Water Jungle is a little way south of the center of Hua Hin, on the Petchkasem Road, and even has a hotel right beside it, the Holiday Inn Resort Vana Nava Hua Hin.
Opening Hours: 11AM–5PM
Google Maps
Official Website
3. Huay Mongkol Temple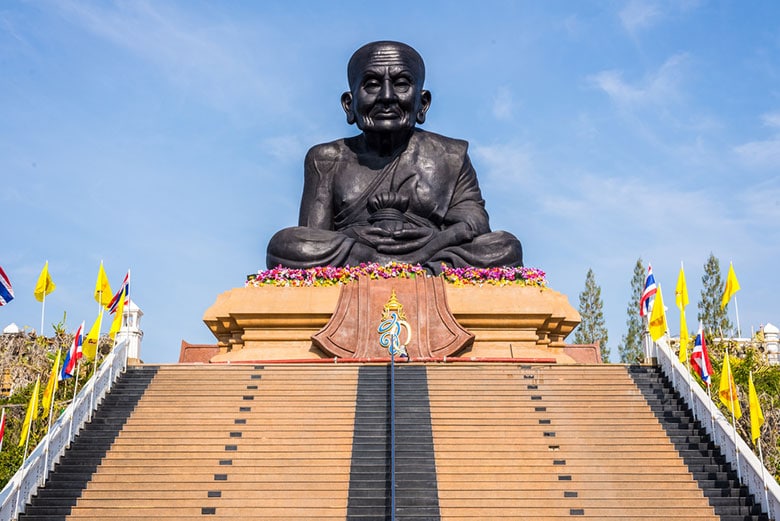 A popular Hua Hin attraction is the statue of Luang Phor Thuad at Huay Mongkol Temple. Luang Phor Thuad was a famous monk in Thailand and the statue was built in his honor. The size of the statue is awe inspiring; it's almost 40 feet high and around 32 feet wide. As you can imagine, it can be seen from some distance away, but a closer look is highly recommended and you can do this by climbing up the mound on which the statue is located. It's worth noting that if you're going to make this climb you should take water and sun screen with you because the weather is hot and there is no shade available on the climb up to the statue. You'll notice that the statue is very popular with Thai people; they come from all over the country to ask for favors from Luang Phor Thuad. If you want good luck then you may want to follow in the footsteps of the locals and walk in a circle under the wooden elephant which is located next to the statue. When you visit the Huay Mongkol Temple you can also relax and enjoy the beautiful parkland in which it's located.
Opening Hours: 6AM–9PM
Google Maps
4. Hua Hin Hills Vineyard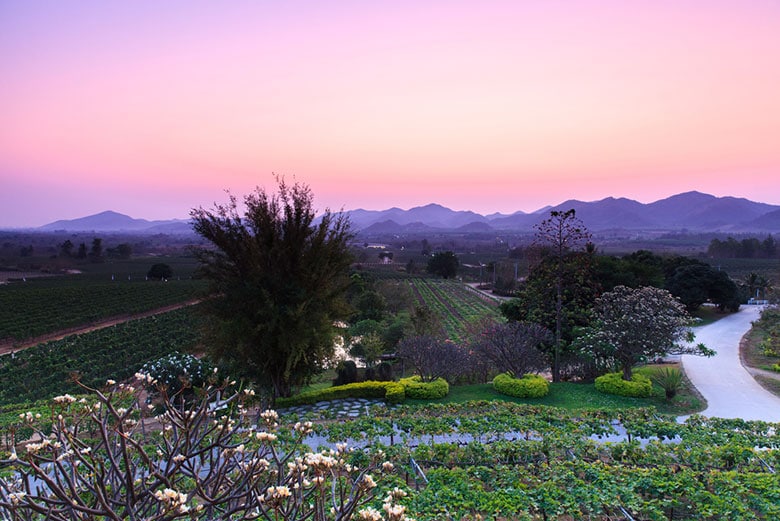 You may not immediately think of Thailand as somewhere where you would visit a vineyard but here in Hua Hin it's possible! Hua Hin Hills Vineyard is a great place to visit if you're looking for something a little different to do in the area. The vineyard was planted in 2004 following an experimental planting at the Royal Research Station at Huay Sai. It's run by Siam Winery and its location is stunningly beautiful. The Hua Hin Hills Vineyard is situated amidst mountain scenery and it's home to a wide range of different grapes. The vineyard stands on what used to be an elephant corral and it's certainly a very different use of the land; although the elephant connection still exists as visitors have the opportunity to tour the vineyard on the back of one. During your visit you can also sample the wines and make the most of the opportunity to dine al fresco, surrounded by magnificent scenery. This is a lovely place to spend some time with friends or as a couple, whether you're looking for a romantic day out or just a change from the more typical things to do in Hua Hin District.
Opening Hours: 9AM–6:30PM, November-March 9AM–8:00PM
Google Maps
Official Website
5. Hua Hin Beach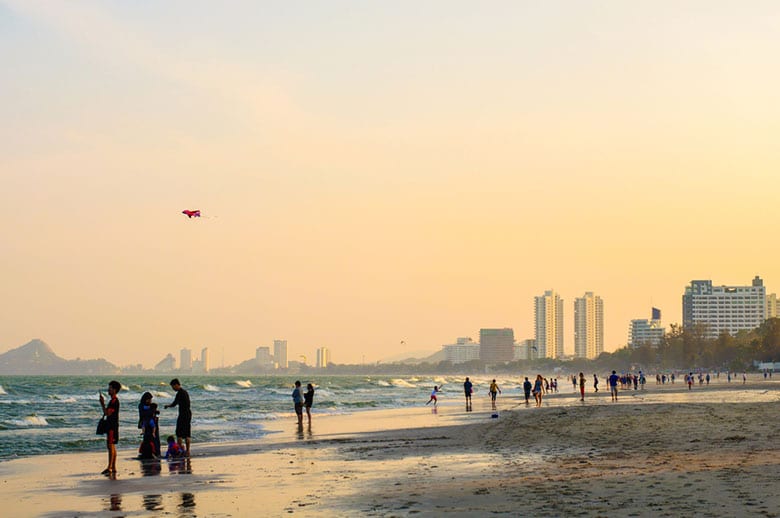 There are plenty of beaches in the area of Hua Hin, and they all have different things to offer. Hua Hin Beach itself is about 6.5 kilometers (4 miles) long and there's always one stretch of it that tends to be quite packed with deck chairs. This is the area where most of the beachside restaurants are located so it's generally the most popular place with people visiting the beach and has a louder atmosphere because of this. If you wander along the rest of the length of Hua Hin Beach you'll find plenty of more secluded areas where you can just sit and relax. There are also bars and restaurants dotted along the beach at intervals, if you want to stop off and get some refreshment. More people are taking up water sports on the beach and there is plenty of opportunity to have a go at jet skiing and waterskiing. If you're trying to decide what to do in Hua Hin then a visit to the town's main beach should certainly be on your list.
Google Maps
6. Hua Hin Night Market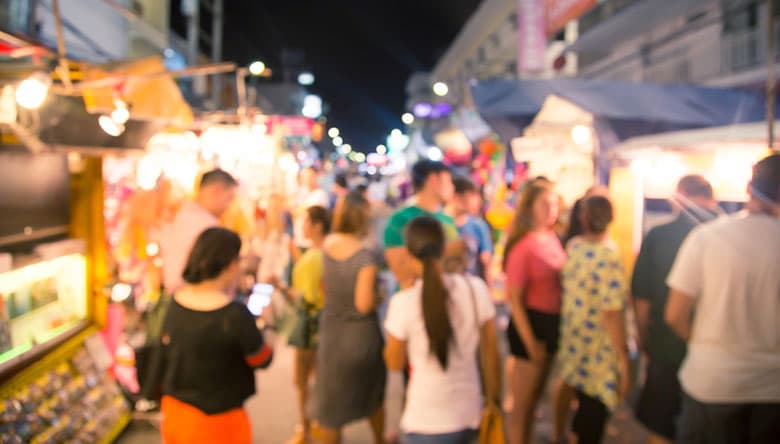 One of the best markets to visit in Hua Hin is the night market, or Hua Hin Night Market. It opens at 5pm and is located in the center of the town. If you want to spend some time at this Hua Hin attraction bear in mind that many of the stalls begin to close at around 11pm; so you should arrive in time to make sure you see everything. That being said, many of the food stalls at the night market remain open until dawn. The great thing about paying a visit to the Hua Hin Night Market is that you really get a chance to see how the local Thai people enjoy their evenings. You can sample plenty of Thai cuisine too. There's a vast array of snacks available that can be prepared for you in just a few minutes. You can also buy plenty of souvenirs including local handicrafts and items of clothing. It has to be said that you'll probably find cheaper markets in Hua Hin but you still get good value for money at the Hua Hin Night Market and it's worth a visit just for the atmosphere alone.
Opening Hours: 6PM–12AM
Google Maps
7. Phraya Nakhon Cave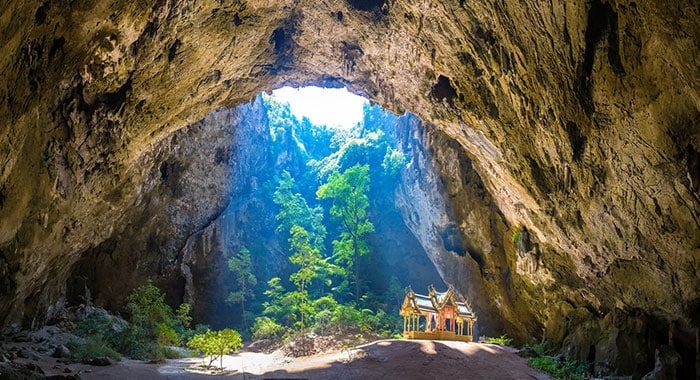 While the whole of Khao Sam Roi Yot National Park has plenty to see and do, many visitors make a bee-line for its most famous attraction, Phraya Nakhon Cave. This cave has become one of the top things to do in Hua Hin as it's easy to get here for a day trip. Once in the park, getting to the cave involves either a boat ride (highly recommended for taking in the scenery) or walking across Tian Mountain (also great for the scenery if you don't mind the walk), then a climb of about 430 meters to reach the cave entrance, all the while making sure you take in the views around you. The cave was visited by King Chulalongkorn and the famous Khuha Kharuehat Pavilion was built for his visit in 1890. Today, this beautiful pavilion stands as a symbol for the entire province and is at its most stunning when sunlight beams through the opening above and lights up the building in a golden hue. The best time to visit Phraya Nakhon Cave is therefore in the morning, and after your visit you can enjoy drinks and lunch in a restaurant by the beach.
Opening Hours: 8AM–3PM
Google Maps
8. Black Mountain Water Park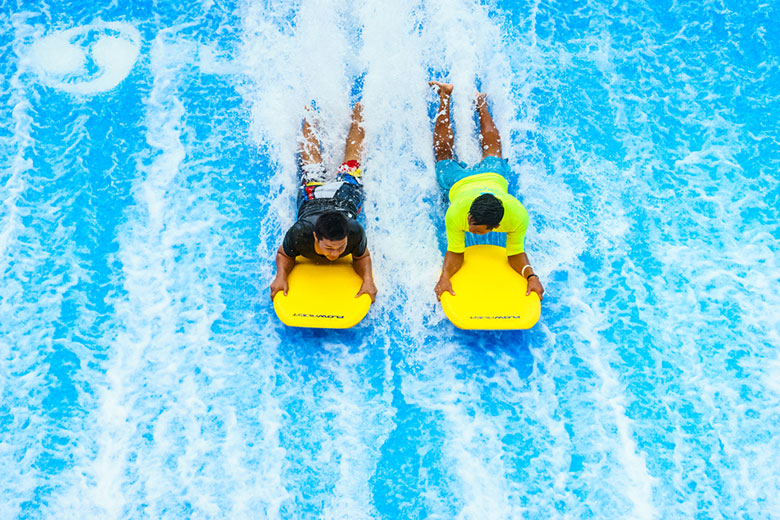 The Black Mountain Water Park is one of the most popular Hua Hin attractions. It's really easy to get to, set in a location that's just fifteen minutes away from the center of Hua Hin town. Admittedly most tourists come to Thailand for the beaches, but this water park is the perfect place to spend a day especially if you're visiting Hua Hin with children. The park was only opened in 2011, but since then has become hugely popular with both local people and visitors to the area. If you love water slides and rides then you'll love Black Mountain Water Park. There are several impressive attractions to choose from including slides, a wave pool, a beach and infinity pool and a children's pool. All of the equipment at the park is modern and safe and it's a fun place for all the family to spend a few hours. If you want to sit down and enjoy some refreshment after the excitement then you won't be disappointed. The restaurant at the park serves a selection of both Thai and European dishes. There are also snack kiosks located across the park.
Opening Hours: 11AM–7PM
Google Maps
Official Website
9. Tham Khao Luang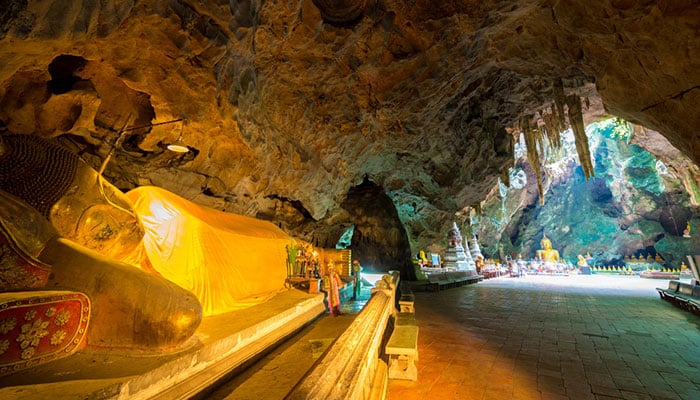 When you think of a cave, images of somewhere damp, dark and uninviting come to mind, but not here in Thailand, where many caves have been made into temples. This is true of Tham Khao Luang – far from being damp and uninviting, this cave temple is beautiful and naturally lit thanks to a hole that brings in ample sunlight and helps to circulate the air so that it is not damp and humid here. The natural cave walls still exist in this large and open cave, with stalagmites and stalactites added to with statues of Buddha that make this a place for quiet meditation. There is also a smaller chamber to visit too, and seeing how many of the multiple buddha statues you can find in both sections of the cave seems to be quite a popular thing to do! Tham Khao Luang is closer to Petchaburi but still close enough to make it a popular Hua Hin attraction for a day trip, especially when combined with the nearby Phra Nakhon Khiri Historical Park.
Opening Hours: 8AM–4PM
Google Maps
10. Wat Khao Takiab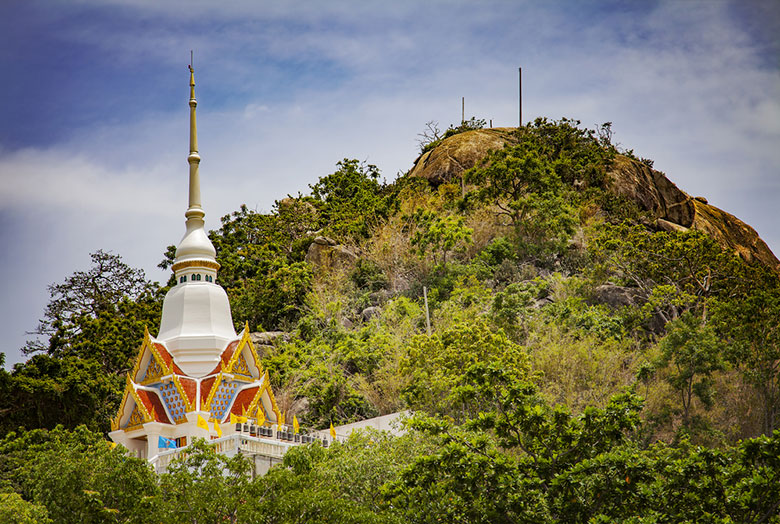 We've already included a mention of Khao Takiab Mountain earlier in our list of ten top things to do in Hua Hin, but we didn't mention the temple. At the top of the hill is Wat Khao Takiab, one of the most famous temples in Hua Hin. It's also one of the most visible as it sits atop the hill which is 890 feet in height. You can just stand on the beach below and see the temple from a distance but, being an impressive temple it's worth the trip up the hill or monkey mountain, and there is a parking lot located part of the way up so you can save yourself from some of the climb. The parking lot itself even has a collection of Buddha statues to see, and, bizarrely some dinosaur statues.
About half way up the hill climb the 80 steps to get to lotus flower shaped shrine. It's a great photo opportunity; both for the chance to get a picture of the shrine itself and of the view from its location. At the top of the hill watch out for the hundreds of macaque monkeys who like to steal your belongings!
Google Maps
11. Khao Sam Roi Yot National Park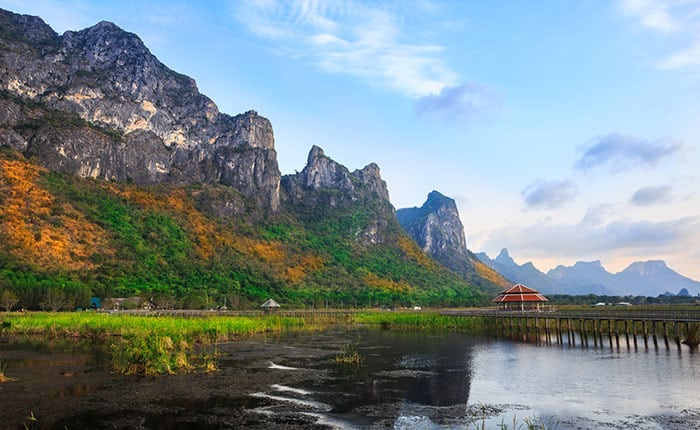 The first marine national park of Thailand, Khao Sam Roi Yot National Park includes the country's largest freshwater marsh and was established way back in 1966. In total it covers about 98 square kilometers, of which nearly 21 square kilometers are marine areas, and include two lovely white sand beaches, one of which can be reached by boat. Far from being just another place to enjoy the beach, Khao Sam Roi Yot National Park is also home to five uninhabited islands, just offshore, and limestone hills that are not only scenic but have several caves in them. The largest and most impressive of these caves is a tourist attraction in its own right, Phraya Nakhon Cave. Water-based birds, crabs, crab-eating macaque, oysters and snapping shrimp live here, and you may be lucky enough to spot Irrawaddy dolphins swimming offshore. The park lies about 58 kilometers (36 miles) to the south of Hua Hin and you can usually join a guided tour out of Hua Hin that can be arranged through your hotel or a local tour operator.
Opening Hours: 8AM–3:30PM
Google Maps
12. Khao Hin Lek Fai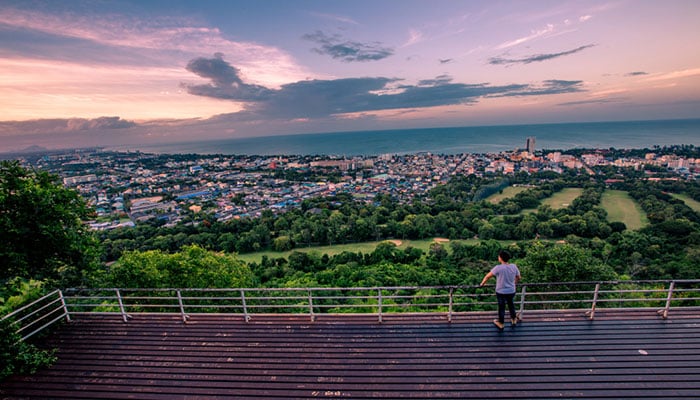 If you're an energetic tourist looking for things to do in Hua Hin, then a visit to Khao Hin Lek Fai, or Flintstone Hill, is a must. When you climb to the top of this hill you'll be treated to some amazing views of Hua Hin. It has to be said that the climb to the top is a little steep, but it's well worth the effort. The hill isn't just popular with tourists; the locals love the views as well so the trails are often quite crowded especially around sunset as this is the most popular time of day to visit for the amazing sunset views over the town and sea. Of course, you can check out Khao Hin Lek Fai at any time of day, but the locals know best, and being there at sunset is definitely a good choice, as long as you don't mind having plenty of company. When you visit be sure to take a look at the view from each of the four different lookouts; it's a different experience at each one. If you really like a challenge you can even run or cycle up the hill, but be warned it isn't easy. The good news is that there are stalls in the area where you can get some refreshment if you need it.
Opening Hours: 6AM–8PM
Google Maps
13. Baan Sillapin Artists Village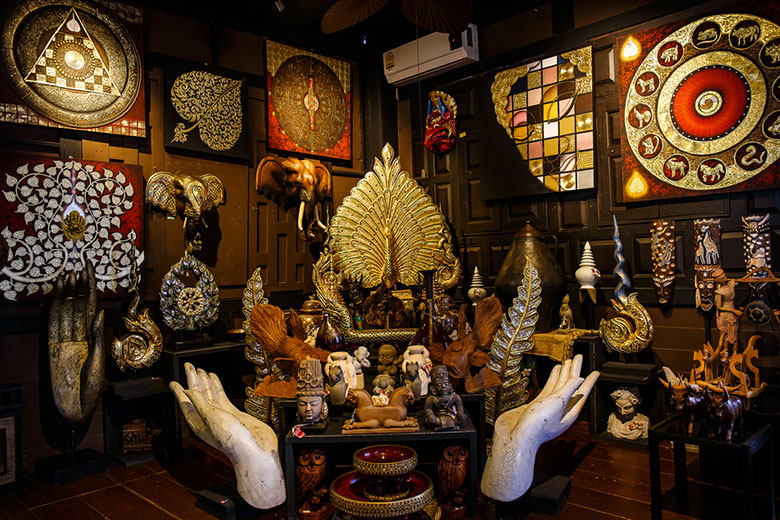 The Baan Sillapin Artists Village is a different and compelling choice if you're wondering what to do in Hua Hin. The village was first opened in 1998 and it serves as the base for Tawee Kesa-ngam, the most famous artist in the area, and other members of the Hua Hin Artists Group. Many of the artists are members of Tawee Kesa-ngam's family. If you want to pay a visit to the artists village you don't have to travel very far from the center of Hua Hin; it's just to the west of the center of the town. Give yourself plenty of time to really enjoy your visit to Baan Sillapin; there's plenty to do and you don't want to miss anything. You can take a look around the galleries and artist studios and if you're feeling artistic there are painting and sculpture classes that you can enroll in. After you've spent time admiring the art on view you can sit back and relax at the onsite coffee shop, or spend a while browsing the items on sale in the gift shop.
Opening Hours: Tuesday-Sunday 10AM–5PM
Google Maps
Official Website
14. Khao Takiab Beach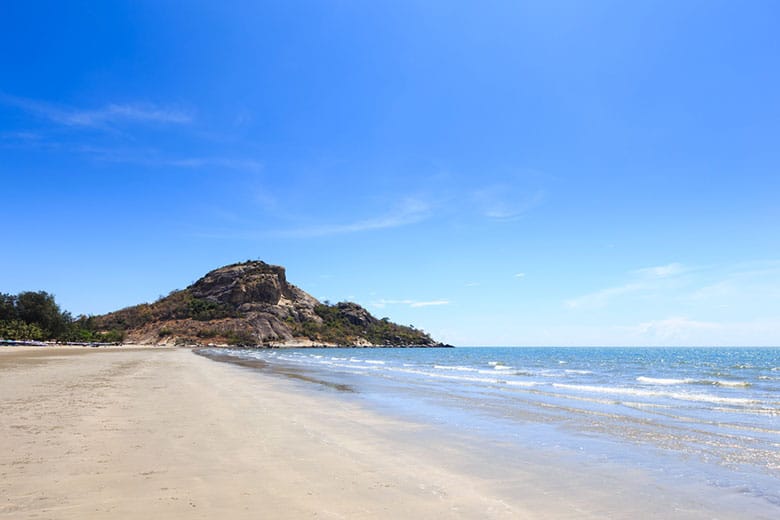 Khao Takiab Mountain is a familiar sight in the area of Hua Hin, and the beach behind it is the perfect spot if you want to just chill out and relax. It's a great beach to visit if you have a family as the water is shallow and there's plenty of sand available for fun beach games. There are lots of beaches in the Hua Hin area and this is one of the most enjoyable. It's also easy to get to; it's located about 6.5 kms (just over 4 miles) away from the center of Hua Hin town. You can't miss the beach thanks to the hill; the name translates as "chopstick hill". One of the best things about a visit to Khao Takiab Beach is that you can also take some time to climb the monkey mountain and benefit from the amazing views you get when standing at the top of Khao Takiab Mountain. The north area of the beach is home to some great restaurants, if you feel like some refreshment at the end of a long day. At the southern end of the beach you can take advantage of the shade from the impressive pine trees that grow in the area.
Google Maps
15. Kaeng Krachan National Park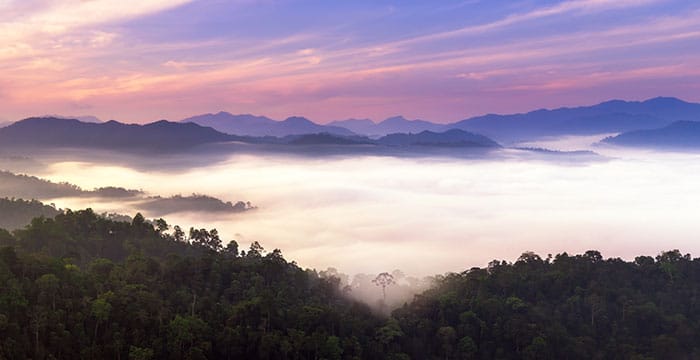 Thailand is a beautiful country with spectacular scenery, and if you want to see more of its amazing flora and fauna look no further than Kaeng Krachan National Park. This is the largest national park in Thailand and its' proximity to the town makes this one of the top things to do in Hua Hin. It is just 75 kilometers (47 miles) away and covers a vast area of over 2,914 square kilometers, stretching as far as the border with Burma. Declared a national park in 1981, Kaeng Krachan was also added to the coveted list of UNESCO World Heritage Sites in 2021 which is hoped to benefit the park, its wildlife, and the indigenous people who live within its boundaries. The ample wilderness really is pristine and so far, there has not been a lot of tourism development here. This is great for keeping the national park as natural as possible, giving visitors a look at rainforests, mountains, rivers and waterfalls. Come for a day trip or stay for longer – camping and hiking are popular here if you really want to explore and enjoy the raw beauty.
Opening Hours: 6AM–6PM
Google Maps
Travel to Hua Hin Thailand
Known as Thailand's original beach resort, Hua Hin has grown tremendously from its small fishing village origins into a cosmopolitan destination with an enviable mix of things to see and do. Located just 200 kilometers (125 miles) by road from Bangkok, this popular Thai seaside resort is a great place to relax after exploring the country's capital.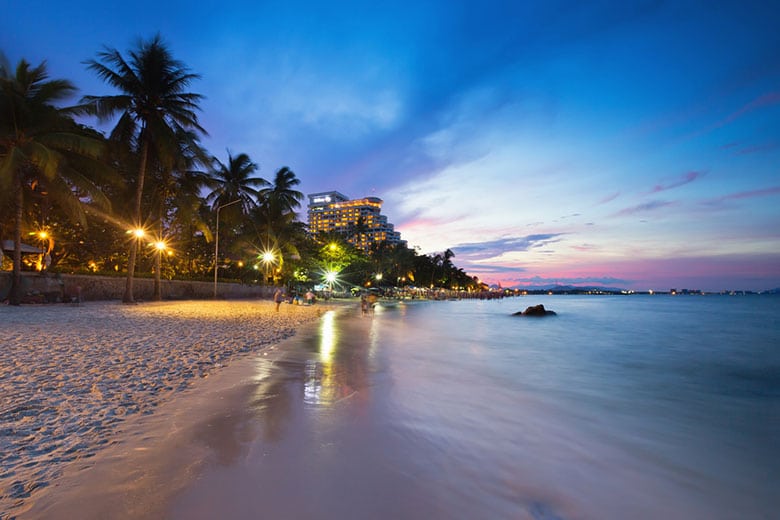 Hua Hin District Prachuap Khiri Khan
Hua Hin is the name of one of the eight districts of Prachuap Khiri Khan Province in Thailand, and the name of its capital town. Far from being the visitor destination it now is, Hua Hin has its origins in 1834 when a drought in the area caused some farmers to move here. The town, which was then just a small village, was really just a row of rocks and a stretch of beautiful white beach. The original name of the village was Samore Riang which literally means "row of rocks". From these early origins the village began to grow and soon the Hua Hin Railway Station arrived, bringing an easy way for city dwellers, including the royal family, to get here. Prince Krom Phra Naresworarit built palaces next to a stretch of beach that he christened Hua Hin and the royal family still spends time in the area to this day. It's the perfect venue to escape the often claustrophobic heat of Bangkok.
Hua Hin Railway Station
After the Hua Hin Railway Station arrived, Hua Hin District also became one of the most popular domestic tourism destinations in the country, and the international tourists followed suit when the hotel chains started to move in during the 1980s.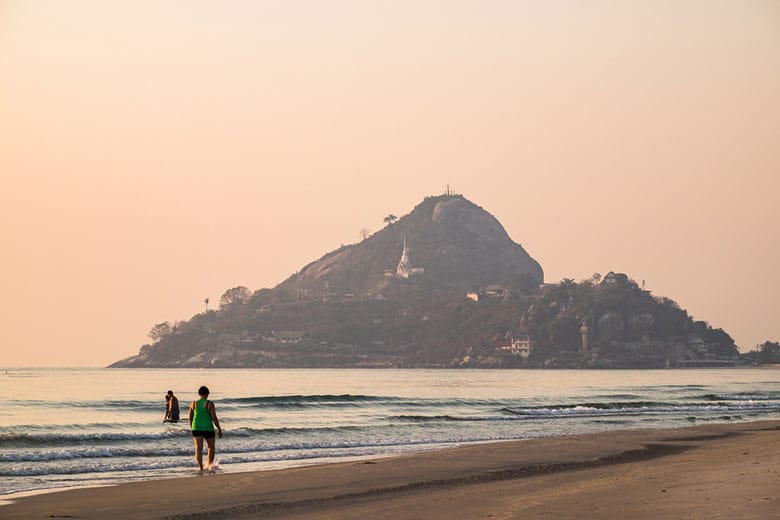 Hua Hin's Individual Vibe
Arguably, what makes the resort so special today is its very individual vibe. Stay in Hua Hin and you won't find just a traditional beach resort; you'll find a place that's also very cosmopolitan, with an intoxicating mix of bustling streets and beach relaxation. There's certainly no shortage of things to do in the Hua Hin District when you want a change from relaxing on the sands. At the weekends you'll be joined by many members of the middle and upper classes from Bangkok who have second homes in the area.
Perfect Destination for Families
This doesn't mean that you have to be prepared to spend a lot of money when you visit Hua Hin; there's plenty to enjoy at a reasonable price. One of the best bargains you'll find is the plentiful, delicious and cheap seafood restaurants. It's also easy and affordable to jump on and off public transport to travel between beaches, which are arguably one of the main attractions of Hua Hin. Their sands are pristine and the water is welcoming, plus many of the beaches have shallow waters so they're the perfect destination for families. In addition to the beaches, visit Hua Hin for its temples, where you can sample the culture and history of the local people, and take your time exploring. You can also take a stroll through the markets of Hua Hin, buy yourself a souvenir of your visit and sample some of the delicious local snacks on offer.
Did you find this guide useful?
Click on a star to rate it!
Average rating: / 5. Vote count: