Krabi International Airport is now the sixth busiest airport in Thailand, handling over 4 million passengers per year coming to this part of Thailand to visit destinations like Ao Nang, the Phi Phi Islands, or Koh Lanta, to name just a few. With more and more passengers coming through Krabi Airport, a few different expansions have been approved over the coming years so the airport can handle the increase in traffic, so traveling through Krabi Airport should become even easier once these improvements have been made. From Krabi Airport one of the closest places to go for some sun, sand and fun is Ao Nang. This resort town is very popular because it's so easy to get to and, like much of Thailand's coast, it's beautiful too. Swimming, sunbathing, diving, rock climbing, shopping, and nightlife are just some of the activities you can enjoy in Ao Nang.
Read about:
• Krabi Airport to Ao Nang by Private Taxi
• Krabi Airport to Ao Nang by Bus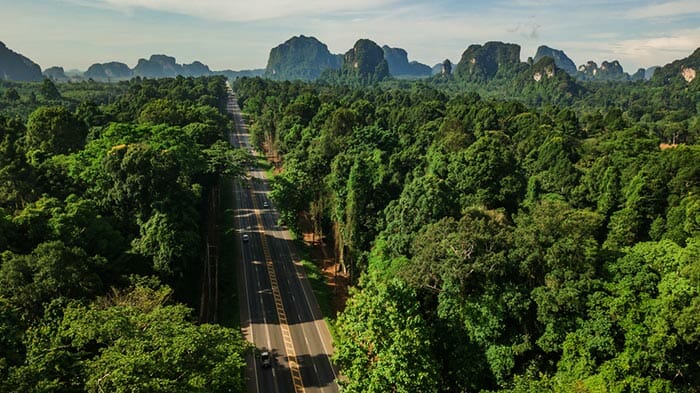 Options for Travel from Krabi Airport to Ao Nang
Getting from Krabi Airport to Ao Nang is quick and easy because it's only about 26 kilometers (16 miles) from the airport into the town, and a further kilometer or so to get to the coast and Ao Nang's beaches. This means if you catch a flight out of Bangkok, for example, in the morning, you could be sunbathing on the beach at Ao Nang by the afternoon! Going by taxi takes very little time – between 15 minutes and half an hour, depending on where exactly in Ao Nang you're headed, or the second option is to get a bus. This isn't an ordinary bus though, in that it doesn't follow a set route. Instead, the driver goes where his passengers request so it's quite a unique service!
Krabi Airport to Ao Nang by Private Taxi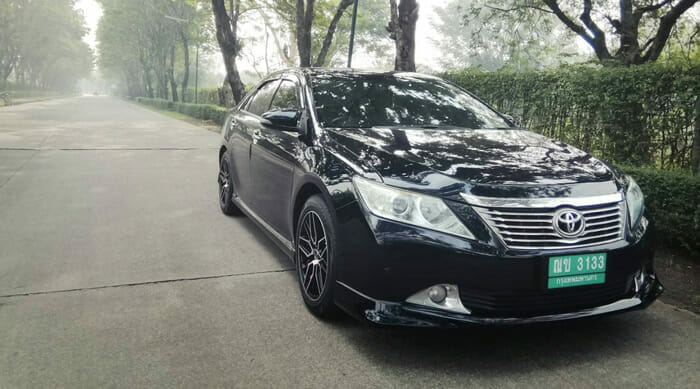 The first thing you should know about getting a taxi from Krabi Airport to Ao Nang is that standard metered taxis are generally not allowed to enter the airport grounds. Only specially licensed and authorized taxis can do pickups at the airport. This isn't a problem for tourists, just something that you should be aware of and it means that booking your private taxi in advance is always a good idea otherwise you could end up waiting at the airport for a while as you will have to queue to buy a coupon for the private taxis. Sometimes, you may be lucky and find a standard metered taxi outside the terminal. If you do, you may be able to save yourself a small amount of money, but really we would recommend the private airport taxis for peace of mind.
Booking your airport taxi in advance is very easy online, using the travel website 12Go.asia. They can book your taxi pickup from Krabi Airport to Ao Nang using several different companies, including BangkokTaxi24, Smart En Plus, Andaman Taxis, and Ao Nang Travel and Tour. To be honest, there is not a lot to separate these different companies – all will offer pickup at any time from the airport so you can guarantee there will be somebody there to meet you even if your flight is arriving late at night or early in the morning. Prices are similar across the board, with variations only occurring due to the different sizes and comfort levels of the vehicles. If there are only two of you traveling, then a standard Economy or Comfort taxi will be fine, or if you're traveling as a family or with a group, you can choose a 4-passenger SUV or a 9-passenger van, and split the cost between everybody. When you're able to do this, it really helps to reduce down the cost of the taxi for each passenger.
Krabi Airport to Ao Nang by Bus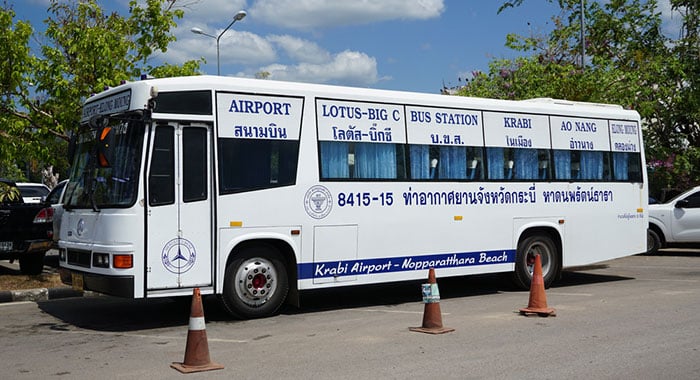 A second transport option for getting from Krabi Airport to Ao Nang is to use the airport bus. Unlike a regular public bus, the airport bus does not operate along a fixed route and make regular stops for pickups. The service is quite unique really because it is affordably priced and the bus will drop you right outside, or very close to, your hotel. This means you do get a door to door service, like with a private taxi, however there are a few drawbacks.
The buses do not operate 24 hours a day; generally they will run between 8am and 8pm and they will depart from the airport roughly 10 to 12 times per day. Sometimes, if there are not many passengers, the driver will wait until another plane arrives so that the bus can become more full. This means you can't really say with any certainty what time you will be leaving the airport and you could end up waiting for a while.
Before you get going, you should let the driver know where you are heading. The buses only go to Krabi Town and Ao Nang, so there shouldn't be any confusion there, but do have the name and address of your hotel handy so you can let him know where you want to go.
While the flexibility of this door to door service is good, traveling by bus from Krabi Airport to Ao Nang can take quite some time because there's no guarantee as to how many or how few stops it will make. If your hotel happens to be towards the end of the route they're taking, it could be quite an extensive journey.Both the private taxis and the airport bus are good options for traveling from Krabi Airport to Ao Nang. For the higher level of convenience, speed of travel, and peace of mind knowing that you can book it in advance, we would recommend booking a private taxi through 12Go. But, if you want to save money and don't mind the possibility of a much longer journey time, and you know that your flight is arriving during the bus's hours of operation, taking the airport bus is also a good option.
Did you find this guide useful?
Click on a star to rate it!
Average rating: / 5. Vote count: