The small resort town of Ao Nang sits on the Andaman Sea coast of Thailand in an area well known for its natural beauty. While Ao Nang itself has an amazing beach and other activities to keep you occupied, it's also a popular setting off point for getting to many of the stunning islands that lie just off the coast, including the Phi Phi Islands and Koh Yao, or a little farther south to Koh Lanta with its three islands. Part of the Mu Ko Lanta National Park, these islands are filled white glorious white sand beaches as well as a great mixture of landscapes to explore, including mangroves, tropical jungles, forests, hills, and corals that make this the perfect place for scuba diving.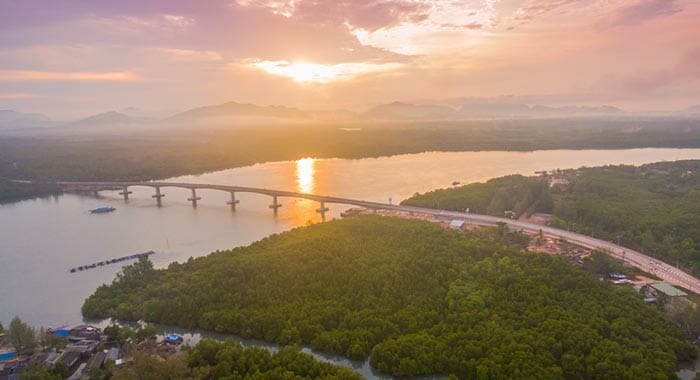 Options for Travel from Ao Nang to Koh Lanta
The three islands of Koh Lanta are separated only by very small stretches of water and in fact the first island, Koh Klang, is often thought to be part of the mainland and there's only a small river that makes it an island at all! Getting to Koh Klang is therefore very easy as you just need to cross a bridge. The next island down is Koh Lanta Noi. It's a relatively small island and up until recently it was undeveloped. This island is connected to Koh Klang via a car ferry and it is also now connected to the third island, Koh Lanta Yai, via a bridge. It's the opening of this bridge that has made Koh Lanta Noi more accessible and led to some new development for tourists.
Koh Lanta Yai – the busiest and most developed of the islands, is often just referred to as Koh Lanta to save confusion, and while it is connected to Koh Lanta Noi by a bridge, it is not connected directly to the mainland. If you're driving yourself, or taking a taxi or van, you can cross via the car ferry, but another option is to take a boat from the mainland directly to Koh Lanta.
So, options for travel from Ao Nang to Koh Lanta depend to a certain extent upon which island you're heading for. Although you can get to Koh Klang by road, you're probably going to want to spend your time in the more touristy areas on Koh Lanta Yai, or head to the quieter Koh Lanta Noi, so you'll have to get a boat. Combined van or taxi and ferry tickets are readily available though, allowing you to easily travel from Ao Nang to Koh Lanta.
Ao Nang to Koh Lanta via the Car Ferry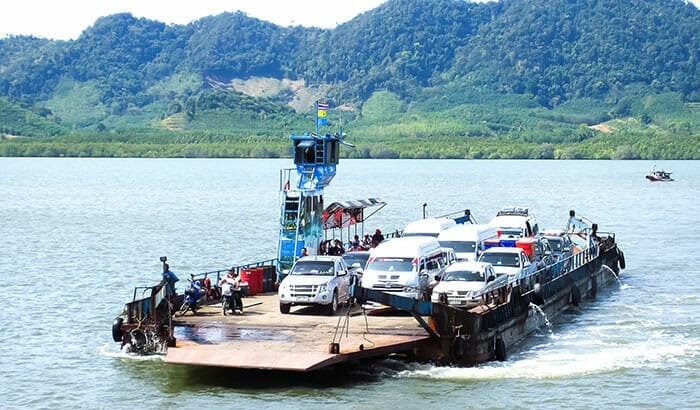 If you're being adventurous and driving yourself around Thailand, you'll be interested to hear that Koh Lanta is one of only a few islands that you can actually take a car to, giving the island extra appeal, but you don't have to drive yourself! There are combined van or taxi and ferry tickets available to buy through the reputable online tour company 12Go.asia, and you can choose from a number of different service providers as well as a number of different pick-up options.
For the best convenience, choose a company that picks you up directly from your hotel in Ao Nang, and takes you right to the door of your hotel in Koh Lanta. With these tickets you're paying one amount and have everything included. Prices vary quite substantially between the taxi companies, so do check them all before booking, and schedules vary a lot too with some saying they take only 45 minutes while others as much as 3.5 hours because they travel a different route.
The good thing with these taxis is that although they are more expensive, you can split the cost between the passengers and have a vehicle as large as a 9-passenger van which means the price per person is actually quite low.
When searching for Ao Nang to Koh Lanta on 12Go, also be aware that this website offers many different alternatives for starting points. You can get picked up from your hotel in Ao Nang itself, or from any number of other places such as the popular beaches or from Krabi Town, a short distance from Ao Nang, so there are plenty of good options for you.
Ao Nang to Koh Lanta on the Passenger Ferry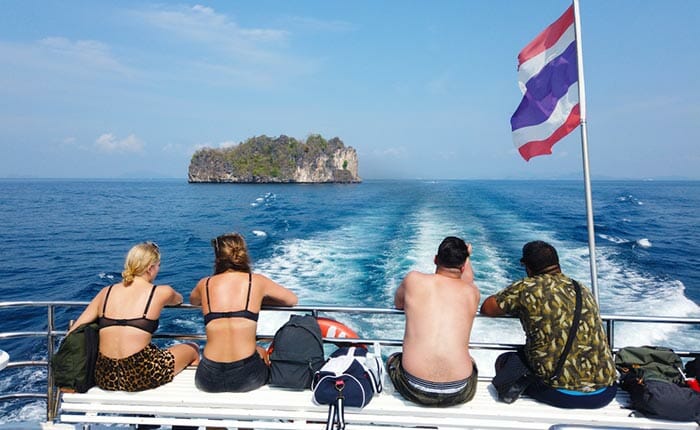 The door to door taxi service from Ao Nang to Koh Lanta is very convenient. It's also great for anyone who doesn't get along well with traveling by ferry as it's just a very short ferry ride on a larger boat that shouldn't suffer much from bigger waves. But, if you're someone who enjoys being out on the water and would prefer to spend most of your trip from Ao Nang to Koh Lanta on a boat rather than in a car or van, there are some other good options for you too.
You can catch a passenger ferry directly from Ao Nang, from the Nopparat Thara Pier which offers free a pick-up bus from Ao Nang Beach, making this a very convenient option. You'll just have to find your way to your hotel once you arrive at Koh Lanta but this is not difficult and there will always be taxis or tuk-tuks to take you, or the hotel may even offer a transfer service from the pier.
Another passenger ferry operates from Krabi Passenger Pier in Krabi. This is not as convenient if you're staying right in Ao Nang, but it's another option to look into if you were thinking of visiting Krabi Town anyway.
The main thing to keep in mind with these passenger ferries is that they only operate during the high season of November to April and never run during the low season. If you are visiting during the low season, don't worry you can still travel from Ao Nang to Koh Lanta by using the first transport option given above; Ao Nang to Koh Lanta via the car ferry, as this service does operate year-round.
How useful was this post?
Click on a star to rate it!
Average rating / 5. Vote count: