While you can get around Thailand super fast by flying, taking the train is so much more memorable and fun, and substantially cheaper too! With four different train lines covering a large portion of the country, traveling by train in Thailand is convenient and a great way to get between major cities and smaller towns. The Northern Line, Southern Line, Eastern Line, and North Eastern Line all meet at the country's capital, Bangkok, which serves as the main hub for all rail travel across the country, on a network of railway lines that traverses about 4,180 kilometers (2,612 miles). Travel by train in Thailand is highly recommended as the best way to get to see the country's beautiful scenery, and it's an amazing cultural experience too. Trains aren't just used by tourists; they're very popular with locals because they're so affordable, so you can spend time absorbing yourself into a little bit of Thai culture when you travel by train!
Read about:
• Where to Buy Your Tickets for Travel by Train in Thailand
• Types of Classes and Trains in Thailand
• Thailand Sleeper Trains
• High-Speed Trains in Thailand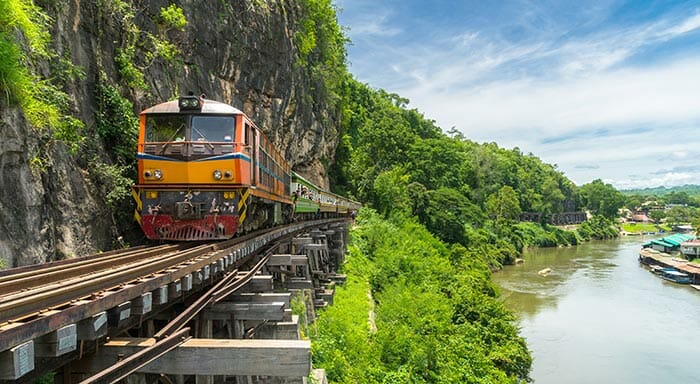 Is it Safe to Travel by Train in Thailand?
Unlike in some countries where railway lines are privately owned, all railway tracks in Thailand are state-owned by the State Railway of Thailand, using a meter-wide gauge. Because all trains and their lines are operated by the state, you can be sure that they are maintained to a specific standard. According to some travelers, Thailand has one of the best meter-gauge railway systems in the world and, as well as the trains themselves being safe, you should feel safe and secure onboard too.
The biggest drawback with traveling by train in Thailand is the speed. These trains do not travel at high speeds – the average speed could be only around 40kmh (25 mph) so this makes them even safer and it gives you plenty of time to gaze out the window at the slow passing scenery and towns.
Where to Buy Your Tickets for Travel by Train in Thailand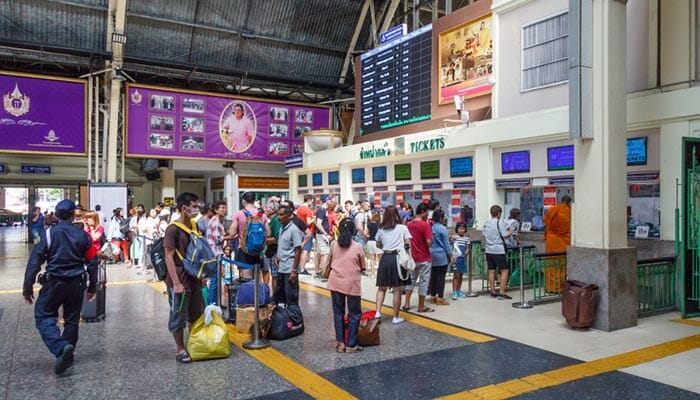 As you would expect, you can easily buy your train tickets at the railway station, as well as through travel agents, but we would always advise using an online booking website such as 12Go. Buying online is more simple than trying to figure out what type of ticket you need and communicate that to someone whose English may not be very good! Buying online gives you all of the options available to you for that journey – so you can see ticket types and prices at a glance, as well as train departure times, travel times and arrival times. It's also good to use 12Go because you can read reviews from genuine travelers who have booked the same services as you, so you will know what was good or bad about their journey and how to avoid the bad elements yourself.
Booking your tickets in advance is highly recommended as well for peace of mind. Not all trains will be full, but there are certain services that tend to be more full than others, such as night trains and Super Express Trains, so definitely book these in advance. And, you should be aware of when you are traveling; if it's during a public holiday or popular vacation times, trains will be booked up far faster than normal. If you can. Try to book your tickets at least 60 days in advance for these busier periods.
Types of Classes and Trains in Thailand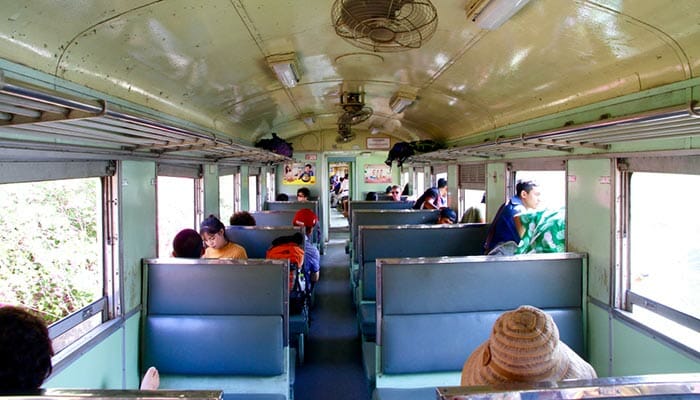 There are a number of different types of trains that operate regularly in Thailand, and depending on which one you are using this will impact a number of factors: the speed of travel, the number of stops the train makes, the travel time, the quality of the cars used, and the available classes. We've listed the applicable train numbers for these different types as this is useful information for when you're making your booking – it's easier to tell what type of train you'll be getting but checking the number of it.
Ordinary Trains are very slow trains which only operate with 3rd class carriages. They will only run during the day, and will not cover distances of more than 500 kilometers (312 miles). Train numbers are from 298 to 300.
Commuter Trains, as the name suggests are used by commuters on suburban routes. They're very similar to Ordinary Trains, and have numbers from 301 to 398.
Local Trains are also similar to Ordinary Trains but they operate on shorter distances with numbers from 401 to 498.
Special Express Trains are the most expensive types of train in Thailand because they are also the fastest. These trains may run non-stop from city to city, or have very few stops along the way, and they all (except for the #37 Bangkok to Sungai Kolok route) just have first and second class carriages. Special Express Trains in Thailand are numbered from 1 to 48.
Express Trains are fast too, as the name suggests, although not as fast as Special Express Trains. The Express Trains make more stops along the way so hence the journey time will be longer, but if you're looking to save a little more money then these are a good option, being cheaper than the Special Express. Express Trains in Thailand have first, second and third class carriages and operate numbers from 51 to 98.
Rapid Trains are not especially rapid! They tend to make stops at almost every station along the way so they can take an exhaustingly long time. Numbers for these trains range from 101 to 198 and will usually have just second and third class carriages, often without any air conditioning. These are actually the most common type of train in Thailand, so there are always plenty of them available.
Thailand Sleeper Trains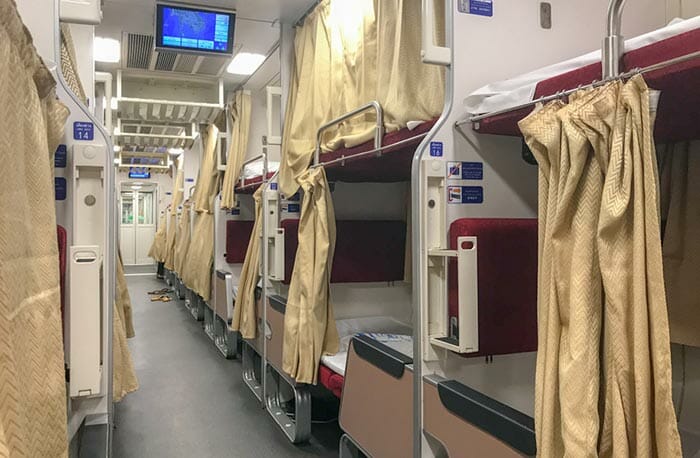 With long distances to cover in trains that are renowned for going quite slow, you may prefer to book a ticket for a sleeper train. One of the best things about traveling by train in Thailand is that you get to enjoy the scenery, but if you're traveling overnight you're going to miss a lot of the views out the window. Even so, buying a ticket for a sleeper cabin is not necessarily much more expensive than a standard seat so if you do travel overnight you're saving yourself the cost of a night in a hotel, and traveling by sleeper train is quite an experience as well!
As with seats on trains, there are several different classes of sleeper cabins you can choose from, depending on your circumstances and your budget. In first class you can get a compartment to yourself that includes air conditioning and a wash basin, as well as bed linens. You can buy single occupancy if you're traveling alone, but bear in mind that if you don't do this you could be sharing your compartment with another passenger of the same gender. There are also VIP sleepers although don't be fooled by the name as these don't necessarily offer a better standard of accommodation.
Second class sleepers are very popular as they're more affordable than first, and can be quite comfortable too. Bed linen is included in with the ticket price and the berths are enclosed by a curtain, so although you'll be in close proximity to other travelers, you do have a certain amount of privacy. You can get air conditioned cars, and cars with fans, and there are advantages and disadvantages to both. Air conditioned cars tend to be newer and perhaps cleaner, but with the fan cars you can open the windows and get a better view outside for taking photos. Also bear in mind that the upper berth is a little cheaper but the bed is shorter so not a good idea for taller people.
Book your tickets for seats or sleeper berths on a reputable website such as 12Go as it's easy to see exactly what kind of ticket you're buying, and it's easy to compare the prices, train times and trip duration.
High-Speed Trains in Thailand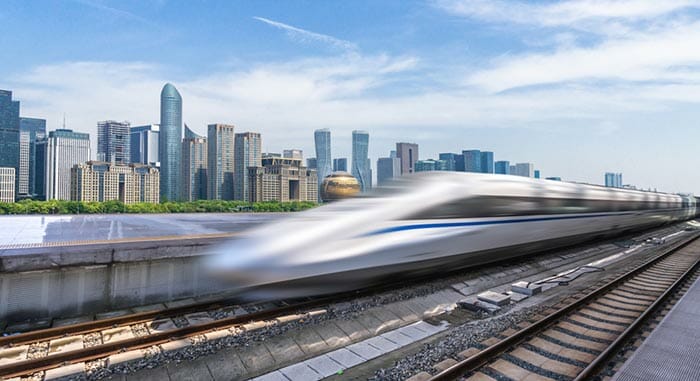 We've talked about all the trains in Thailand that are available for travel on right now, and, as you'll have discovered, none of the trains are especially fast, even the Special Express Trains! Exciting news is that this is going to change soon as Thailand is in the process of adding a high-speed rail network. Back in 2010 the Thai parliament approved this network to eventually have five different lines out of Bangkok that would be capable of handling speeds up to 250 kmh (156 mph). This is set to revolutionize train travel in Thailand, as well as drastically improving connecting services with neighboring countries.
High Speed trains in Thailand will cost more to travel on than the regular train service, but should still be competitively priced when compared to flying, and you'll still have the benefit of being able to see the passing scenery, albeit at much higher speeds!
Even with the slow speeds that you have to endure right now when traveling by train in Thailand, train travel is still an experience that's highly recommended. It's the chance to immerse yourself in the Thai culture, rub shoulders with locals, and enjoy the passing scenery, and, when you book your tickets through an agent like 12Go the whole experience should be easy and trouble-free.