With impressive coasts on the Gulf of Thailand and Andaman Sea, Thailand has a total of 3,219 kilometers (2,011 miles) of coastline, as well as hundreds of islands. While a few of the larger islands do have airports, the majority do not, so if you want to visit these breathtaking places you're going to have to travel by ferry. Fortunately, ferry travel in Thailand is very common and it's generally easy and quite affordable to get around by boat, as well as being safe. Whether you're island hopping or just heading to one particular destination, there are always several ways of getting there: ferry, speedboat, catamaran, longtail boat, and even night boats, and if you're traveling first from a city like Bangkok, you can buy combined bus and ferry tickets to make your journey even smoother and stress-free.
Read about:
• Where to Buy Your Tickets for Ferry Travel in Thailand
• Departure Points for Ferries to Thai Islands
• Ferries to Koh Samui, Koh Tao, and Koh Phangan
• Ferries to Koh Chang, Koh Wai, Koh Mak, and Koh Kood
• Ferries to Koh Phi Phi and Koh Lanta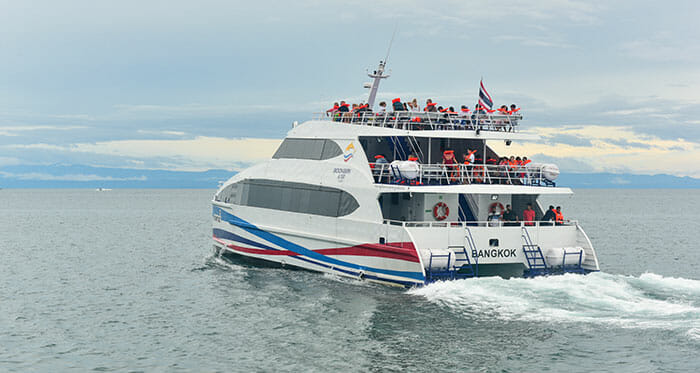 Traveling by Ferry in Thailand, is it Safe?
The honest answer is yes, it is mainly safe to travel by ferry in Thailand. However, as with any other form of transport, accidents can happen and some boats have sunk traveling between islands in Thailand. Don't let this alarm you though, statistically it is very safe to travel by boat, and it should be noted that when accidents do happen, it's usually a longtail boat or a speedboat that's involved, not the larger ferries.
In order to keep yourself safe, use common sense. If the boat looks overcrowded, it probably is – this can be a common problem especially to and from islands like Koh Phangan (home to the Full Moon Party). Wait for another boat if possible, even if it means traveling the following morning. Traveling by speedboat at night is not the best idea with low visibility and likely several drunk passengers onboard. It's also not advisable to travel by boat in Thailand when the weather is bad. The larger ferries can handle choppy waters, but speedboats and longtail boats sometimes cannot. If the operator has your full safety in mind, they should be responsible enough to know when they shouldn't be running the service. If they insist it's okay and you're not so sure, it's better to wait and be safe, not sorry.
Where to Buy Your Tickets for Ferry Travel in Thailand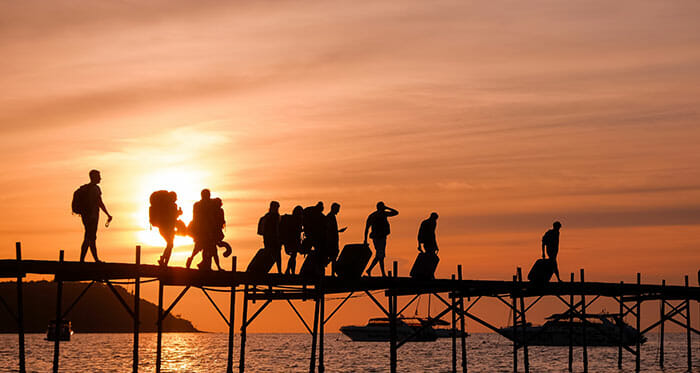 Ferry tickets are readily available from several different sources, including at the ferry piers, from travel agents, and from online websites. You also have a couple of different ticket options to consider, and this may help you to decide where to buy your tickets from. You can opt to buy the ferry ticket alone – this is especially good if you're already situated close to the ferry pier and you don't need to take a lengthy journey to get to the coast. Buying direct from the ferry company at the pier is quite easy, but do check around because schedules between the companies can vary.
If, however, you have a long way to travel first it makes more sense to get a combined bus and ferry ticket. These can be bought very easily online through websites such as 12Go. The benefit of doing it this way is that you make one booking that covers your entire journey, so it's stress-free, and, booking through 12Go it's easy to search and see instant results, pricing, ticket terms, and even traveler reviews, plus you get the backing of a larger company who you can talk to if you have any problems along the way. Of course, 12Go can also sell you individual ferry tickets without the bus option – their search function will show you all the different choices available to you on your date of travel.
Note that it is likely going to cost you more to travel by high-speed ferry or catamaran when compared to the night ferries or older vehicle ferries, but the benefit is that the high-speed ferries are faster (obviously!), and they are more comfortable too, with some facilities on board.
Departure Points for Ferries to Thai Islands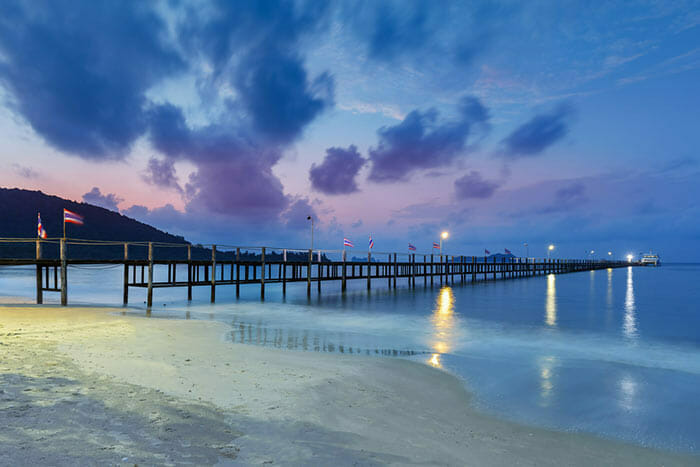 Booking online through 12Go is so easy because you don't even need to think about which ferries travel to which islands and where they depart from, as the website does it all for you. But, we understand that sometimes it's nice to be more independent and make your own way across Thailand by researching where you need to go to catch a ferry and making the booking for the ferry yourself. It can be confusing though as there are so many islands, and so many different routes, and there are different piers depending on whether you're a foot passenger or taking a vehicle with you. We've compiled a list to help you out with the most popular islands and departure points listed.
Ferries to Koh Samui, Koh Tao, and Koh Phangan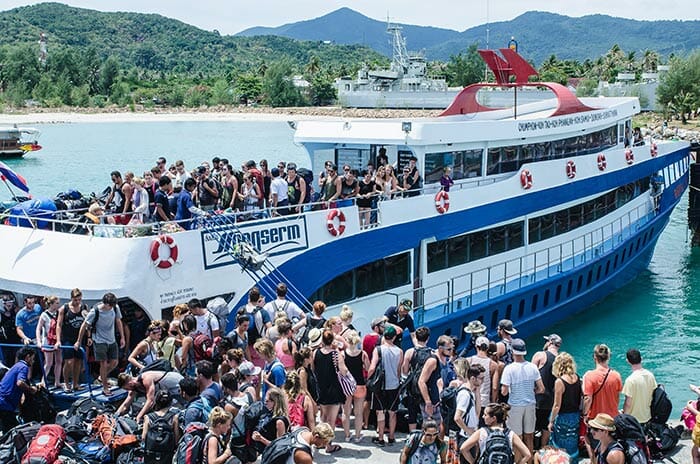 These are three of the best known and most popular island destinations in Thailand so there are always plentiful ferry departures to choose from. If you're traveling around with your own car, or you have a scooter and want to take it to one of these islands, you'll need to catch a ferry from Donsak. This is a large ferry pier that's located about 60 kilometers (37.5 miles) from the city of Surat Thani. The ferries themselves are bigger, so they can accommodate vehicles, but the drawback is that they tend to be older and not quite as comfortable as the newer, high-speed ferries.
If you're simply a foot passenger and don't have a vehicle to think about, then there are a few other options for your Thailand ferry crossing. There's a night ferry that departs from the Ban Don pier in downtown Surat Thani. It's cheaper than spending a night in a hotel, making this a good option if you arrived in town late, but, they're not especially comfortable, so don't expect comfy beds to sleep on! Another option is to depart from Chumphon instead. It's north of Surat Thani, so if you were traveling down from Bangkok, you would reach Chumphon sooner and there are regular ferries to all three islands from there. Don't miss our guide to go between Koh Samui and Koh Phangan.
Ferries to Koh Chang, Koh Wai, Koh Mak, and Koh Kood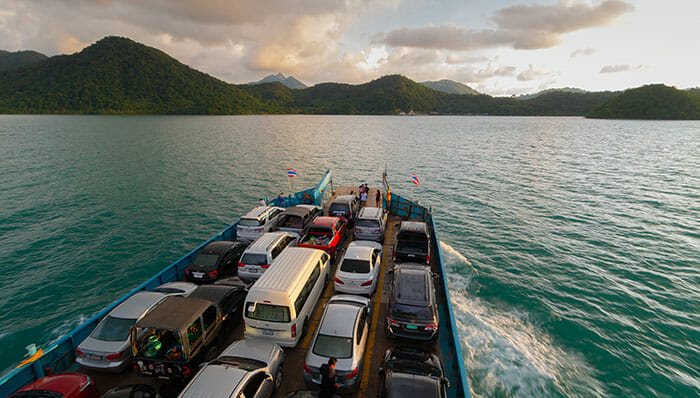 These islands are situated on the eastern edge of the Gulf of Thailand, so that's the opposite side to Koh Samui. This means you'll be departing from a completely different ferry pier which is close to the city of Trat. Laem Ngob pier has ferries to these islands, but there are also several other departure points if you're traveling to the large island of Koh Chang, such as Natural Bay Pier. But, the best way to choose which Thailand ferry company to use, is to figure out where you will be staying, as you'll want to choose a ferry that arrives close to your resort or hotel.
Ferries to Koh Phi Phi and Koh Lanta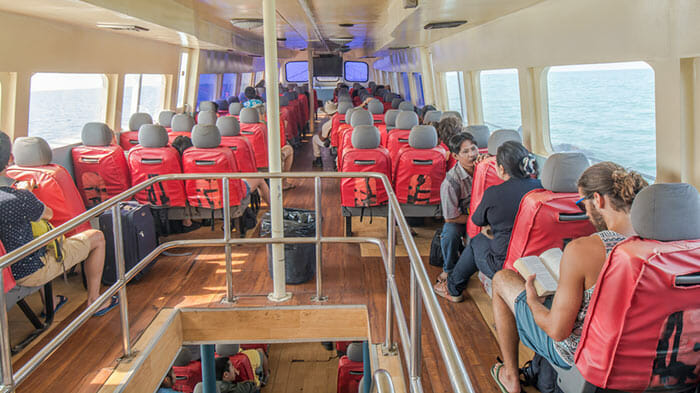 Koh Lanta and the stunning Phi Phi Islands are the odd ones out as they're not in the Gulf of Thailand. These islands are situated off the west coast of Thailand, in the Andaman Sea. To get to here you will need to catch a ferry from Krabi, Railay, or Phuket. Be aware that ferry crossing times can vary a lot depending on which ferry pier you depart from, so check into this if this is something that matters to you.
Railay is mentioned above as a departure point, but in fact you would need to take a ferry to get to Railay in the first place. It's not an island but it's situated on an isthmus that is only accessible by water. Depart from Ao Nang or Chaofa Pier in Krabi to get to Railay.Traveling by ferry in Thailand is something that you're going to have to do if you want to see some of the most beautiful islands and beaches in the world. As you can see from above, there are many different types of ferries to choose from and numerous departure points depending on which island you're traveling to. For peace of mind, book your tickets through a reputable online booking service such as 12Go because they make booking your tickets extremely easy and hassle-free, saving you the bother of trying to figure out where you need to go and when you need to be there!