Serving one of Thailand's most popular cities and acting as the gateway to the north of the country and the Golden Triangle, Chiang Mai Train Station has become one of the busiest in the country, handling around 1 million passengers per year. It is the terminus of the Northern Line of the State Railway of Thailand and is on the Chiang Mai Main Line that runs from Krung Thep Aphiwat Central Terminal in Bangkok, all the way to Chiang Mai, 661 kilometers to the north.
Read about:
• How to Get to Chiang Mai Train Station
• Chiang Mai Train Station Schedule and Destinations
• Train Tickets and Reservations for Chiang Mai Train Station
• Facilities at Chiang Mai Train Station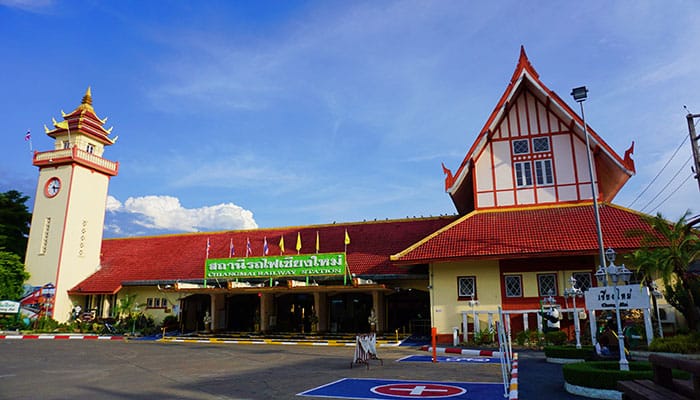 How to Get to Chiang Mai Train Station
Chiang Mai railway station opened for service on January 1st, 1922 although the station you see here today is not the original one. There are very few pictures of the original, which was destroyed during World War 2 by Allied Forces as part of a campaign to take out much of the infrastructure that Japanese occupying forces were using. Destroyed in 1943, Chiang Mai train station was rebuilt in 1945 although did not officially re-open to passenger traffic until 1948. The post-War building standing here today can still be classified as a historic building and offers a certain amount of Thai railway charm with its clock tower and red tiled roof, and there is a steam engine on display outside of the building.
Chiang Mai train station is not right in the old city of Chiang Mai but it is centrally located on Rotfai Alley, off the Charoen Muang Road, about 3 kilometers from the old city. Without much luggage to carry it is possible to walk from the old town to the train station, but could take as much as 40 minutes, so with the heat added in, you may not want to do this. Public transport is easy to get ahold of anyway, and at cheap prices it's worth paying for the service. Songthaews in Chiang Mai are little red trucks (or cars) which are small pick-up trucks converted with two benches in the back for passengers. They are known as Red Cars in Chiang Mai and you will find them everywhere, taking passengers to places like Chiang Mai train station. Agree a price with the driver before the journey.
Tuk tuks from town to the train station are also a popular form of transport, but again, negotiate on the price to avoid being charged more than you should. If you prefer a bit more comfort, there are also taxis, although you'll find these are not very prevalent in Chiang Mai compared to most Thai cities, and you should negotiate a fixed price to the train station as they will rarely use their meters. Another option is to download the apps grab or bolt (Uber is not in Thailand anymore). Then you can get a fixed price on the trip and book a normal car or taxi. Weirdly, buses are also hard to come by in Chiang Mai!
Chiang Mai Train Station Schedule and Destinations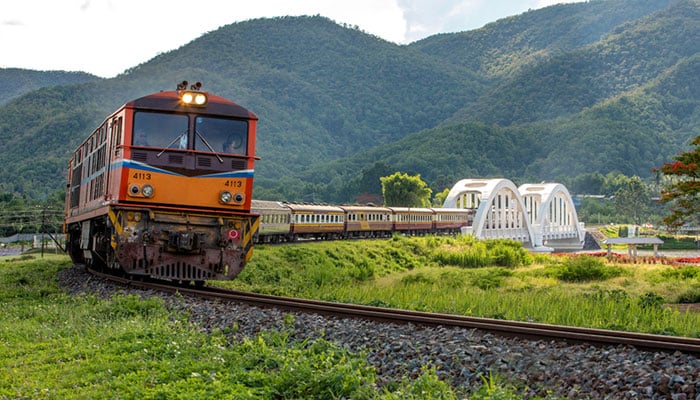 Because Chiang Mai train station is the terminus for the Northern Line, trains can only travel in one direction from here, and that's south! There are usually around 14 trains per day leaving from Chiang Mai train station. A lot of these do go all the way to Bangkok, but not all. However, Chiang Mai to Bangkok is the most popular route and there should be five trains throughout the day to catch to the capital city. There are inter-city and local trains, so if you're just heading out of Chiang Mai to look around then you can catch a local train. These trains are very slow, both speed-wise and because they stop multiple times! And if you happen to choose a non inter-city train for your journey to Bangkok, this can delay you extensively as they stop many times. Of course, if you wanted to travel to Phitsanulok, Lopburi or Ayutthaya (all north of Bangkok), this would be the train. Trains from Chiang Mai to Sukhothai actually go to Phitsanulok, so check that when booking tickets.
You could also travel from Chiang Mai to destinations much farther south, for example if you wanted to go from Chiang Mai to Phuket you can go by train via Bangkok. As there is not a train station at Phuket itself you would have to get a ticket to Surat Thani instead and transfer from there.
Chiang Mai - Bangkok
฿ 641–1,903
10h 35m – 14h 40m
→

2nd Class AC seats only

08:50

→

1st Class Sleeper

17:00, 18:00

→

2nd Class Sleeper AC

15:30, 17:00, 18:00

→

2nd Class Ladies Only

18:00

→

2nd Class Sleeper Fan

15:30

→

2nd Class Fan seats only

06:30
Train Tickets and Reservations for Chiang Mai Train Station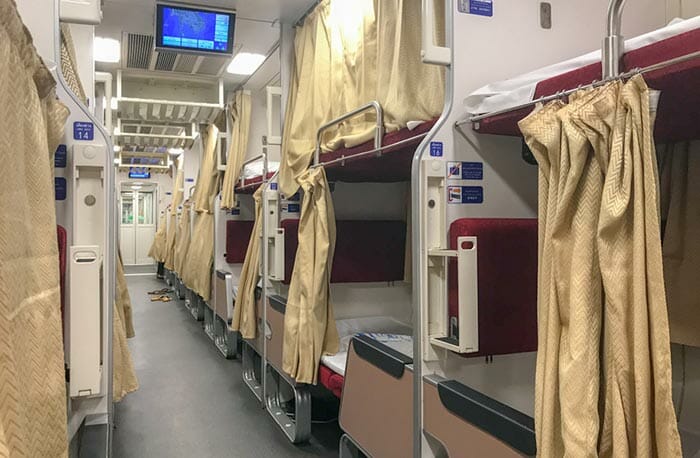 There are three types of trains that run to and from Bangkok: Rapid, Special Express and Express with journey times ranging from around 10.5 hours to almost 15 hours. The Rapid trains are not necessarily any faster as journey times actually seem to vary across the day, so if you want to travel the fastest to Bangkok, check which train that is before buying tickets.
Tickets themselves come in mainly three types: First Class, Second Class and Third Class with some variations within those classes. In 3rd class you will always just have a seat which can be uncomfortable for such a long journey. Second and First Class do usually offer sleeper seats and obviously the most comfortable of these is 1st Class.
The sleeper seats always get booked up first, so if you value your comfort, it is best to book these tickets in advance. You can buy online from a travel company website, such as 12go or direct from the website of the State Railway of Thailand. If buying tickets on the day or perhaps a day or two before traveling, you can get them right at Chiang Mai Train Station. You will find ticket counters and information desks on the right after you enter the train station. Definitely consider buying tickets in advance, no matter what class of ticket you want, if traveling during Thai holidays.
Facilities at Chiang Mai Train Station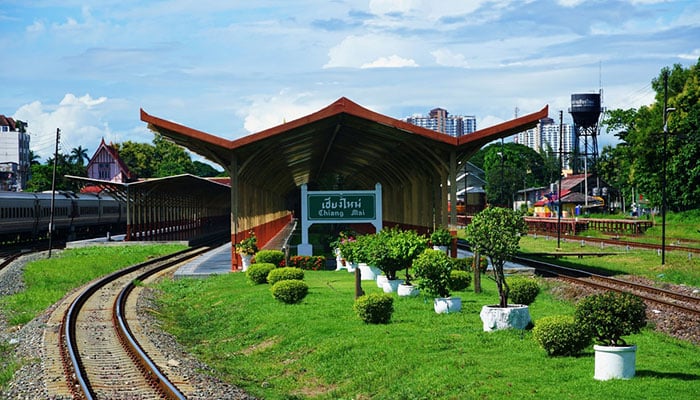 Chiang Mai Train Station has everything a traveler should need before boarding their train. It's not a particularly big station, and with all platforms serving trains going south, it's not difficult to find your way around. There are toilet facilities to the left on entering the station. Left luggage is available, as is a freight and cargo service if you want to send your bags onwards or need to transport something larger.
Inside Chiang Mai train station is a good-sized food court where you can buy food and drinks to take away or enjoy a sit-down meal at a table. There are also other restaurant choices in the forecourt of the station, and being centrally located there are coffee shops, restaurants, hotels, the post office and much more all within just a very short walk of Chiang Mai Train Station.
Did you find this guide useful?
Click on a star to rate it!
Average rating: / 5. Vote count: