One of the oldest and prettiest railway stations in the whole of Thailand, Hua Hin Train Station is a popular stop for passengers coming from Bangkok and is a tourist attraction in its own right. This historic train station is on the State Railway of Thailand's Southern Line, about 220 kilometers south of Bangkok, and located in the heart of the town. It has been providing access to this popular, laid-back beach destination since the railway was first built and Hua Hin became the destination of choice for the Thai Royals.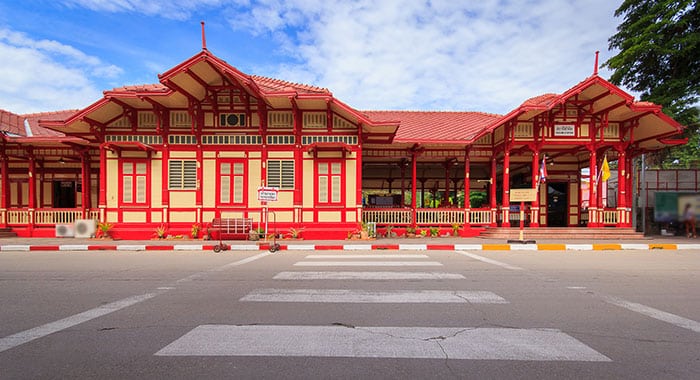 How to Get to Hua Hin Train Station
There has been a railway station in Hua Hin since 1910 and that original station building was rebuilt in 1925 into what you see here today. This beautiful station has been voted the prettiest in Thailand and is certainly a lot more attractive than the modern station buildings of today. With its Victorian Gingerbread architectural style and notes of Asian influences in its red and yellow coloring, carved wood pillars and trim, it was built as a train station fit for Royals during the reign of King Rama VI and is today one of the oldest stations in Thailand. The best part of it is the Royal Waiting Room, in the Thai architectural style, which was actually relocated here from the Sanam Chan Palace, and is still used today by royalty waiting at Hua Hin train station for their train back to Bangkok.
Even if you're not coming to Hua Hin by train, it's worth heading to the station to see how pretty it is. There's the building itself as well as a steam engine parked outside and two old railcars to see too. Located in the center of the town, backing onto the Royal Hua Hin Golf Course, Hua Hin train station is about 800 meters from Hua Hin Beach and even closer to many of the town's hotels, nightlife, and other places to stay. This makes it easy to get here by taxi, direct from your hotel, or walk if you don't have much baggage. Tuk tuks, motorcycle taxis and songthaew are also a good option, although tuk tuks can overcharge tourists making these about as expensive as taking a taxi!
Hua Hin Train Station Schedule and Destinations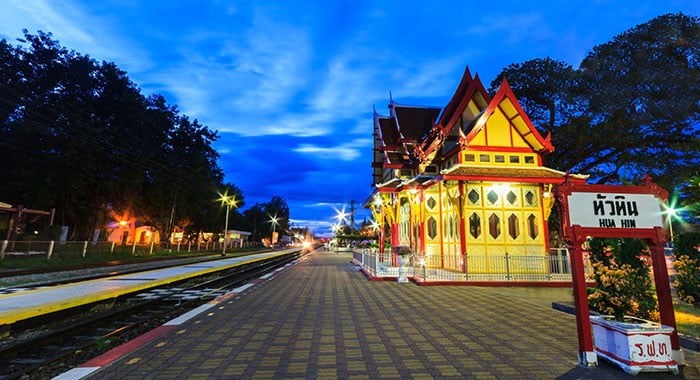 Trains to Bangkok
As one of the nicest and closest beach destinations to the Thai capital, trains from Bangkok to Hua Hin are the most common, both with tourists and locals. All trains heading south from Bangkok, or north back to Bangkok, stop at Hua Hin, so there are 11 trains from Bangkok to Hua Hin and from Hua Hin to Bangkok, every day, running throughout the day. Traveling by train is definitely not the quickest way to get to Hua Hin but it is a nice journey that allows passengers to see the Thai countryside. Going to Bangkok Airport is for most people more convenient on a direct bus.
Trains to Surat Thani with ferry connections to Koh Samui
After spending time here, you can catch a train from Hua Hin train station to some other popular Thai destinations. There are trains from Hua Hin to Surat Thani, much farther south in Thailand, throughout the day. You would head here for connections to Koh Samui or Koh Phangan, but be careful with the schedule as later trains will not arrive in Surat Thani early enough to make the connections, forcing you to stay a night in the town or at the ferry terminal.
Trains From Hua Hin Railway Station to the Southern Part of Thailand
You can also catch a train from Hua Hin railway station all the way to the southern end of Thailand, and the border with Malaysia, or stop at some closer popular Thai destinations to the south of Hua Hin district, such as Prachuap Khiri Khan, Chumphon, Hat Yai and Trang.
Train Tickets and Reservations for Hua Hin Train Station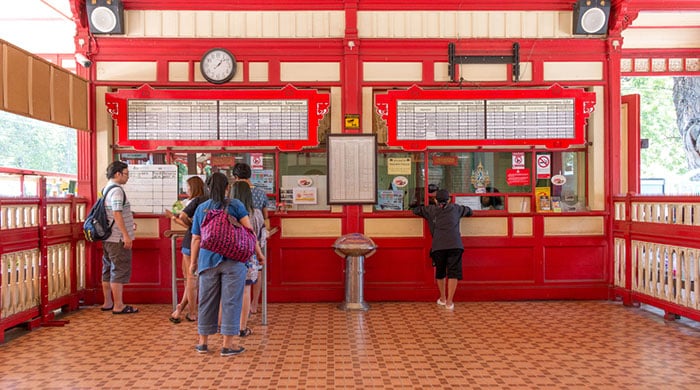 You can always buy train tickets in advance online, either through a travel website like 12go, or direct with Thai State Railways on their website. As the State operator is the only railway available, you don't have to worry about comparing prices across multiple companies, just a number of different ticket types. If you're just interested in buying a seat, not a sleeper berth, you may as well buy your ticket on the day of travel. Hua Hin train station, despite its popularity, is never especially busy so you won't have a long wait at the ticket counters, and buying a ticket right here at the station all adds to the experience and the appeal of traveling through this historic station. The ticket counters are open throughout the day so you can guarantee that as long as trains are still coming through, there will be tickets for sale.
If you would like to buy a sleeper ticket, it is always recommended to buy these in advance as they are popular and do sell out sometimes a day or two before the journey. This is also especially true during very busy travel times, such as festivals, when buying in advance is highly recommended.
Facilities at Hua Hin Train Station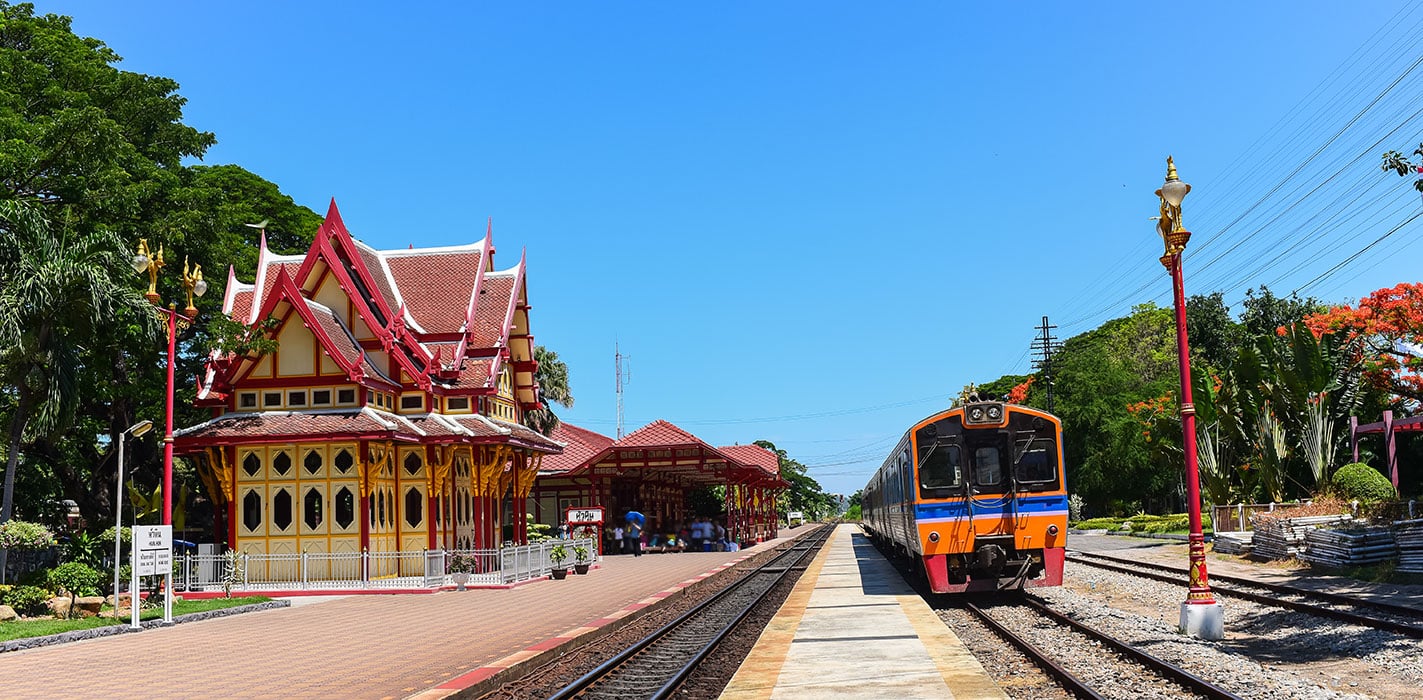 Being an historic building, Hua Hin train station is small and hence easy to find your way around. There are just 2 platforms here, one for trains heading north, and one for trains heading south, so there shouldn't be any confusion over which platform you need! Being small also means there are not as many facilities here as you would find in the larger train stations, but there are the essentials for passengers including toilets, a left luggage office if you want to leave a bag or suitcase securely, a parcel and cargo office if sending something onwards to another train station, and a small shop on Platform 1 where drinks and snacks are sold for you to top up before your journey.
Being in the center of Hua Hin means you don't have to go far if you needed more facilities or wanted a full meal. There are restaurants and other places within a few hundred meters so they are easy to get to by foot. Look for Sa Song Road as you'll find what you need here.
How useful was this post?
Click on a star to rate it!
Average rating / 5. Vote count: