Virak Buntham is one of Cambodia's larger bus transportation companies, operating to and from major cities and tourist destinations in Cambodia, as well as providing cross-border bus services into neighboring Thailand and Vietnam. They run a fleet of buses that includes minivans, sleeper buses and VIP buses, and are well known for selling cheap tickets, often at lower costs than their competitors. For travelers wishing to travel around Cambodia on a budget, Virak Buntham looks to be a good choice, providing great value for money, however, reviews of Virak Buntham aren't always very good, citing cleanliness and maintenance issues on many bus routes. So, how does Virak Buntham compare to their competitors and should you use this company for your bus travels in Cambodia? Let's find out.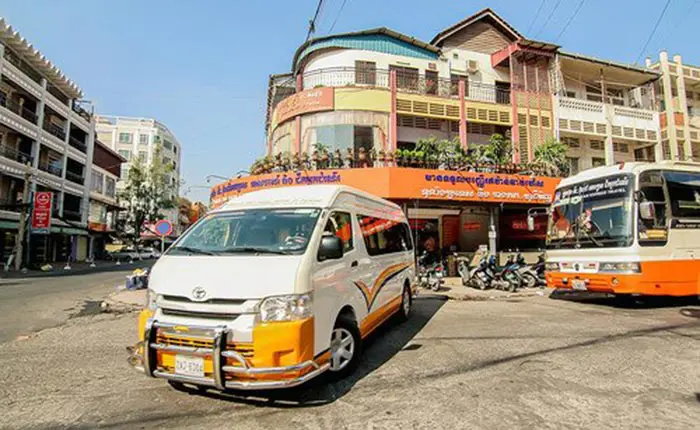 Officially named Virak Buntham Express Tour and Travel and often abbreviated to Virak Buntham Express or VET Travel, the company was established in 2004. On their website, they claim that they are the fastest growing passenger bus company in Cambodia, however, this is also a claim made by one of their competitors, Mekong Express. Whether Virak Buntham is the fastest growing or not, they do offer a good number of routes, with multiple departures each day, and services into Thailand and Vietnam. So, it would appear that they have grown successfully to provide quite a varied schedule.
Phnom Penh, Cambodia's capital city, is their biggest departure point with buses leaving for Siem Reap, Poipet, Sihanoukville, Battambang, Phnom Penh to Kampot and a number of other destinations, as well as international services to Bangkok and Ho Chi Minh City. Siem Reap is also a major departure point for Virak Buntham, with regional and national services from here plus again services into neighboring Thailand and Vietnam. Their schedule certainly covers all the major tourist cities and destinations in Cambodia as well as providing services to many smaller cities and tourist resorts that would suit both locals and tourists needing to travel around.
The Virak Buntham website states that they have a fleet of luxury vehicles which includes sleeper buses, hotel buses, and minivans, and that they have a great reputation among international travelers – who presumably make up the majority of their customers. We will look a bit more into what their customers think of their services in a minute, and try to uncover whether this statement is correct or not! Across their vehicles, they provide bottled water and air conditioning, and they claim that they have trained drivers, insurance coverage, and GPS tracking, and that their vehicles all get checked regularly under rigid maintenance schedules. Further, they say that their drivers are well trained and are restricted under the company policy to not drive in excess of 80kph (49mph).
As well as water and air conditioning onboard, their buses have toilets (minivans will not), while all vehicles come with wi-fi. Certain buses feature full beds as opposed to seats that recline a long way, allowing passengers to lie flat on overnight services. Another handy service is complimentary pickup from hotels to the bus stop, and they claim that they provide help on cross-border trips, taking care of the official documentation to help their passengers across the border into Thailand or Vietnam.
Virak Buntham Customer Reviews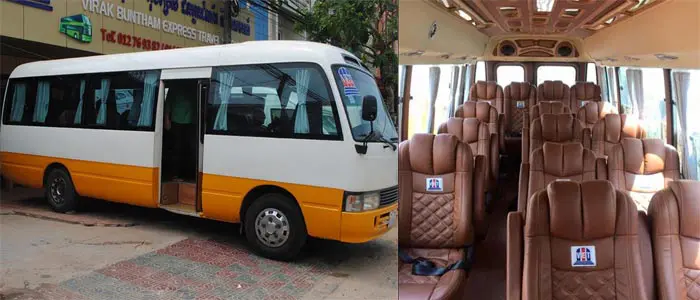 If the Virak Buntham Express website is anything to go by, this Cambodian bus company sounds as though they provide a good service with daily buses to many different destinations. They claim that safety and high standards are important to them, and that they have a great reputation among international travelers. But, how true are these statements in reality? We've been checking around on other websites to see what customers think and have read through many reviews, both positive and negative reviews of Virak Buntham, to give you an honest summary.
One website that sells thousands of tickets for Virak Buntham's buses is 12Go.asia. According to this travel agent's website, they have served over 27,000 customers who have bought tickets for Virak Buntham, and around 900 of those customers have left reviews. The overall rating on 12Go is quite low at 2.8 out of 5 stars, and over a third of passengers who left a review gave just a 1 star rating with a mixture of customers leaving 5, 4, 3 and 2 stars. As overall ratings go, 2.8 is not very good compared to Virak Buntham's competitors; Mekong Express, for example, has an overall rating of 3.4, while another Cambodian bus company, Giant Ibis, has a very respectful 4.3.
So, why is Virak Buntham's review rating so low? Well, levels of cleanliness on their buses are definitely an area of concern among travelers. Reviewers have mentioned that the onboard toilets were very unsanitary, while others have said there were bugs on the bus and that the sleeping areas had not been cleaned. Other problems include older vehicles – so their buses do not appear to be as modern as their competitors – lack of communication, rude staff who could not speak English, and being put onto a small minivan rather than the large bus that passengers were expecting. Some passengers also mentioned that the beds on the buses were not long enough to be able to fully stretch out – but this is a common problem traveling by bus in Southeast Asia as Westerners tend to be taller!
The reviews of Virak Buntham are not all bad though. Some recent positive reviews stated that it was an excellent service, the bus was pretty comfortable for a night journey, friendly staff, and the bus arrived an hour earlier than scheduled. Some reviewers also commented that the bus was clean and comfortable, so it does seem to depend on what type of bus you end up traveling on, and on what route, as levels of cleanliness tend to be better on some than others.
Should You Travel with Virak Buntham?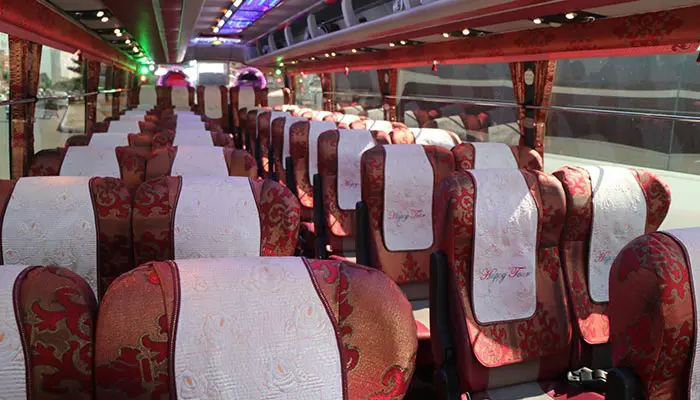 To be honest, the choice is yours! The majority of Virak Buntham reviews do seem to mention negative experiences, but not every passenger has had a bad time. There are still plenty of good reviews, and you should bear in mind that there is usually always a higher percentage of people who spend time commenting on something that they didn't like, compared to those who comment when they did like it. In general, our recommendation is that if you are traveling on a tight budget and you want to spend less but don't mind that the service isn't so good, traveling with Virak Buntham could suit you well. On the other hand, if you're used to certain levels of cleanliness and you want modern, clean, well maintained and comfortable buses that have amenities onboard, you may want to consider traveling with a different bus company! Check the website, 12Go, as they sell tickets for multiple bus companies and routes. You can easily compare prices, schedules, types of buses, and read passenger reviews, before going ahead to book.