Cambodia's capital and largest city, Phnom Penh, is busy, yet strikingly beautiful and inviting. European influences are still evident today as you wander the bustling streets of Phnom Penh, but this city also provides beautiful temples and a palace that are more in keeping with the local Asian culture. Parks, a riverside setting, museums, shopping of all kinds, and some great restaurants and bars all add to the endless appeal of Phnom Penh, a must-visit on any tour of Southeast Asia. With so much to see and do there, tearing yourself away from the big city may be difficult, but we know a great place you could head to next. The city of Kampot will entice you with its more laid-back atmosphere. Not nearly as busy as Phnom Penh, Kampot also boasts European architecture dating from the 19th century but all in all, it has a more rural feel, set on a river and close to the Gulf of Thailand. There is a national park close by, and activities to be found on the river and estuary, and Kampot is well known for its high quality pepper that is grown in the area.
Read about:
• Phnom Penh to Kampot by Bus
• Phnom Penh to Kampot by Van
• Phnom Penh to Kampot by Train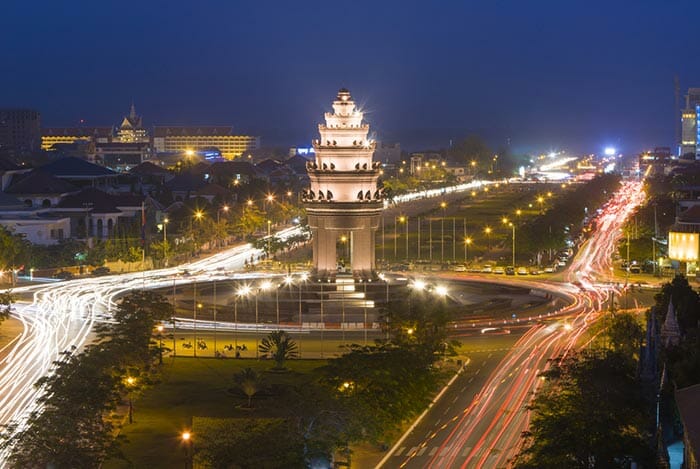 Options for Travel from Phnom Penh to Kampot
If you're looking for a nice change of pace from the bustling streets of Phnom Penh, Kampot is only a short distance away from the capital city, and there are several different ways that you can make the journey. By road, it's about 150 kilometers (94 miles). This doesn't sound like a lot if you were traveling on major highways, and while the roads between Phnom Penh to Kampot have been improved in recent years, it's still not an especially fast route to travel, and the roads are not in the best condition. Even so, going by road is a popular choice, with buses and vans readily available to take you there, at very reasonable cost. An alternative is to catch a train – prices are similar to buses although it does take a little longer going by train.
Phnom Penh to Kampot by Bus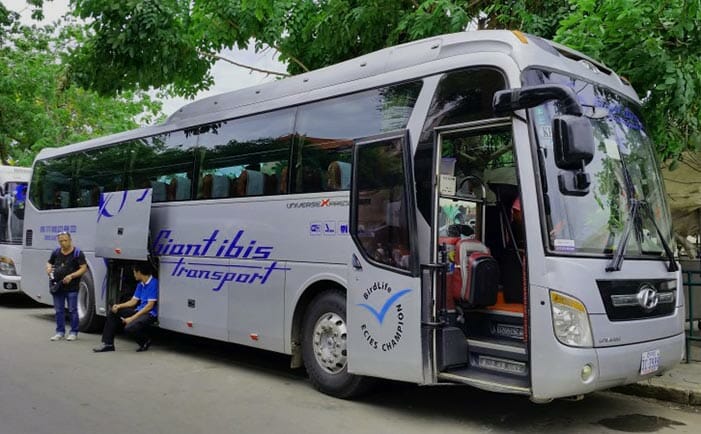 Traveling by bus from Phnom Penh to Kampot has several advantages, especially if you're looking for a cheap way to travel that is reasonably comfortable and hassle-free. As of now, the best bus company offering the route from Phnom Penh to Kampot is Giant Ibis Transport. Giant Ibis is one of Cambodia's best known and most reputable bus companies, with a very good safety record. Their buses are modern and comfortable, and many have reclining seats, and there are services onboard such as a steward, snacks and even wi-fi. Buses do not have toilets, but stops will be made for breaks along the way.
There are two daily departures from right in the heart of Phnom Penh, behind the National Library, so getting to the bus should be easy if you're staying right in the midst of the city. They depart at 8am and 2:45pm, and the schedules suggest that they can take up to 4 hours to make the journey. In reality, it should not take this long because this is the time it could take to get to Kep, a town to the south of Kampot (where the bus goes next), and a smooth journey should get you to Kampot within 3 hours. Even so, allow longer, if you have any connections, just in case.
Tickets with Giant Ibis can be booked online through the travel booking website 12Go.asia. They provide instant confirmation of your booking so you know it's booked and you'll have nothing to worry about! You can check passenger reviews when looking at travel options on 12Go, and compare the different options that are available to you before you decide to go ahead and make the booking. And when you do make the booking, it's easy and fast.
Phnom Penh to Kampot by Van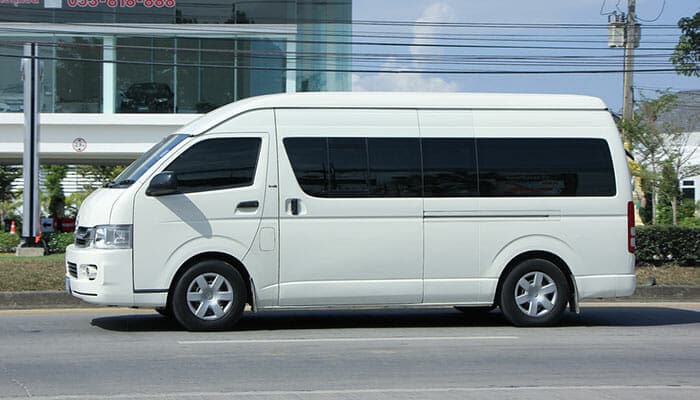 An alternative to the bus is to get a van from Phnom Penh to Kampot. When you search on 12Go, you'll see the van come up as an option so you can book tickets for this through their website also. Vans are operated by Cambodia Post VIP Van, and as the name suggests, they market these as VIP vans. In reality, they are fairly standard vans with air conditioning and will be a little more tightly packed than a bus would be. For this reason, anyone who likes their own personal space or is a little larger than average may prefer to go by bus for a more comfortable experience.
The advantage of a van over the bus is that it's slightly cheaper than the bus and it may get you from Phnom Penh to Kampot slightly faster than the bus. There is one departure in the morning, leaving from Phnom Penh Post Office at 7:45am, arriving to Kampot Post Office around 10:45am.
Phnom Penh to Kampot by Train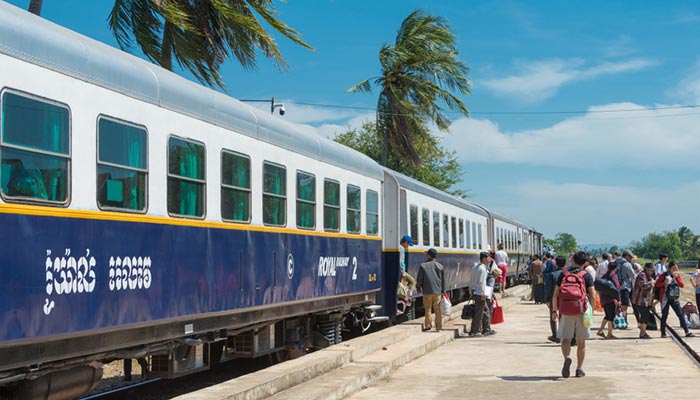 Taking a train from Phnom Penh to Kampot is another option, even though it is slower than traveling by bus or van. Ticket prices are about the same as buses and vans, but you could argue that the journey is nicer when traveling by train.
Trains are operated by Royal Railway Cambodia although they do not operate every day of the week. Schedules can change, but right now trains from Phnom Penh to Kampot run on Mondays, Tuesdays, Fridays, Saturdays and Sundays, so it's just Wednesdays and Thursdays that they are not available. The nicest thing about traveling by train is the different perspective you get on the Cambodian countryside, trundling along at relatively slow speeds. Trains depart Phnom Penh Station at 7am and arrive at Kampot Station at 11:40am, taking around 4 hours and 40 minutes. The drawback with trains from Phnom Penh to Kampot is that Kampot Train Station is a short drive by taxi or tuk-tuk outside of the center, as is Phnom Penh Railway Station, so you'll need to add a little time and cost to get to and from the station at either end.
With advantages and disadvantages to each of these three modes of transport, which one you pick will come down to personal preference and schedules. Buses are the most convenient, in our opinion, with two daily departures to choose from, and they're easy to book online.
How useful was this post?
Click on a star to rate it!
Average rating / 5. Vote count: