Despite being a relatively new company, Cambodian based Giant Ibis has established an excellent reputation for its bus services across Cambodia and into neighboring Thailand and Vietnam. With a modern fleet of buses that are almost as well equipped and comfortable as any bus you'd find in North America or Europe, Giant Ibis is focused on passenger safety, maintenance, reliability, and even conservation. They provide extras that you wouldn't usually find in Southeast Asia, such as Wi-Fi, USB and electrical outlets, and operate around 100 buses each day, covering routes to and from 14 different cities, including from Phnom Penh to Siem Reap, Sihanoukville and Kampot, and from Siem Reap to Bangkok, and Phnom Penh to Ho Chi Minh City. But how good is Giant Ibis at what they do? We aim to let you know in our Giant Ibis review.
About Giant Ibis Transport
Giant Ibis Transport launched in Cambodia in June 2015, so relatively speaking they are still a young company. Most newer companies would have teething troubles and spend years trying to establish themselves as a reputable and reliable bus company, but this doesn't seem to have been the case with Giant Ibis. They very quickly built up a name for reliability and professionalism, rapidly surpassing their Cambodian rivals who had been in operation for years, and becoming one of the best known and most trusted transport companies in Cambodia.So, what sets Giant Ibis apart from their national competitors? Well, not that we're saying other bus companies don't care about their customers, but Giant Ibis seems to have taken this to the next level. Their newer fleet of buses are close to rivaling those that you would find in Europe or North America, with far more amenities onboard than is the norm for this part of the world. And, Giant Ibis appears to want their passengers to be as comfortable as possible by providing extra legroom. They did this by sacrificing one row of seats on their buses, and one less row means more legroom for everyone.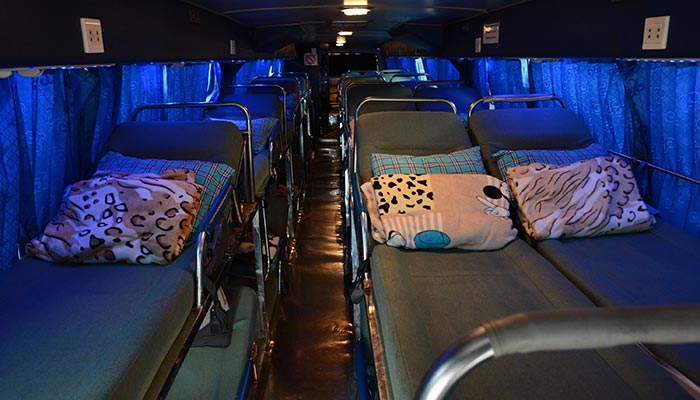 Buses have Wi-Fi – although passengers need to accept that this will be intermittent when traveling through more rural areas – and there are USB and electrical outlets so that passengers can keep their phones and other electronic devices charged while on the move. Complimentary snacks and water are provided on longer journeys, and because Giant Ibis only has toilets on their overnight buses, there will always be regular stops for bathroom breaks and to stretch your legs. Air conditioning is standard, as are seat belts, and overnight buses feature sleeper seats that recline to a 15% angle.
Giant Ibis also prides themselves on being responsible by using the cleanest burning diesel fuel available in Cambodia, and they support their namesake too: the Giant Ibis bird, by donating a portion of every ticket sold towards the preservation of Cambodia's national bird.
In terms of additional safety measures, their buses have GPS tracking that allows each bus to be tracked and monitored. This ensures that drivers adhere to speed limits and if there is an incident, the control center is immediately notified. The buses are regularly maintained too, and in fact, each bus goes through a checklist before departing every day. In addition, Giant Ibis Transport website states that according to the Ministry of Public Works and Transportation, they have the best safety record of any passenger transportation company in Cambodia.
One final area in which Giant Ibis is well known, is the help they provide when crossing the border from Cambodia into Thailand and Vietnam. These border crossings are renowned for being difficult and time consuming, but Giant Ibis does provide a lot of help in order to make the crossing as easy and stress-free as possible.
Giant Ibis Customer Reviews

This all sounds amazing if each and every bus that you could possibly ride on is this safe and well equipped. Of course, the reality isn't always quite this good but Giant Ibis does seem to want to be the best they can and are concerned about their reputation and in providing great customer service. The best way to analyze this for certain is to read customer reviews of Giant Ibis and see what people who have already traveled on their buses think.
The travel website, 12Go.asia is a good place to read reviews, and once you've decided on the trip you're taking, you can also book your tickets for Giant Ibis on 12Go, making this a one-stop-shop for bus travel in Cambodia.
12Go has over 5,000 customer reviews for Giant Ibis so this really is a good indication of how good or bad their services are. The overall rating is 4.3 out of 5 stars, which is very good, and over 50% of reviewers gave a 5 star rating.
One recent negative review said that the border crossing into Vietnam did not go as smoothly as it could have done, despite Giant Ibis's help, but in reality, what the immigration officials do is beyond the bus company's reach; they can only assist as much as possible. A few other negative reviews said that the buses had dirty windows. The majority of recent Giant Ibis reviews were all very positive though, saying that the company was great at getting everyone through the border quickly, providing help and guidance where needed. Comfort, great hospitality and service, where everyone spoke English were other positives.
Should You Travel with Giant Ibis?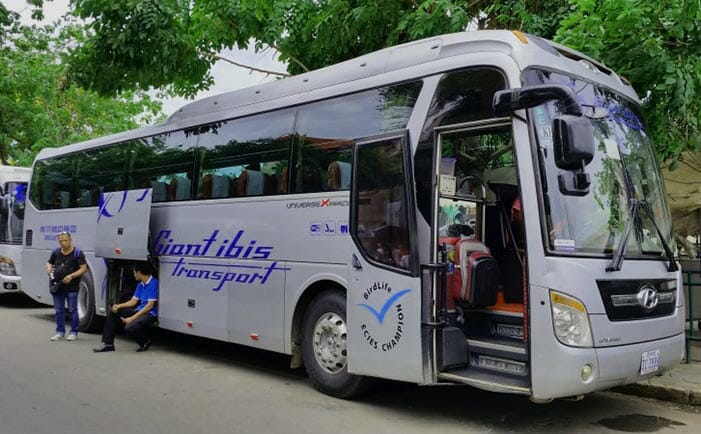 The Giant Ibis reviews we have read through are mostly highlighting all the good points and hence they confirm that the company does seem to want to put their passengers first by providing a great service. With the majority being positive reviews and only some saying negative things such as dirty windows and also that the electrical points weren't always working, it looks as though we can trust Giant Ibis with providing a very good service the majority of the time. Sometimes things may not be working, or the border crossing may not go as smoothly as hoped, but on the whole, we believe that Giant Ibis is a great company to use for your bus travel in Cambodia.