While it's often easy to find flights to get you around the Philippines, you could argue that the best way to see this country is by ferry. Unlike other countries in Southeast Asia, the Philippines consists entirely of islands, and there are about 7,641 of them to explore. Of course, you're never going to get around to seeing all of these islands as that would be quite some feat, but you may have time to visit some of the islands within each group. From north to south, that's Luzon, Visayas and Mindanao. Cities like Manila should definitely be on your radar to visit, but the Philippines is an incredibly diverse country too, with beautiful scenery including volcanoes, tropical rainforests, beaches, mountains, and thousands of species of animals, birds and plants, so there really is so much to see and do in the Philippines, and traveling by ferry is a great way to do it.
Is it Safe to Travel by Ferry in the Philippines?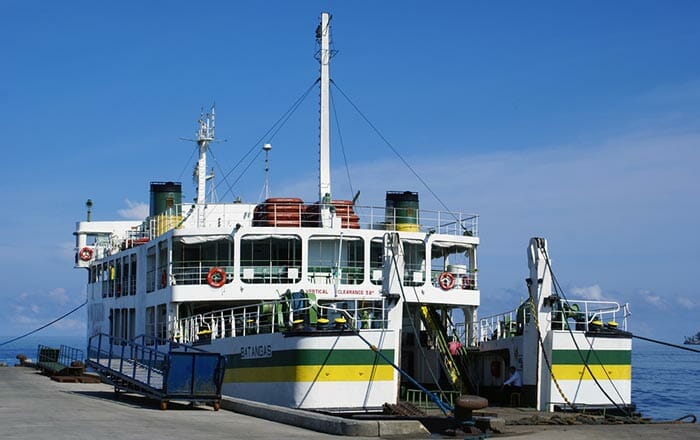 Broadly speaking, yes, it can be safe to travel by ferry in the Philippines, but it's important to point out the massive differences between the various types of ferries that you could be traveling on. Recently, several small ferries capsized when the weather suddenly took a turn for the worse, highlighting the fact the smaller ferry boats are usually more prone to accidents than larger ones which can cope better when the sea gets rough, but, with so many islands and such a variation in distances between these islands, how far you're traveling will usually dictate what type of ferry you travel on. As with any country, there will always be boats that are better maintained than others, and companies who are more concerned about whether or not to set sail in rough conditions, and this is something you, as a tourist, should be aware of too.
Try not to travel by ferry in the Philippines if it's during the typhoon (or monsoon) season, which generally will be between July and October. The weather can change very quickly during this period, going from a bright blue sky to very dark, torrential rain and thunderstorms in a matter of minutes. With such unpredictability, this is why it's better to try to avoid this time of year altogether.
Being vigilant can make all the difference too. If you don't think a ferry looks very safe, or it seems overcrowded to you, the chances are it is. It may cause you to have to wait longer, but if it means you get somewhere safely, do wait for another ferry, or choose a different ferry company.
The good thing about traveling by ferry in the Philippines is that it's more affordable than flying, which is really the only other alternative when there are so many thousands of islands. But, flying has its limitations, as there are only 70 airports in the entire country, so you're not going to get to see much of the Philippines if you're only relying on airplanes. The network of ferry routes, however, is quite massive in comparison, and it's cheaper than catching a flight. So, for a budget traveler, ferry travel in the Philippines is by far the best way to travel!
Types of Ferries in the Philippines
As we mentioned above, there are lots of different types of ferries in the Philippines, and which ones you use will depend on where you are traveling to and from. They range from the very small Bangkas, all the way up to ginormous passenger liners that can carry thousands of passengers.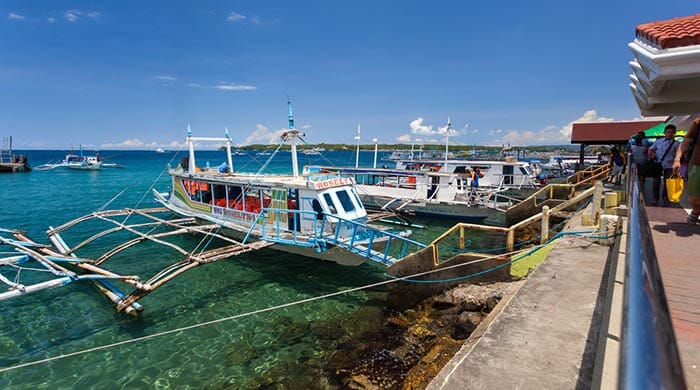 Bangkas, also known as pumpboats or outriggers, are probably what you'll be traveling on to take a shorter ferry trip between islands or if you're taking a tour for diving or sightseeing. The boats are usually wooden and quite small, set on two bamboo or wooden outriggers. They're not designed to carry many people, although sizes do vary, and they are renowned for being incredibly loud because of the types of engines they use.
At sensible speeds, not overcrowded, and traveling on calm seas, Bangkas can be a safe and very affordable way to get around the islands and are sometimes the only option you'll have. They are usually readily available on popular routes, or can be chartered if you're hoping to go out for a tour with a group. You would generally show up and get your tickets on the day of travel, but if you'd rather book in advance, ask your hotel or guesthouse if they can make arrangements for you.
If you do get tickets for a specific departure, don't be surprised if you end up leaving far later than you should have done. Schedules seem to be there more as a guideline than as something the Bangka operators should adhere to, so be sure to allow yourself plenty of time if you're trying to get somewhere specific!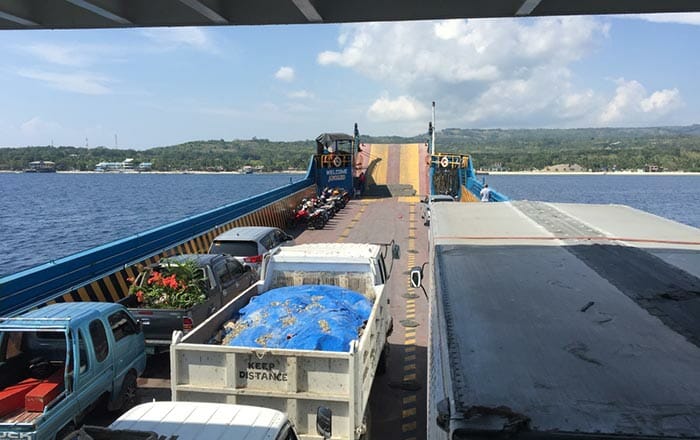 RORO stands for Roll On, Roll Off ferries which is a reference to the fact that these are vehicle ferries and they form part of the Philippine Nautical Highway System. So, if a car or truck is driving along a highway and then they reach the coast, they hop onto one of these ferries to get them to the next island, where they drive off and straight back onto the highway.
For cargo these are very popular, so you will see a lot of trucks and commercial vehicles on them, but they are also used frequently by car and bus traffic as well. If you're not driving, you can still travel by these ferries, just as a foot passenger. If you're traveling around the Philippines on a budget, the chances are you will be buying a combined bus and ferry ticket. Routes such as from Manila to Davao are popular to travel by bus because it's very affordable. The bus ticket should include any and all ferry crossings too, so once the bus is on the ferry, you can get off and walk around. Just be sure to remember which bus you were on when it's time to get back on it!
The good thing with ROROs is that you're usually allowed out on the deck, so they're great for sightseeing, and there are many different parts of the ferry that you can hang out on during the trip. This, of course, depends on the weather. If it's good weather, traveling on these can be fun, but in rough weather, not so much. ROROs are quite large ships though, so in slightly rough seas they can usually ride over the waves quite effectively.
If you're taking a bus, you can book these online through travel websites like 12Go.asia, or with a travel agent. You can also book direct with the bus company either through their website or at the bus station. If you're just looking at traveling on a RORO ferry independently, you'll need to check their schedules online and then see whether you can book in advance online.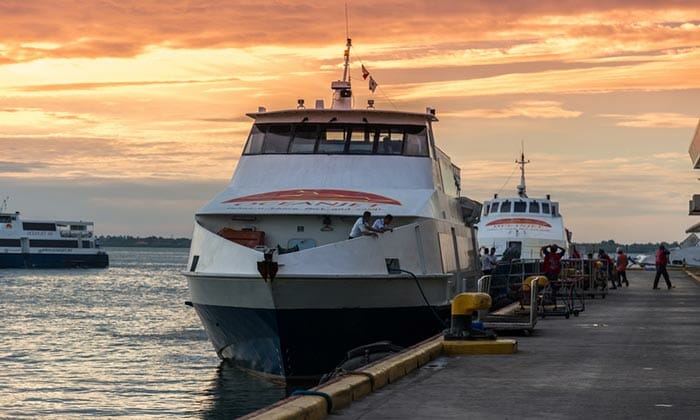 Fastcraft ferries in the Philippines give you a faster and arguably more comfortable ferry service than that of the ROROs, but then they do cost roughly double the price. These high-speed ferries are not designed for vehicles, taking passengers only. So they will be smaller and more agile, and are popular for short to medium distance routes like Cebu to Bohol, taking about half the time that a RORO ferry will do.
The largest ferry company in the Philippines is 2GO, so the chances are high that you'll be traveling on one of their vessels if you opt for a fastcraft service. 2GO took over SuperFerry, SuperCat and Cebu Ferries so you can now book many routes direct with 2GO, or you can use a third party booking website such as 12Go where all search results will be displayed on one page making it very easy to compare the different ferry services.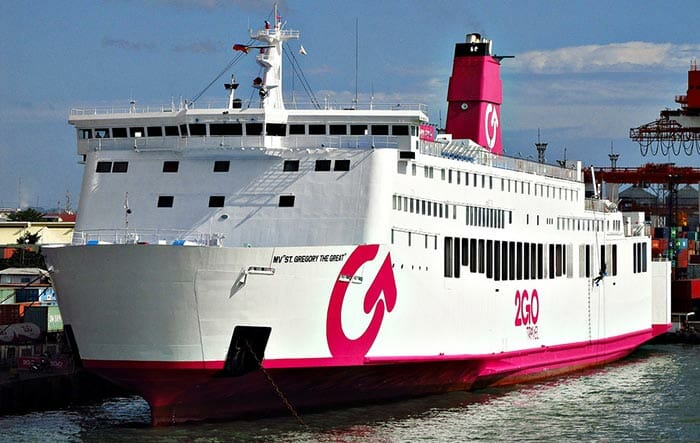 For the longest ferry routes in the Philippines it's recommended that you opt for a ticket on a passenger liner. These very large ships are designed for long distance travel and have many facilities and services on board. Although called 'passenger liners' they can carry cars as well, but their main focus is on the passengers, some carrying as many as 4,000 people.
As we said above, 2GO took over several of the other large ferry companies in the Philippines, so they are now the best option for multiple routes around the islands, and they have a good reputation for being fairly reliable, although bad weather can always affect schedules.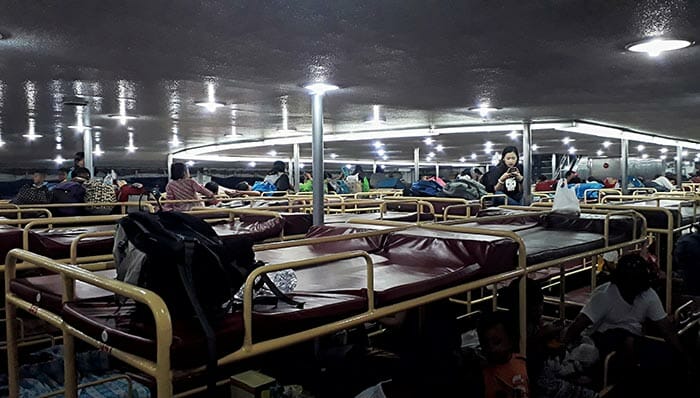 These very large ships have plenty of options when it comes to types of ticket, giving you the opportunity to spend less if you're traveling on a budget, or splash out if you want more comfort or privacy. The cheapest tickets will give you a bunk within a large room (Super Value), sharing the space with several hundred other passengers so there's really no privacy whatsoever. One up from here is Tourist Class. These bunks are a little more comfortable and there are less people to a room. Depending on which ship you're on there are then usually several Cabin options where you can share with a small number of people, or just as a family of 4. Then the much more expensive options are Staterooms and Suite Rooms which are more like individual hotel rooms with ensuite bathrooms etc.
If you're traveling on a long-distance ferry in the Philippines it is highly recommended that you book in advance as these do get filled up. You can book through 12Go or go direct with 2GO themselves.
Traveling by ferry in the Philippines is pretty much a necessity if you want to explore more than just the major cities in this island nation. Remember that ferries can vary in comfort and safety, so do always be vigilant if traveling on the smaller boats where accidents are more likely to happen.